Salut ladies! I hope you are all having an excellent week. I have to go ahead and say now, that I apologize for my shortened, not so super awesome posts this week. Between puppy cuddling and preparing for something potentially big career wise (more on that after it is over!) I have been very distracted this week. I have majorly new respect for dog owners this week as I am learning a whole lot from my little guy-mainly patience. I never get angry with him, because he is too cute to incite anger, but also because I really did know what I was taking on when I made this decision. But that doesn't make the 5:30 wakeups or the poop on my carpet a bed of roses. Btw, did I just make a major fashion faux pas by talking about poop on a style blog?? Eh, it's real life right now and this blog always has been very real life. So until puppy potty training is complete be forewarned that it is a distinct possibility that you will hear the word "poop" when you stop by.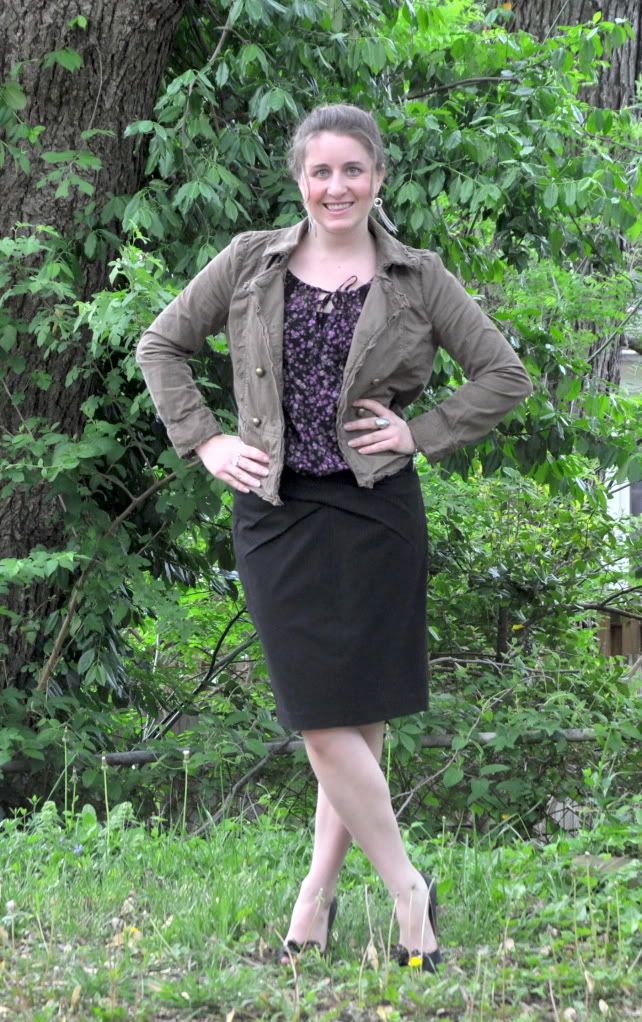 Blouse: LC for Kohl's, Jacket: LOFT, Skirt: Michael Kors, via Rue La La, Shoes: Badgley Mischka, Earrings: Gifted, Bracelet: Juicy Couture (gifted), Ring: Gifted via Lichen and Lychee, Ring: Gifted via My Ring Obsession
I am always one to give credit where credit is due, and I definitely must give inspiration credit for this outfit to the lovely Liz at 26 and Counting! She rocked a military jacket and florals yesterday and it made me question how in the world I never thought to pair the two together during the 30 for 30 remix! No worries, though, because I remedied that problem right up this morning. Liz was so right on in this combination, as the military jacket really gives a feminine outfit a needed boost of edge.
Confession? The jacket barely lasted through these photos. Warm weather is officially here and I was dying wearing layers! The billowy blouse underneath was much more weather friendly.
Looking at my post-tights outfit photos makes me realize my dad was really, really right on something: I need some color-badly! Beach trip, please oh please? Who's with me?
Btw, don't worry about my missing "shadow" because he was still close by, he just felt a little camera shy today and preferred to watch me intently while I snapped instead of flaunting himself in front of the camera.
Since you can't see the shoes at all in these pictures (need less grassy photo locations!) I thought I'd show you old photos from the first time I debuted these shoes on the blog, which seems like forever ago! I think they were in my second ever outfit post.
If gold heels ever become the new red sole, then I will be golden (pun intended!)
In other news, the darling
Tiffanie
of A New Found Love majorly added some sunshine to my life when she gifted me the sunshine award (ha get it? Remember I am the cornball queen!) Go check out the adorable momma with major style and give her some love. She has an amazing
giveaway
going on right now, too, celebrating 100 posts! And thank you SO much Tiffanie for brightening my day!
Since it's impolite to hog all the happy sunshine-ness for yourself, I am passing on the love! It is always hard to pick just a few blogs to highlight, but the rules to the sunshine game are to give the award to 12 blogs. Check out these ladies and they will surely bring sunshine to your day!
Melissa
Hannah
Gabby
Liz
Linley
Kileen
Kimberly
Collette
Ramsey
Monk
Kimmie
Cori
Is that 12? I think so but my brain is wiped this week, so really, who knows!
Bisous!