Bonjour kittens! I hope you are ready for a weekend, which is all yours to fill with lounging, brunches, cuddling, parties and the likes! Ah, glorious weekends. How will I be filling mine? With family time, baseball stadiums, running through cherry blossoms and indulging in a delicious post-race brunch with mes amis! Bliss, if I do say so myself.
Et toi?
So, I've been wanting to share some of the lovely awkward-filled moments that have occurred during my last few months as a fact checker, and I think there is no better time to share than AWKWARD AND AWESOME THURSDAY!! So enjoy the awkward life of a fact checker.
You're welcome.
The Awkwards (work edition)
-Asking the owner of a brewery if he served craft beer- a question that I thought was nearly rhetorical- and getting a very emphatic and offended-sounding NO!! Trying to figure out how I had offended said brewer, and repeating/rephrasing the question, and hearing a booming laugh on the other end of the phone. "Oh I thought you asked me if I served CRAP beer, and I thought that was just really rude!" Man, oh man, I don't even get the benefit of the doubt these days!
-Question to interviewee: Would you describe yourself as a shy, awkward child? Interviewee:....Um no? But thanks for telling me that someone else did...Yea, there isn't really a way to recover from that.
-Having to ask a man if he had started wearing a toupee in his 20s. Ok, so this wasn't one of my fact-checking awks, but it was awkward enough that its awkwardness seeped throughout the intern bubble and I just absorbed it right on up for my own purposes. That's called making lemonade out of some majorly awkward lemons.
-Apparently being five years old, and laughing uncontrollably asking a restaurant manager of a very fancy restaurant if he had a pianist. It gets worse. Having to hang up because I couldn't get the laughter under control, and then call back and blatantly lie, saying we had been disconnected. Yea, I don't think he bought it either. And I'm not sure he bought that I was indeed a 24 year-old-grown woman capable of not finding the word pianist funny.
-Being asked to call 16 different restaurants that pretty much all specialize in serving wings, and asking if they serve wings. No, not some kind of prank. Just my job. You know the waitress at Hooter's hung up and told her co-workers about the dum dum that had just called asking if Hooter's served wings!
*note: please don't take this as me not liking my job in any way, because I freaking love it! I actually think these moments make my days that much better!*
Denim dress (masquerading as a coat): Charlotte Russe, Lace dress (actually worn properly as a dress): Urban Outfitters, Shoes: Vintage (mumsicle's from the 80s) Necklace: Onyx Feather Belt:Urban Outfitters, Ring: gifted.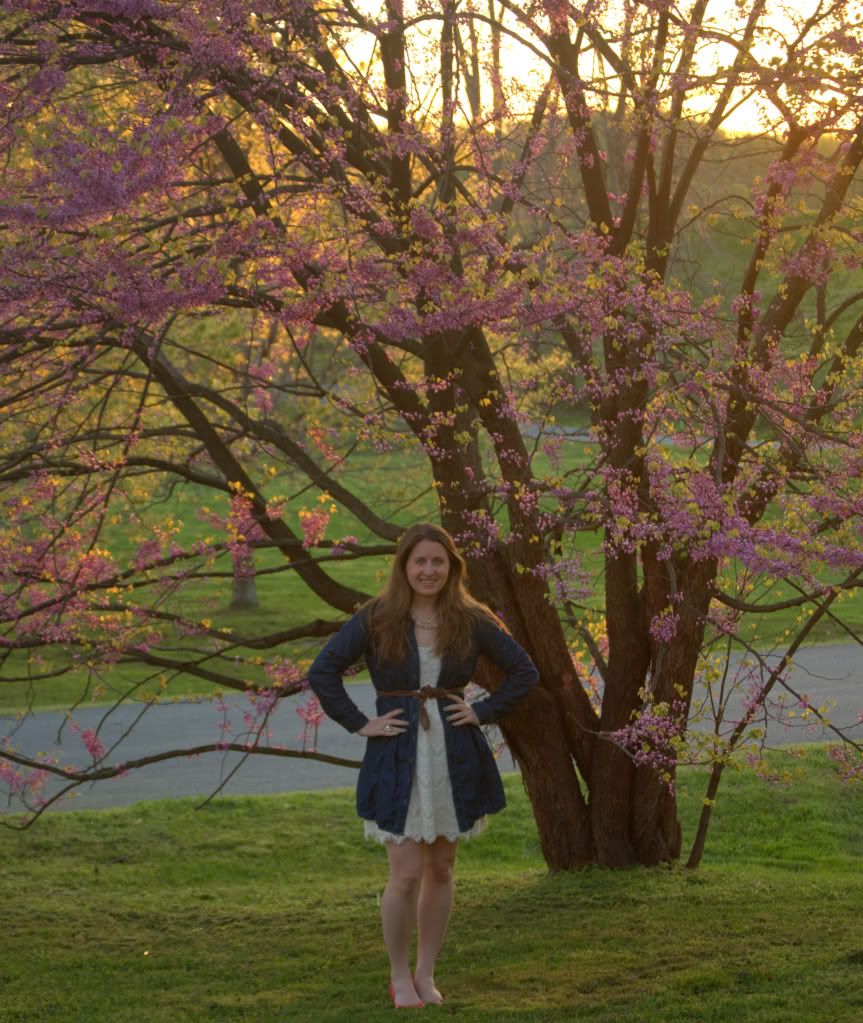 So I made it home today just as the sun was setting, and this park near our apartment had a beautiful, clear view. It was just lovely!
The Awesomes:
-The fact that I haven't worn tights a single day in March! Now, I have worn pants (which is kind of cheating) and there are days where I nearly froze my lil tooshie off waiting for the bus after work, BUT the tights are retired for the reason (no ifs ands or buts) and that qualifies for an A-W-E-AWESOME!
-Shooting my first professional photography client! I met up with Jack and Sarah, friends of a friend, for a gorgeous cherry blossom inspired engagement session, and we had a blast! I absolutely adore meeting couples and working with them at a point in their relationship when they are so in love they can't even contain the giddy feelings. This couple was not only sweet and gorgeous, but also clearly head over heels in love, which made capturing moments of love that much easier :)
-Long, leisurely walks home from exercise classes. This would usually be something I despise, as I get bored so easily, but the amazing weather has just been calling my name to enjoy a stroll in DC. Last Friday I walked from Logan Circle after a barre class down to M St to meet friends for an amazing tapas dinner, and had a huge grin on my face the whole time. I thoroughly enjoyed the scenery, the people watching and the cool breeze. I also really enjoyed the stop at LOFT, and my new snake skin blouse! And last night I strolled home from another barre class along M st, and somehow wound up with a new black clutch. Perhaps I think these walks are awesome because they turn into shopping excursisons...
-Birthdays filled with an overload of pink presents, including these
hot pink pants
, and this stunning
handmade necklace
! Check out more of Sola's beautiful and socially responsible jewelry
here
. I have my eye on another one, and can't decide if a necklace truly is more important than food...
-My thighs burning when I sit down, and my abs aching when I laugh from all these ballet barre classes I've been trying out! If I keep this agony up, I'll have a washboard stomach by the time bikini season rolls around, right?? Note: The only acceptable answer to this question is a resounding without-a-pause
yes.
Thank you.
The weather these past few weeks has been an itty bit bipolar. One day it is mid 80s, and the next, it is 30 when Im waiting for the bus. Today was manageable-mid 50s-and really only called for a light jacket. Since I didn't have any great options, I invented my own by using a chambray shirt dress that is currently missing a button and layering it over my favorite for-spring lace number. Belted it all together to keep my shape, added the punchy neon heels and voila! Outfit success. Added bonus: The coat added extra warmth inside our freezing office. win.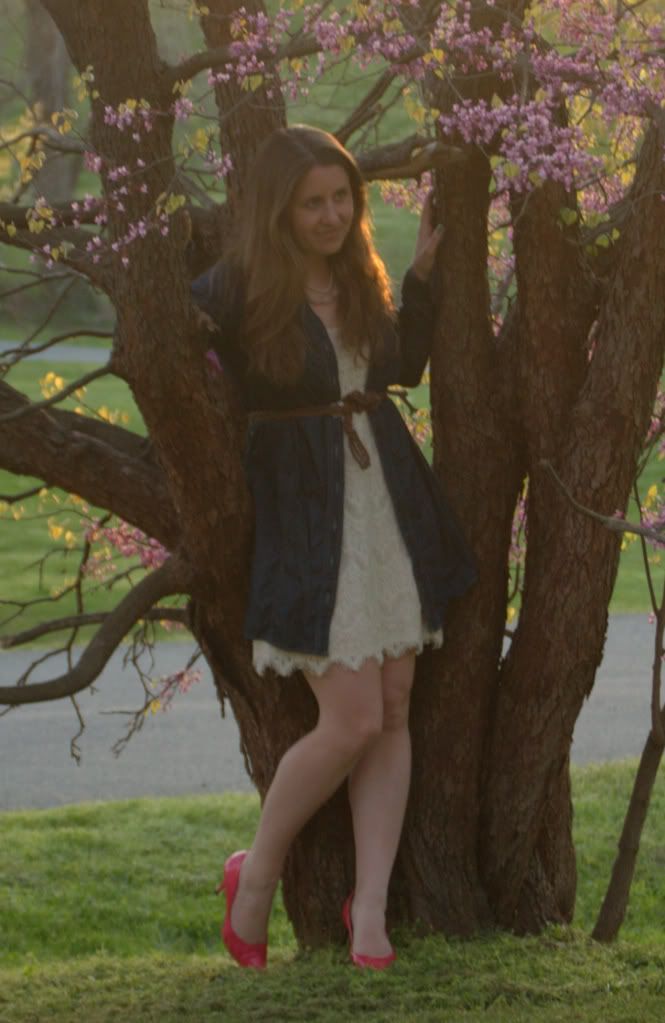 Man, oh man does someone need a haircut or what?? If you follow me on pinterest, you might notice that I want to change things up next time I head to the salon... Thoughts?
So bellas, what do you have planned for this weekend? High doses of fabulousness, I assume. Any super duper awkward moments you care to share, besides the fact that you just heard me say super duper? Ignore the talking head. It knows not what it says. Except for when it says to have a fantastic weekend. Then it speaks the truth!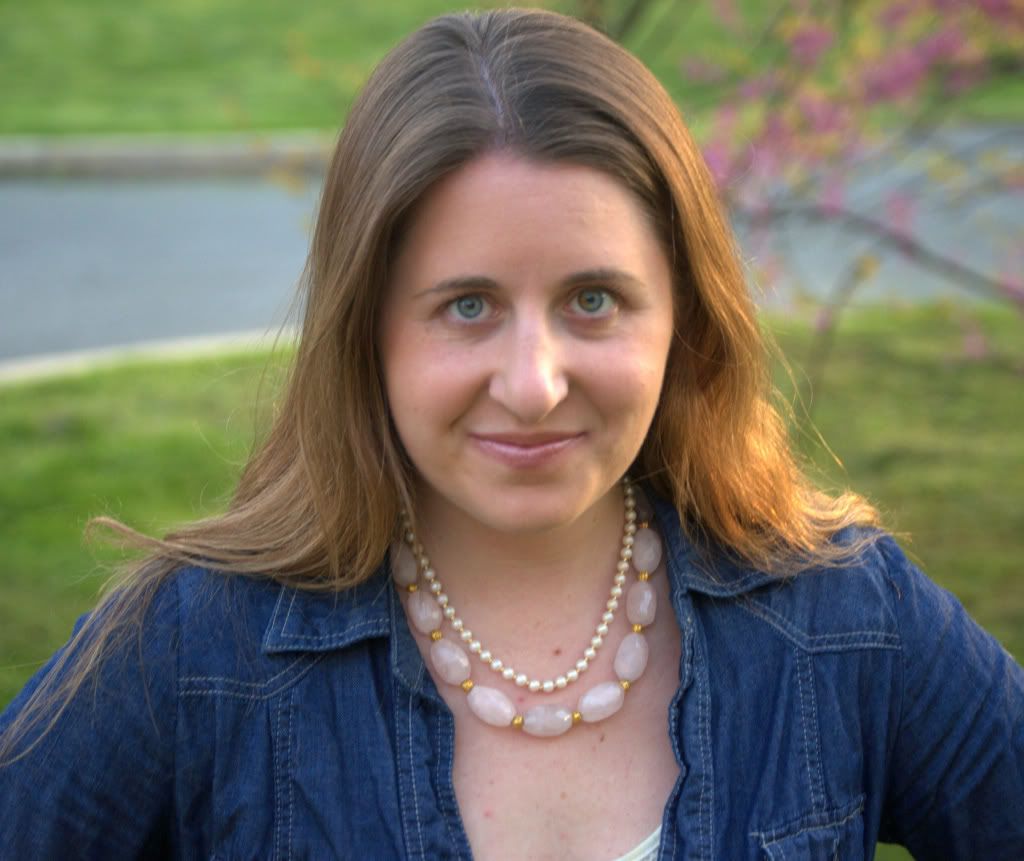 I am crazy about this necklace!! I had the pleasure of interviewing its maker, a few months ago, and have been obsessed with it ever since. Enter birthday present begging asking time! And my wonderful mumsicle came through, as always. Thanks mom!! And thanks to Sola for creating such beautiful work!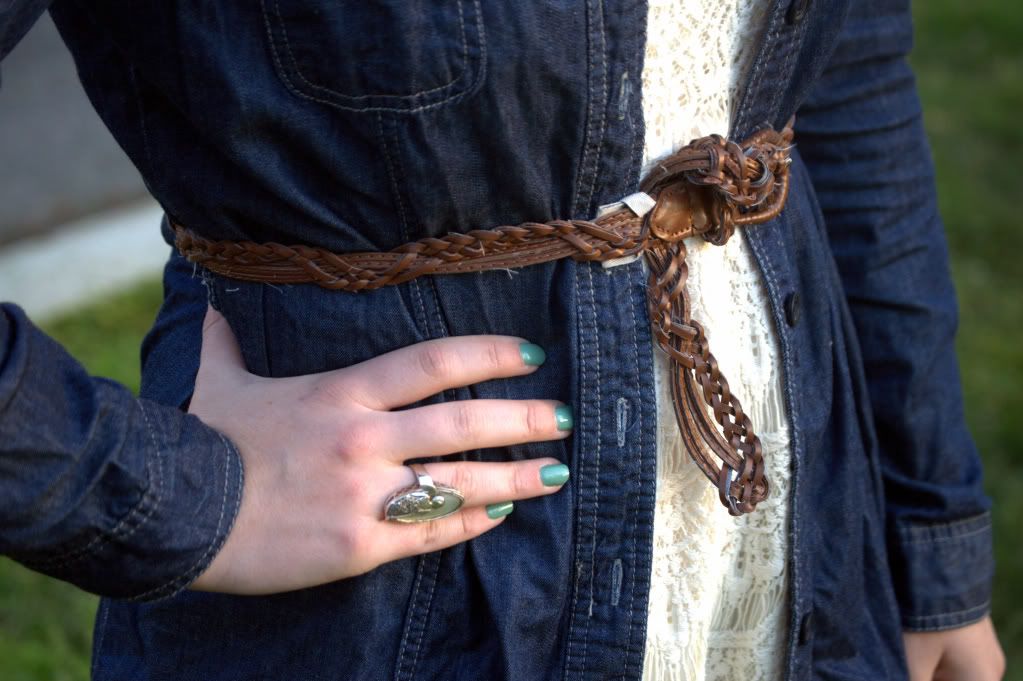 Polish: OPI's Mermaid's Tears- reminds me of Tiffany blue though, and who wouldn't want to be reminded of that??
Bisous!