Aloha lovahs! I feel the need to tell you right now, up-front that this post may contain more excitement and hullabaloo than you ever could have imagined, or possibly handle. I feel like I just got a hand-written, ornate invite to New York Fashion Week. Or was told that Audrey Hepburn somehow returned from the dead and she personally requested to meet me. Ok, maybe I'm not that excited. Buuut I will be getting to cross one of the "biggies" off of my personal list of things to do before I die. You know the gist: publish a book, go sky-diving, get married on the beach, read 100 classic novels and watch every Audrey Hepburn movie. Those are definitely some of the highlights of things I still need to do. But none of those will be occurring Saturday. Do you need a hint? I'll give you this. On Saturday I will be in...........................................Boston
Maxi dress (serving as skirt): Urban Outfitters, Chambray: Madewell, Flats: American Eagle, Watch: Michael Kors, Ring: Amrita Singh, Ring/Earrings: Gifted
I almost felt like I was cheating when I wore this to work today because it was too comfortable. It was like going to work in PJs and oddly enough that is a very disconcerting feeling. But I can tell you this- this dress will be a summer staple. I can see it now without the top, a brown belt and a cute fedora. Perfect weekend outfit!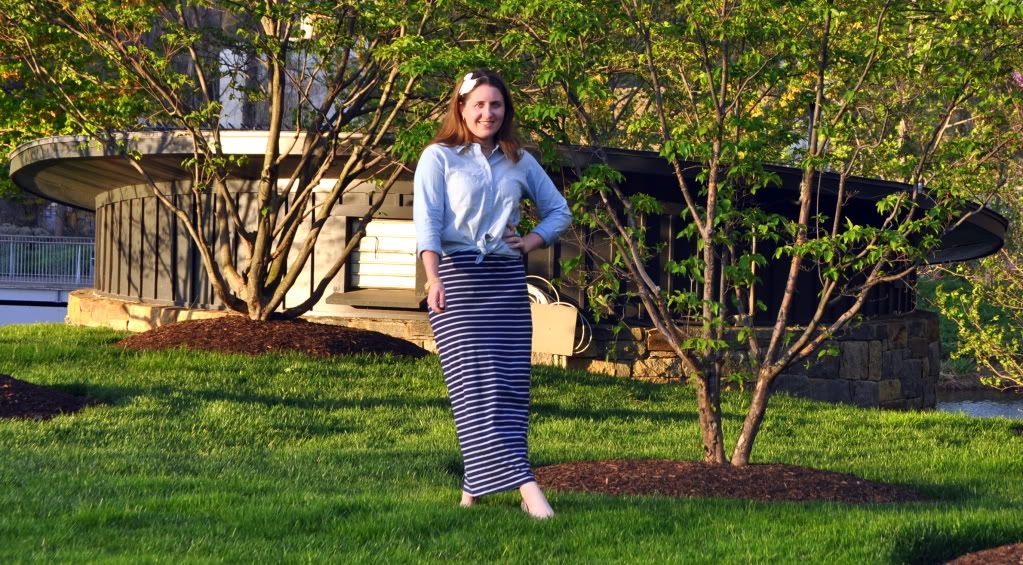 I just loooved the stripes with the chambray look. It was so laid back, but it seemed just pulled together enough to work for work.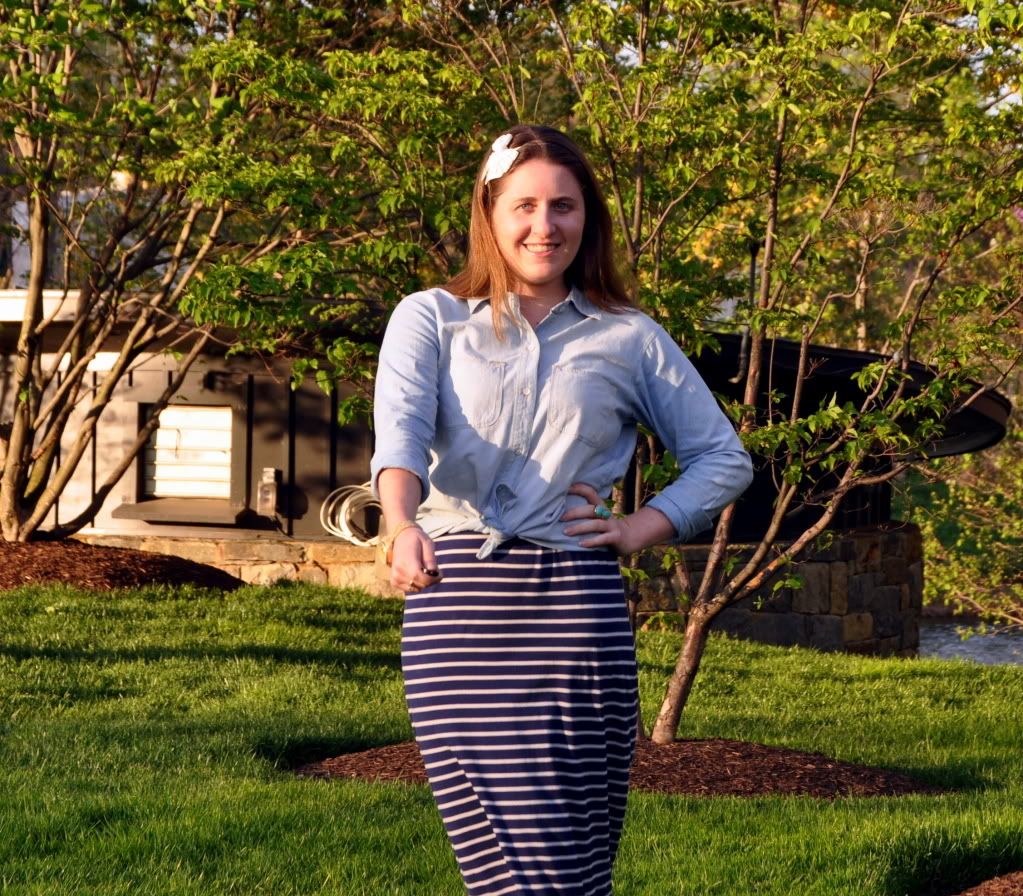 I guess you are going to get a lot of hand pointing at the camera shots until I figure out this whole remote thing.
| | |
| --- | --- |
| I took half my photos today and decided I liked this location better. | I was a little worried I'd fall in though! |
| | |
| --- | --- |
| Did I mention this is my view from work? It makes me want to play! | And token head-less shot :) |
Have you figured out what I am doing yet??? If you guessed GOING TO A RED SOX GAME you are the winner!!!!!! AHHHHHHHHHHHHHHHHHHHHH! And I'm leaving it on that, because I mean really, what can I say that tops that. Touche, Red Sox game, touche. Oh, itty bitty request though? Send some good vibes out to the universe that they get their act together and find their game before Saturday. My boys have been a bit disappointing so far this season.

Bisous!