Bonsoir babes! I hope you had a Tuesday-licious Tuesday. Just don't ask me to define "Tuesday-licious" and we will be all good. Deal? Great, I knew I could count on you! Roommate and I went on our longest, and best in my opinion, run we have taken so far tonight. And man did it feel good. Seriously guys, I can't even explain enough how anti-running I was until about 1 month ago. You couldn't pay me enough to do it, and now I actually look forward to each night (in reality, I look forward to the feeling I have once it is over but I'm still counting it) and say insane things like "Let's do the hills tonight" or "Let's push for 30 minutes" when roommate suggests 25. All I can say is who am I and what did I do with anti-running Laura?? Is it bad to say that I hope she stays gone?

This weekend was roommate's boyfriend's 21st birthday (there you go Stephen, you made it on the blog) so he came on down with his brother and a friend from school to celebrate with his lovely girlfriend. And me. Since his friend had never seen DC before we of course decided to play the role of tour guides! Although I think in reality we acted more like tourists in our own city. To be fair though, we have only been living here for 2 months. I think we are still in-betweeners. After a wonderful breakfast in GTown, we ventured out into what we call "main DC" to do a little sight-seeing, of course forgetting about the fact that it was the Cherry Blossom Festival. Thus, we spent a lot of time sitting. In our car. But eventually, we found parking and enjoyed a great afternoon walking the Mall and popping in and out of museums. And of course, we had to stop for une petite photo shoot before we went home.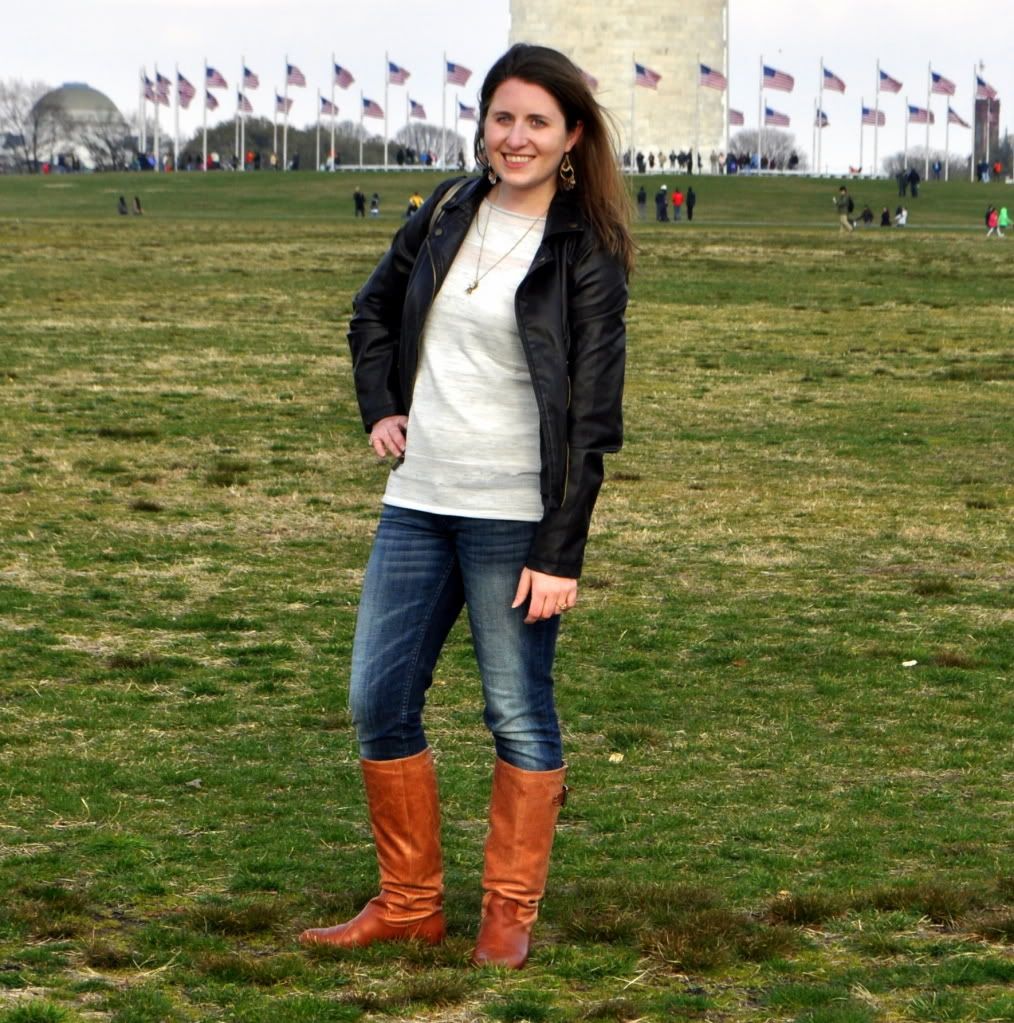 Jacket: Century 21 (NYC), Sweater: LOFT, Jeans: Levi's via Kohl's, Boots: Steve Madden, Necklace/earrings: Forever 21, Bag: Coach
I told you I'd get outside again, soon! Although, as you clearly can see with all the squinty-ness occurring. outside Laura still has some practicing to do. Oh can anyone guess where I am??
These pictures were taken in front of roommate's bf, his brother and his friend, and the last two I had only met a few hours before. And we already know how I get a little shy taking my pictures in front of others. The result? I posed for roommate for all of 10 seconds, let her get the above and below shots and then booked it on out. What I didn't count on was her still snapping away as I walked. And trust me, the face I made at her is too good to share before on a non Awkward and Awesome Thursday. The blog would just explode if I revealed how awkward I am every other day of the week!
Ahoy, the pointy finger!! And don't worry- I am perfectly aware that that is NOT it's name. But brother and I used to call it that as wee little tots and it still kind of slips out sometimes as an adult. Officially I guess I should say it is The Washington Monument.
On a non-fashion note, I just wanted to share a few other photos with you that I snapped throughout the day. It really is one of the most gorgeous cities, in my humble opinion.
Oh and I swore I would never get one of these (oh wait, I said that about
twitter
, too!) but after getting several emails from readers asking why they couldn't find me on formspring, I gave in and made one. If you have any questions you've just been dying to anonymously ask me, now is your chance!
Ask away
.
Bisous!