Hi lovers! So it is t-minus 2 hours until birthday time! Although 23 is not all that cool of a birthday, so I don't know why I am all that excited. But I really do love birthdays. Not just mine, all birthdays. I love to make them a huge deal. I love to use them as an excuse to decorate, pamper people and throw ridiculously fun parties. Like the year that I decorated my college roommate's side of the room (including her bed) while she was in the room asleep. I was pretty proud of that handiwork. Or the time that I begged my mom to let me throw a huge bash for my dad's 50th, and I promised I'd take care of everything. In reality, I had great "ideas" that never manifested and she ended up planning 90% of the party, paying for it all, and letting me take credit when the time came. Isn't she the best. Yes, yes she is.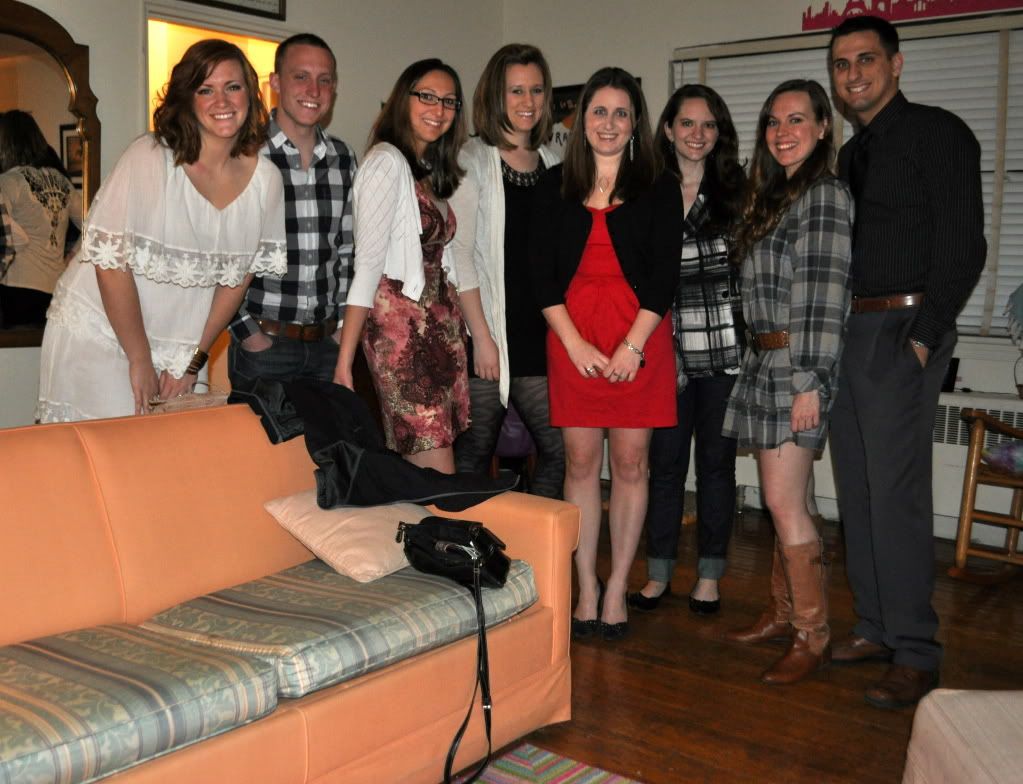 My lovely friends who joined me for birthday celebration part uno! Thank you all for making the night wonderful! Oh and please pretend like you don't see the hideous orange/floral couch. I promise it is going to be changed soon!
So, birthday celebration fun is well under way already chicas. I have to say, I may be the luckiest girl in the world. I am so blessed to have an amazing family, and to be surrounded by the best friends a girl could ask for! I don't know how I got this fortunate, but I thank each and every one of the incredible people who have already made this year's birthday celebrating tons of fun! After spending a very relaxing morning at the spa with my mom followed by a sushi (my favorite) lunch on Friday, I then got to hang out with great friends in Georgetown last night! It was a mixed group of highschool, college and along-the-way friends who seriously made the night very entertaining. We ate at a lovely Italian restaurant that was new to me, and then came back to the apartment to hang out and ended up playing Mad Gab. Friends, let me tell you now that if you ever have to be on my team for Mad Gab I apologize now. Yes, it really was that bad and no, I am not exaggerating. There may or may not be video proof at the end of this post to back me up. Thank goodness my poor teammates found my lack of skills amusing and not highly annoying.
Dress: Belk, Cardigan: Roomie's, Shoes: BCBG, Bracelet: Juicy Couture, Necklace/Earrings: Gifted
Ok so, these photos are not my favorite pictures I've ever seen of myself, but there were a lot of people in my apartment watching this little photo session happening and I got a bit shy. That's my story and I'm sticking with it.
I think this is my "Are we done yet?" face! Poor roommate has to put up with me being such a diva :)
My wonderful friends! Pseudo brother, hawt "prom date", roommate! and the bestie with her hubs. Love you all!
Do you all have any favorite birthday traditions, or things that make your day special? How did you celebrate your last birthday? I want to know!! Oh, and now a video just for your viewing pleasure. Promise not to judge my intelligence from this though, please. It is not an accurate depiction!!
Bisous!