Top 'o the morning to you lassies (yes I know it is long past morning, but still such a fun phrase to say)! I hope you're all enjoying your weekends. It is fun to be here with you on a Saturday, since I never get that opportunity. But since my weekend consists of doing absolutely nothing, I decided I might as well post my recaps from Day 1 of fashion week. I'll have Day 2 for you tomorrow, and that will wrap up NYFW talk. I'm going to get right on in to the post today, because we have a lot of photos/text to cover with recaps from Walter Baker, Rebecca Minkoff and Nicole Miller.
Photos by Zimbio.com
The Walter Baker presentation was my first NYFW experience, and I can honestly say I had no idea what to expect, and definitely no idea what I was doing. I had a press badge which got me into Lincoln Center, and then I just waited in standing room lines to try and get tickets to various shows I was interested in. I heard good buzz about the bright, fun collections Walter Baker usually presents so I knew immediately that I wanted to get in. I only had to wait about 15 minutes to get in, and I'm so glad I did (plus I get to
meet Katy
while I waited!) because the presentation was beautiful. What can you even say about a presentation that included parrot tuxedo pants and dip dyed motto jackets? The models lined up in a V shape and rocked out to the music through their Skullcandy headphones. The collection was filled with bright colors, tribal prints, colorblocking and tye-dye psychedelic maxis/hi lo dresses. While the left side of the V felt more business, the right side was very beachy/traveler-esque. The ombre blue jacket above was stunning, and I seriously want to get my hands on it. The
awesome
news is that this collection will be sold at Macy's! (all photos below are mine)
The full W118 By Walter Baker presentation
This was the right, more beachy side and probably my preferred side. I gravitated towards the bright colors, the ikat and tribal prints, the maxis and the hi lo shapes.
The business side. I was crushing hard core on the blue ombre leather jacket at the end. and the lace skirt/pants on models 3 and 4.
Loved the navy and white ikat shorts/pants.
Everything was right with the colorblocking, the bright corals and the tribal print short suit.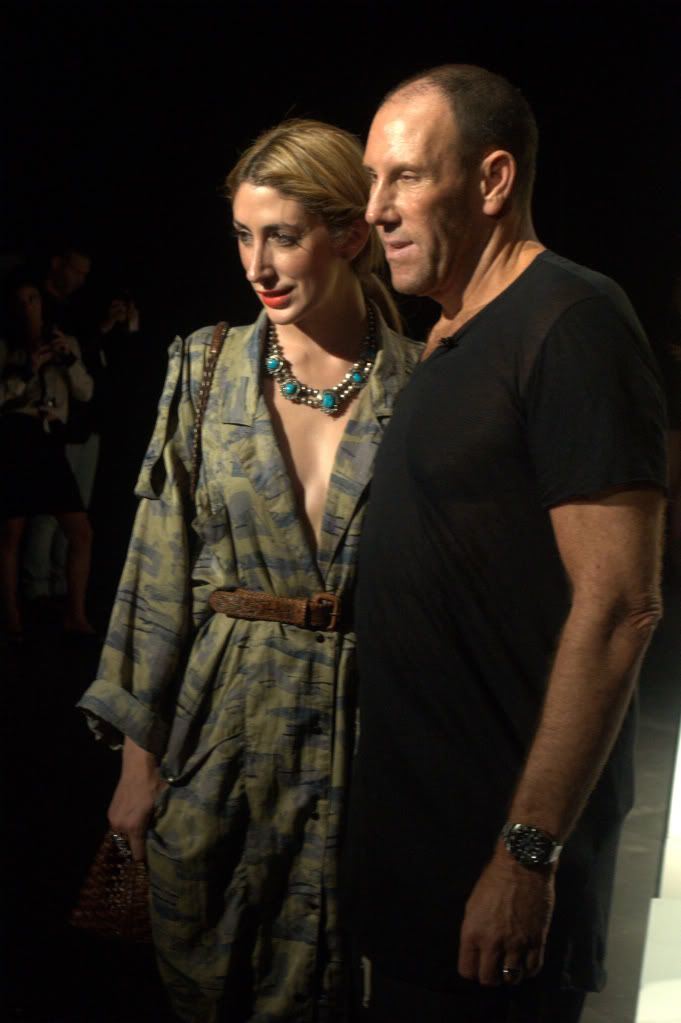 Designer Walter Baker with stylist Lauren Rae Levy
Photos by Style.com
Next up was the one show that I was dying to see. Rebecca Minkoff is by far one of my favorite designers, not only for her beautiful purses, but also for her down-to-earth personality (this
video
anyone?) I had submitted entries to her Facebook and Twitter contests to try and win tickets, but with no luck. So after standing in line for 30 min and then being told no one was going to get in standing-only, I was devastated. But when 90% of the line left, a miracle happened and they let all of us still there IN! I was ecstatic as my neon-heel-clad feet raced their way on in to my first fashion week
show.
I was a little overwhelmed and maybe in a bit of shock as the lights finally dimmed and the first model stepped out on the runway. But I was hooked from the first look, which appeared to be a classy all-white ensemble with white flared denim pants and a boxy cut white button down. But on further inspection, the pants had an unexpected floral detailing along the hem and the top had a fun slit in the back, making for an updated sexier version of the white out look. The live performance-done by Tennis and DJ Cassidy was also amazing. The rest of the collection continued to impress with more floral details, delicate bird-printed silk blouses, structured lady-like bags, beautiful and bright blazers/coats and of course, the snake-printed overalls. I would totally love to rock that white and floral button down above and the checkered blazer. *TREND SPOTTING: Blazers with graphic tees and shorts will be huge next spring so get ready* (See full show
here
. All photos below are mine)
I am in love with the blazer on the right.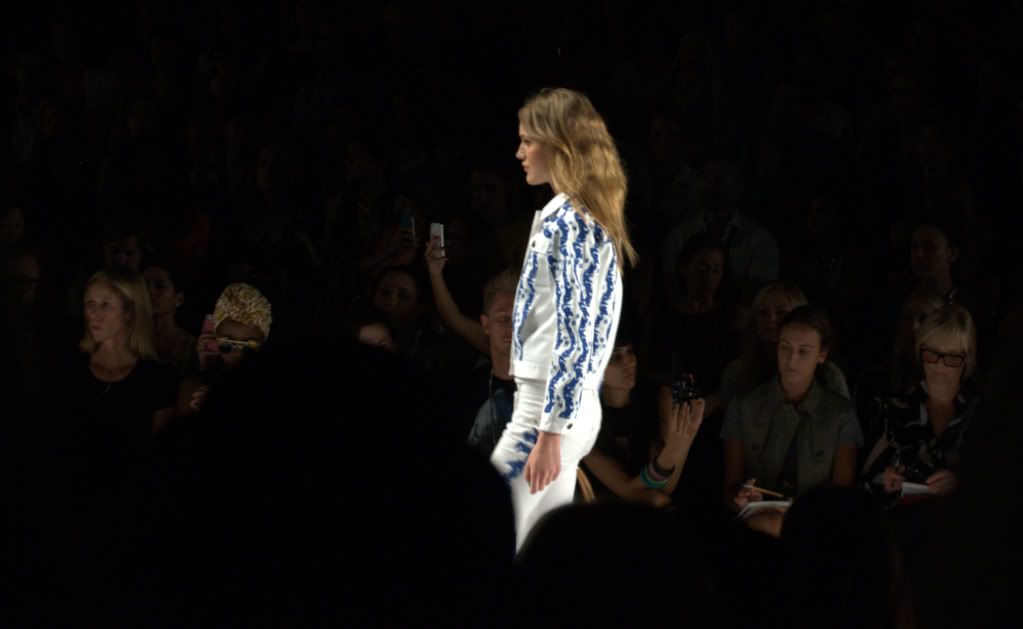 This white and blue denim jacket was so fun and had a bit of a modern cowgirl look to it.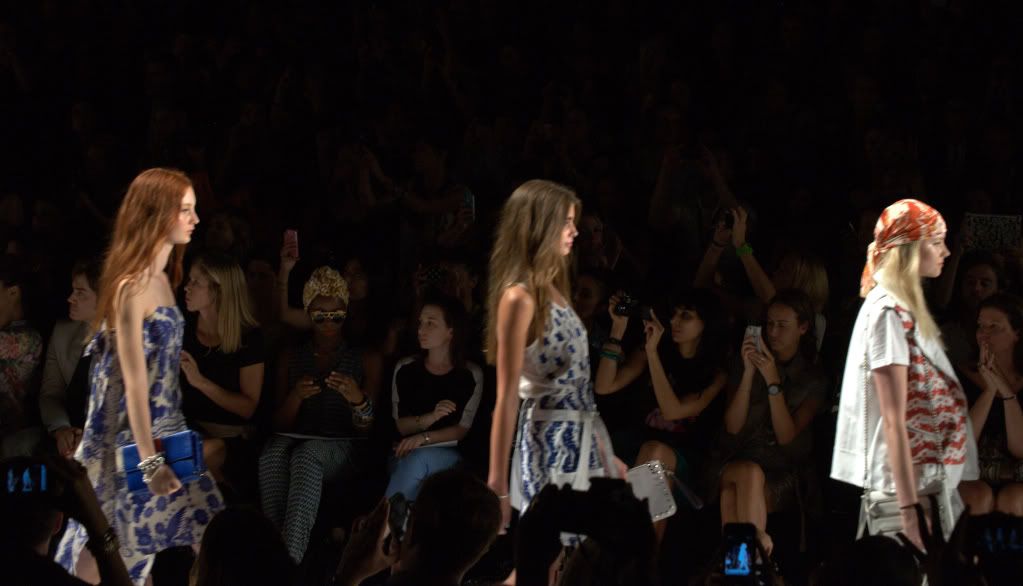 The final walk.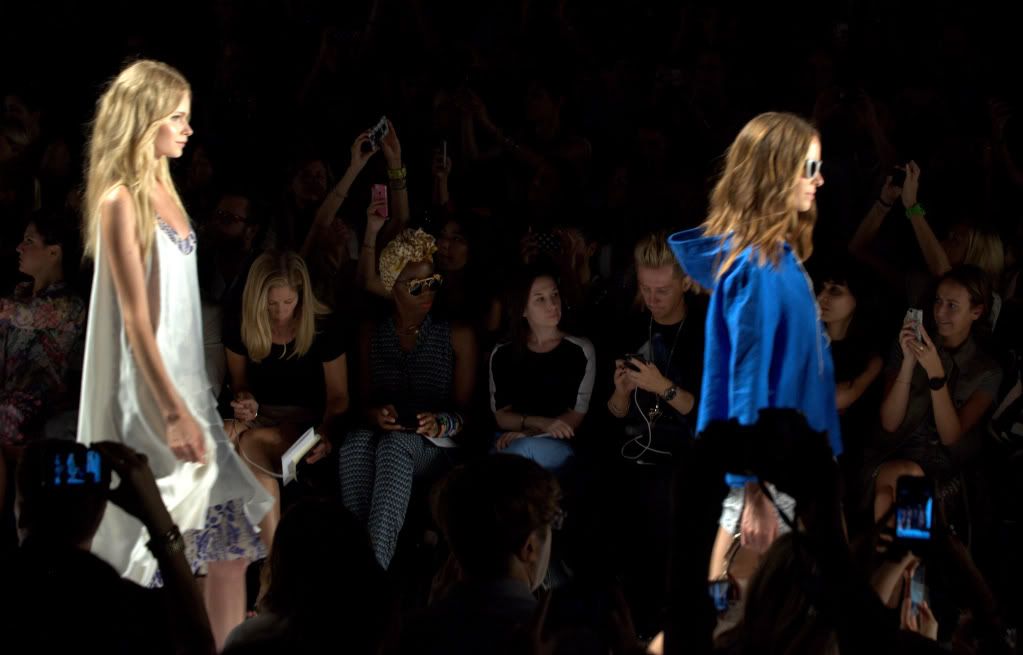 The hooded blue jacket was really sleep and sexy.
More final walk looks. I apologize that the pics from this show aren't great- I have a lot to learn about show photography!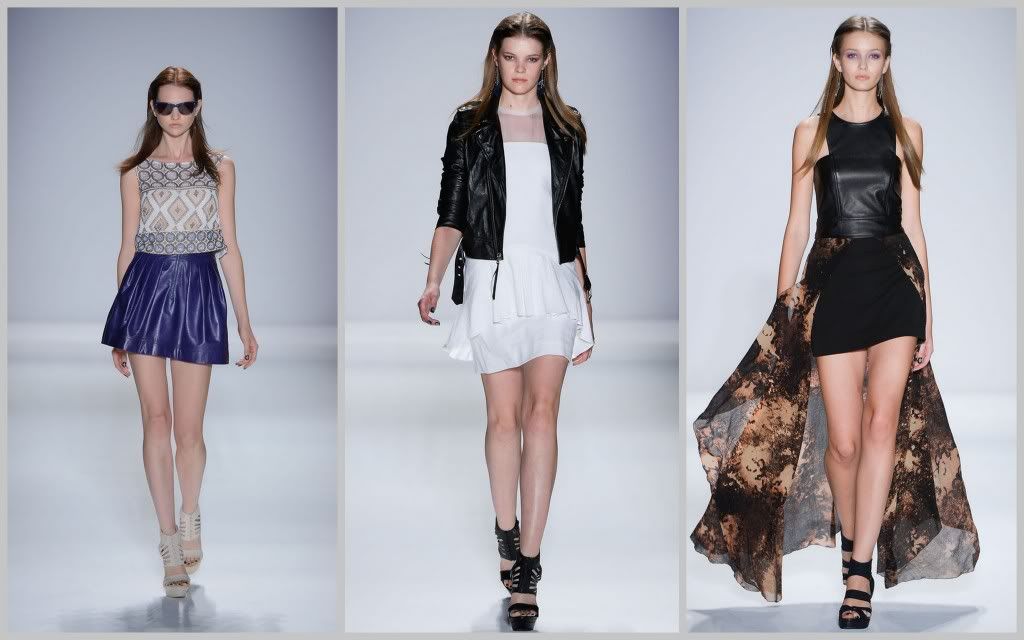 Photos by Style.com
Last on the agenda for Day 1 (Friday) was Nicole Miller, which ended up being my favorite show of the weekend! I have long been a fan of Miller's sexy gowns and feminine vibe, but this collection really stepped it up a notch with its futuristic/ rave vibe. From the multi-colored hair do of the second model to the Men-In-Black inspired sunglasses, the show combined elegance with out of this world for a really fun collection. The clothes were splashed with acid colors and digital prints and plenty of trailing hems. The pieces all moved beautifully for a really ethereal look. According to the Washington Post, Miller was inspired by the "juxtaposition of improbable things" and that was predominant in the show. Leather is paired with feminine prints/colors, while girly florals are plastered on a skin-tight cocktail dress. It was far and away the best show I attended, and not to toot my own horn, but I think my photos turned out pretty decent, too. *TREND NOTE: Leather will not be going anywhere next year, so if you are thinking about investing in leather pieces, do it now.* (Full show
here
. All photos below are mine)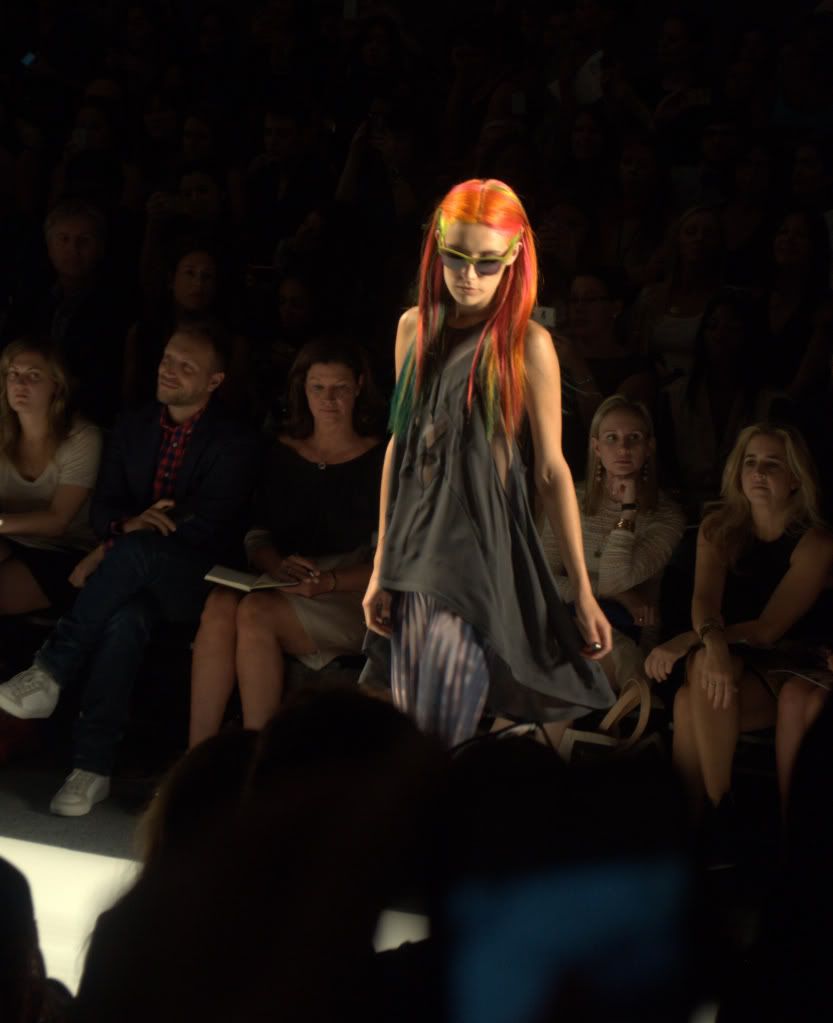 I loved what a risk Miller took with this model's hair, and how beautifully the fabrics in her collection moved.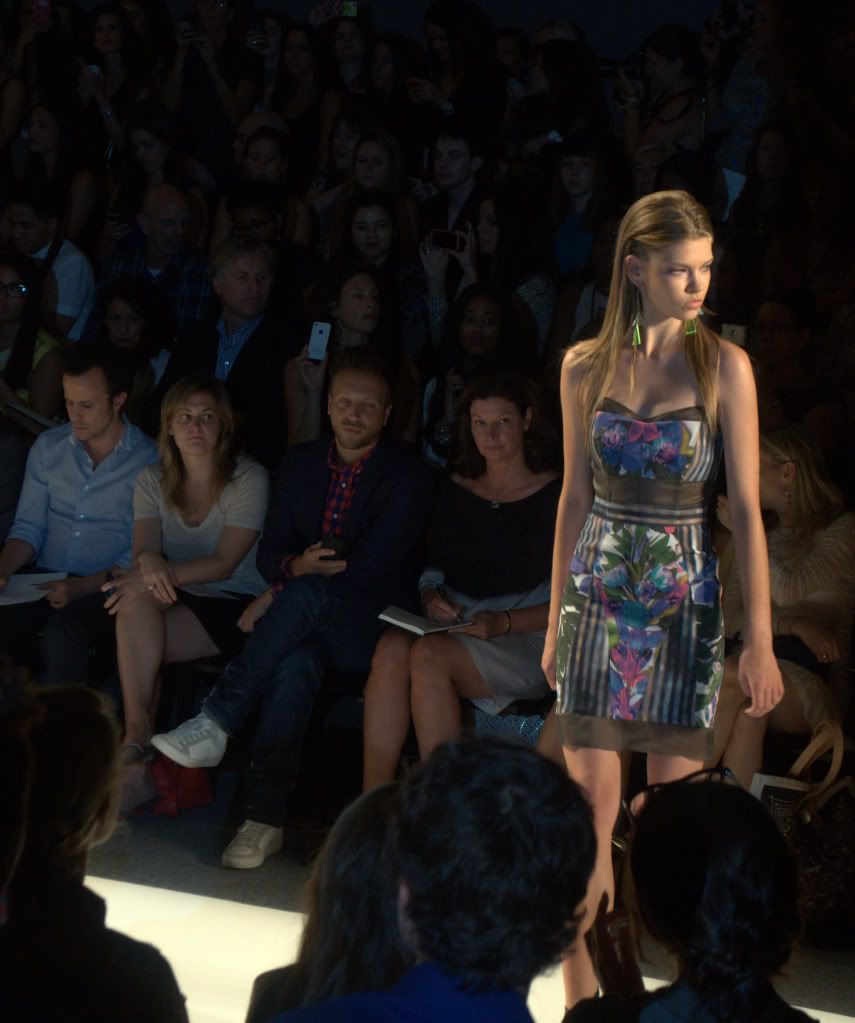 This dress would be so stunning for a cocktail dress, or with a blazer for work.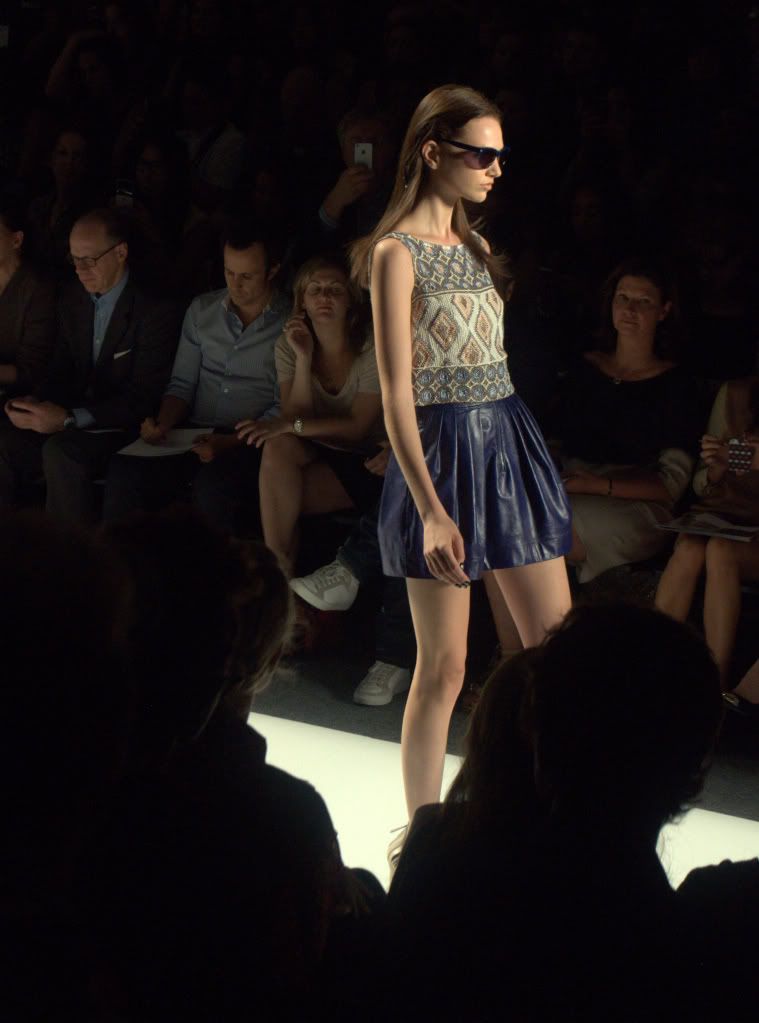 I am obsessed with this blue leather skirt, and I love that she paired a high-waisted skirt with a crop top to keep the proportions classy but still sexy with just the right amount of skin shown.
This model was just as fierce as the graphic print dress she rocked.
The mash-up of edgy (leather), sexy (tight mini skirt) and feminine (drapey peplum-esque top) in this outfit really defines the whole NM collection. This was one of y favorite looks for sure.
Another piece that just moved beautifully, and I love the silhouette of skinny pants with a flouncy top.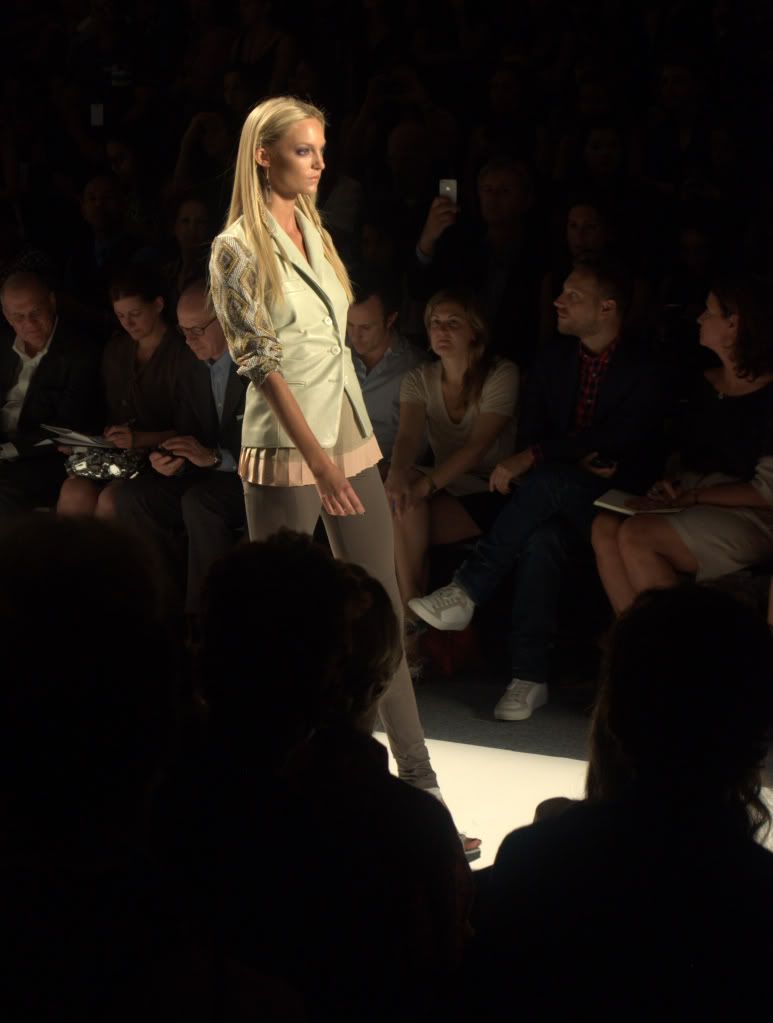 I loved the fit and proportions of this look. Very classic and work appropriate.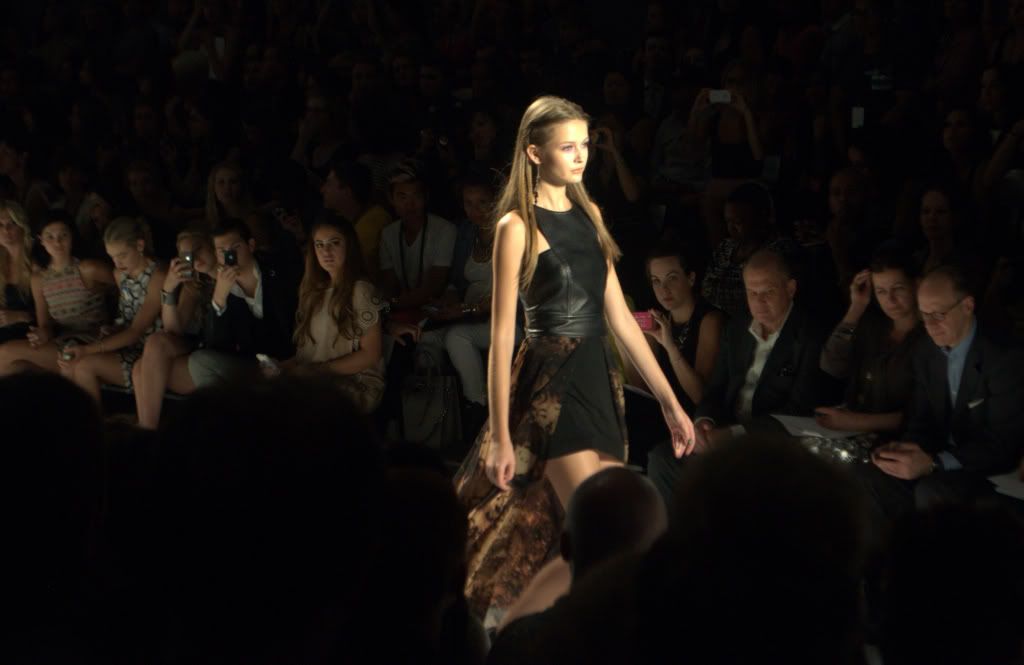 This was my favorite piece from any collection all weekend. If i could own one thing from NYFW, it would be this leather bodice dress with a flowing "space cloud" print train on the skirt. (honestly, i can't tell if it is a crop top with a mini skirt and train, or a dress. either way, I want it!!)
Ok, if you stuck with me through all those words and photos kudos to you! I'll be back either tomorrow or Monday with recaps from Day 2 (Jill Stuart, Son Jung Wan and Rafael Cennamo to wrap up the NYFW coverage. Until then, loves!

Bisous!