Howdy buckaroos! How's it hanging on your side of the mountain? We are light and breezy over here. Sorry, I was just getting my "Mountain Woman"on seeing as I'm going CAMPING this weekend!! I may be a wee bit over excited, but this will be my first legitimate camping trip since I was, oh 10. I did the whole girl scouts thing (running around begging people to buy my delicious cookies wasn't really my thing. Why sell them when you could be eating them? I swear I wasn't a fat kid.) but what they called "camping" usually involved cabins or, worse, hotels. I've never even pitched a tent before. Oh, and did I mention there will be river tubing? And s'mores?
S'mores
people. Shiz 'bout to get cray. So look out woods, because here comes one over-eager camper heading your way!!
Last Thursday roommate and I were invited to check out a new salon in town,
The David Rios Salon & Spa
, and we had a bit of time to kill beforehand. I hate being the first to arrive to anything, and as we all know any soiree in DC is going to start fashionably late. We happened to be near one of our favorite places to indulge in our favorite fall treat - spiced chai lattes! - so grabbing one was a no-brainer. I was really in love with this sweater/jeans pairing (see captions below for five reasons I think this outfit rocks) so roommate was kind enough to snap a few pics for me while we waited.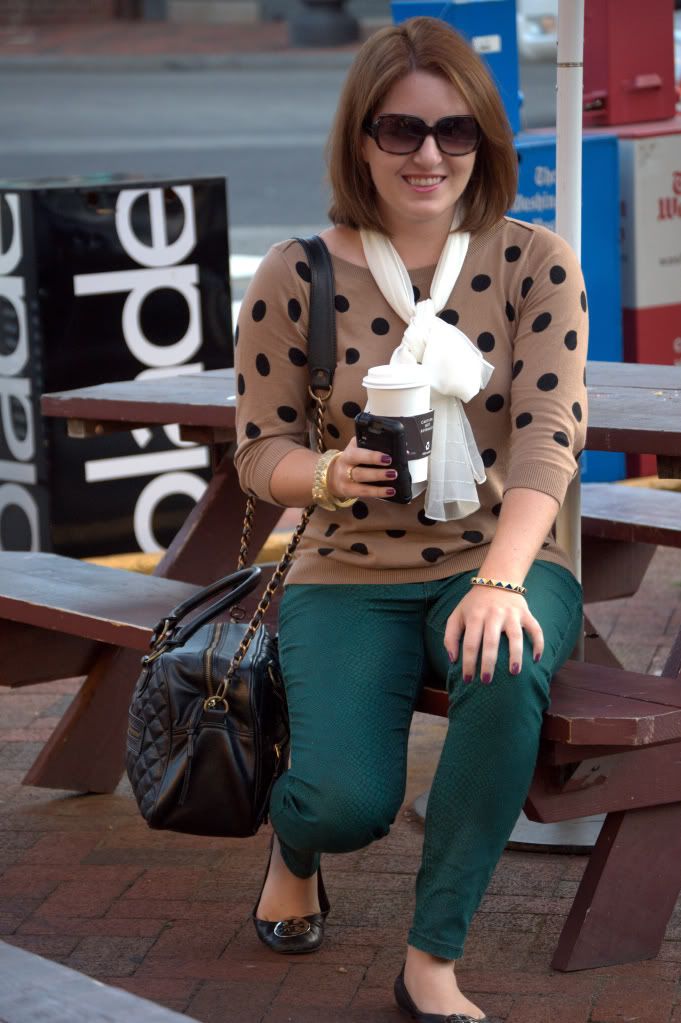 Sweater: Old Navy, Jeans: Nordstrom Rack, Flats: Tory Burch, Sunnies: Marc by Marc Jacobs, Scarf: Gifted, Bracelets/Ring: Lia Sophia, Watch: Michael Kors, Bag: theit, Mani: OPI Pamplona Purple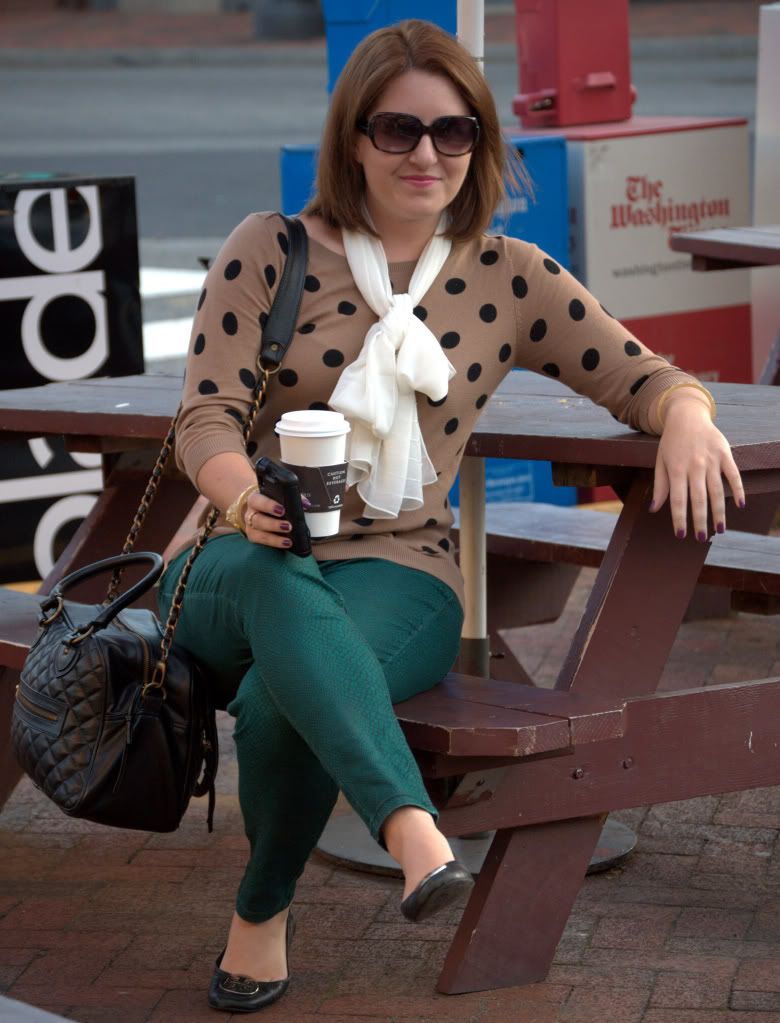 1. Pairing camel with jewel tones enriches both colors and allows them to really pop.
So you may have noticed that I wore this exact jewelry combo in yesterday's post, but I can't help it: I am in love with my Lia Sophia pieces. No, this is not a sponsored post and these items are not c/o items, I just genuinely love them! The pattern, the colors, the fit-everything is just perfect.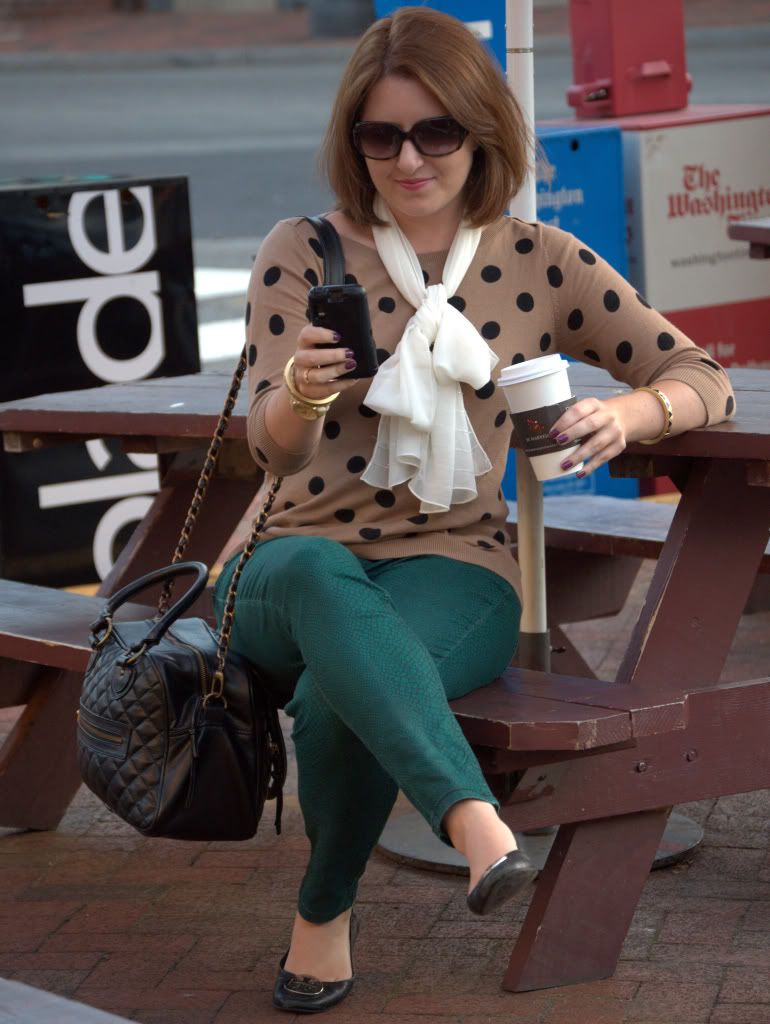 2. Pattern mixing is automatic win in any outfit, in my humble opinion. The snake print of the jeans looks almost small circles, which complements the larger polka dots of the sweater.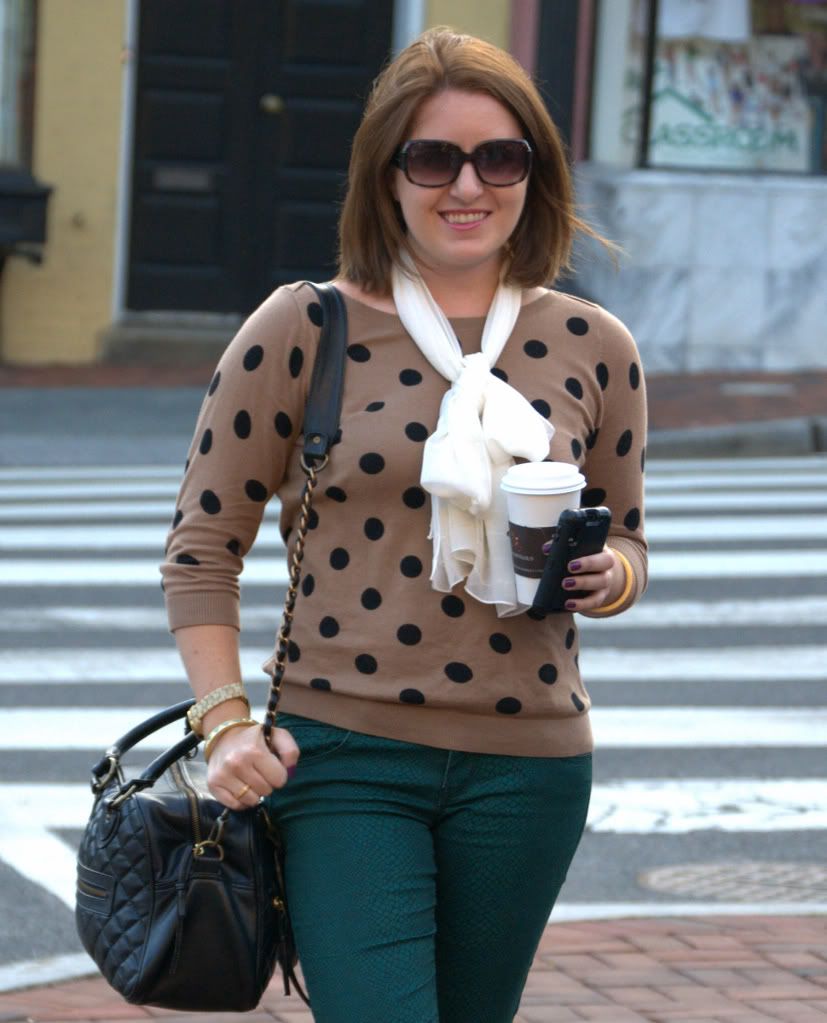 3. Silky scarves are the perfect early fall (read: still slightly warm) accessory. They add a hint of elegance without making you overly warm. I like to make a scarf my only neck accessory, and eschew necklaces for bangles, watches and rings.This particular one was a gift (thanks Rachel!!) and I wear it any chance I can get. It is a beautiful white/cream in between color and thus goes with everything. Roommate loves it too, so it was really a double gift from Rachel :)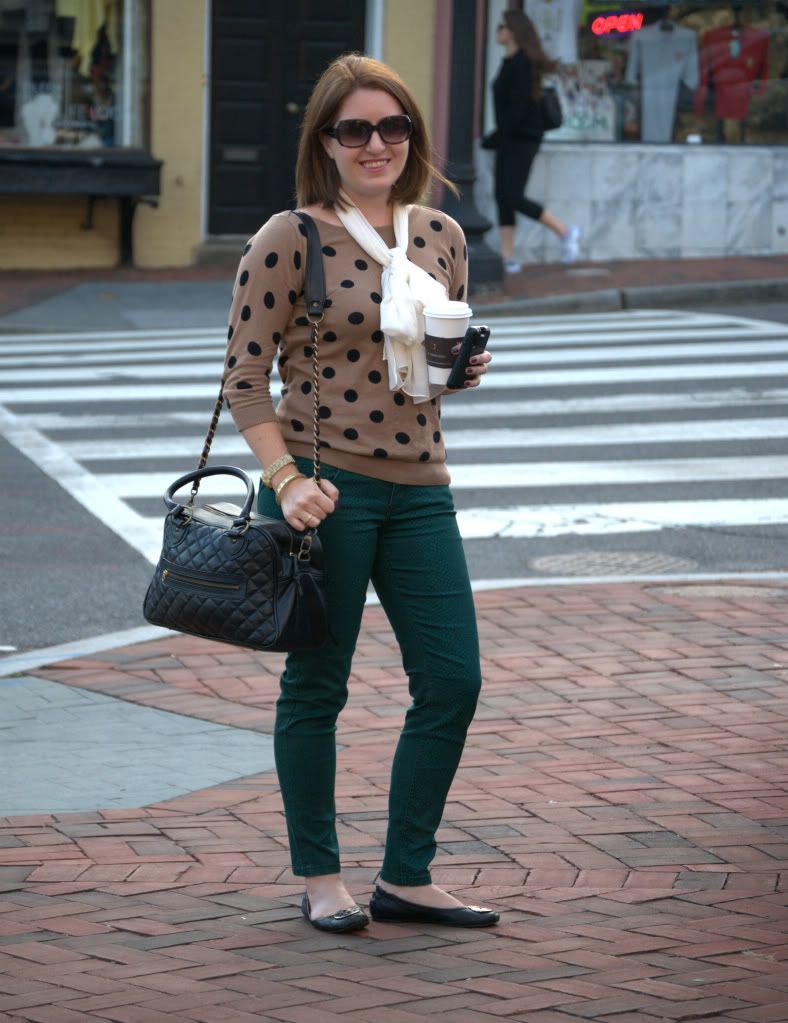 4. Mixing brown and black is one of my favorite fashion rules to break, and I loved the mash-up of the camel sweater with the black accessories: polka dots, purse (actually my camera bag) and flats.
5. This bag makes any outfit rock!
From NYFW to swanky DC opening parties filled with shmoozing to rocking plaid, sitting around a campfire telling ghost stories: I love my life!

Bisous!