Hola mamacitas! I have been in such a domestic mood lately. Cooking homemade soups, baking and wanting to experiment in the kitchen allll the time. It's not exactly the best news for my waistline, but it sure is yummy for my tummy. Ugh, is that not the worst phrase you've ever heard? Sometimes I wonder if I write this blog in order to rid myself of all the corny, cliche over the top ideas in my head so I can make room for the good sentences when I'm at work. Interesting thought, huh?
So big news in my life. I mean
monumental
. For months now roommate and I have been watching LOST. Neither of us had ever seen any episodes and her husband loves the show. He was visiting one weekend so we started from the beginning. We agreed to only watch it when we were together, so naturally it took quite awhile to get through. As of last week, we are FINISHED! I was almost nervous for the show to end because so many people were unhappy with the ending, but roommate and I were both very happy with it. And the best part is now I have my life back!! I know that sounds kind of crazy, but before we were so eager to know what happened in the show that whenever we had spare moments it seemed a given that we were going to watch LOST. Now when we have free moments they are free again and we get to fill them with whatever. Sometimes that it is movies (watching the Vow right now and wanting to bawl my eyes out) or cooking dinner or long walks with Eli. And they are glorious free moments.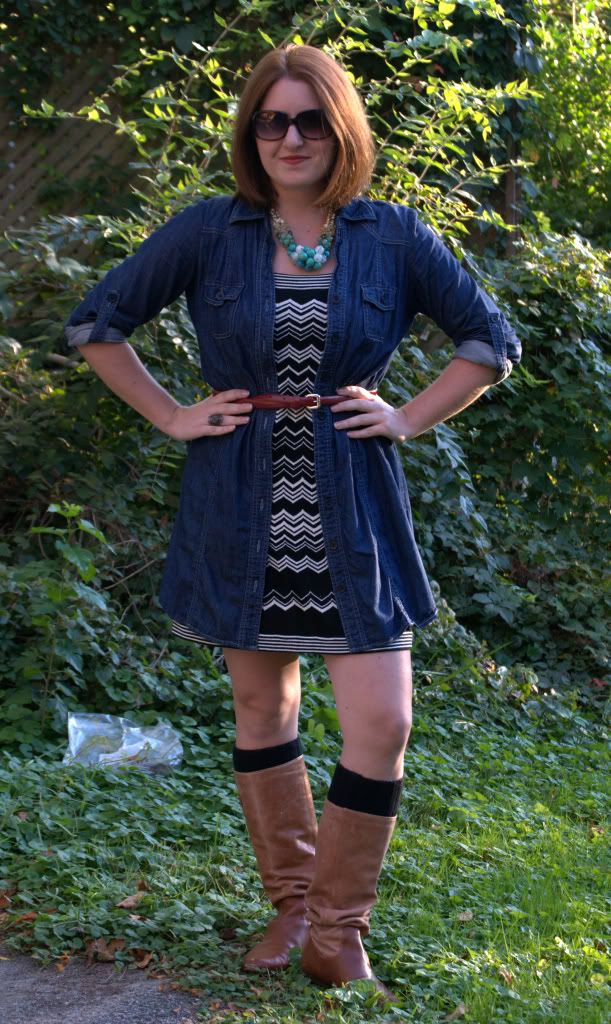 Dress: Missoni for Target, Denim Dress: Charlotte Russe. Boots: Steve Madden, Sunnies: Marc by Marc Jacobs, Necklace: Lia Sophia, Belt: Kohl's, Ring: Hautelook, Socks: DIY from old sweater sleeves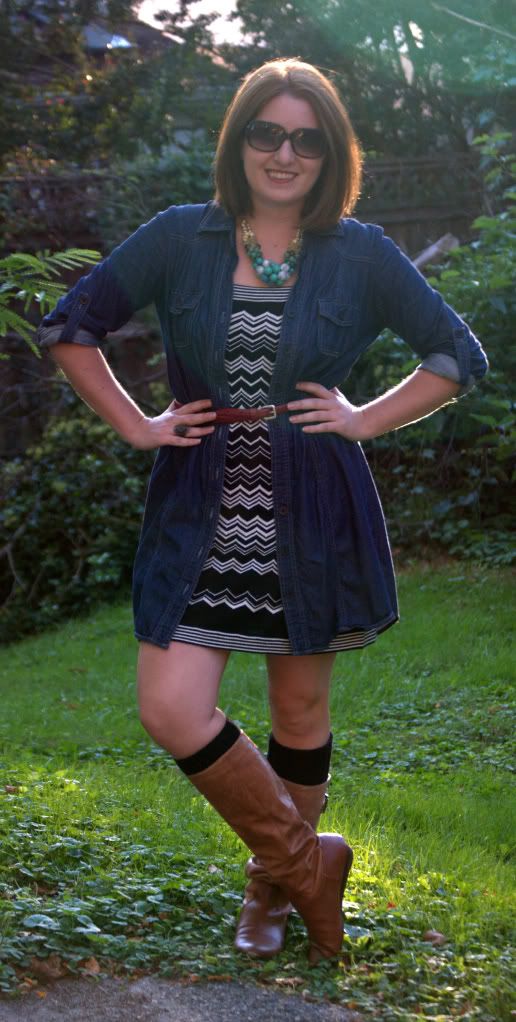 I have been wanting to try out this DIY since like May when I found the pin. But it wasn't boots season, so when I was cleaning out my closet and realized I had the perfect old black sweater that I never wore anymore, I snipped those sleeves right off and scurried off to don my boots. I adore the look of "socks" peeking out of boots, but hate the bunchy in my boots feel. Problem solved. Plus, we all know I love love love the black/brown combo!
I love stripes and denim paired together, so this was an easy combo.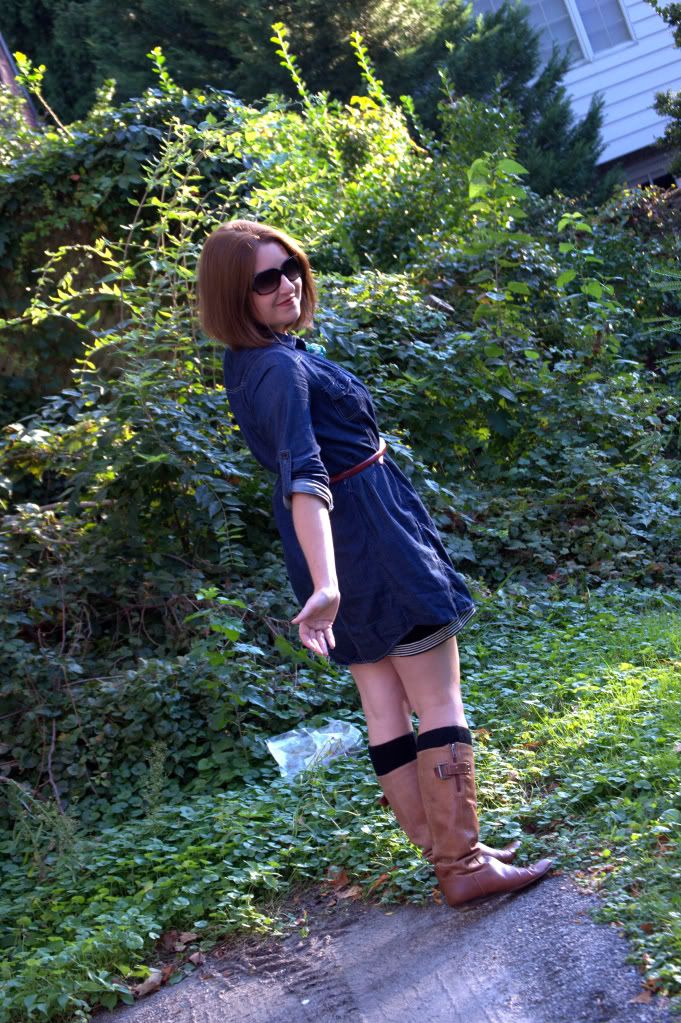 Roommate says I never do over the shoulder looks. So I gave her my best stuff. Not really sure what I'm doing with my hand though. Come with me? Take my hand? Who knows!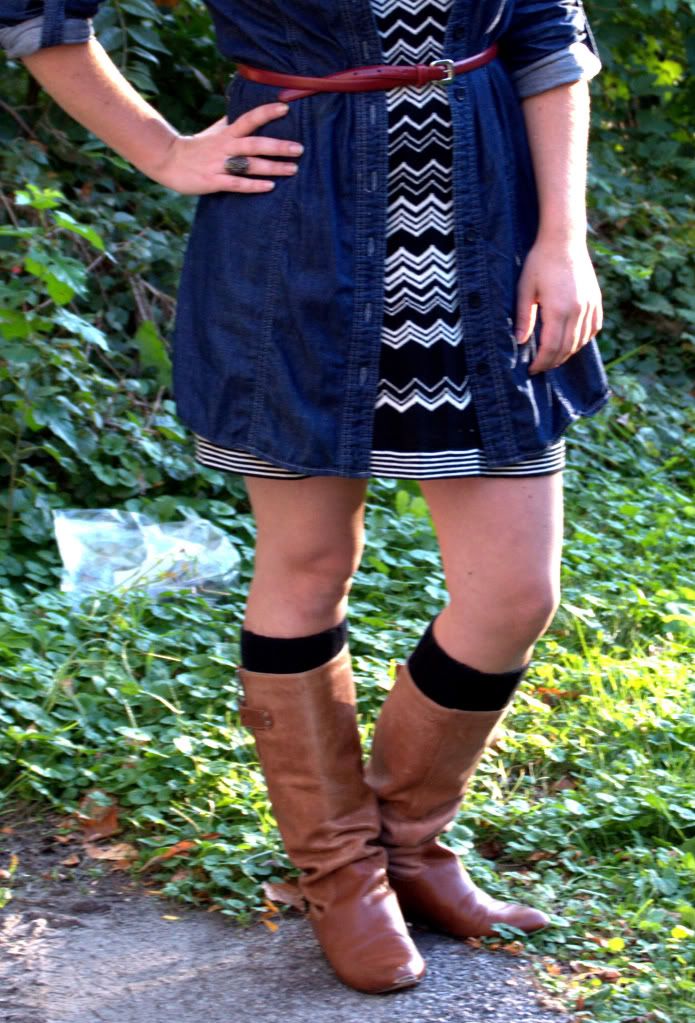 Confession: This is the first time I have worn this Missoni for Target dress. Ever. And I bought it ages ago when the line came out. I bought it in haste without a trip to the dressing room, and it has always been just the tiniest bit snug around my belly. Since that is a "self conscious" area anyways, I never want to wear ill-fitting garments that highlight my troublesome areas or make me feel bad about my body. Fashion is meant to be fun and uplifting. So I decided the best way to hide that factor of the dress was to use it as an under layer. Enter my favorite denim shirt dress that is missing a button and can't be worn on its own until my lazy butt fixes it. And a perfect layered chilly day outfit is born!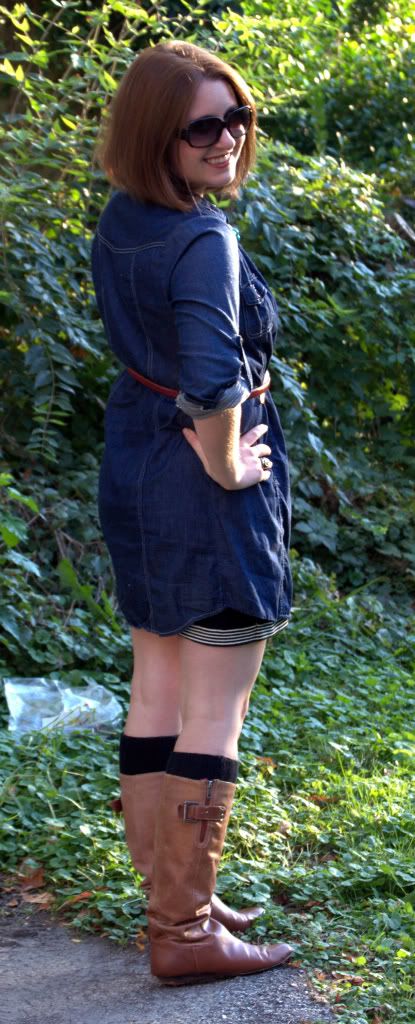 So guess what I learned? I have two very different size calves, and my right calf has grown considerably since I last wore these boots :( I don't know if it is running or just general calf growth, but these boots used to always be nice and loose fitting without falling around my calves. The left is still perfect, but the right one was a little too tight for my taste. I hope they still fit over my skinny jeans! Anyone have tips for losing calf weight?? Haha.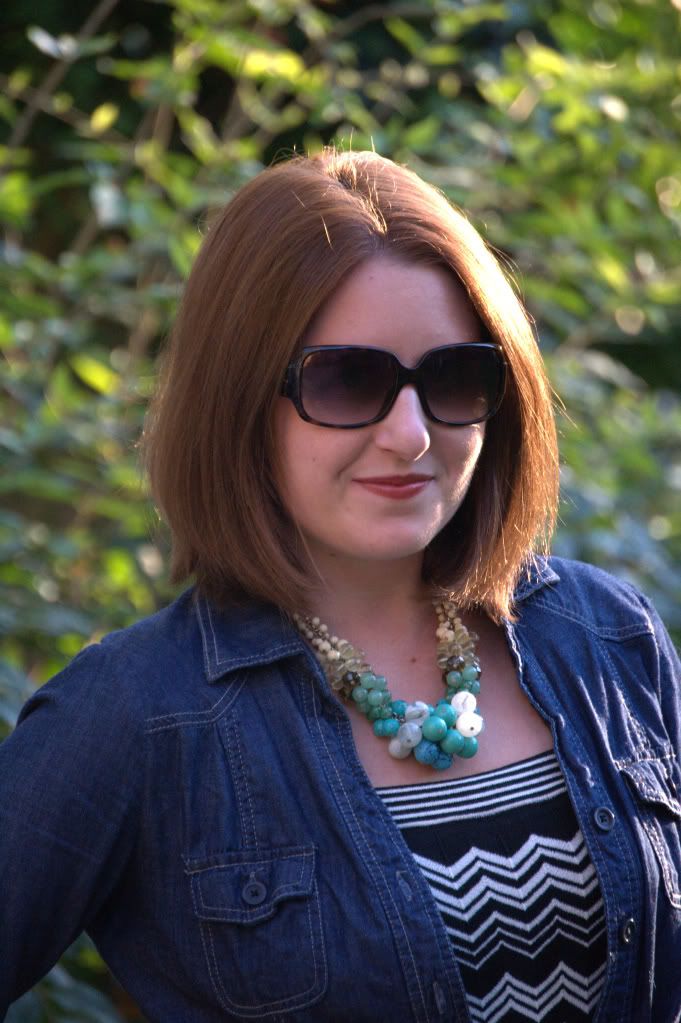 I've been experimenting with different makeup shades to go with my new do, and today I wanted to try a bit of a vampier look. I don't remember the name of the lipstick but it was a Clinique shade and I really loved it- definitely a great fall shade. It's more Burgundy than bright red, like my NARS Heat Wave or YSL Golden Cherry.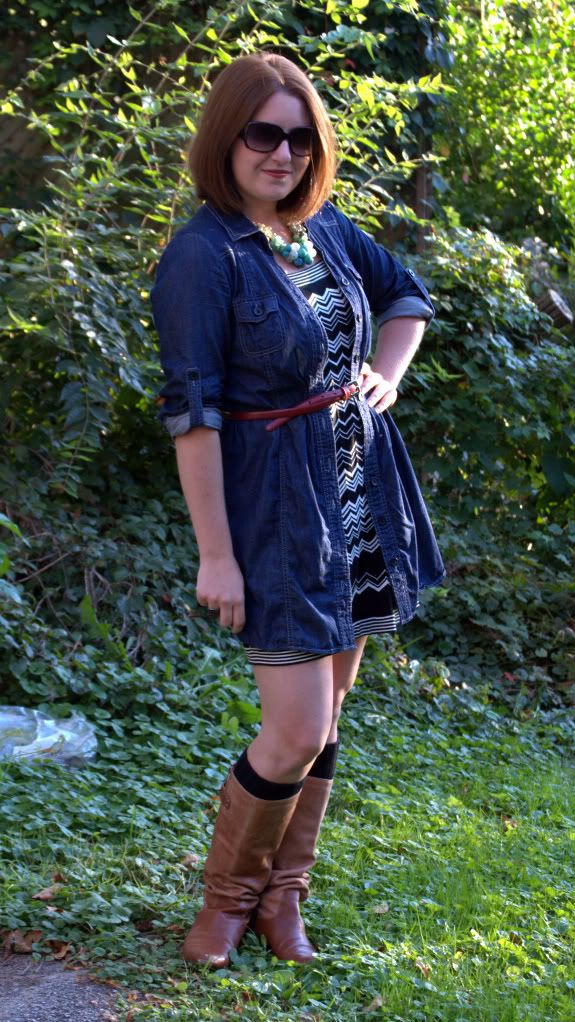 In case you were wondering, this was a dad-approved outfit. He loves to offer commentary on my clothes (Have I ever told you about the time he kissed the top of my head as I was heading out on my first date and said, hmm well that smells..interesting? THANKS father for that round of paranoid insecurity) and thankfully, today was positive. He said he felt the layers were "fun" and the colors were just the "right amount." His suggestion was to "drape a scarf around my neck" but said "not with that necklace." I would have followed the advice had I not worn a scarf three days in a row already. P.S. You might start seeing more "dad style tips" as he liked the idea of being on the blog.

Bisous!