Bonjour loves! I hope you all had marvelous weekends! Mine felt like it was an entire week long (cue this scene from
the Jerk
) and now I desperately need a weekend to recover from my weekend! But I'd feel like a cad complaining since I spent Friday and Saturday in New York and Sunday at the National Harbor rolling around in paint with my girlfriends and looking like
this.
I have sooo many things to share with you from my first NYFW experience, but I will try not to overwhelm you with photos. This was my first time attending shows at fashion week, so naturally I took an abundance of pics. Being inside the Theater waiting for the Rebecca Minkoff show to start was such a surreal experience, and I just kept thinking, I cannot believe I am here, waiting to see one of my favorite designers present her collection
live.
I felt like a kid on Christmas all weekend. When those lights dimmed I could feel my heart racing with excitement. And then, in a blur, it was over- both the RM show and the entire weekend. It was a rush of beautiful fabrics, prints and models with a background of flashing lights that seemed like it was ending before it had even begun. But, the great thing is that fashion week happens twice a year, every year, so here's to hoping I'll be at even more shows come February with a little bit more knowledge under my belt!

*I apologize now for the massive overload of photos, but it is really hard to narrow down 700+ photos!*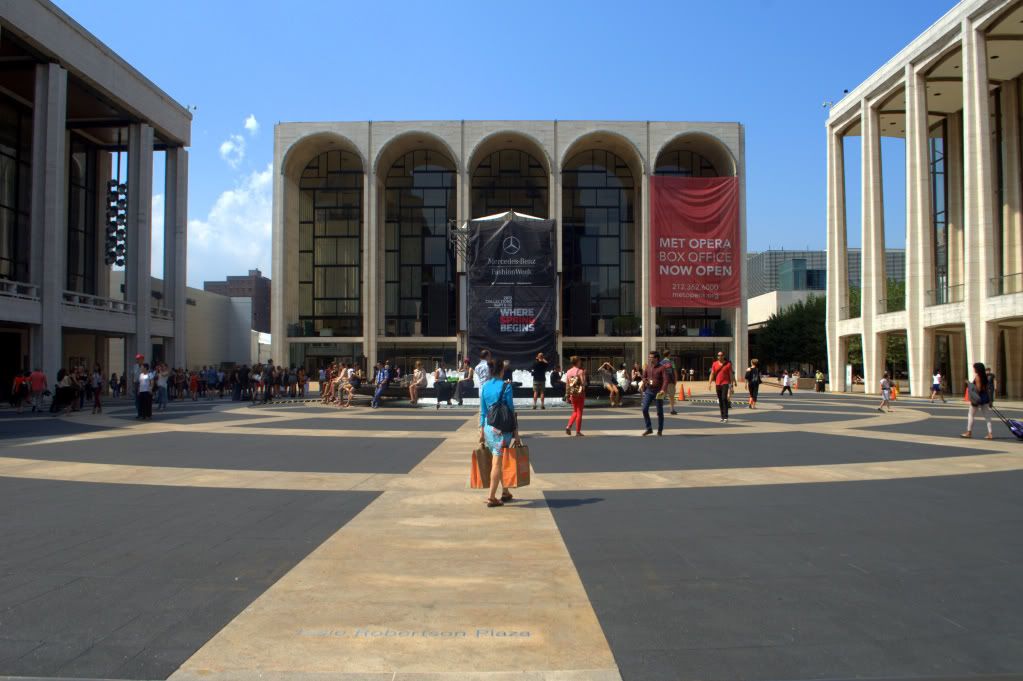 Arriving at Lincoln Center after picking up my press badge. If you ever have a chance to experience Lincoln Center during NYFW, take it. It is a style-fest on steroids with chic on chic everywhere you look. Incredible.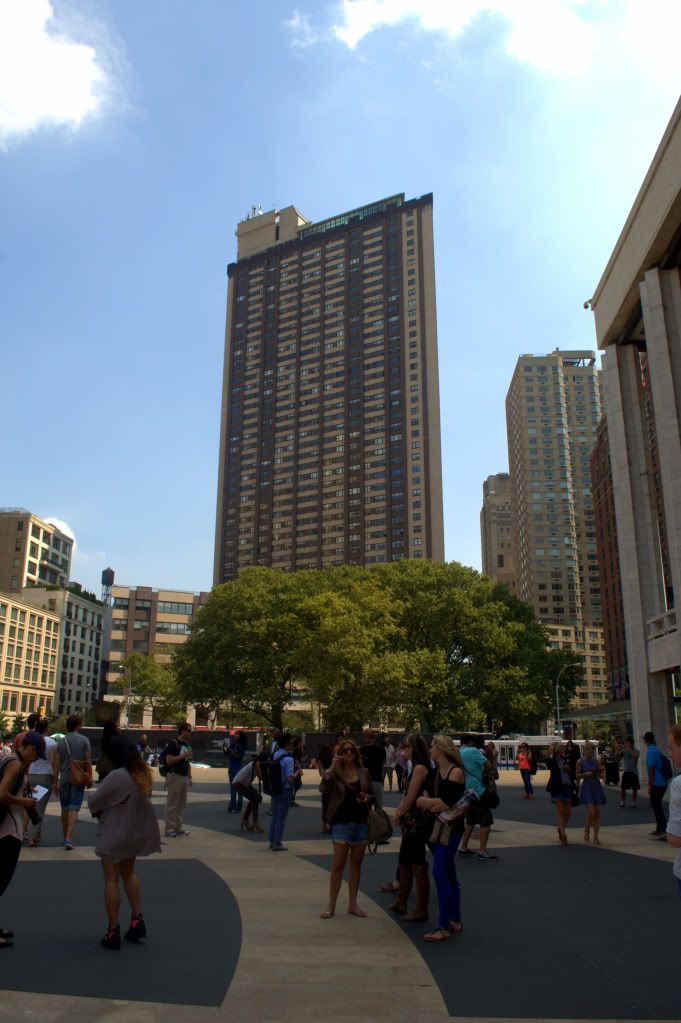 Just taking a few moments to enjoy my surroundings before I head inside for my first NYFW!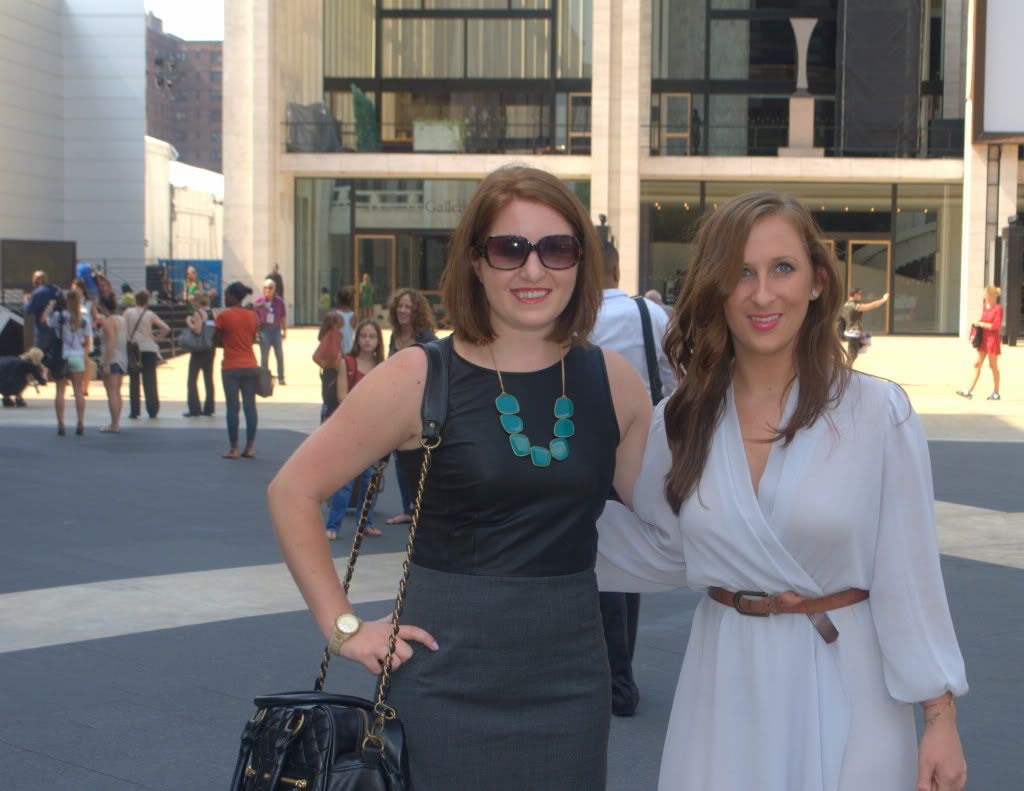 I can't tell you how excited I was to spot a familiar face as soon as I arrived! Liz of So Much to Smile About is one of the brains behind CapFABB and a lady I've always wanted to meet. It was great chatting for a few mins and running into each later at Rebecca Minkoff. P.S. Don't you just love her vintage dress??
I loved everything about her mixed-texture outfit combining tweed, leather and sheer lace. Plus, those shoes and gorgeous waves!! Check out Allie's blog for more great looks!
The frenzy inside Lincoln Center. Stealing moments on those chairs in between shoes was a god send this weekend!
So this was a total highlight of the weekend! I got to meet one of my favorite bloggers, Katy of Sugarlaws, and let me tell you she is just as beautiful, sweet and bubbly as you would expect from her blog! Her neon skirt even matched my neon shoes :) Hope you enjoy the rest of your week, Katy!
First NYFW experience was the W118 By Walter Baker presentation and I LOVED it! The clothes were bright, beach-sexy and fun. I fell in love with a pair of blue/white printed shorts and pants on the right side (1st and third models) and was crushing hard-core on several of the maxis. What is even better is that this collection will be coming to Macy's!
The pre-show craziness at Rebecca Minkoff, my first ever NYFW show!

Front row at Rebecca Minkoff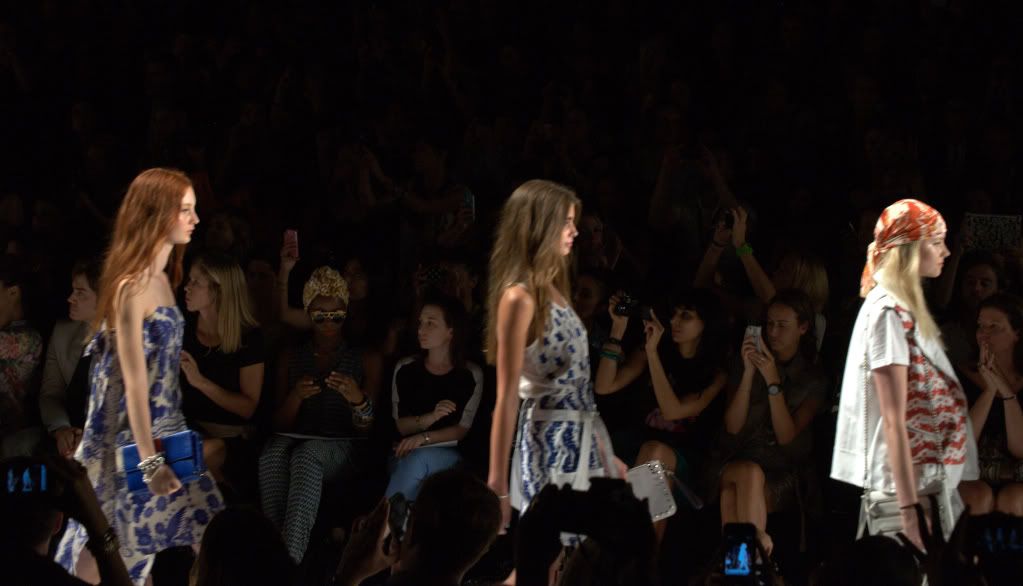 RM finale walk.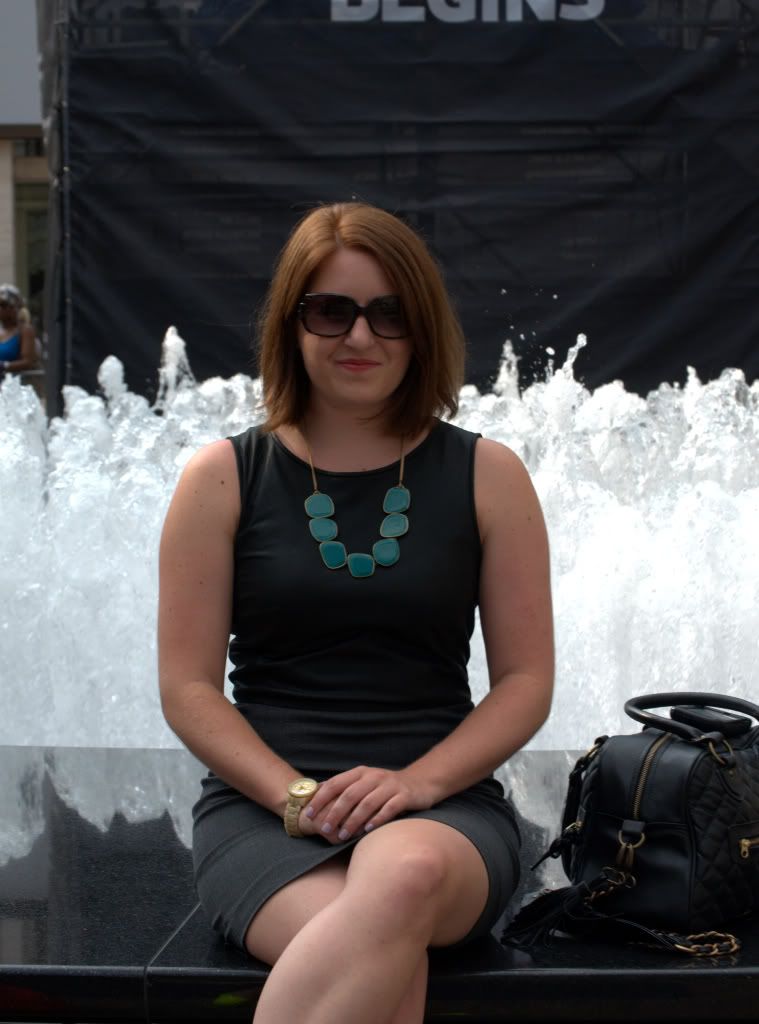 And of course I had to give you a quick peek at what I wore :) My brand new Theory dress arrived just in time to make its debut at fashion week, and it is definitely going to be a fall staple. It is long enough and professional off to work in the office when combined with a blazer, but the leather top makes it trendy/sexy enough for post-work gatherings. I paired it with a fun Lia Sophia necklace, YSL Golden Cherry gloss and neon yellow pumps (not seen) from Shoemint for pops of color. And of course I couldn't forget my classic Michael Kors watch or Marc Jacobs sunnies.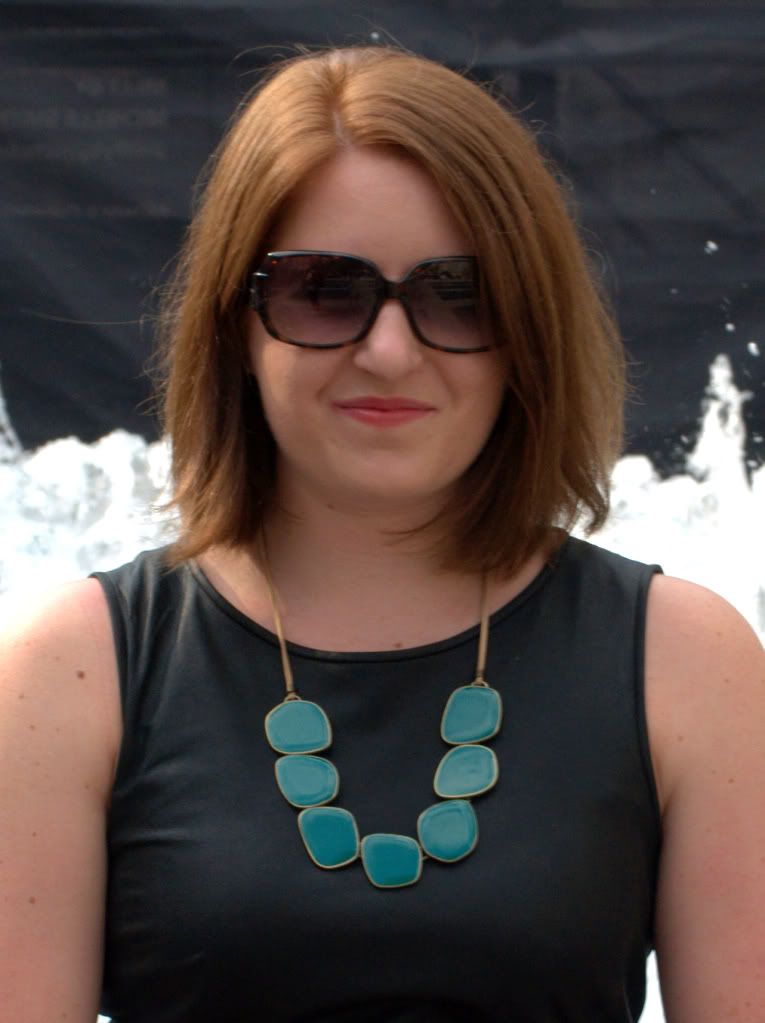 Oh, did I mention I chopped off 10 inches of hair and got it colored for the first time? No? Well I did. And I absolutely LOVE it. It is effortless to style, drying only takes 10 minutes as opposed to 30 and the color is so fun! It was a little more red than I expected, but you know what they say? Redheads are downright sexy.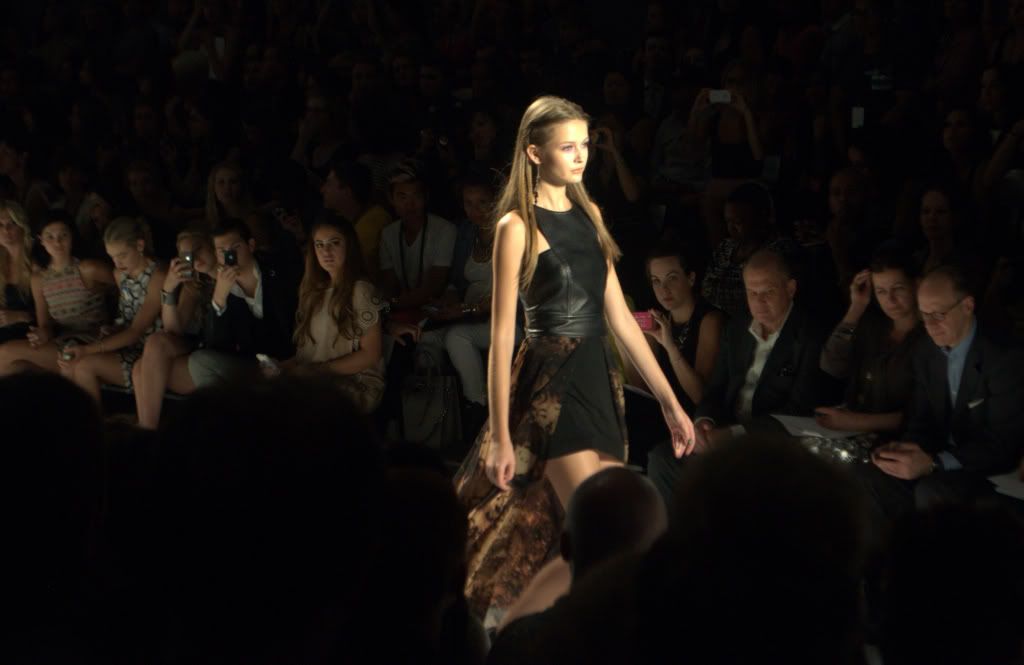 My absolute favorite look from the entire weekend was this amazing outfit from Nicole Miller with a flowy train, black skirt and sleeveless leather crop top. If I could own one thing I saw this weekend it would be this earthy stunner right here.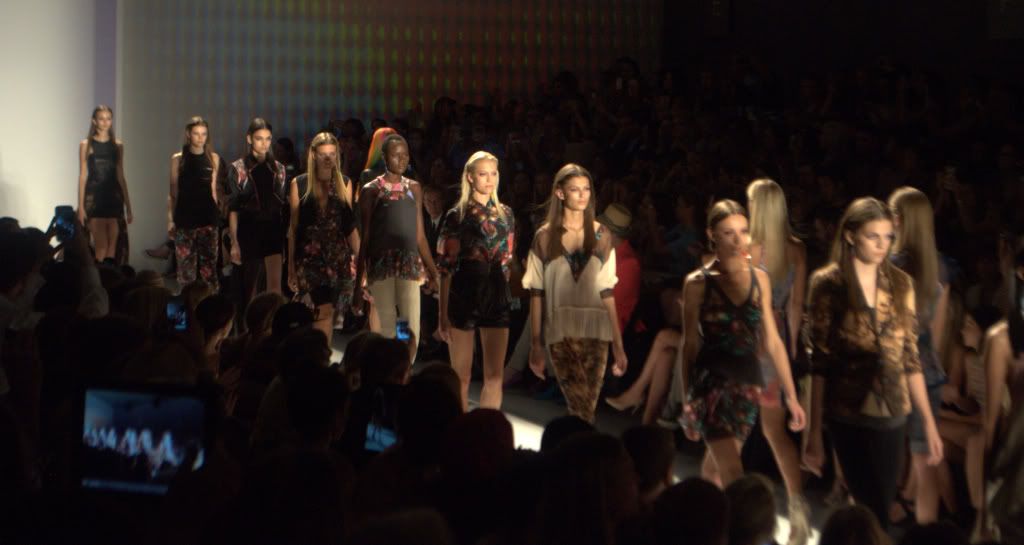 Finale walk at Nicole Miller- my favorite show of the weekend, although that was a very close call between Jill Stuart and Rebecca Minkoff.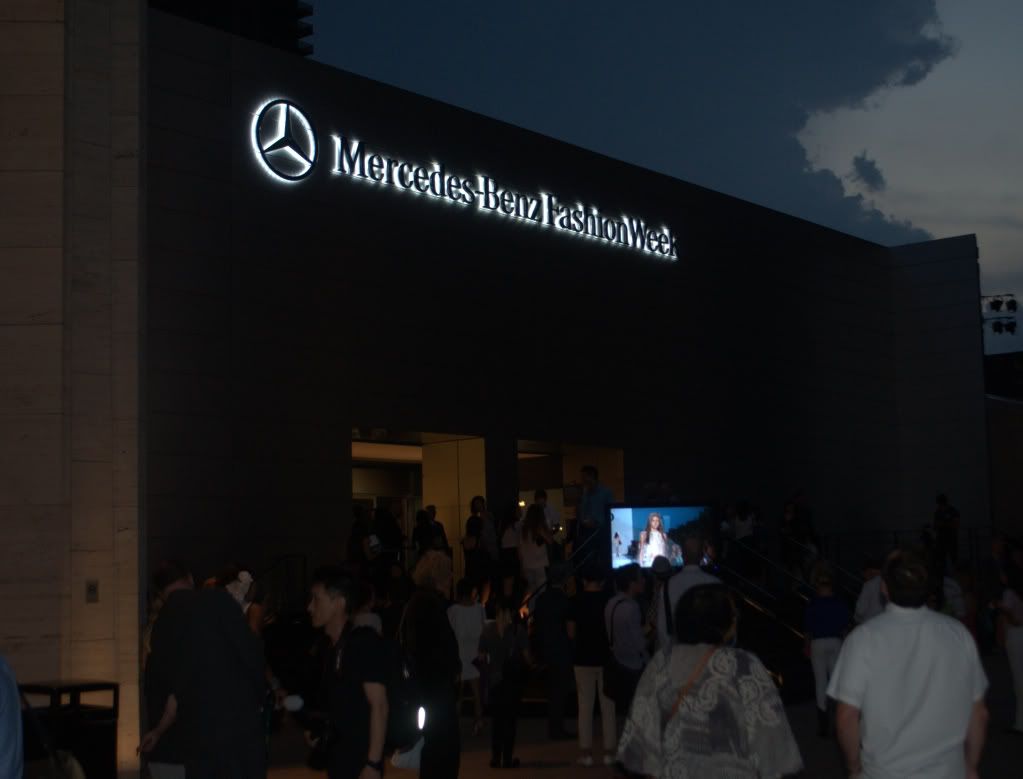 Saying goodbye to LC after a long day of shows!
Expect plenty more recap posts and photos, including highlights from each of the shows I attended and fashion week lessons I learned (hint: your feet will hurt no matter how much of an expert heel-wearer you are and photographing runway shows will be a bit stressful when you have to readjust settings to accommodate differing lighting at each show).


Bisous!