Bonjour babes! I hope all you lovelies had a relaxing, enjoyable weekend and didn't have too bad of a case of the Mondays yesterday. I didn't have a case of the Mondays but boy do I ever have a lovely case of writer's block. Grr I hate when that happens. I think I have used up all my creativity penning genius guest blog posts. Kidding. Well, kidding about the genius part. That is yet to be determined. I can't wait to share them with you though! I'm also thinking that it is very possible that I am just in such a euphoric state after WINNING TRIVIA (!!) for the first time, that I am incapable of stringing together sentences for you to read. Because basically
this
is what is going on in my head right now. No black and white bodysuits going on up in here though. No worries.
So you know how my favorite game to play when I have no clue what to write is find an excuse to let my readers do all the talking? Ok good. Because I found a
perfect
one. I need le parfait summer BBQ outfit. I'm definitely looking to impress, if you know what I mean. But at the same time, I don't want to look like I'm
trying
to impress. Again, you know what I mean ladies. So, I'd love to hear your ideas, see your inspiration, whatever you'd like to give me. I'd be suuuuper greatful. And don't worry, I'll find a way to repay you! Feel free to leave suggestions for how I can do that as well. Right now, I'm thinking some super entertaining (ie embarrassing for moi) video. Ready, set, dress me up!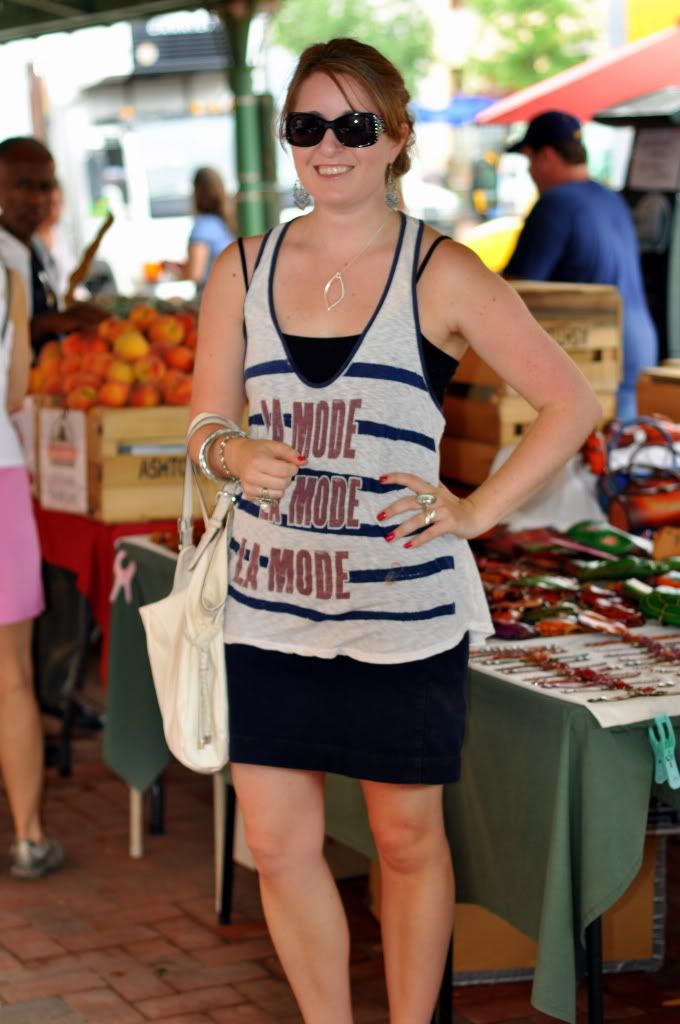 Black tank: White House Black Market, Striped tank: Urban Outfitters, Skirt: J. Crew outlet, Shoes (unseen): Payless, Bag: Kohl's, Sunnies/earrings/necklace/rings: Gifted, Bangles: Personal Accents, Juicy Couture and Georgetown Flea Market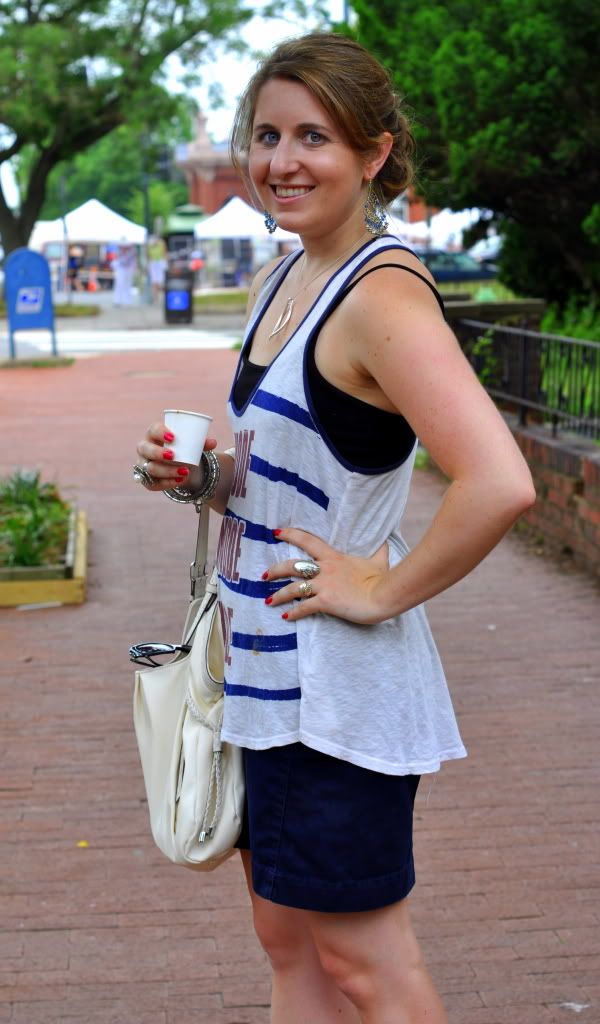 There is nothing better than a loose fitting, breezy tank paired with a simple navy skirt to spend a Saturday morning hopping from outdoor market to coffee shop to outdoor market.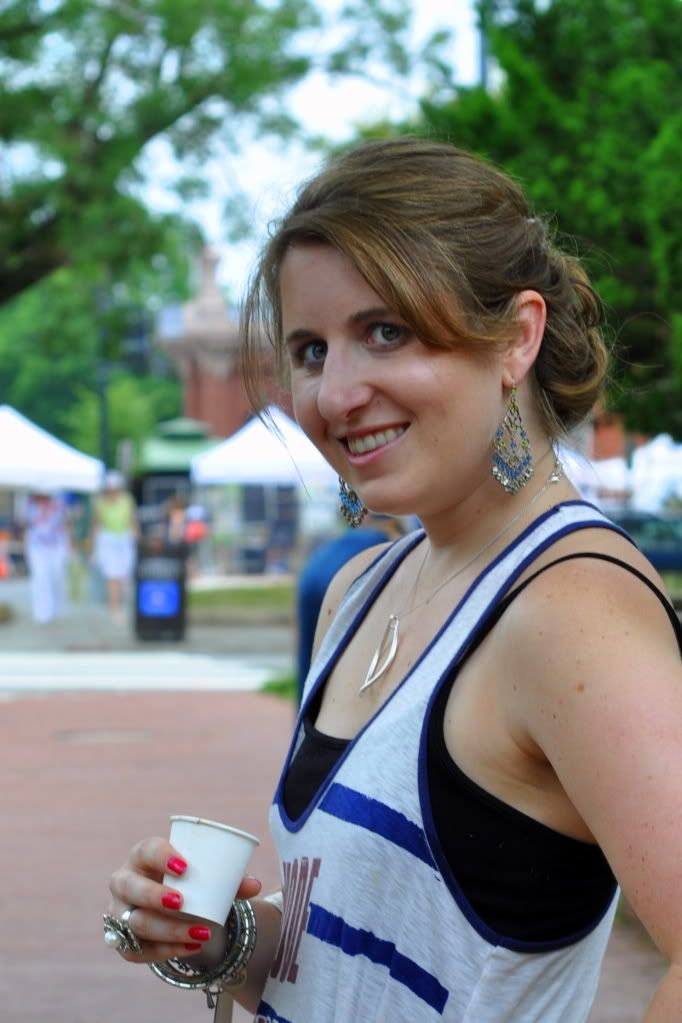 One of my fashion goals for the summer was to try and change my nailpolish color every week. So far, I have been doing a pretty decent job. Though, I like the brightness of this OPI polish, it reminds me a little too much of my grandmother's nails. But the next polish I have planned is way too "out of this world" for my grandmother! Can't wait.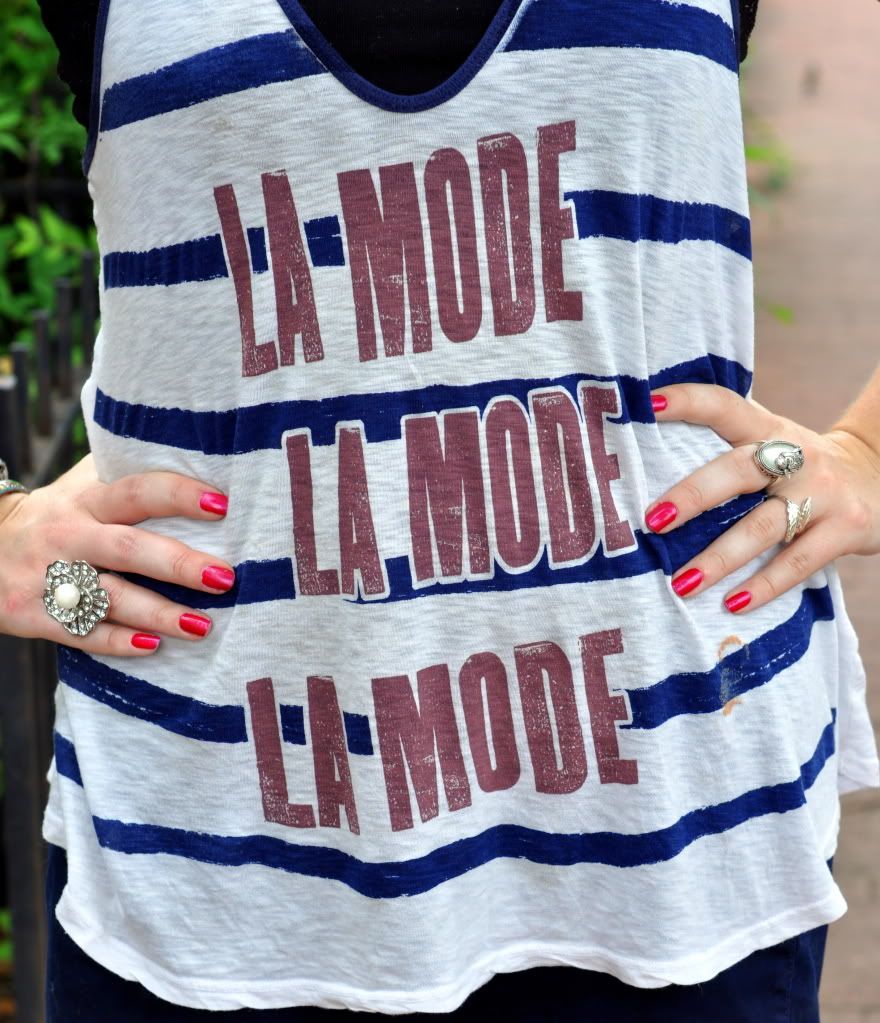 I've talked about how serendipitous the finding of this tank was, but that was forever ago so let's recap. Shopping at Urban Outfitters (aka sifting through the sale racks) I think I see the word "mode" out of the corner of my eye. I race over, yank it off the rack before anyone else has a chance to snatch it away from me, immediately fall in love with the fact that part of my blog name is printed on a striped tank (um obsession?) with a drapey fit that I adore. Glance at the price tag and actually jump up and down out of giddiness at the fact that it can be mine for a mere $9.99! Oh the joy.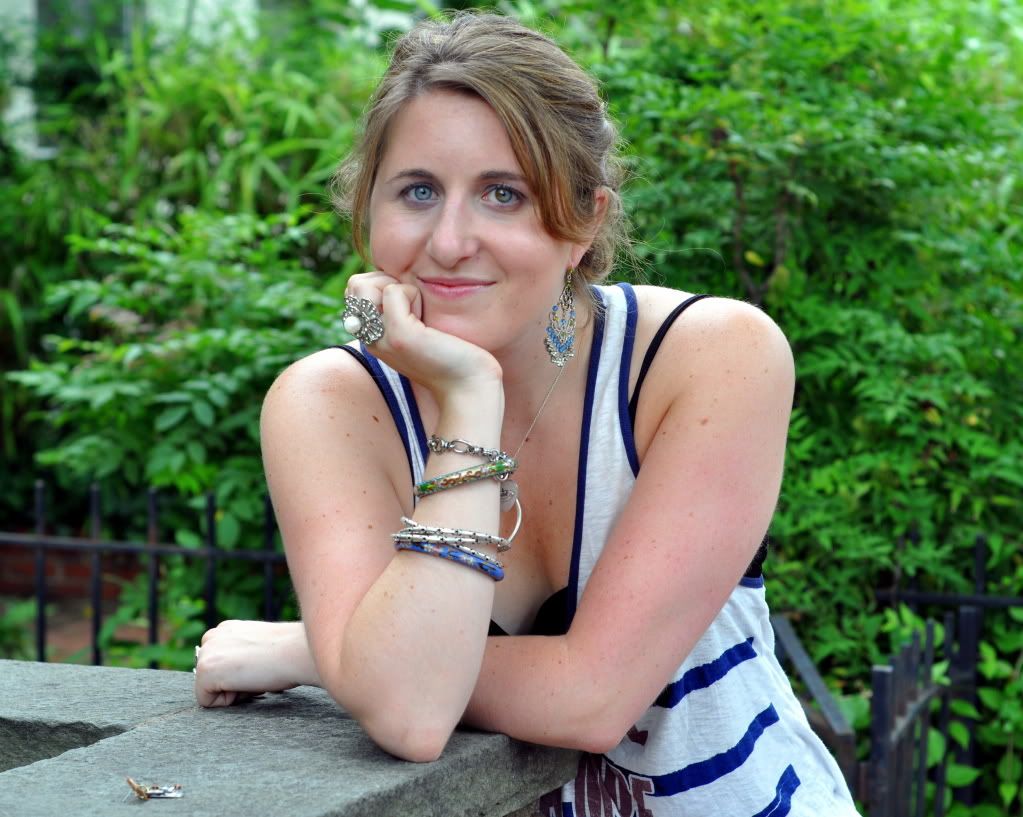 Ok, so I'm not usually one to post a photo, just because I like the way I look but that is basically what I am doing here. I just liked it!
I went jewelry crazy with this outfit! When roommate saw me she said, "You know that rule that says you should take off one accessory before you leave the house? You should follow it. Times 5." But I didn't listen. They kind've all went together, so I went for it.
Best coffee of my life!! DC locals/visitors to DC head to Peregrine Espresso immediately!! Order the cappuccino to get the best bang for your buck. And how sweet are the hearts?
Bisous!