Ello poppets! I hope you all had a super de duper weekend! I can't say enough good things about mine. You know how sometimes all you really want to do is just crawl back home to mom and bask in the glory of family time? Right, well that is exactly what I did. My baby cousin was graduating high school this weekend and we had some other family members coming into town for the occasion who were staying with my mom and that I wanted to spend time with. Brought roommate with me and the two of us were completely spoiled by my mom with great food, time with family including fun family games and even some SHOPPING! My mom really is the best. Not because she takes me shopping, I mean, but because she is this incredible woman of strength, optimism and joy. I really miss her all the time, now that I am living on my own, and value every moment I get to go home and spend with her. Thank goodness she only lives an hour away! :)

After a fantastic family-filled weekend, roommate and I hopped over to the Georgetown Flea Market to check out what they offered, and found ourselves pleasantly surprised! I think we had both loved Eastern Market so much that we were afraid nothing would compare. But the two markets have a very different feel, allowing you to enjoy both, and have totally different experiences! I even ran into an old high school friend, who I knew lived in the area, but still hadn't seen. That is exactly the kind of down to earth, homey vibe you will get at the Georgetown Market.
Georgetown Flea Market: Every Sunday 8 am-4 pm; 1819 35th St. NW (right across from the big Glover Park Safeway if you are familiar with the area)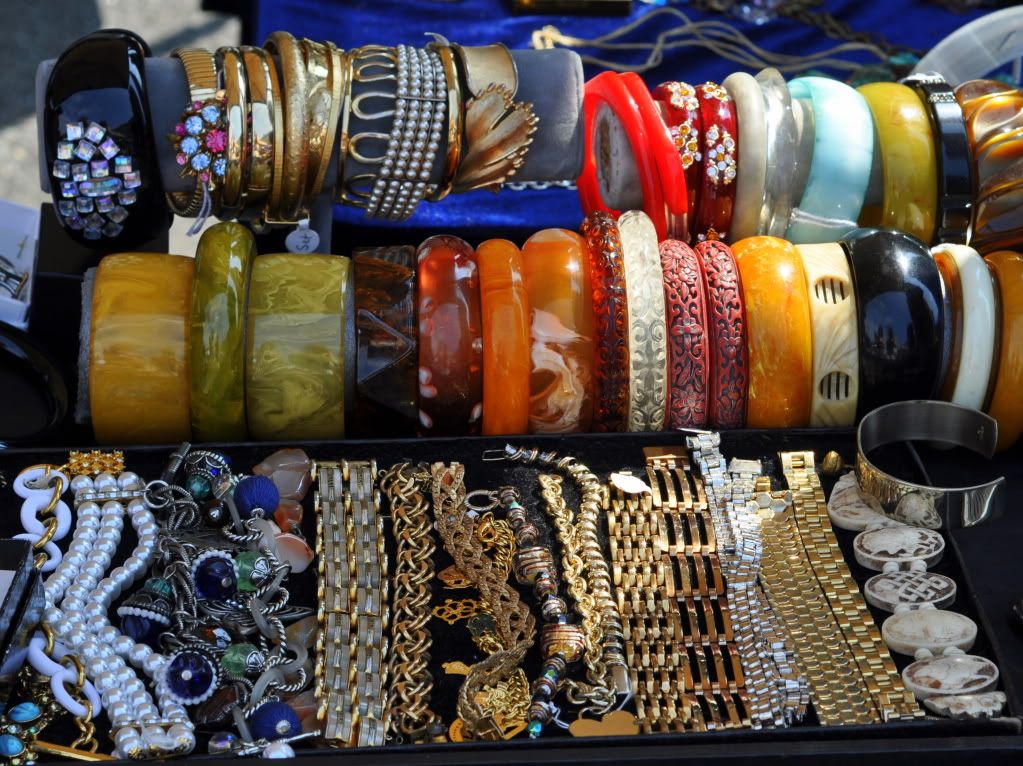 This woman had a gorgeous collection of jewelry from India, that I could have swooned over all day. I fell in love with the red bracelet with white flower detailing on the top row, in the center. But I wasn't looking to spend $15 that day, so I passed.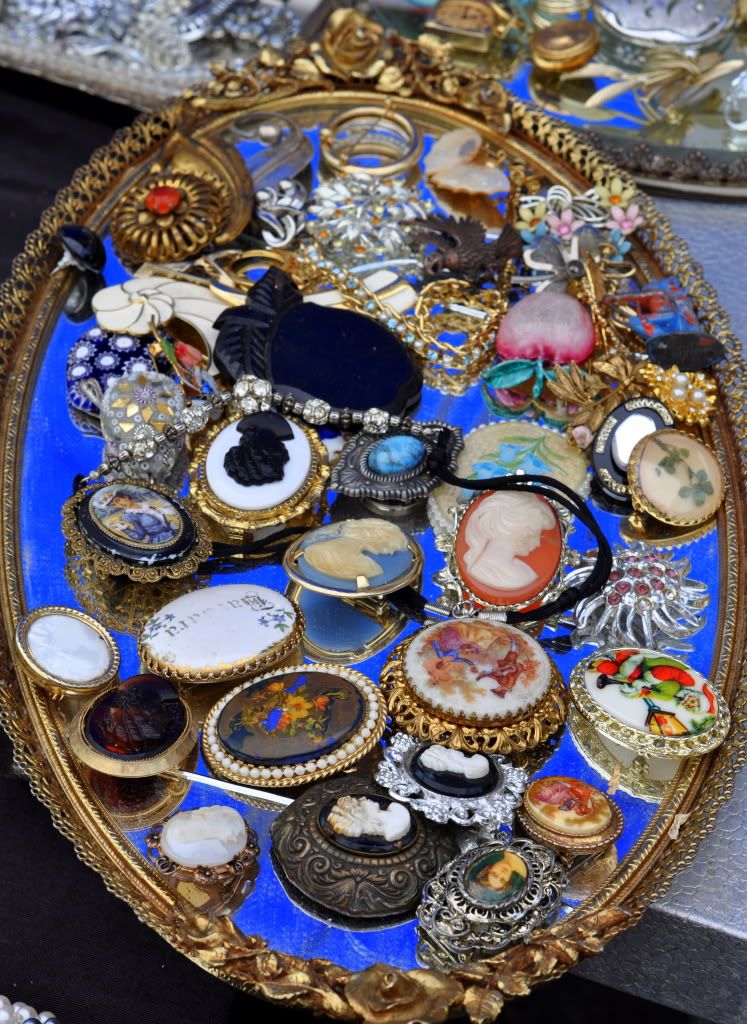 Even though I never wear brooches, I love looking at them. They just seem so old fashioned and romantic to me. I really want a vintage serving tray like the one these brooches are sitting on, so that is on my flea market hunt list this month!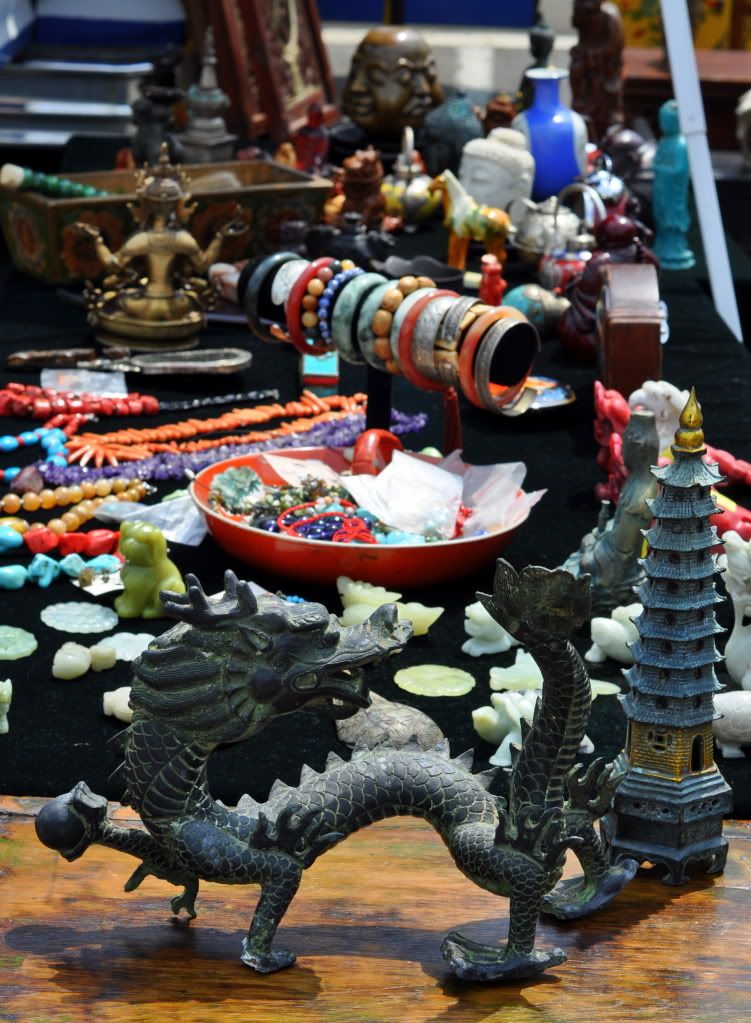 Ever since my journey to China I have been in love with jade, or any sculptures that remind me of China. As you can probably guess, I had such fun checking out this vendor stand! I might come home with a little jade dragon one day soon... Or maybe one of the green jade bracelets in the back.
Roommate and I really enjoyed this market, and felt that it had a different feel to it than Eastern Market. We like both equally though, and would say it really depends on what mood you are in (modern or vintage) and what kind of experience you want. At this market we found ourselves striking up conversations with most of the vendors, asking about the history of certain items, etc. It was really fun!
Visit if you like: Great deals, vintage jewelry, unique furnishings, vintage prints, comic books/toys, local artwork, and a dog friendly outdoor experience.
What you won't find: Well, I'm not sure I can do this section justice this time, as the vendors are different every weekend you go. But the only thing I would say wasn't really represented here were clothing options.
The pictures above may make it seem like this market only offered jewelry, and while it does have a fantastic selection of vintage jewels, it is also a haven for cute antiques and furniture. If I had a deck, you can bet this charming set would have come home with me!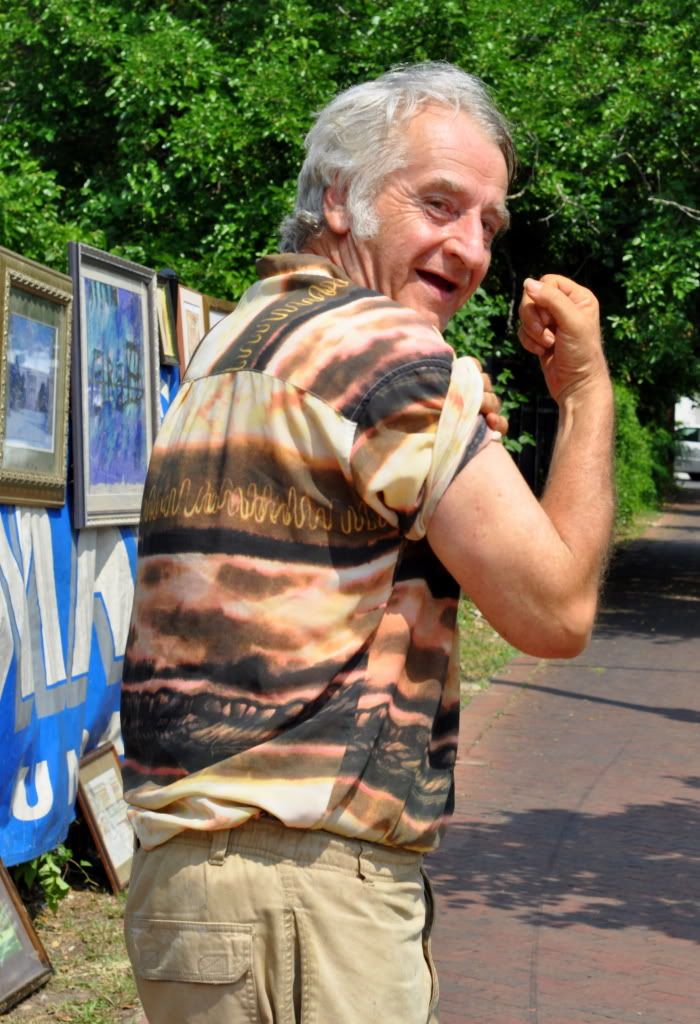 Don't worry: this market isn't selling sweet little old men! But this particular character is part of the charm! He was selling some of his artwork outside the market, apparently saving up for his upcoming trip to Italy. He saw me taking photos and said "Pretty lady, why don't you take my photo??" I obliged of course and then talked with him for a while about his work. He informed me he only "paints for pretty girls" and "doesn't talk to the ugly ones." I think that was supposed to make me feel special :) I just got a kick out of him altogether!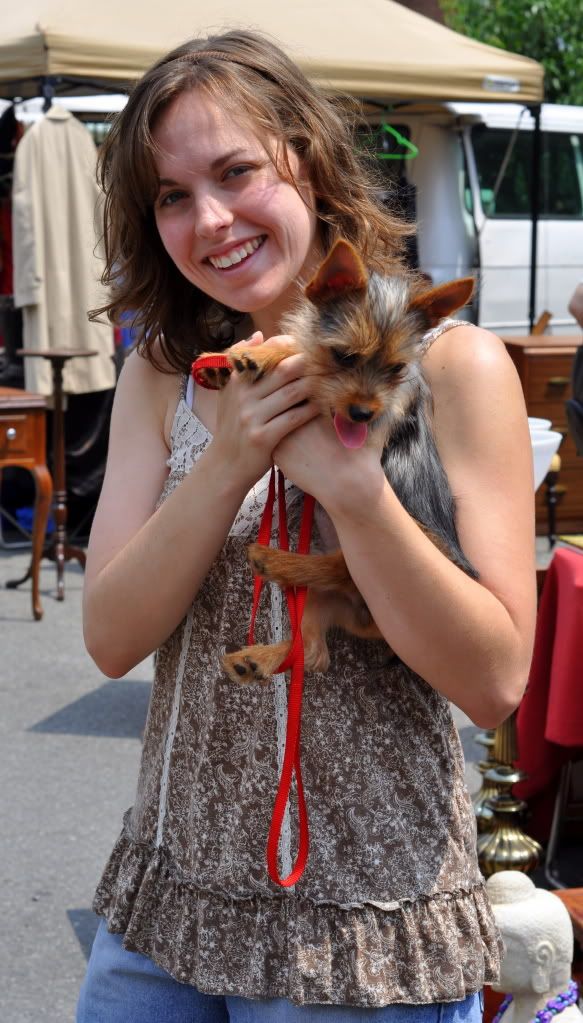 Of course we brought little man with us to enjoy some time outside, but unfortunately the pavement was too hot for his little paws and we ended up carrying him the whole time. I think he may need a pair of little booties before we hit the next market!
My treasures! I absolutely adore bangles, even though they are pretty impractical for work since I type on a computer all day. But I still love them and particularly love collecting them from fun places, so I have a story to go with the bracelets. I started this collection when I found two gorgeous bangles at an outdoor market in Barcelona, Spain. I was only planning on getting one of these bracelets (the top) but then the vendor told me he would sell me 2 for $10, when just one was going to cost me $8. Never being one to turn down a bargain, I scooped them both right up and happily hurried on my way. I also scored a miniature, antique copy of one of my favorite plays of all time: The Importance of Being Earnest- for only $3!
Once again, I give this market two enthusiastic thumbs up! If you happen to be in Georgetown and enjoy browsing flea markets, make sure you check this out! You can get more information about the history of the market and vendor info
here.
Bisous!