Aloha mamacitas! Did you all have a magical Wednesday, unicorns and flying ponies included? Oh sheesh, I really must remember not to blog after 11, especially during particularly tired weeks because my loco side is really all you get. And yet I continue to type. C'est la vie! I am pretty sure my body is running solely on endorphins right now, since sleep has been sorely lacking from my life. But I'm enjoying my life, so what can I say!
I feel like I owe you all a bit of an explanation for my rather scattered posting of late. I promise, I'm not losing my love of blogging or anything serious like that. I have just been very busy and by the time I get home from work I am usually frumpled and all I want to do is go for my run to work off the stress, and then crawl into bed. I don't talk often about what my job is, but it is kind of necessary to explain everything. For the past year I have been participating in a fellowship with USA Today. It has been wonderful, and amazing and every other over used adjective under the sun. Seriously, I mean it. You can tell by my italics. And no, I'm not just saying that because my coworkers might read this- I really and truly have learned more in a year than I even thought possible. Sadly, the position was only for a year and my year expires July 1. Aka I am about to be unemployed. Unless one of the hundreds (ok, I exaggerate. More like dozen) of people who has my resume magically calls me within 2 weeks and tells me I am hired. Needless to say, I have been stressing quite a bit about "what's next" and where I'm going and such. Whenever I'm not working, I am scouring job sites and hoping that my dream job will jump out of my computer screen and bite me on the nose. No such luck yet. I definitely have a couple things in the hopper that are exciting, but nothing is nailed down yet and if there is one thing I really, really dislike it is uncertainty. Basically, this is all just a long way of saying pretty please bare with me if my posts/comments are less frequent right now as I try and manage this transition. Oh and cross your fingers that this "unemployment" is more along the lines of a short vacation, rather than anything prolonged. Because I will go stir crazy.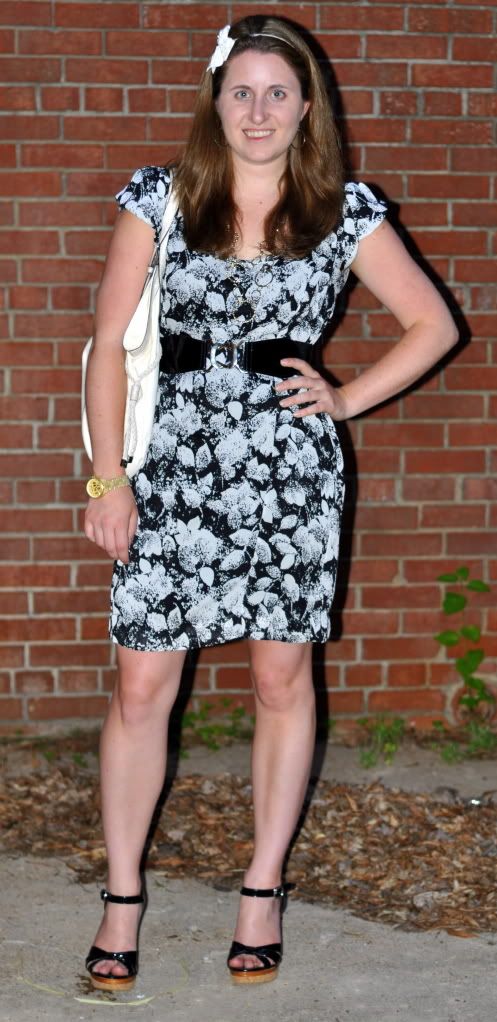 I have been in a major color rut lately. Yesterday (which I guess didn't happen in blog language since you didn't see it) I wore more shades of brown than anyone has a right to. And here I am today in black and white. Although let's be real: My white is really more of an eggshell/cream than pure white so maybe that means I am not as color-boring as I thought. Hmm something to ponder. Try not to lose too much sleep over it.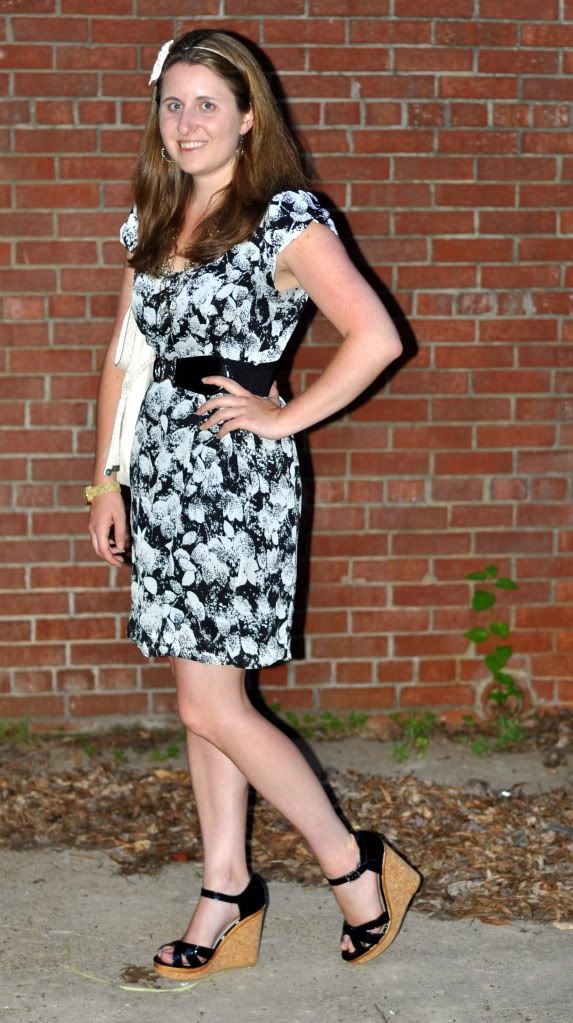 Dress: BCBG, via Hautelook, Belt: From another dress, Wedges: White House Black Market, Necklace/Earrings: Gifted, Watch: Michael Kors, Headband: H&M, Purse: Kohl's
Is it just me or do my legs look progressively less tan the further past my knee you go...?
I love how my hair has looked really good the last two days, and then one day I finally have time/energy to take photos after work, it looks like this. Boooo.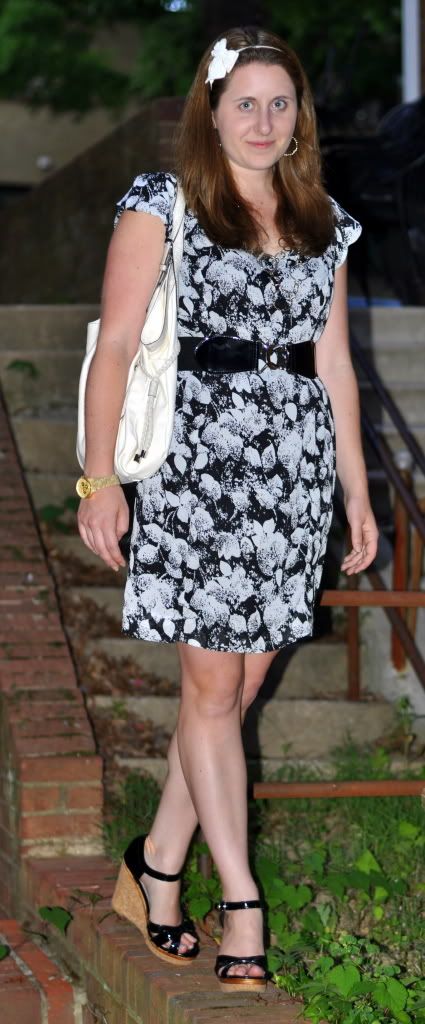 So this is not the belt that came with this dress. That belt appears to have gone into hiding. Along with one of my favorite skirts. Hmm maybe they are canoodling somewhere? Buuut I think this belt worked well as a substitute, and it gave an under-appreciated accessory a day out of the closet.
I'm not sure I am quite ready for purse with outfit shots yet. Maybe that is a level above me. It just seemed to get in my way.
Ok so it's not a perfect match to the Foley and Corinna Jet Set, but when I saw it this weekend my heart skipped a beat. I have been drooling over the Jet Set for months now but it is definitely not in the budget for me right now. But a $35 pretty-darn-close-looking bone colored over-sized tote, and a 30% off coupon? Poke me with a fork, I'm done!
Oh, I almost forgot to say a big congrats to
Kimmie
for being the winner of the Towne and Reese giveaway! Kimmie, I hope you will enjoy your beautiful necklace, and thank you for participating. And of course, a HUGE thank you to
Towne and Reese
for making the giveaway possible! Keeping on making rocking jewelry Christi and Jessica!
Bisous!