Happy Sunday bellas! My favorite day of the week. I can lay around and do nothing, stay in my PJs way past the socially acceptable hour and not feel one iota of guilt.
So, confession time (have you been missing my
myriads
of
confessions
?? I thought so) ladies. I have a new addiction, and I don't even want to try and break it. We all know that I've been hopelessly addicted to shoes since, well, forever. But now we have to add another one to the list: colored jeans. Yep. I'm on board the can't-get-enough-colored-denim train and it makes me wonder
why
I haven't hitched a ride sooner. Now, I really shouldn't need to convince you of their genius-ness by now, but just in case I do, I'll give it a shot.
They are jeans. But fancy pants jeans. Need I say more?
They add an instant pop to your outfit. Say you want to wear your favorite basic outfit: jeans and a tee. But you want to step it up a notch? Grab your mint/violet/electric blue/hot-rod pink pair of colored jeans, throw on your basic tee and poof. You're a style goddess.
They go with everything. Yes, everything. Don't believe me? Throw on a chambray. Works. Try animal print. Works. How about color-blocking. Double works. I am telling you, they are the boyfriend blazer of pants.
People stare at you. Ok, so sometimes they are staring because you stick out in the sea of black and navy that is my city, but I choose to believe they are staring because my awesome bootay looks even better mint-colored than it does denim-colored. Yes people, these are the little lies I tell myself, and I feel no shame.
How can you not feel good about the world when your legs are clad in hot pink? I dare you to try and tell me you don't smile more. Go. Go now!
I'm Laura, and I approve this message.
Tank: Banana Republic, Pants: American Eagle, Flats: Express, Sunnies: Marc Jacobs via (insert online sample sale site that I can't remember here), Necklace: Lia Sophia c/o South Moon Under, Rings: Lia Sophia, Watch: Michael Kors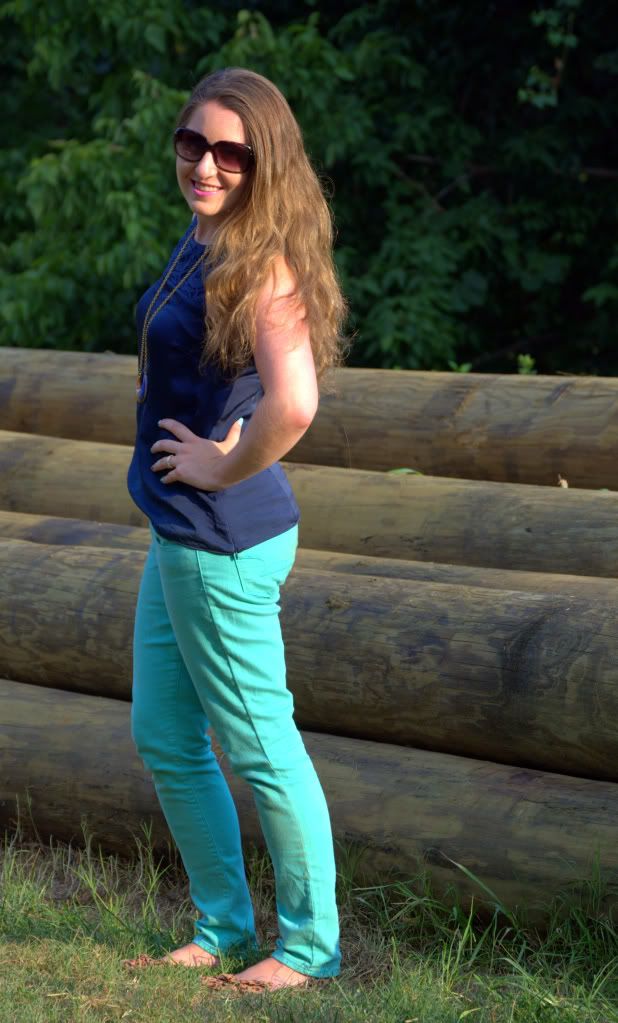 Oof I need a haircut! I keep putting it off because I don't know what I want to do with it. I know I want to take off quite a bit of length, but I don't know if I can handle going "short" again. I'd really like to play with the color too. This is my inspiration but I am not sure if I can pull it off. Thoughts?
Yes, I've fallen prey to the obsession with colored denim, along with the rest of the world. My collection now includes pink, red, blue and these (thought they were mint) green beauties.
I felt like my color combo was a little fall-y today, but something about it really struck me. as right, so I went with it. I'm all about trusting my instinct these days. My instinct may be leading me to try rocking an old dress of my mother's as a belted navajo-inspired maxi. Now you tell me, should I listen or run far, far away? Also, not sure if you have noticed but I am getting way better with this whole lipstick wearing thing!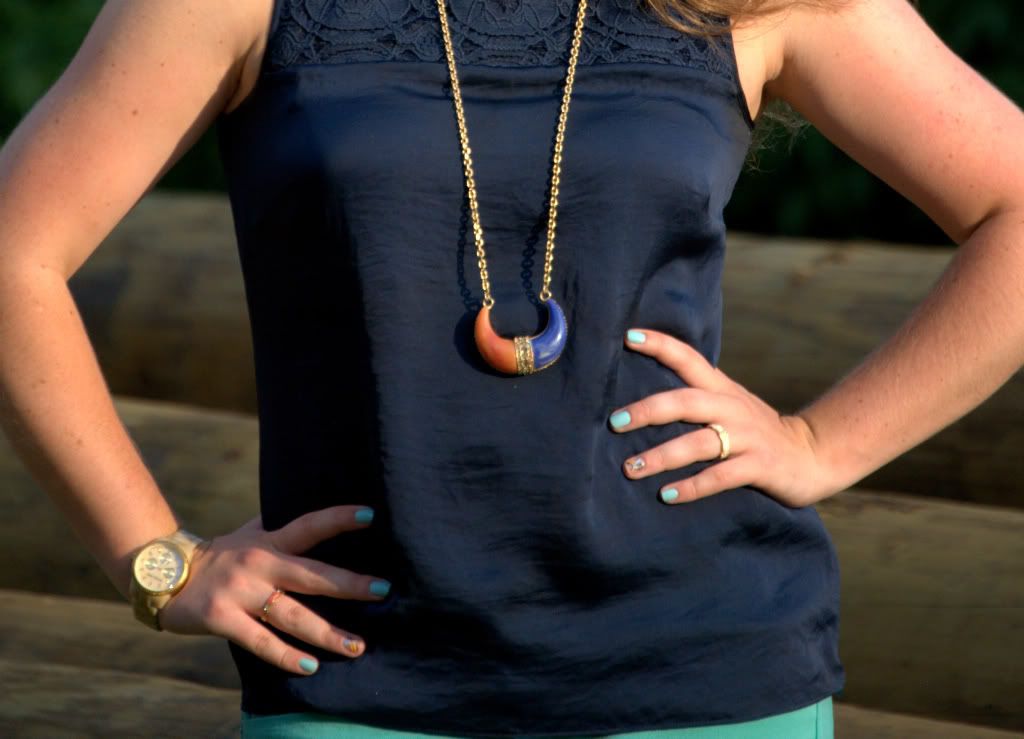 I've never been much of a jewelry girl, but lately, try and stop me! No, seriously, someone please stop me because I can't seem to control the shopping. Probably doesn't help that I keep going to Lia Sophia parties and wanting EVERYTHING!! (P.S Those things are fun, right??) Anyways, this necklace has been a favorite of mine since I found it nestled in my press bag from an event I went to months ago with South Moon Under and SpicyCandyDC. To say I am smitten is an understatement. It is way more stunning in person, and I always get asked where it is from.
Oh, P.S. If you are a colored-jeans-aholic, too, but need a little inspiration as to how to style them, definitely tune in on Wednesday for the 5 Ways Wednesday: Colored Jeans edition!

Bisous!