Hiya pals! What's on the docket for the weekend? Brunches? Parties? Shopping? Come on, I want the juicy details! I plan on getting some sun, enjoying quality time with brother and roommate and nomming some s'mores. Oh, and doing some major screaming. Did I mention I was heading to an amusement park? For work? Ya, it is a tough life dudettes but someone has to do it. Brother and I are kind of roller coaster freaks, so when I heard there was an opportunity to write a story on historical theme parks, take a road trip to Pittsburgh with friends, ride some rides and camp out, I was in like woah. And when I'm in like woah there is just no stopping me.
After my lovely little ramble about change, inspiration and personal style yesterday, I felt like I needed a pick me up. I don't know about you ladies, but most of the time I dress to suit my mood. If I feel bright, I'm going to wear my favorite neon pink pumps. If I feel fancy, lace dress here I come. If I feel sick, PJs will be just fine. But when I've got a case of the mean reds ("No the blues are because you're getting fat and maybe it's been raining too long, you're just sad that's all. The men reds are horrible. Suddenly you're afraid and you don't know what you're afraid of."
Name that quote. Go.
) the only thing that can chase them away is a fantastic outfit. In that case I'm not dressing to suit my mood, but to
determine
my mood. Big difference, and the latter feels empowering. So yesterday morning I woke up feeling quite uninspired and knew that the only cure would be a hot pink blouse, sequins and killer pumps. And you know what? It worked. I had a productive day at work, a terrific run with roommate and woke up this morning feeling awesome. Don't even try to tell me fashion is silly or pointless. Fashion, as the wise Miranda Priestly once said, "is the art we live our lives in" and that is meaningful. The right outfit on the right day can make a difference, even if it is just changing my outlook for a moment in a day. It matters.
*please excuse the blurriness of the first three photos! camera difficulties*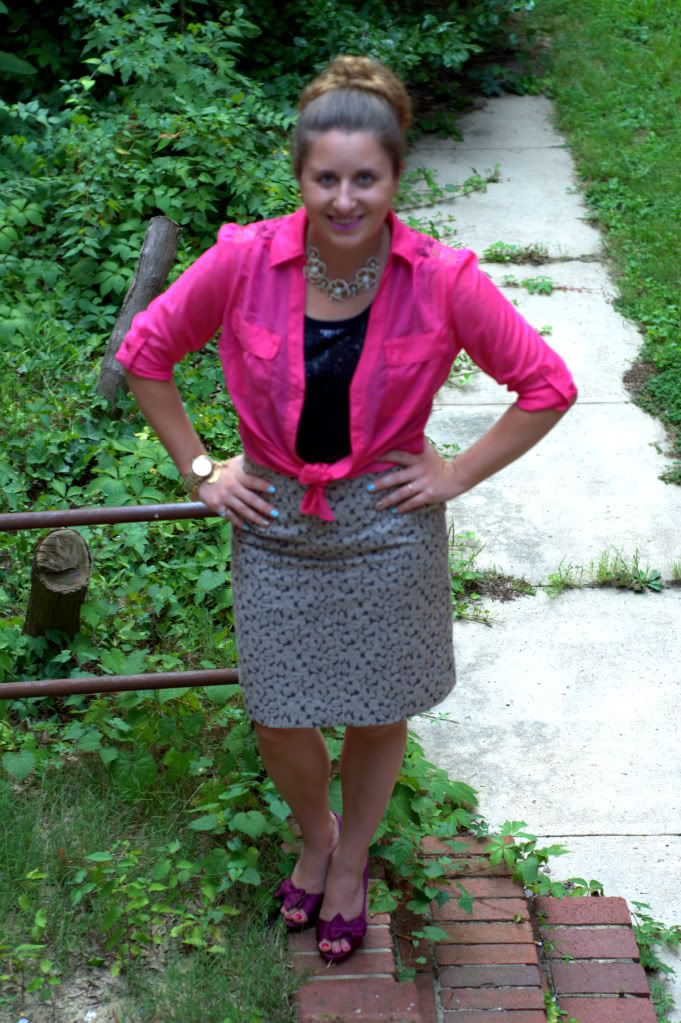 Tank: Simply Vera Vera Wang via Kohl's, Blouse: Kohl's, Skirt: J. Crew, Shoes: David's Bridal, Necklace: Forever 21, Watch: Michael Kors,Bracelet/Earrings: gifted, Rings: Lia Sophia/grandmother's, Manicure: Essie Mint Candy Apple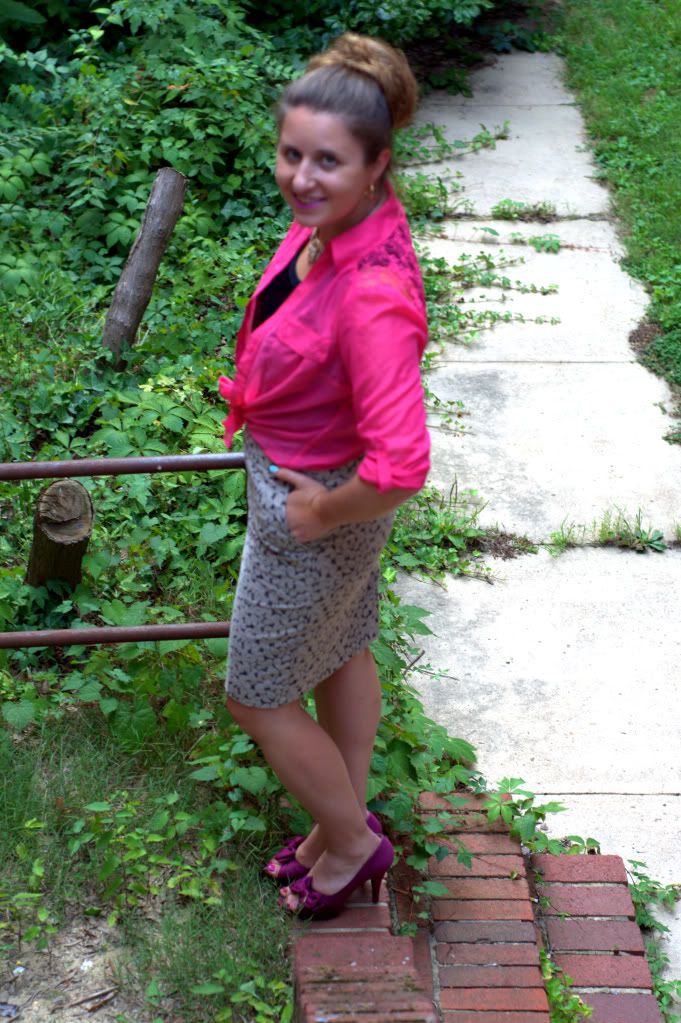 Sometimes a girl just needs a little sequins, pink and lace in her life.
So remember how yesterday I told you I was into simple, no muss no fuss outfits? Well today I woke up and I wanted flair! I wanted bright and fun. Pink and sequins seemed to do the trick.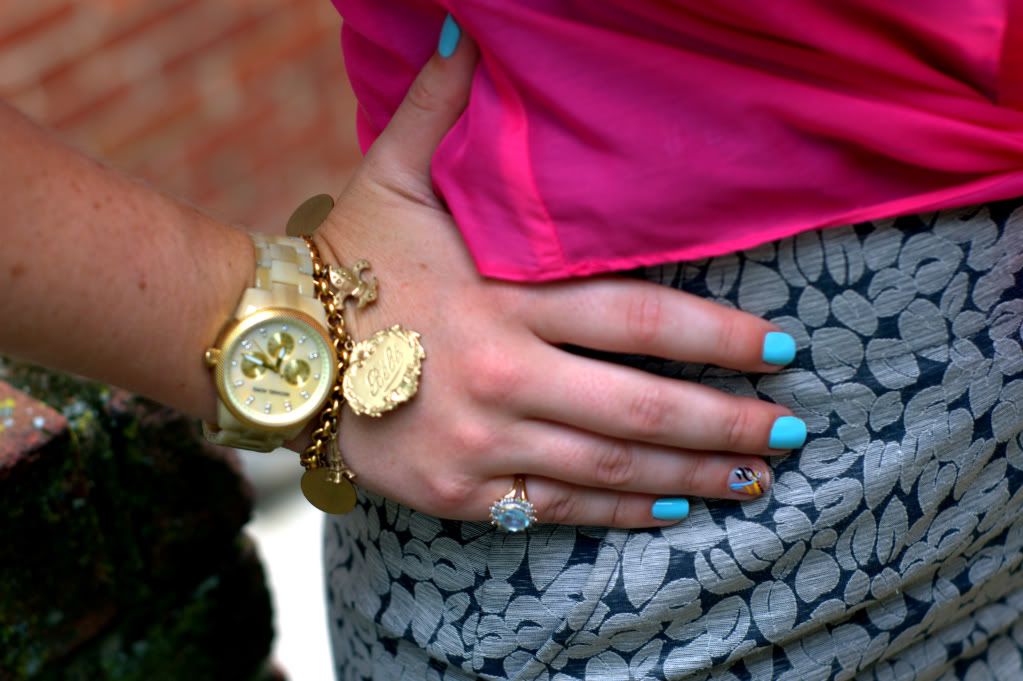 I am absolutely in love with the color mint lately. I love it on my nails, in clothing, jewelry, everything! It seems more springy than summery to me, but I just love it and can't get enough.
So these lovelies are actually my bridesmaid's shoes from roommate's wedding! How awesome is that. I might have picked them out :) I got a lot of complaints from the 11 (yes, there were 12 of us!) other BMs but I secretly kind of didn't care. I loved them immediately and knew I would wear them all the time after the wedding.
Bisous!