Greetings loved ones! For some reason anytime I use the word greetings, even if I am just typing it (and let's be honest, when do I ever
say
the word greetings??) I have to say it in an alien voice. And then I start thinking all about UFOs and Area 51 and Outer Limits (yes, the roller coaster) and it becomes this whole alien affair. Yea, try living inside this head every day. It's a chore I tell you.
Since you probably didn't come here to discuss extraterrestrial life forms I'm going to go ahead and skip ahead to the clothes. My next few weekends are kind of cray cray with all the (very fun) travel plans, running escapades and end of summer merriment, so tonight I took time to chill out with roommate and another friend. What better way to relax before a weekend of beach lounging (tough life, but someone has to do it) than by sipping margaritas and gossiping over tortilla chips? I swapped my work-appropriate pencil skirt for more fun boyfriend jeans and glammed it up with my favorite (and basically essential as of late)
Rebecca Minkoff
accessories. And then we marched ourselves right on over to Mexicali Blues for some girl talk, libations and nibbles. Perfect way to pass a Tuesday night if you ask me!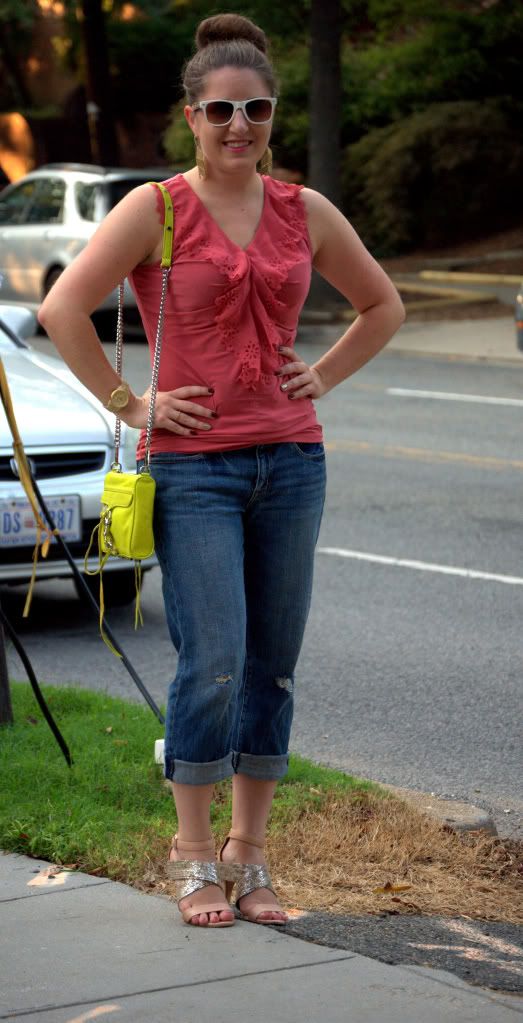 Top: Limited, Jeans: American Eagle, Heels: Rebecca Minkoff, Bag: Rebecca Minkoff, Watch: Michael Kors, Ring/Earrings: Lia Sophia, Sunnies: Airport vendor (ya baby), Hair: c/o of a sock, Mani: REDSKINS colors!
I have always shied away from boyfriend jeans, fearing that they wouldn't be feminine enough for my taste. But I have finally learned the secret to rocking the oh-so-comfy and potentially-very-chic style: accessorize with very girly elements. And what could possibly be more girly than a neon bag and strappy sandals!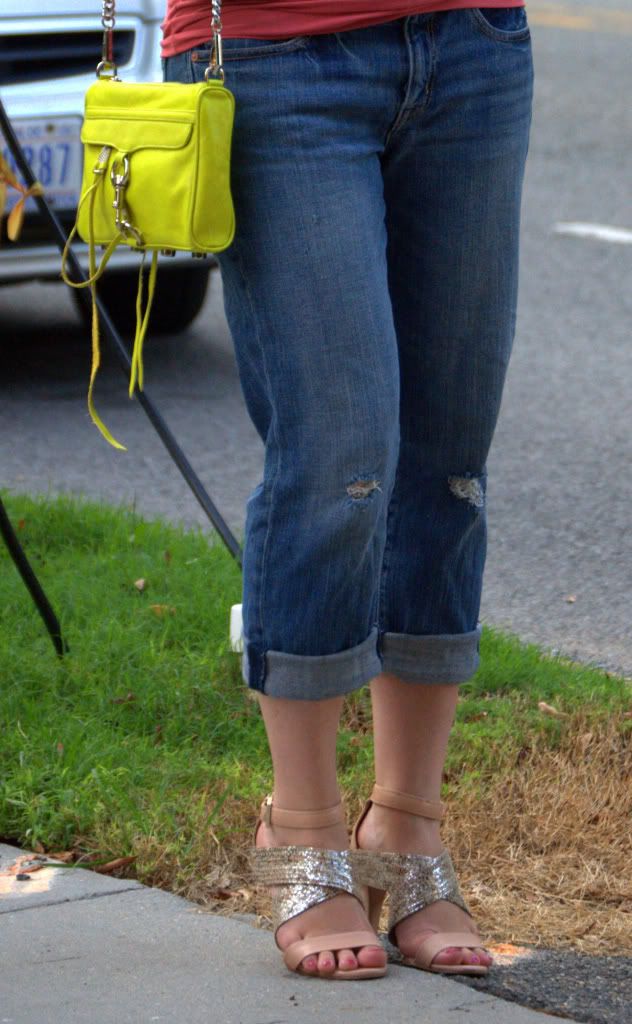 I should probably tell you that I have been basically LIVING in these shoes since I snagged them at an unbelievable price from Bluefly. I've worn them with colored denim, fancy dresses, casual summer dresses, to work, to parties etc. etc. And everyone LOVES them. I get oodles of compliments, my feet have never felt sexier and the BEST part... they are comfortable. I know, shut up right? I am serious though. Check out Rebecca Minkoff's summer sale to snag yourself a pair!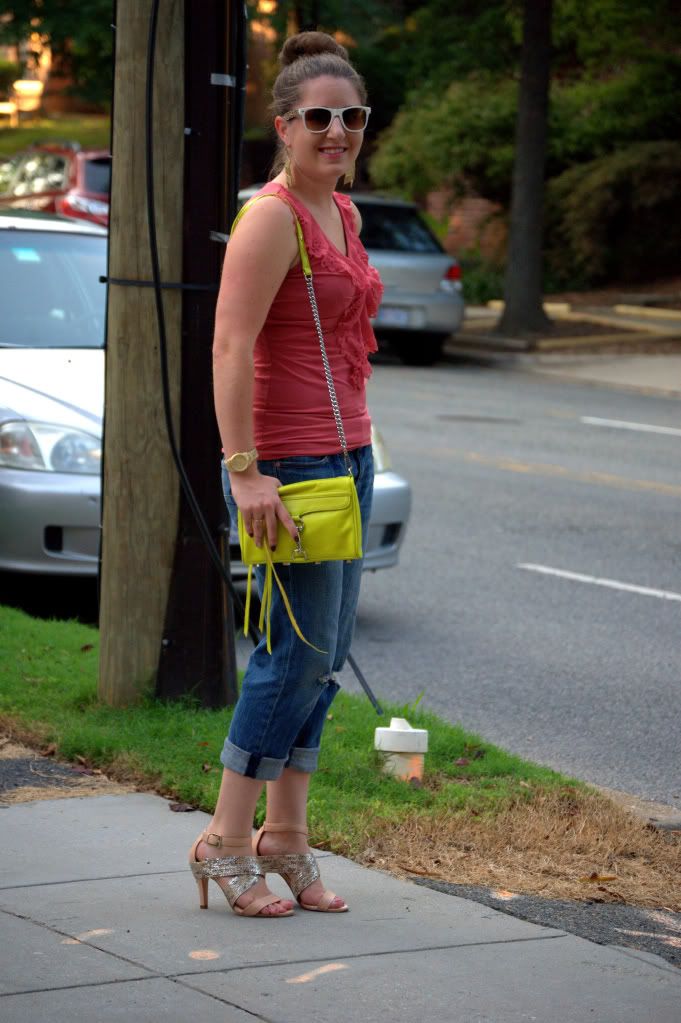 P.S. Did I mention there's a sock in my hair? Yes, I am only about a bajillion years late to the sock bun party, but now I am kind of cool again because the trend seems to be slowing down, so I'm often the only one rocking it. Aka I'm a backwards hipster: I only jump on board once a trend is dead or dying...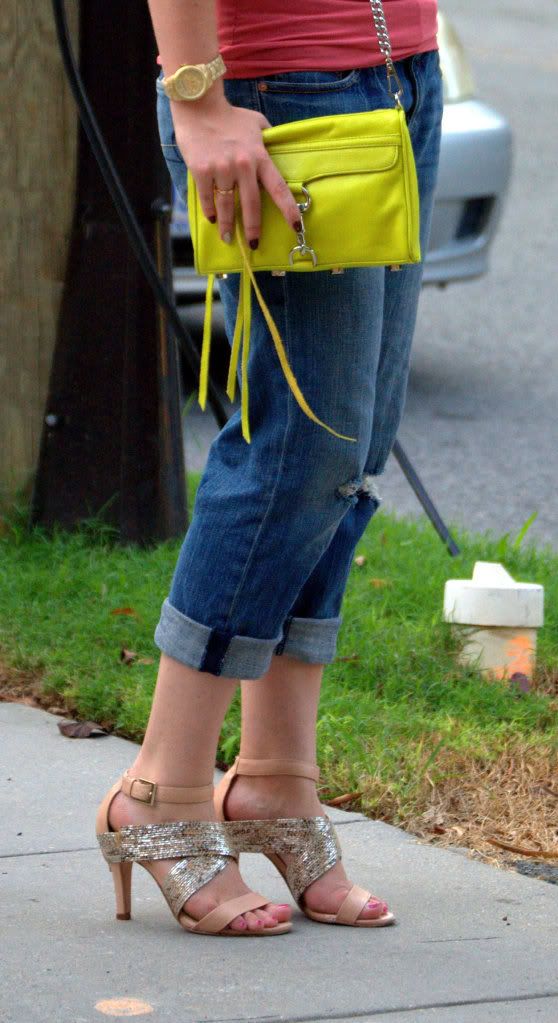 I can't wait to show these heels and this purse a good time this weekend down in Florida! They made the cut of travel essentials as soon as I saw them paired together in these photos. Also: See the Rebecca Minkoff bag styled for date night here.
Ok ladies, I hope you thoroughly enjoy your labor day weekends! Stay tuned for lots more exciting travel news/posts, including fashion week tidbits! I'm off to get in some much needed puppy cuddling before I have to say goodbye to my baby for a whole 6 days :(

Bisous!