'Ello poppets and happy August! Seriously, this summer is whizzing by. I feel like it was only yesterday that the oppressive heat-wave-that-won't-stop rolled in. Oh wait...
Last Wednesday I popped over to the National Mall with two of my best friends to chat and catch a flick. I could list a million and one reasons why I love my city with all my heart, but instead I'll just give you four words: Screen on the Green. As one of DC's most beloved summer traditions, movies are projected on a giant screen set up on the Mall. It's completely free and you bring a blanket, food, drinks and great company to enjoy a care-free night. The movies usually start around dusk, and some crazy people show up as early as 5 PM with gourmet feasts and classic games like Cornhole. This summer our choices were Butch Cassidy and the Sundance Kid, It Happened One Night (our pick) From Here to Eternity and the terrified-me-to-ever-take-a-shower-again classic, Psycho (catch it next Monday if you live in the District). If you're a local and have never been, get your bootay there ASAP! You'll feel transported back to nights of summer camp where you had nothing to think about beyond how gooey you were going to make your S'mores later that evening.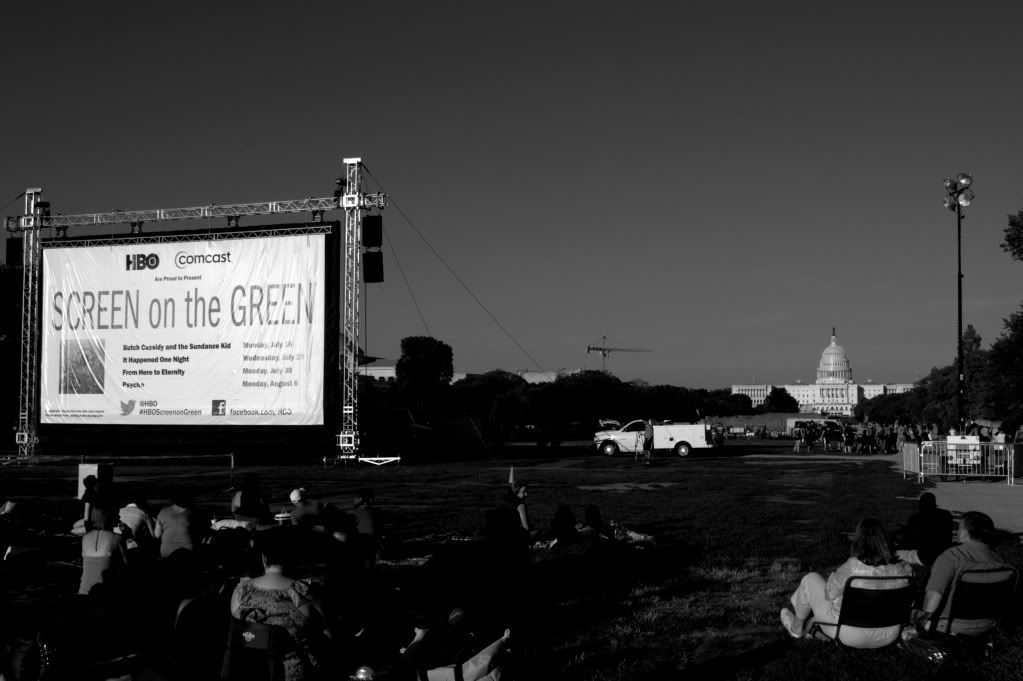 I promise to never take for granted how blessed I am to live in the city where I can see this majestic building, where my freedom is fought for every day, from almost anywhere I go. How cool!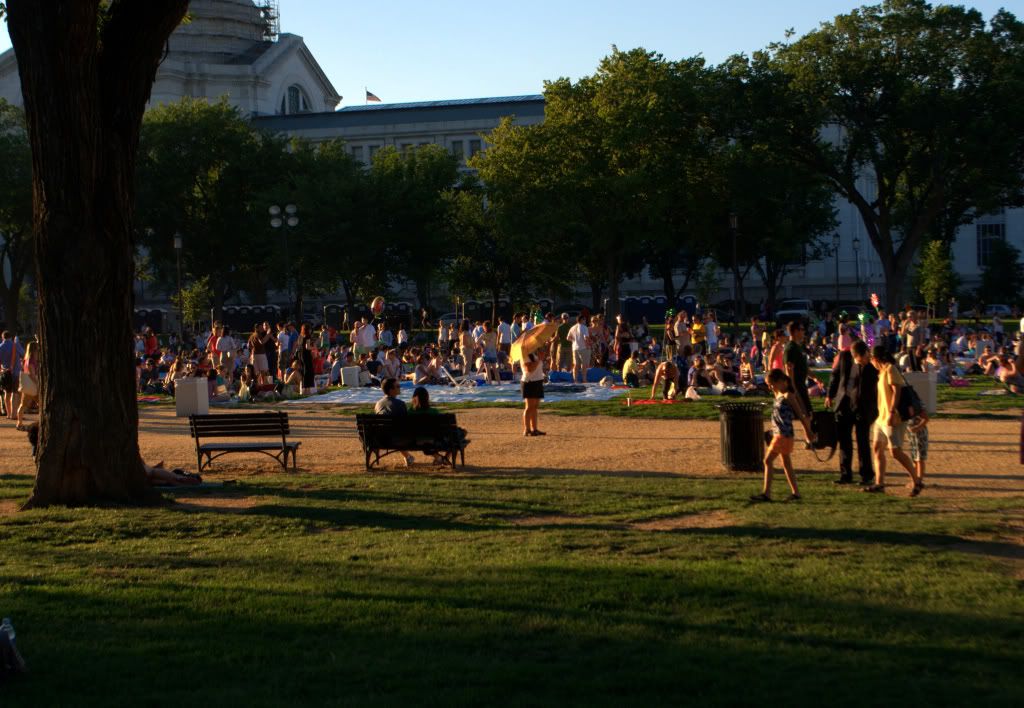 It gets quite packed!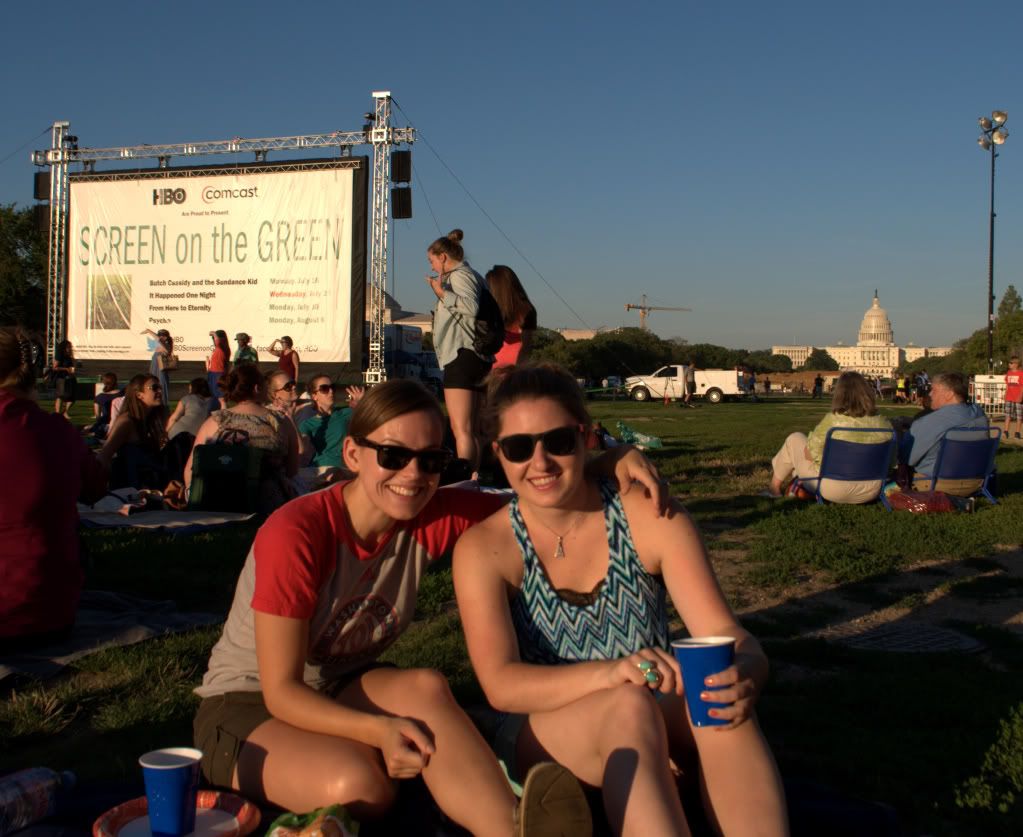 This girl means more to me than I can ever truly say. She has been the best roommate, friend, sister-without-the-fighting that I ever could have asked for. It was an honor to stand beside her (actually we sat, haha) as she became a wife in June, but I'll miss her desperately when she has to leave me and move to Texas with a boy. Love you forever roommate!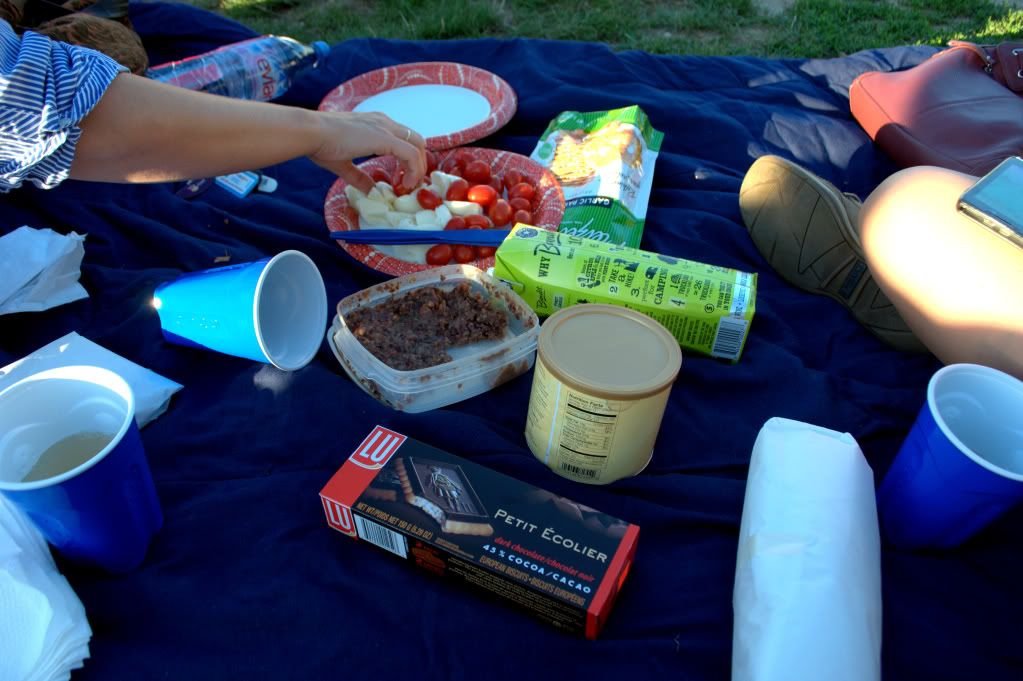 Our grand feast of sandwiches, cookies, nuts, mozzarella caprese, crackers, bean dip and a little vino, bien sur!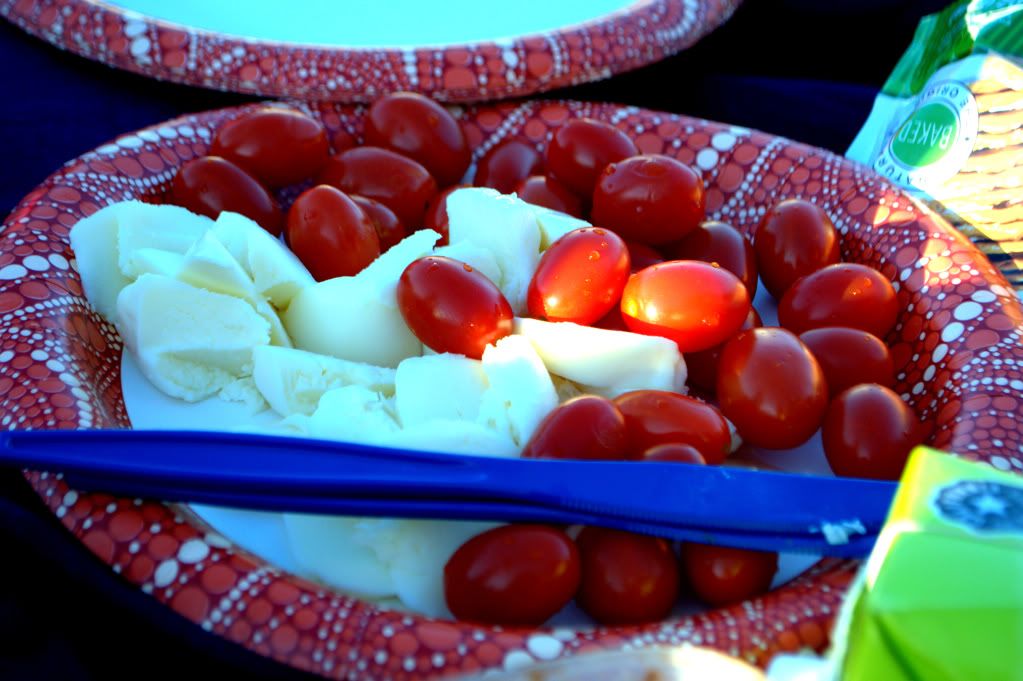 There is nothing better in this world than fresh garden-grown tomatoes and mozzarella cheese on a hot summer night.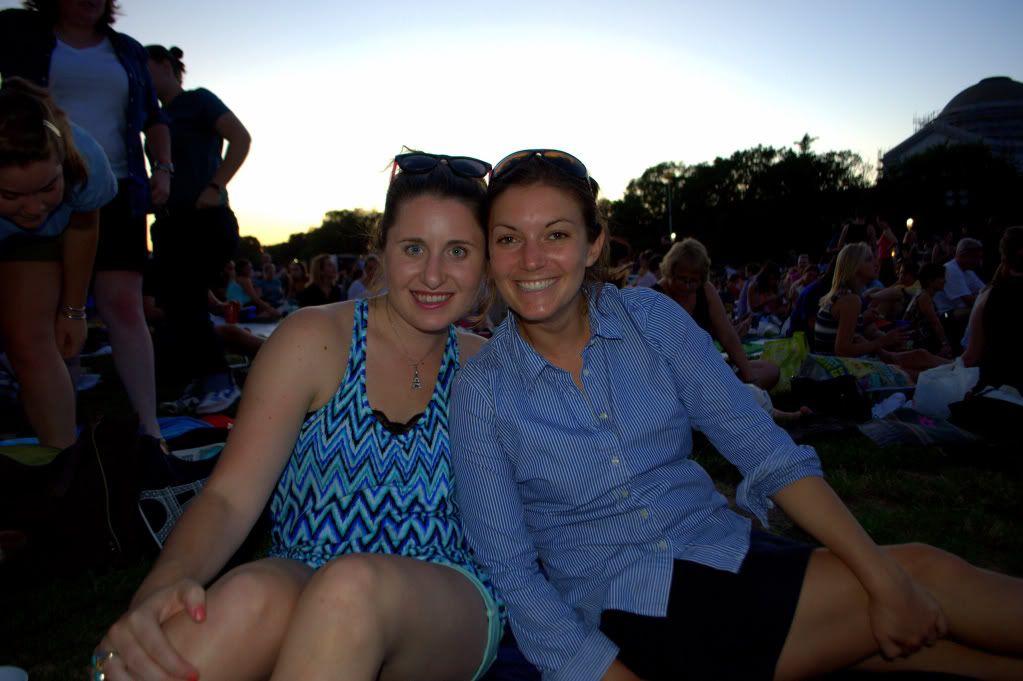 Love my Mel!
We had quite a bit of time to kill before "It Happened One Night" finally started playing so of course, I made everyone take a bajillion photos. But it gives me a chance to show off my hot friends and brag about how much I love them! These two ladies and I have gotten a lot of time together this summer (finally!) and boy has it been a blast! Every time we hang out we have amazing food, drinks and conversations and it reminds me how I am surrounded by incredible people! Thanks Sam and Mel for being lovely.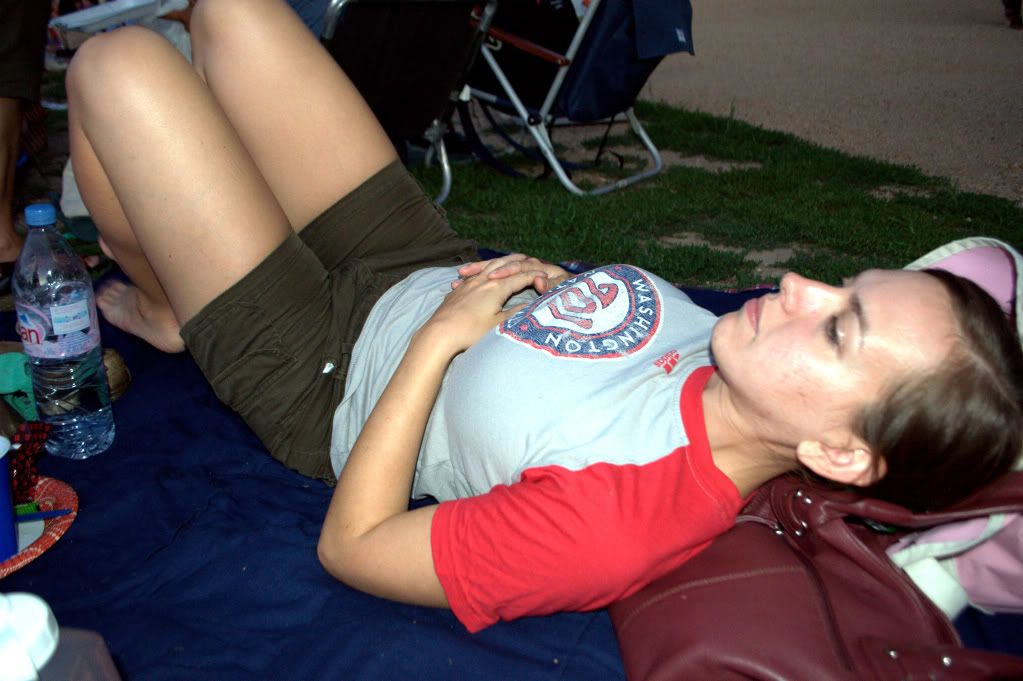 Still waiting....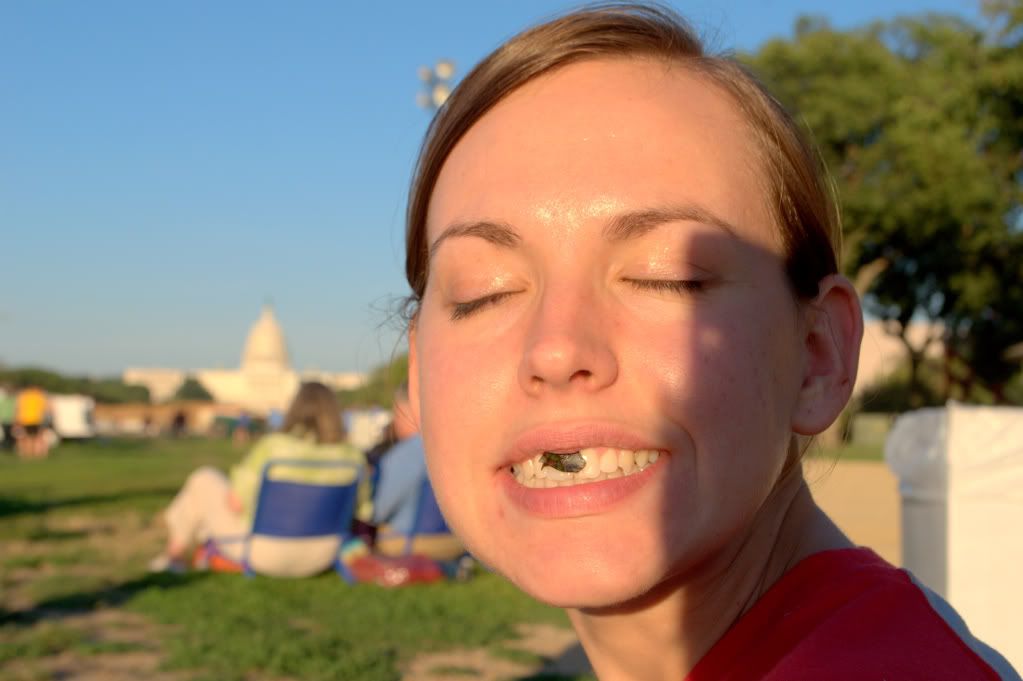 And then things got a little silly. But in case you were wondering, roommate, you don't need dental work. You're sooo beautiful :)
Sorry for the photo overload, but sometimes you just need to over-document amazing nights, so you can remember every detail in the years to come! And this was definitely one of those no-frills summer nights that for no real explainable reason was perfect and unforgettable. It feels so good to just sit out with friends, not worrying about anything and smile and laugh. So here's to you Summer, for making nights like this possible, and to the company who make the summer nights worth remembering!

Bisous!