Bonjor kittens! Happy Friday! My favorite day of the week. Actually, that is a bold face lie, especially considering I told you just last post that Sundays were my favorites. Friday is definitely up there on the list of favorites, but Sunday is more favorite (
name that line. go)
. Let's not mention this little white lie to Friday, though. He and I have hit a rough patch, and I just don't need any more Friday drama. I know I can count on yall!
This week was one of the most insanely busy weeks I've had in a long time, but it was filled with all fun post-work events so I really can't complain! Wednesday night, I dressed myself up in my newest fancy dress, favorite gold heels and lots of gold accessories, and marched my behind right on over to the Neiman Marcus
CapFABB
get together! Well, first I picked Rachel up at the metro, and then we marched on over. Tandem marching is really the only way to go. Per usual, the CapFABB girls put together a first-class all the way evening, complete with munchies, champagne, baubles to play with, a fashion contest and oodles of outfit inspiration from all the District fashionistas! This was one of my personal
favorite looks
, as it could so easily be transitioned straight into fall. We got to browse all the hottest trends for fall, including my new obsession: leather. Leather pants, leather skirts, leather accented jackets, leather
everything
is what fall will bring and I can't wait! Good thing I scored
this
awesome Alice+Olivia camel leather mini at Secondi, one of the best vintage stores in DC. Along with leather, I can't wait to see shades of green everywhere, structured oxblood handbags and funky brooches. That last one is something I've never given any thought to, but they are going to be huge this Fall and I can't wait to raid my mother's stunning vintage collection! I'm still up in the air on how I feel about smoking slippers, and the continuation of menswear inspired clothing. I guess we'll just have to see how it plays out!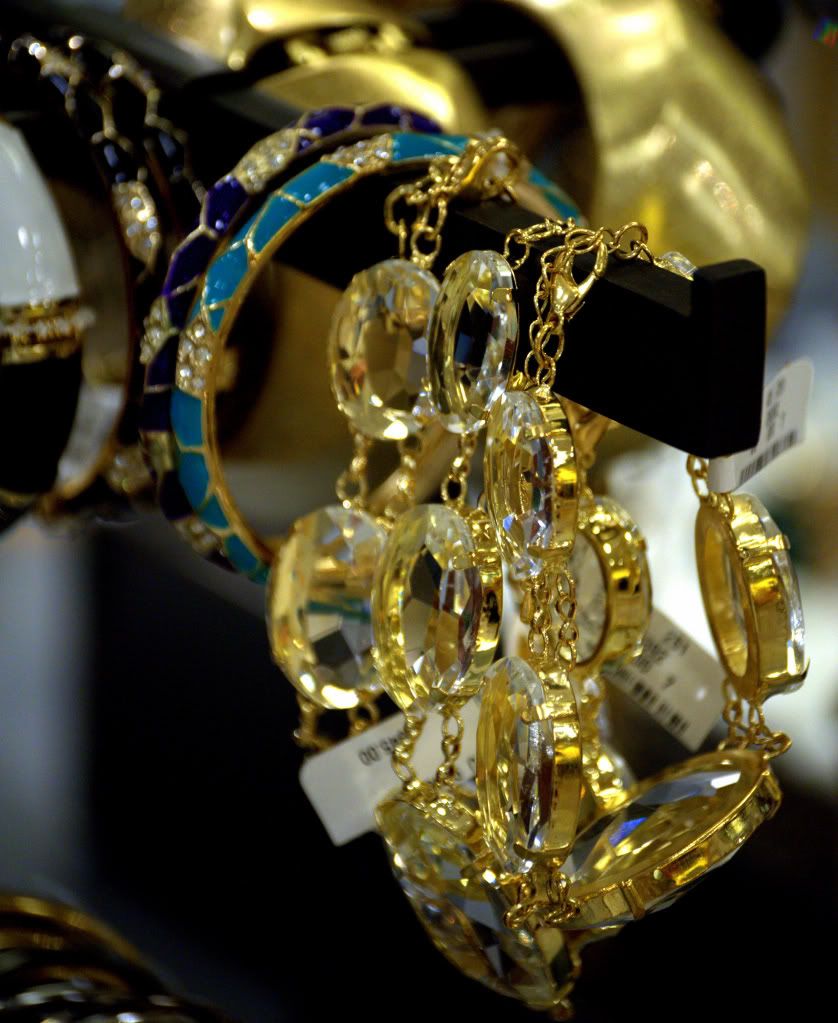 I know deep reds and shades of green are in for the fall, but I'll never stop loving cobalts and jewel tones! Especially for bangles, my jewelry love.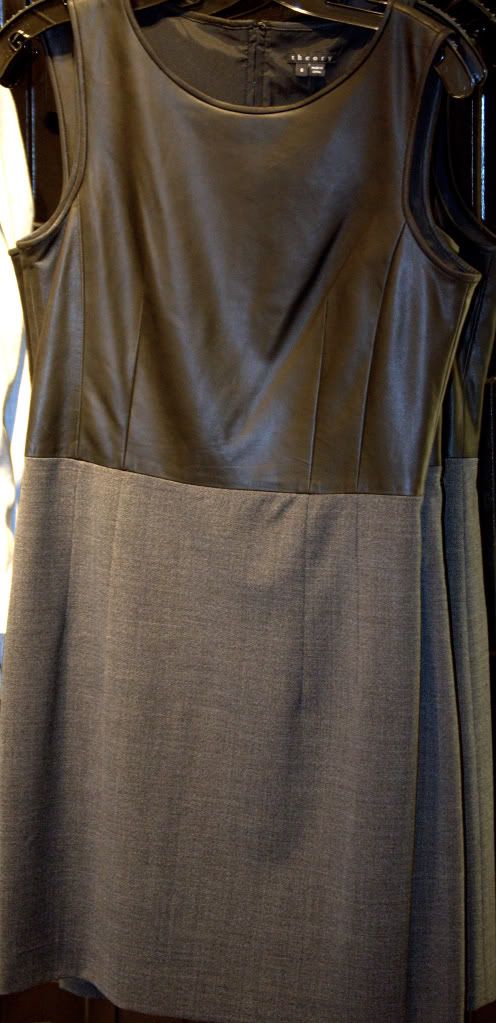 I am head over heels ga-ga for this leather combo Theory dress! I seriously wanted to whisk it away to NYFW. But, alas, the $355 price tag halted any and all dreams I was having. Click on it though if you are lucky enough to be able to afford it! And then send it straight to me, um k?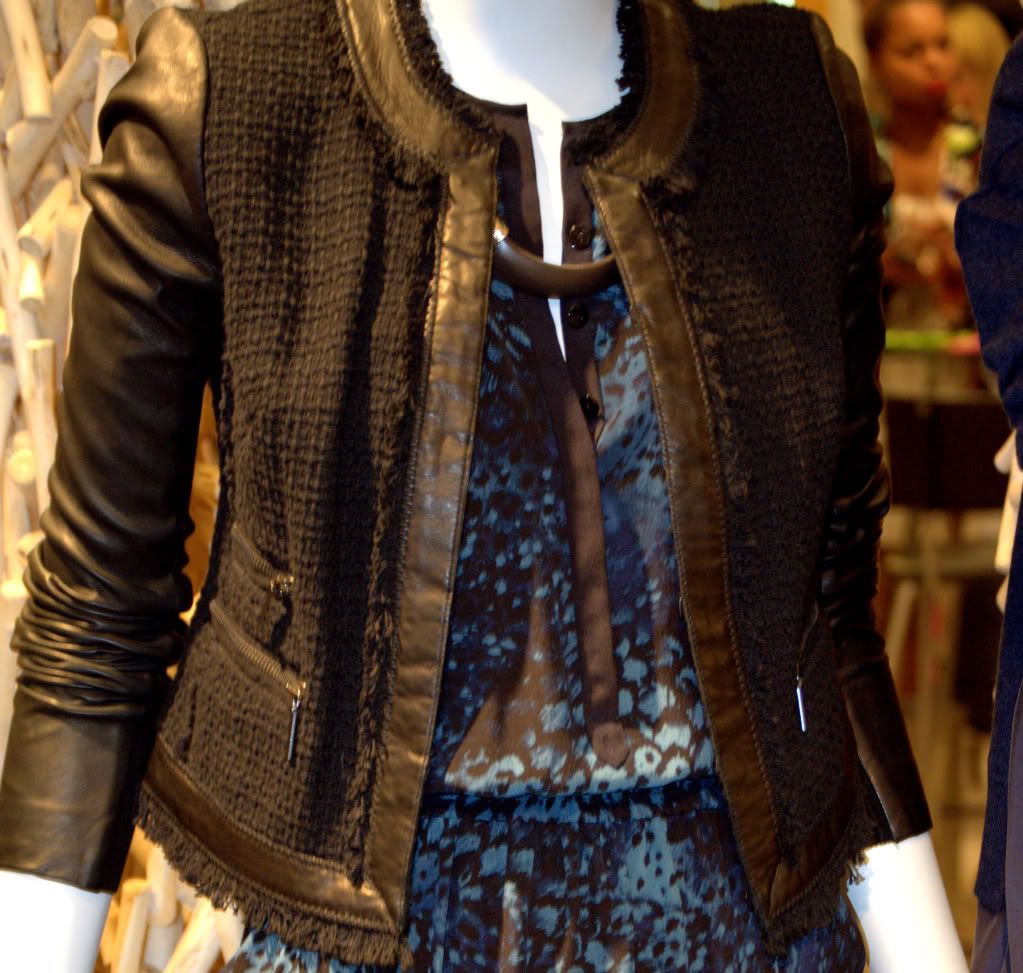 Again with the leather details. As you can see, I am obsessd. This jacket makes me think Chanel meets Biker. Haha.
Delicious food and champagne were on tap for the evening.
I honestly am not sure how I feel about the smoking slipper. I think it can work, but I'm not sure its for me. If i do try it, I think it will be in leopard from, rather than this spiky slightly terrifying version.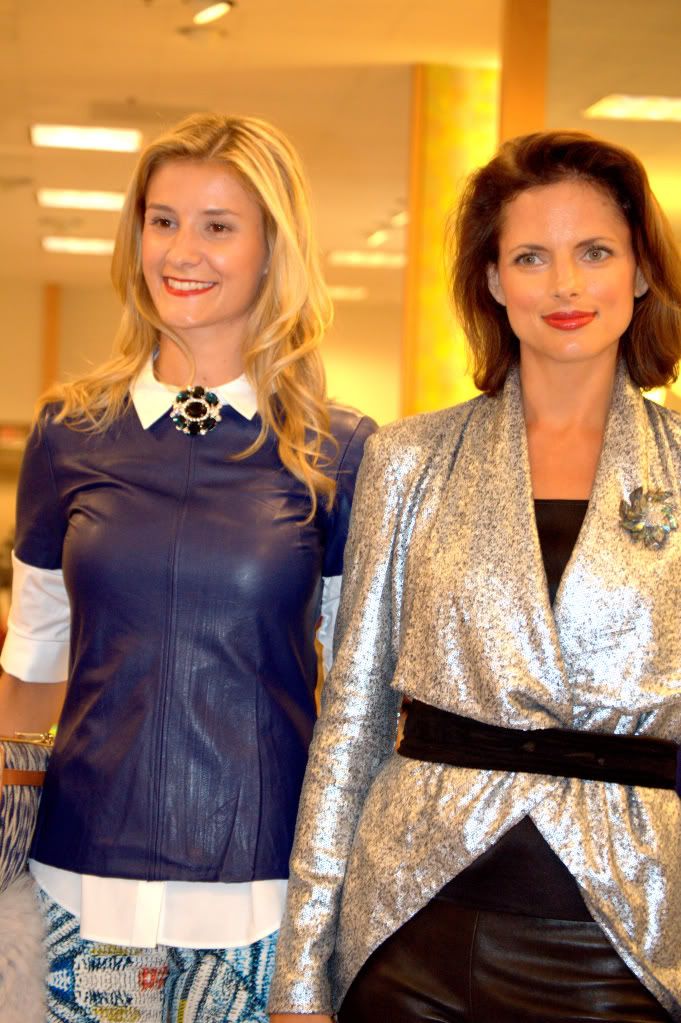 These were our models for the night. Two teams of girls dressed them in their take on fall fashion and competed to see who had the best look. I felt look 2 (left) was the most trendy, but look 1 would be some thing I'm more likely to wear. You can't see pants very well, but look 2 s wearing printed skinnies and look 1 is wearing leather pants.
Cherry lips+brooches add drama to fall looks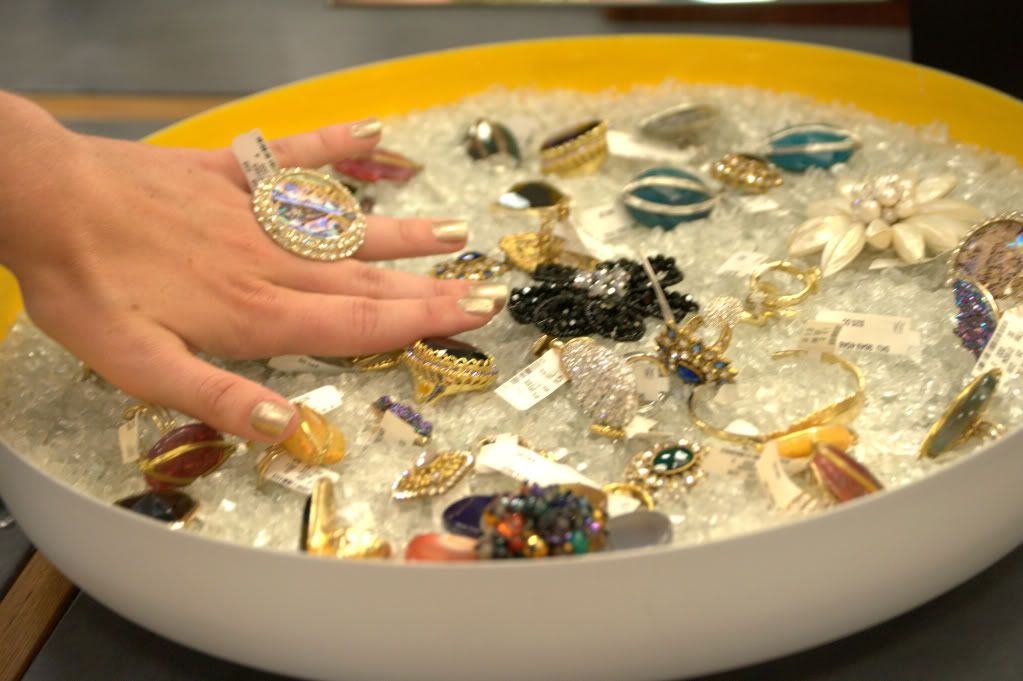 All I kept thinking when I saw this bowl of baubles was, "ladies of NY, frost yourselves!" Name that line. Go.
This is how Neiman Marcus was decorated when you came up the escalators- thousands of butterflies! It was like walking into a butterfly-infested heaven.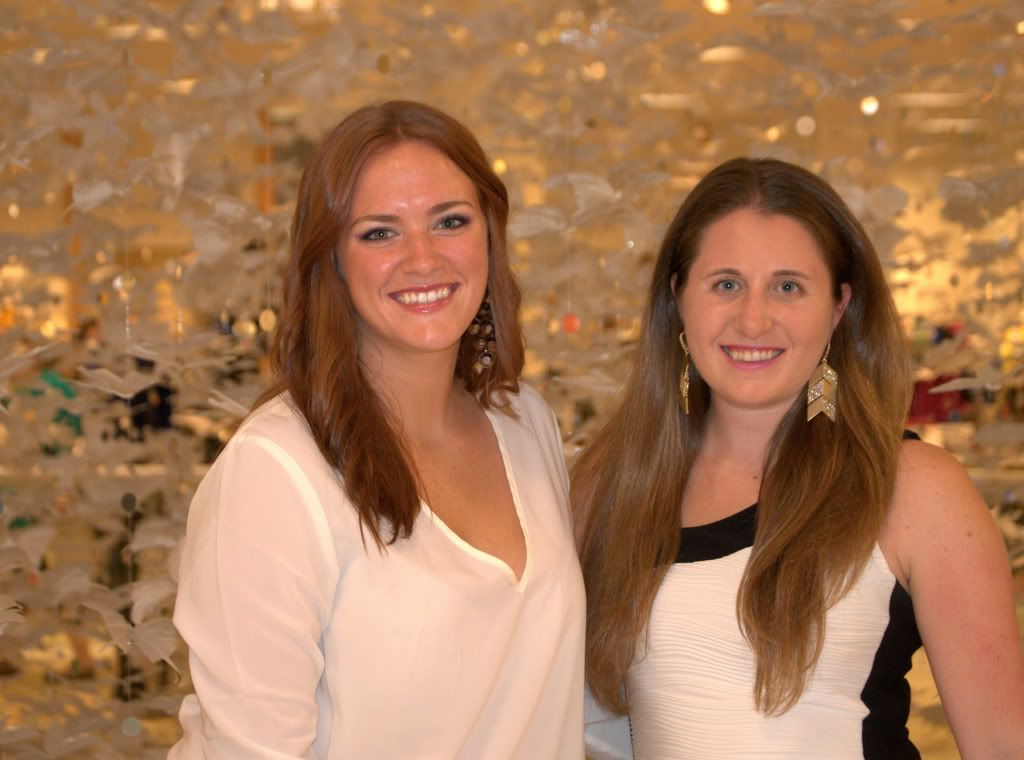 My partner in crime for the night! Thanks Rach for joining me and partaking in the champagne game with me :)

I took way too many photos at this fantabulous event for one post, so full outfit photos/photos of our ridiculousness will come later! Have a fantastic weekend, dolls!
Bisous!