Bonsoir babes and happy Hump Day! Oh yes, you can definitely look forward to all kinds of odes to weird holidays up in these here parts. See, did you catch that little ode to the highly under appreciated southern redneck? Well, here's to you, you Natty Light chugging, plump stomach-baring, NASCAR-loving devils you. Claim your moment, and claim it proud.
Wow, sometimes my rambling abilities astound me! How Hump Day turned into appreciation of red necks I will never know. And if you know, kudos. But why don't we go ahead and start talking about what we are really here for in the first place: learning how to maximize the potential of our favorite white lace dress (henceforth known as WLD- yea, I'm trying to make that happen). The WLD is the summer-time equivalent of a LBD, and should be a staple in every girl's closet. It, like its darker sister, has an instantly sexy air, and can look good on everyone when worn properly. Given the right mix, a WLD can be worn as a sexy date night dress, a toned down work-appropriate dress, a classy top to a post-work gathering, a casual skirt for running around town and even an effortlessly chic skirt for girls night out! Keep reading to see what it takes to turn one dress into five stunning outfits.
Dress: Urban Outfitters, Shoes: Aldo, Purse: Rebecca Minkoff, Necklace: Forever 21, Watch: Michael Kors, Bangles: Amrita Singh, Ring: Grandmother's
Summer date nights are why WLDs were created in the first place! So don't over think it- just let the dress stand on its own. Punch it up with your favo
rite statement shoes, fuchsia lipstick and neon accessories. You can also give the dress a little more pizazz by adding an eye-catching belt or scarf (seen here) to the dress, to create an empire waist style.Oh, and you might want a more attractive hair-do than the post-work/summer-frizz look I was sporting. Unless your dude is strangely attracted to frizz. Then by all means, frizz away.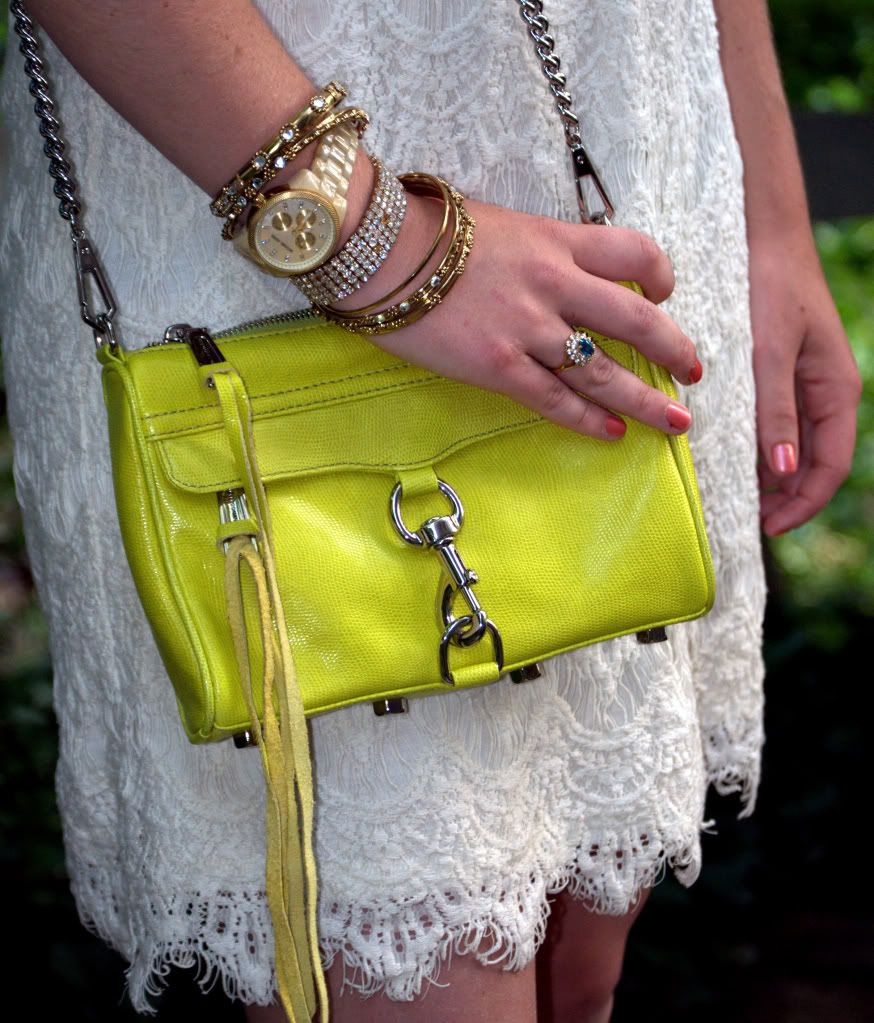 Bright accessories and arm parties are the perfect complement to white dresses. Except unless said white dress is your wedding dress. Then ixnay on the armay partay and stick to the basics. Otherwise, accessorize!
Work
Blazer: Rock & Republic via Kohl's, Flats: Express, Necklace/Ring/Earrings: Gifted



I admit I've worn this WLD on its own to work several times, but I always get comments on how "dressed up" I look. So if you want to tone down the "fancy pants" comments stick with the goddess of all work place items: the blazer. But keep it fun and playful with rock-star elements like a bold color blazer, studded lapels and animal print flats. Tone down the date night arm-party jewelry to a classy watch- you'll look more sophisticated.



My personal philosophy on life is that a blazer makes anything work appropriate. Except jorts. Or mid-drift barring tube tops. Or anything with the word mesh in it. Ok, so maybe a blazer can't make anything work appropro, but it can definitely work for a white lace dress.
After-Work Event
Skirt: White House Black Market, Belt: LOFT, Shoes: Badgley Mischka, Necklace: Eastern Marker vendor, Cuff: Towne & Reese , Earrings: Gifted, Clutch: Aldo
To be honest, I adore this skirt because I always feel like a ballerina when I wear it, particularly when my hair is coiled into a tight bun. And I, like all little girls on the planet, wanted nothing more than to be a pretty, twirling ballerina from the ages of 3 to 4. Yea, it only lasted until I discovered I sucked at ballet and was much better at sports that didn't require nearly as much grace. Like softball and swimming. Once again, I ramble. But the beauty of a midi-skirt is the instant class and femininity it adds to any ensemble. Paired over a sexy WLD your outfit becomes a classic and sophisticated combination. Just remember to belt it and try to avoid the unfortunate bunching I have going on in these photos. Top it off with a statement necklace that adds color and your highest heels, if you are, like me, on the shorter side and don't want to appear stumpy wearing a midi-skirt.
You can't go wrong for any apres work soiree with a black and white color scheme.
Running Errands
Chambray: Madewell, Sandals: Steve Madden via DSW, Bag: Handbag Heaven
We have all inevitably had the dreaded moment of running into the person you least want to see when you are running errands and look less than your best. Avoid that embarrassment by dressing down a piece you know looks killer on you (aka your WLD) by adding a knotted chambray top. Or for the cooler fall months, pair the dress with your favorite jean jacket or military jacket (seen
here
)for a relaxed casual, look.
Nothing says "what this old thing?" better than knotted chambray top.
Game Night with the Girls
Top: Urban Outfitters, Belt: Kohl's
There are two very different Girls' Night Out occasions. You have girls night out at a bar/club, in which you want to look sexy, and girls night out at a friend's house playing games, watching movies and enjoying a glass of wine. For the latter, you want to look effortlessly chic and adorable, and for that look nothing works better than a fun blouse (say animal print?) belted over your WLD. I definitely should have added a simple necklace to this outfit, but hey I was tired of changing a million times at this point so cut me some slack why don't ya :)
I had actually never tried this outfit combo before, and was hesitant at first. I tried it without a belt (silly me) and it looked frumpy. But with the miracle power of a belt, my shape was back and it was instantly transformed into a casual, but hip, outfit. Oh, and Eli says HI!! He missed you all as much as I did!
Do you have an item in your closet that you need help styling? Email lwainman321@gmail.com or comment below for a chance to be the next 5 Ways Wednesday challenge!


Bisous!