Aloha friends! I've got ya hook, line and sinker after that post title, don't I? Admit it, you mostly clicked on over because you were curious how I was going to pull that one off didn't you? It's ok- I would, skeptically, do the same thing. But here I present to you 5 easy steps to rock the professional PJs!
Blouse:Lauren Conrad via Kohl's, Maxi dress (worn as skirt): Old Navy, Belt: Paris, Flats: Steve Madden, Watch: Michael Kors, Ring: Amrita Singh via Hautelook, Bracelet: Gift from mm
Step 1: Throw on your favorite maxi dress
(Technically, you could stop right now, call it a day and be as comfy as a clam! But keep reading if you want to really be wild)
Step 2: Layer with your favorite airy blouse, in a fun pattern. A pinch of florals, or a dash of stripes peut-être?
3. Give yourself some shape, and really punctuate the outfit, with a wide waist-cinching belt. Make it a stretchy band to really keep the comfort theme alive.
4. Slip into your favorite flats and maybe add whatever accessories you consider essential.
5. Stroll outside feeling like you just rolled out of bed, but looking professional at the some time.And try not to feel guilty about how utterly comfortable you feel all day long. Seriously, that may be the hardest part.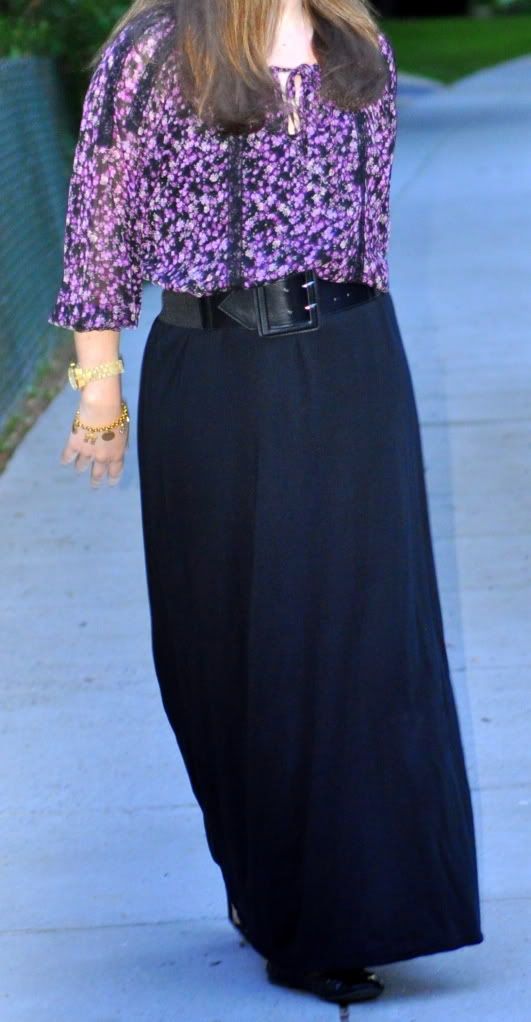 Don't be fooled by the streaks in my hair that appear to be highlights- they don't exist and are a figment of your computer's monitor.
Happy PJ wearing beautifuls. And I'd love for you to leave me a link if you decide to try this look out for yourself!!

Bisous!