Aloha chicas! Did you all have a marvelous Wednesday?
Je l'espère
. I actually am not sure if that would be the correct formation to say "I hope so", but maybe you can just roll with the punches if you are a Francophile and know that it is indeed incorrect.
Merci
. That one I am definitely positive on. I know, I'm playing with the big kids on that one.
Dolls, I have amazing news. I pretty much have my wedding all planned. I know, girlfriend say what?? You didn't know I was engaged? Well, silly, that is because I am not. But thanks to
pinterest
, I can easily forget the whole "need a guy to give me a ring" (and to love of course) part and plan and dream my little heart out. As unmarried ladies, roommate and I talk often about our future weddings. And while she seemed to know
exactly
what she wanted, I realized that as much as I think about the "big day", I didn't really know that much about what I want. I know, no need to worry about that since I have plenty of time. But it never hurts to just look, right? That is exactly what I have been doing on pinterest for like the last 24 hours. Dresses, photography, hairstyles, reception setup. You name it I've been thinking about it. I have basically found the bridesmaid dress style I want, the shoes I will wear, the hairstyle I (think) I want and how I want my reception set up. Pretty much all I need is the dress. It feels like I'm forgetting something... Oh, right, Mr. Wonderful. Could he hurry up already??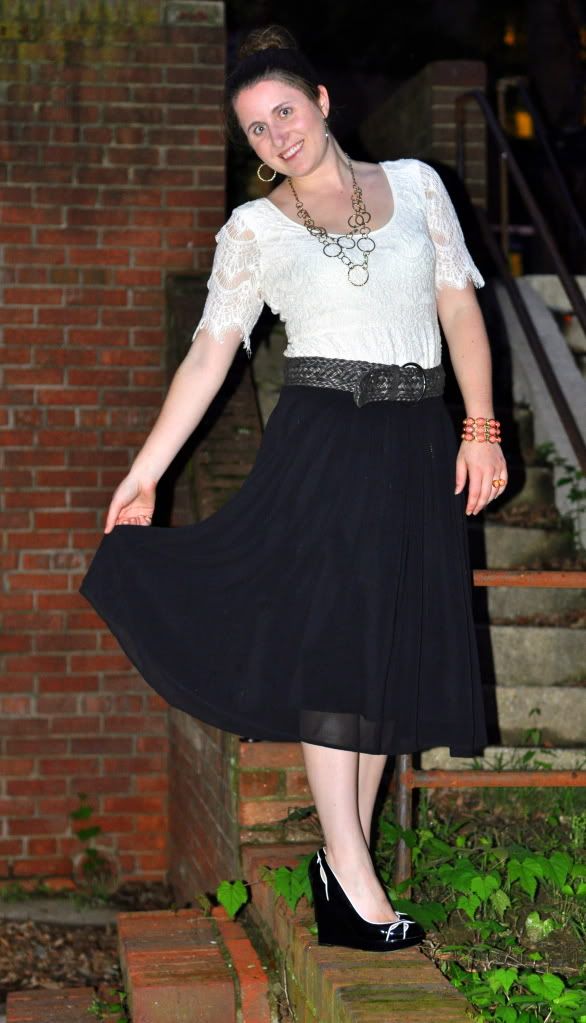 Dress (worn as shirt): Urban Outfitters, Skirt/Wedges: White House Black Market, Belt: LOFT, Necklace/ Earrings: gifted, Bracelet/Ring: Amrita Singh
I don't usually do sepia for outfit photos, because you lose out on the color of the outfit, but when you are wearing black and white, it works! It makes the colors pop even more.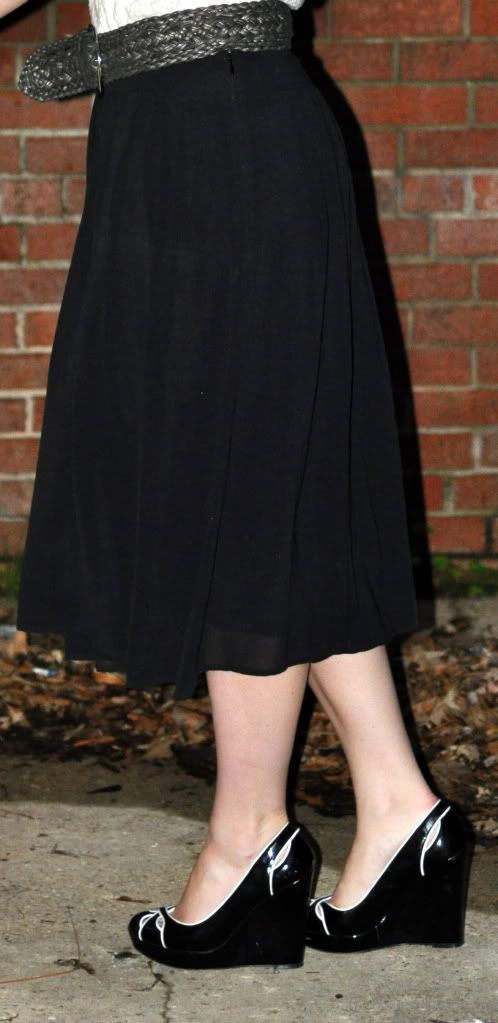 I may love this skirt more than any other item in my closet. But please don't tell the other clothes. The shoes, on the other hand, we got off on the wrong foot (pun totally intended) and the relationship has made slight progress (we've gone from unbearably painful, never wearing again, to I can tolerate this... I think) but still has a lot of baggage. Thus why I hardly ever wear these shoes, even though I love them. At least they were only $19.
I didn't even know this cute little behind-the-apartment nook existed until roommate told me we could do much better than the laundry room for photos. And she was right!
And then there is creepy part of basement you have to go through to get to cute little hidden nook. Perhaps to deter people from discovering the beauty that is this nook? Well tough nuggies, nook hiders, because I have found it and I love it and I will be returning. (P.S. I'm the one leg woman!)
And of course I had to get silly for a bit, and what is sillier than sitting on a washing machine in the creepy basement of your apartment in heels and a skirt? Exactly.
Do you have a piece of clothing in your closet that instantly makes you feel so elegant and feminine? For me it is definitely this skirt. I just adore it. Thanks mumsicle for having a stylish eye, as always, and gifting me this beaut!
Bisous!