Bonsoir blogilicious babes! Did you have a glorious Wednesday? I sure hope so! I got to cap off my day with a belated Mother's Day sushi dinner with mumsicle, roommate and Eli, so yes, I did have a glorious Wednesday. How kind of you to ask.
Oh, and you know why else today was supercaligradilisticexpialidocious (Woof that was a mouthful!)? Because I didn't have to think for myself at all while getting dressed this morning. Why you ask? Because sweet
Elly
had already done the work for me! Yes, dolls, today is the
Paper Doll Project
, hosted by
Suze
! Basically, it's a day where bloggers can revert back to their childhoods and "dress" one another up in fun little outfits. I never had paper dolls, but I had barbie dolls and I definitely remember creating some
crazy
outfits for them when I was little! Maybe I should have warned poor Elly what she was getting herself into when she let me style her...
I asked Elly to help me style a
red vest
I bought on sale from Urban Outfitters about a month ago, and had yet to wear. Every time I tried to wear it, I wound up looking like a Wal-Mart employee, but in red (wait, would that make me a target employee?) I liked it worn by itself, buttoned up with a pair of jeans, but I wanted to incorporate it into a work appropriate outfit. Enter the refashioning queen, Elly. She came up with two outfit possibilities for me, both of which I probably never would have thought of, and both of which I loved! I went with her first option today, and definitely plan on trying out the second option in the future. The red paired with the classic black and white of the rest of the outfit really added a pop to the outfit, and garnered me a few compliments today, too! I made one slight change, and opted for a different (slightly insane) shoe choice, for weather purposes.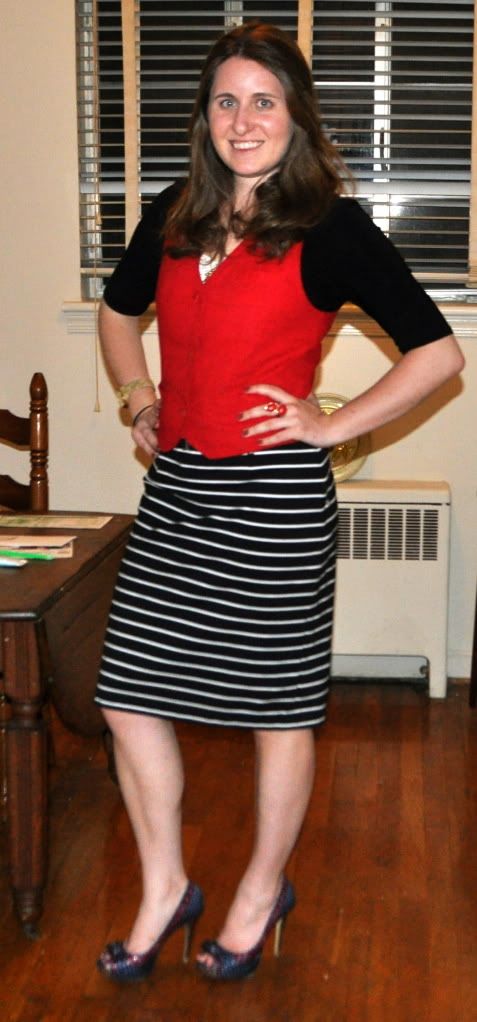 Black Blouse/white tank/skirt: White House black Market, Vest: Urban Outfitters, Shoes: DSW, Watch: Michael Kors, Ring: Amrita Singh, Earrings: borrowed from mom, Annoying hair tie on wrist: c/o my forgetfulness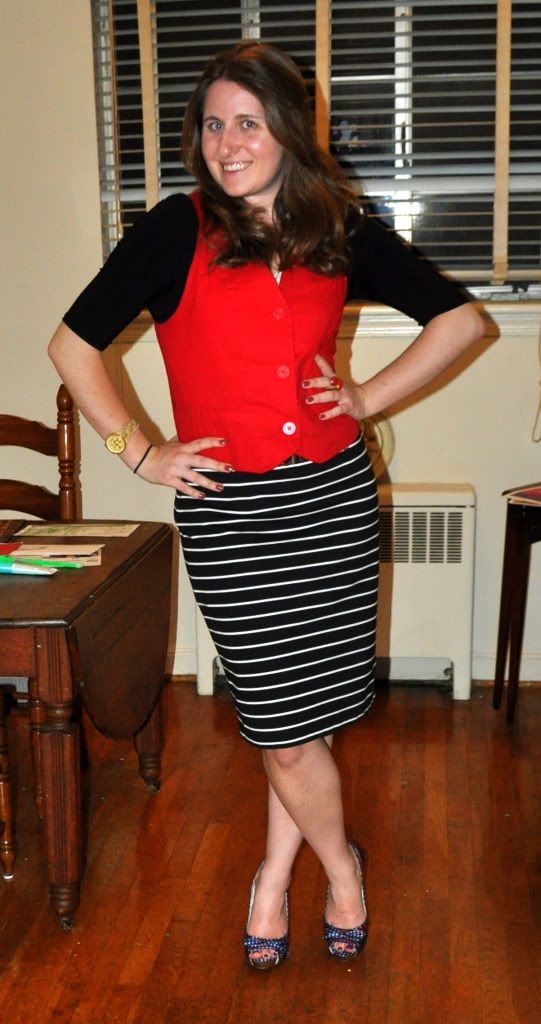 See that big, cheesy smile? That is definitely a "I didn't have to think about this outfit, which left more time to sleep" smile. Thanks for that Elly! You're a doll (pun intended, because we all know I can't ever pass up a cornball opportunity)!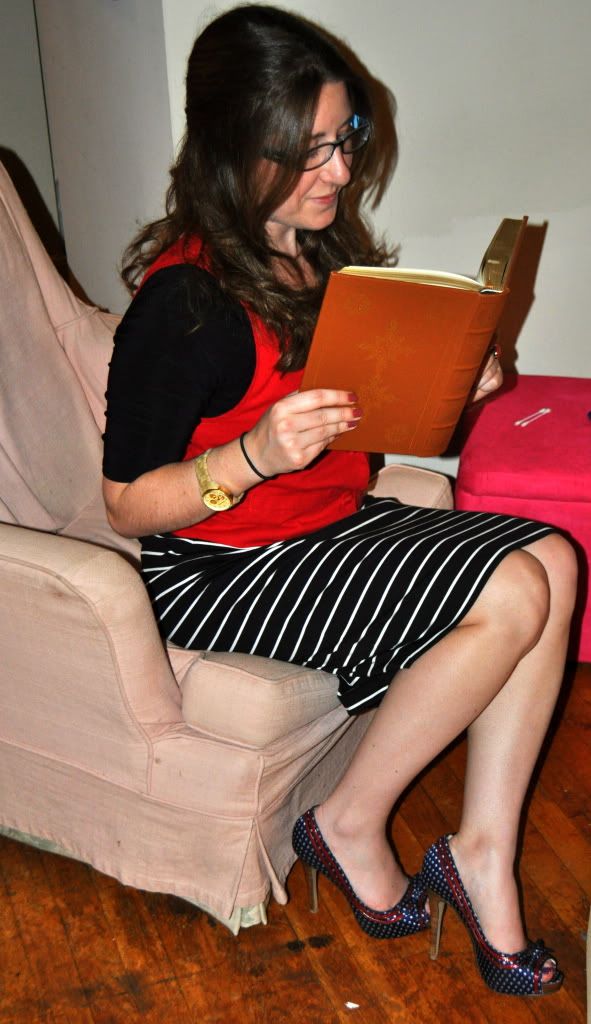 Something about indoor pictures makes roommate get really creative and she insists on using props! I love her for it :)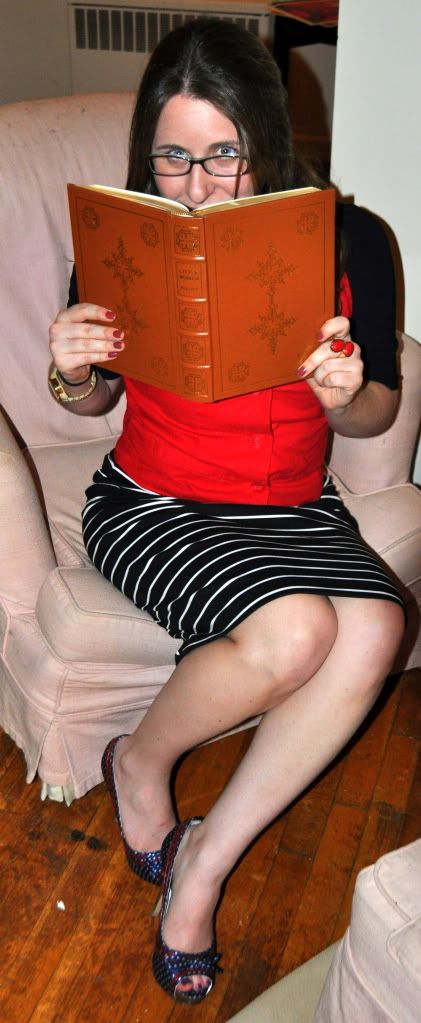 Guys, reading is sexy!!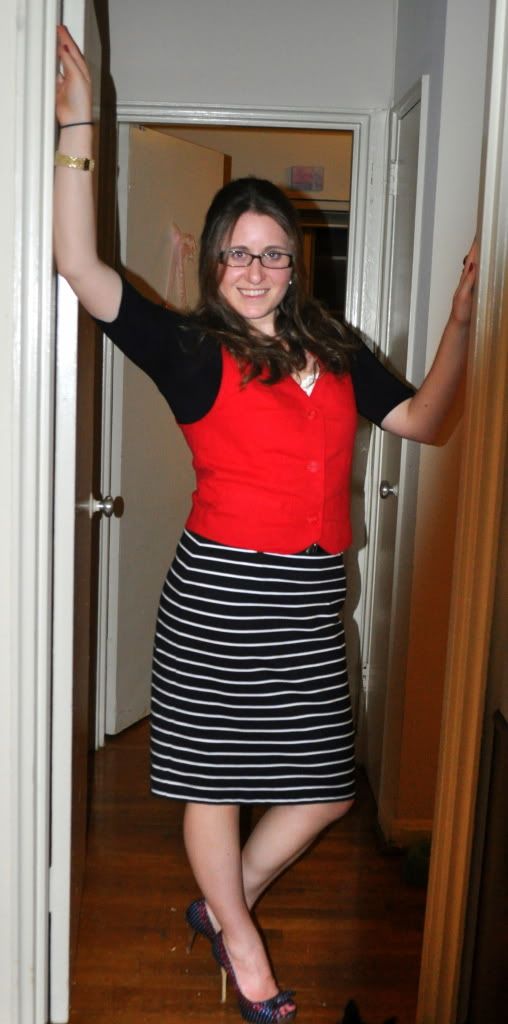 HA I didn't even notice until now that I cut off poor little Eli in this picture. See his little ears at the bottom?? I told you, he's my shadow.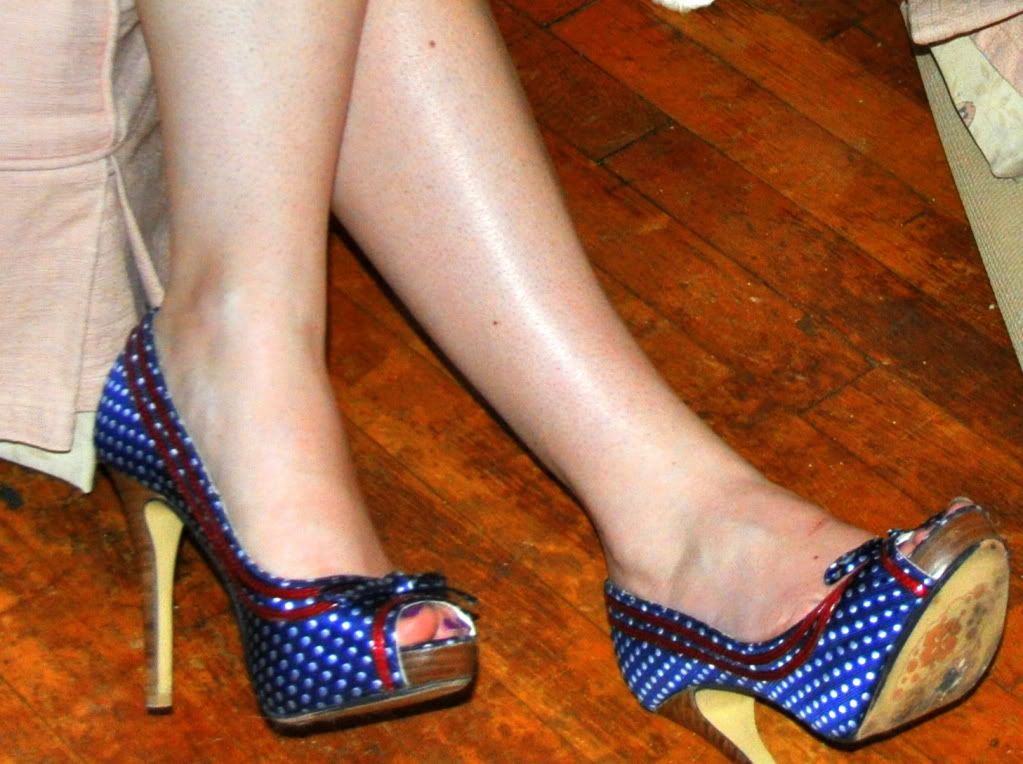 I have had this shoes since last summer and somehow I always forget to take photos when I am wearing them, so this is their blog debut! I know, you may be thinking "blue with black? Polkas with stripes?? What were you thinking Laura??" Basically, I wanted to wear these shoes and the red of the vest seemed to be calling for them. I decided to ignore the rest of the questions in my head and go for it!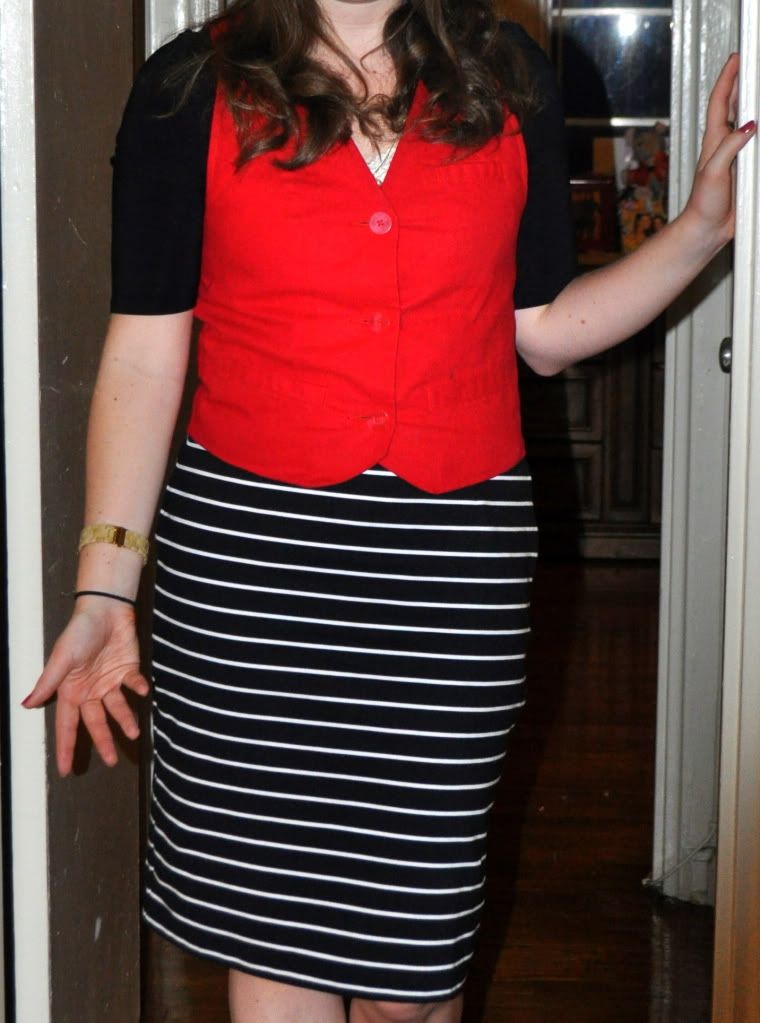 I decided to get rid of my head in this shot, and let my hand do the talking. I mean in all fairness, she very rarely gets the spotlight with my big head hogging it all the time. And hand really likes to talk. She told me so right after this photo.
If you want to see the fun pattern-mixing outfit I styled for Elly, hop on over
here
! But really, you should go just to see the amazing refashioning projects this chica creates. Seriously, you will be stunned by her genius. I know I was. A new summer
skirt out of a man's dress shirt
? Yea, she did it. I'm telling you people, genius. Don't miss it!
Bisous!