Bonsoir bellas! La fin. El final. La fine. Das Ende. O fim. Το τέλος. Конец. Koniec. Het einde. The end.
That's all folks!!!
Yes, it has come. The long, way-too-drawn-out overdue finale of the 30 for 30 remix challenge has been put to bed! We greeted fondly and then I tucked her in and said good
bye
, not goodnight. I don't hope we will meet again anytime soon. Ok, so I'm being dramatic. We all know that isn't a first for me. But in all fairness, I am
very
glad I participated in this challenge and I learned a TON about myself, my wardrobe, my creativity and my priorities:
1. Before this challenge I thought I could never repeat an item previously seen on this blog (at least not until I had been blogging a long time) because that would mean I am not creative and wear the same thing all the time. Now, it is a personal goal of mine to see how many ways I can wear the same thing.
That
is real creativity.
2. Going shopping shouldn't be a weekly thing (at least not for me personally and where I am in life), but rather an every once and a while fun outing as a reward or on a needs basis. And no, dying to have a third floral dress does not qualify as a need in my life.
3. Surprisingly, the hardest thing about this challenge was not remixing outfits or cutting out shopping, but actually finding the time to take outfit photos and blog every (or semi-every) day. It consumes several hours and that meant managing my time much more closely.
4. That being said, I also relaxed a LOT as this challenge continued and realized that if I didn't get day 12's outfit posted on day 12, the world would not end and my readers would not throw stones. (Psst, thanks for sparing me the stones, guys!) I was able to let loose a bit and have some serious fun with this thing! I mean c'mon- remember
day 14 and 15?
Enough said.
5. My boyfriend blazer is even better than a
real
boyfriend. Ok, I kid. But seriously, he can
tone down
stripe/lace overload, make
combining prints
less scary, be the
perfect top layer
and
hide unflattering parts
of blouses! I want to rename him superman blazer!
6. I really wanted to end on five. It would have seemed much more "wrapped up". But five wasn't enough so c'est la vie. Last but not certainly not least, I am coming out of this challenge with the reinforced knowledge that I truly do have a passion for clothes, and
there is nothing wrong with that.
Enjoying fashion does not make me frivolous or superficial and I am not going to worry (ok, at least worry
as much
) about what people will think of me when they discover this little passion of mine.

And now, let's commence with the pictures!
| | | |
| --- | --- | --- |
| Blouse: WHBM, Sweater: Kohl's | Skirt: MK, Boots: Steve Madden | Oh hello, miss Sassy pants (er skirt) |
| | | |
| --- | --- | --- |
| Top: Forever 21, Jeans: Levi's | Flats: American Eagle | Top-last item needing to be worn |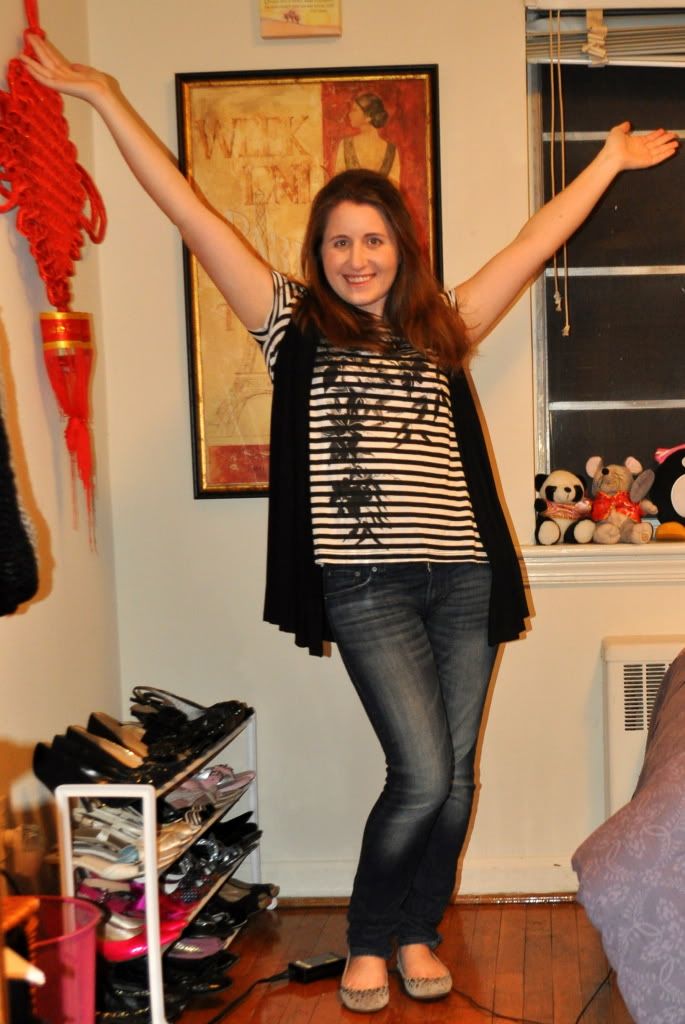 Hallelujah, thank some Angels I am done! If you all were here, I would throw a biiig partay to celebrate. Maybe you should come on down (or up!) this way... :)
Like I said, I really had some F-U-N fun with this thing. And day 30 was no exception.
Jumping for joy!

Getting down with my bad self.
This was supossed to be happy dance, but it looks more like spirit fingers to me! Either way, the message is the same: I AM DONE!
Bisous!
Oh, you thought I was gone? Not quite! I had to stay one more minute to show you the jumping pic outakes!
| | |
| --- | --- |
| Would you look at that face! You're welcome... | Look ma, no strings! I can float, I can float. |