Hola chicas!I hope you all had a lovely and not too boring Monday. Our weather here is so bipolar it is starting to drive me a little nuts! We experienced a warm spurt this weekend as the thermometers proudly hit 50, and now we have snow on the ground. Only a whopping 2 inches, but snow nonetheless. Just hoping it doesn't affect my drive in the morning!
Sad day for me tomorrow: my roommate starts her first day of work and I lose my "wife" :( Oh what a tragedy! I kid, I kid! I am of course extremely happy for my roommate to start her exciting new job. But I will dearly miss walking in to a delicious meal on the table and the most wonderfully yummy smell that lingers in our apartment all night long. Le sigh. We were oh so domestic this evening. What was supposed to be an idle night consisting of a much needed Gossip Girls catch up session turned into a way too practical laundry and other random chores evening. Again, le sigh. Although, I was in desperate need of clean tights so laundry night became *gasp* more important than GG! The joys of being a "grown up".
By the way, you might have noticed I made a few changes to the blog today! You can now know more than you probably ever wanted to know about me, conveniently find any giveaway I am hosting and track my 30 for 30 progress. You're welcome :) It always takes me a little while to fully adjust to any change, no matter how small, but I think this is one I am A-Ok with. We shall just have to wait and see if I keep it or change it. Chime in if you have an opinion one way or the other!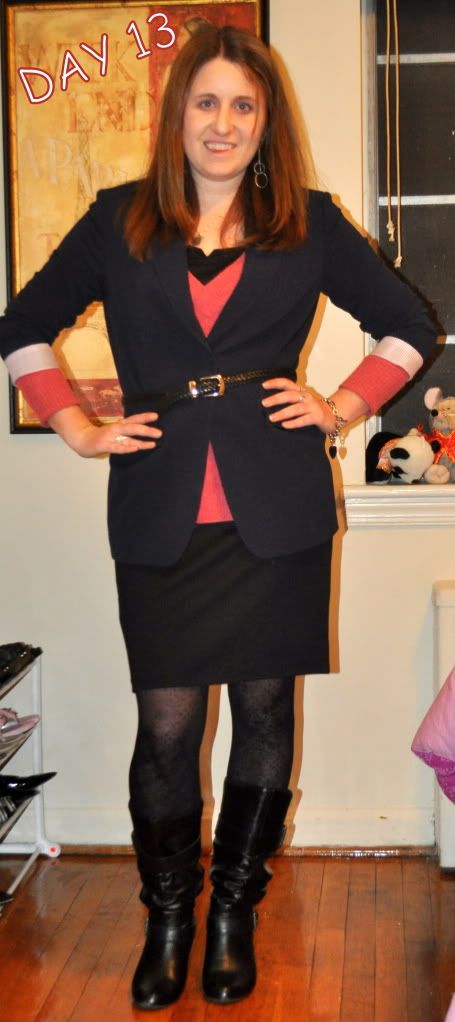 Blazer: Elie Tahari via Bloomingdale's, Sweater: Gift from mom a few years ago, Dress (acting as skirt/peeking out of sweater): XOXO via TJ Maxx, Belt: Kohl's, Tights: Accessorize, Boots: Steve Madden via DSW, Necklace/earrings: Gifts from mom, Bracelet/leaf ring: Gifts from cousin, Bow ring: c/o Lichen and Lychee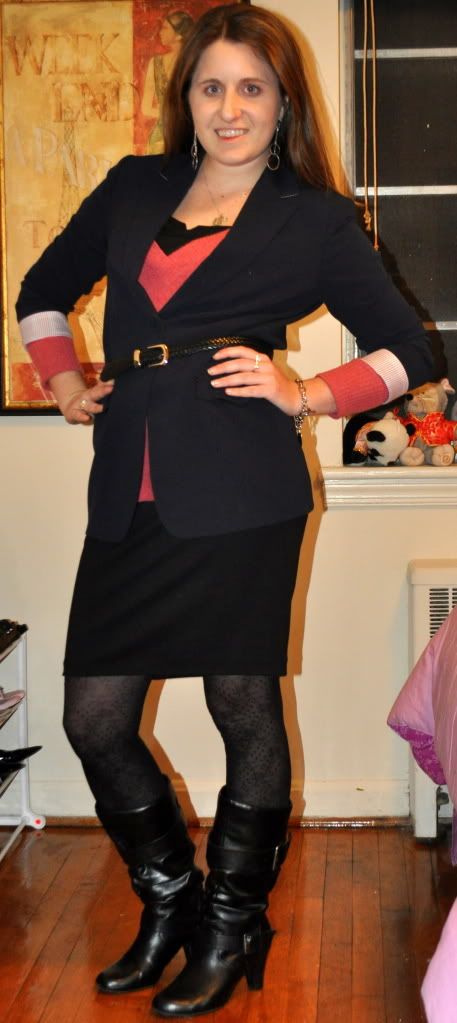 So I don't know about you ladies, but old men complimenting me on my clothing weirds me out. I can never tell if they are being ooky or if they are just genuinely sweet old men being sincere. So I wind up laughing nervously and willing the elevator doors to open sooner so I can be done with the awkwardness! I mean, I appreciate being told that I look sharp, but repeatedly telling me you like the way I look/ my clothing choices in the span of an elevator ride and a walk to my desk is a bit of overkill Mr. Old Man. Take it down a notch, maybe? Thanks.

This outfit had quite the night on the town... with my dad! Who would have thought that going out with dear old dad could be such fun! Last Tuesday (yes that is how far behind I am thanks to the plague I enjoyed the rest of the week) my dad came into the city to officially see my new pad all decorated and such and took me out for an amazing dinner. Dinner turned into an epic night out which included window shopping long after the stores had closed (aka me lusting and my dad analyzing the store designs and marketability) and a very enjoyable encounter with a group of Aussies visiting DC! Only downside of cruising the town with your dad? Flirting with the cute Aussie with your dad within earshot is quite an interesting challenge! I accepted that challenge though, friends. Cute Aussies don't grow on trees after all!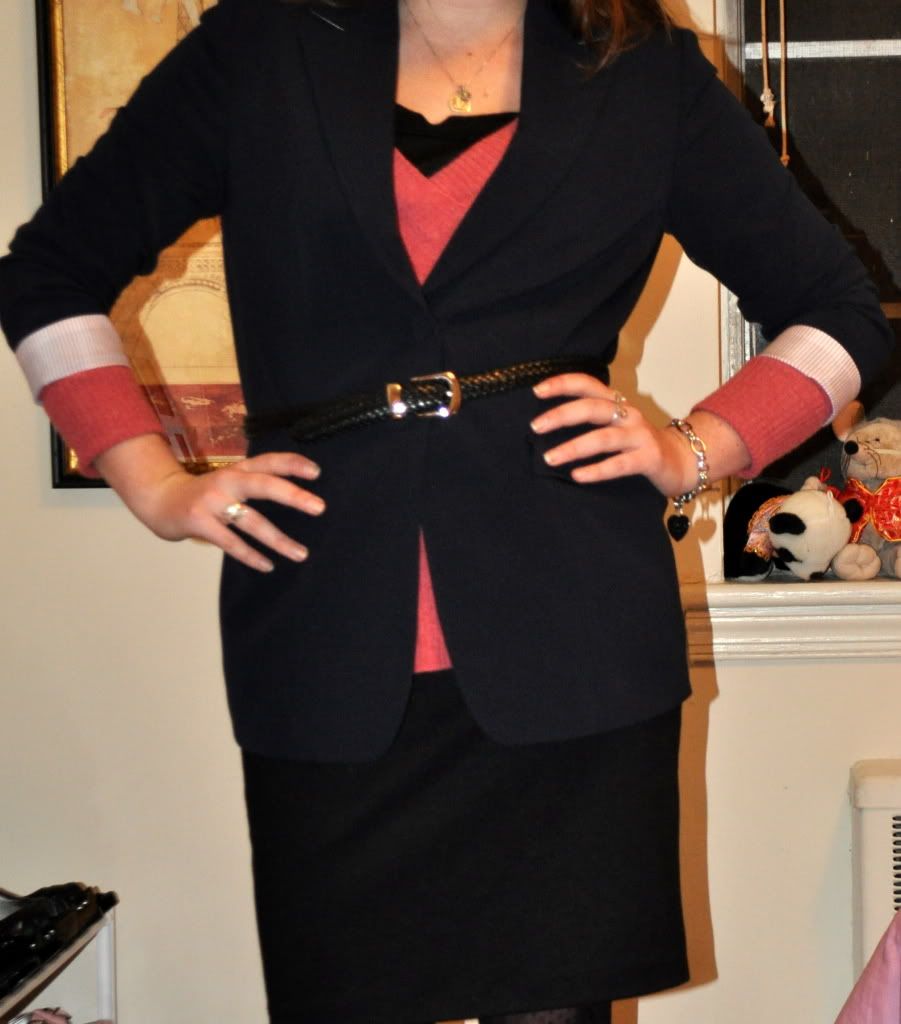 It may be a little premature to say this, but I think this outfit might win my favorite outfit of the remix award! I loved how professional I felt all day at work, but also how chic I felt when I was out that night. All the layers made me see how far my style has come in just the few months that I have had this blog, since I was a layering failure before! Plus, it mixes navy and black together, which is one of my favorite "rules" to break. All in all, a success in my book!
Ok all you remixing style goddesses, how are you doing at this point in the 30 for 30? I'm almost at the half way point, and I know most of you are a little bit past it. Anyone else hitting a bit of a slump? Have you found yourself whispering sweet nothings to the rest of your closet late at night lest they think you have abandoned them? Are you just itching to get your credit card some swiping action? Or am I just a little bit off my rocker today? Hmm I'm afraid it could, potentially, possibly be the latter. Thank goodness for Kendi's just-in-time-ride-in-on-a-white-horse of a post chock full of great
remixing advice
, from the lady master herself! I think I will be doing some major blog browsing tonight to get myself re-inspired for the remainder of the challenge. Ta-ta for now darlings!
Bisous!