Hello lassies! It pains me to say it, but alas, my post title is true. Birthday came. Birthday went. And you know what I learned? Adult birthdays are not nearly as awesome as kid birthdays. Sure I can now enjoy March 21st with a fun cocktail should I choose to do so, but you know how else I now get to enjoy March 21st? By working an 11 hour day. Womp, womp and Happy Birthday to me! Thank goodness for my amazing friends who already
celebrated with me
on Saturday and made me feel so loved, and for my ridiculously sweet parents who drove all the way into DC to go out to dinner with the roommate and me! I am a very blessed girl!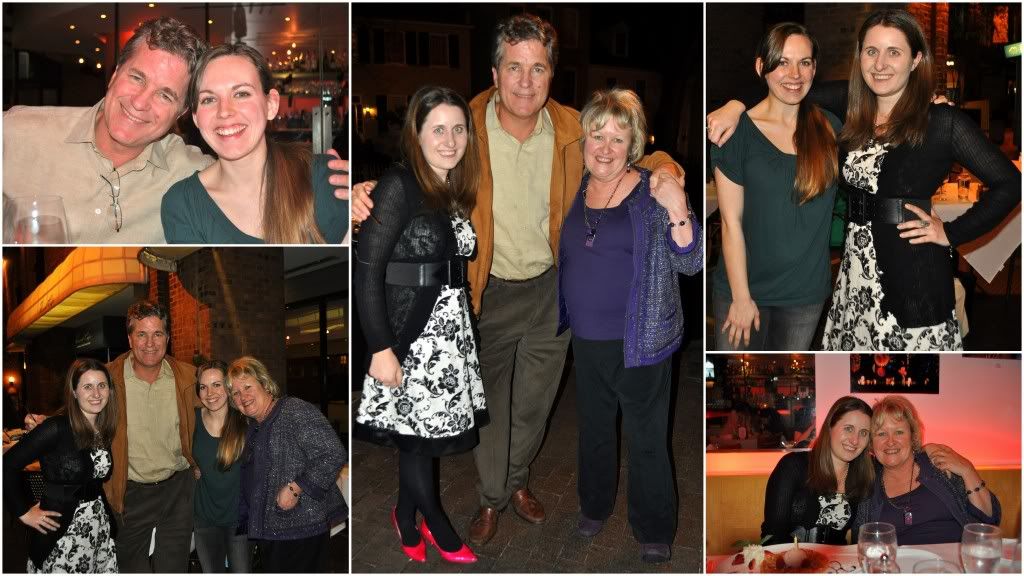 My parents and roommate made my post-work birthday just lovely! Thank you guys and love you! Oh and I don't usually wear such BRIGHT statement shoes to work, but I decided if I have to work on my birthday I am at least going to rock the shoes I want to rock.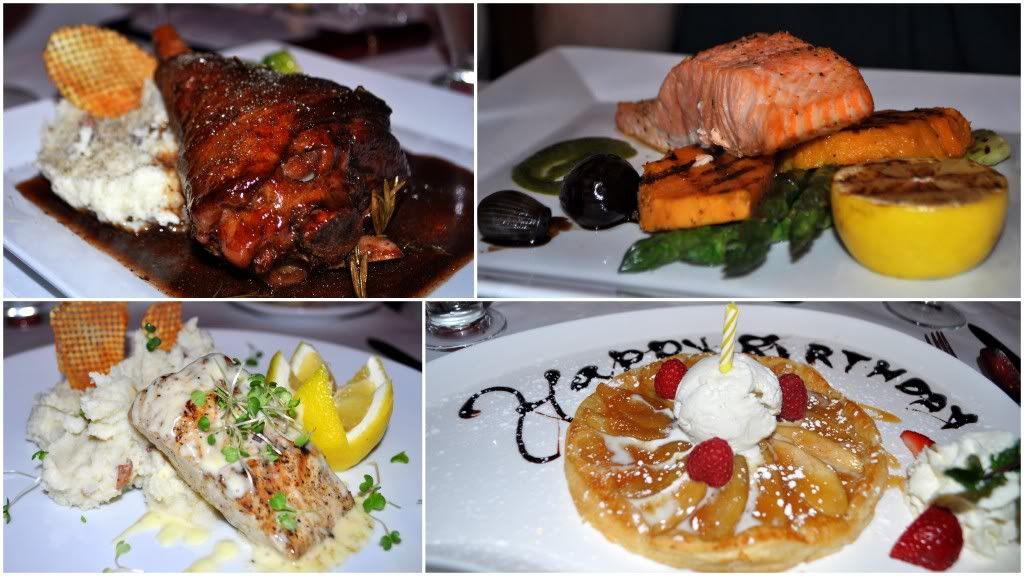 All I can about this collage is "nom, nom,nom, nom!!" Ok, sorry inside joke. But no joke, last night's food was AH-MAZING! My family took me to this wonderful restaurant in Georgetown called Peacock Cafe and the food was SO good! I'm not usually one to take food photos, but when you are eating food this pretty, a picture is merited. Mom enjoyed a lovely leg of lamb and mashed potatoes, roommate (and my dad) dined on salmon, asparagus and sweet potatoes and I devoured a filet of fresh Mahi-Mahi on top of a bed of mashed potatoes. And of course I shared my incredibly birthday apple tarte with everyone. Well, not mom, but only because she doesn't eat dessert. How she manages to live without dessert is beyond me.
Ok, I promise birthday celebration photos/chatter are officially over. No more self-absord-ed-ness. Now back to regularly scheduled posts complete with photos of, oh wait, still me. I guess you're stuck. :) Well now that Spring is finally here, I am all about color, stripes, airy tops and billowy silhouette skirts with non-tight clad legs! And to honor Spring's official March 21st arrival (and don't even bother trying to convince me it is the 20th because you won't be able to! I was born on the first day of Spring ok??) I threw all these things together in one outfit and called it a party. I worried that could go horribly awry, but since I was in a rush already I was determined to make it work. I am happy to report that I, surprisingly, loved it instantly. The skirt was the piece de la resistance that the outfit was built around, and I absolutely adored everything about my new skirt. The length makes me feel incredibly old school feminine (which I love), the high-waisted fit is flattering on me if I do say so myself and the pleats added an on-trend touch. And since I am so into black and blue lately, this airy striped tee was a natural fit. Plus, it was just the right combination of form fitting enough to balance out the flowy skirt, without being glued to my body and uncomfortable. The pink cardigan was another easy choice to add in color, and lastly the nude heels were a necessity to pull together an outfit with various shades of colors going on and to ensure that the length of the skirt didn't make my 5'3 frame appear even lower to the ground than it is. Remember that below-average height ladies: you can still wear calf-grazing skirts without looking stumpy as long as you don't let your feetsies stay flat on the floor and you give them lift with heels or wedges.
| | |
| --- | --- |
| Cardi/Tee: Loft, Skirt: White House Black Market (bday gift!) | Belt/Shoes: Kohl's, Jewelry: Forever 21 or gifted |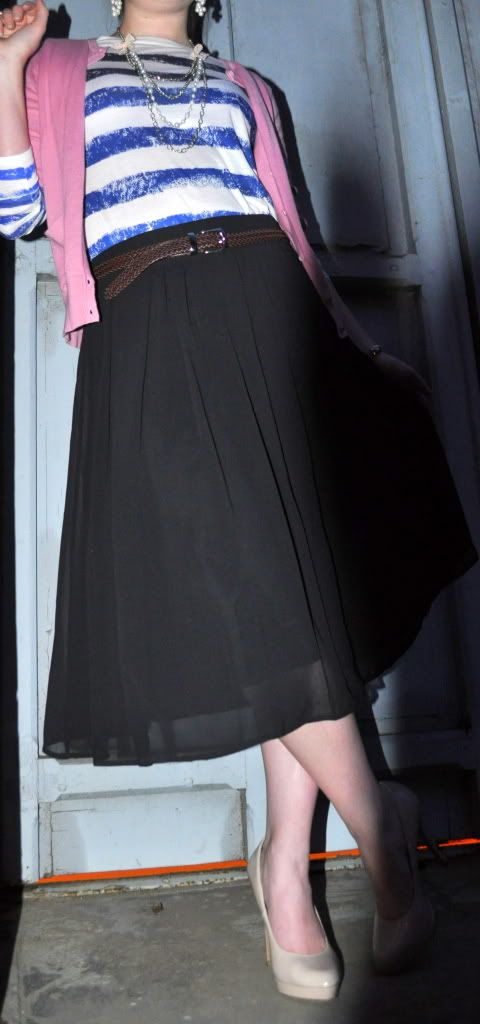 So I FINALLY made it home before it was completely dark (I know it doesn't look like it in these pictures, but there really was a little daylight left) so roommate agreed to do a longer photo shoot, than we have been doing. One of my goals really is to start doing more outside shots, and daylight savings time is going to help tremendously with that goal! And then when I was just going to be content to take them in the non-attractive mini patch of grass behind our apt. parking lot, roommate goes and has the bloody brilliant idea to run over to the really cool castle looking building that we have no idea what it actually is and snap some photos. THAT is why I keep her around. Well, that and she makes quiches, and is really funny and basically an all around amazing roommate. Oh, and sorry about the headless shot, but the upwards angle is never flattering on me :)
| | |
| --- | --- |
| Have you ever put on an outfit and it was insta love? Well I did today. New favorite skirt! | There is nothing I like more than sitting on stairs in a flouncy skirt. I felt like a princess waiting for my prince. |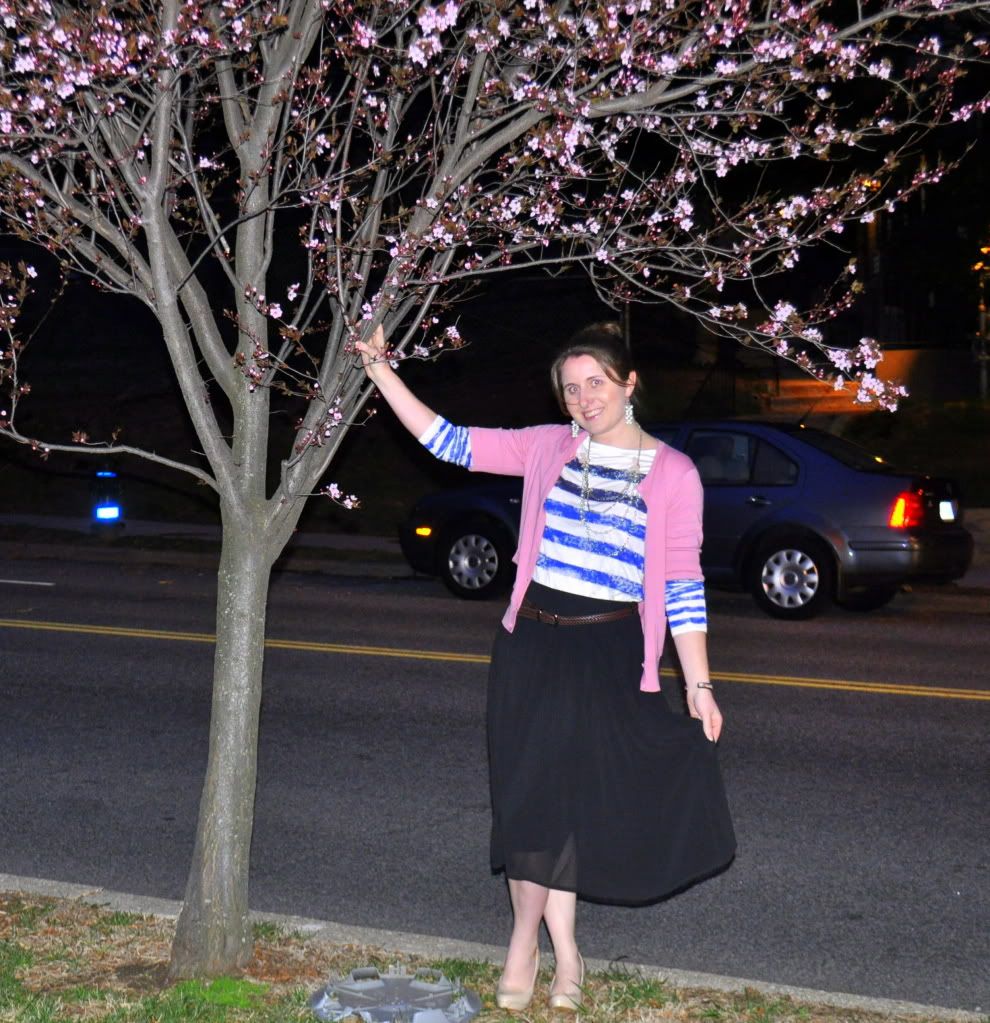 I love this time of year when everything is just starting to bloom. It is so fantastic. So almost all of my outfit came from birthday gifts. Although, the cardigan and tee were bought by me as a present to me, which I am totally counting. Don't judge. But that little skirt diddy is all thanks to mumsicle and her amazing taste!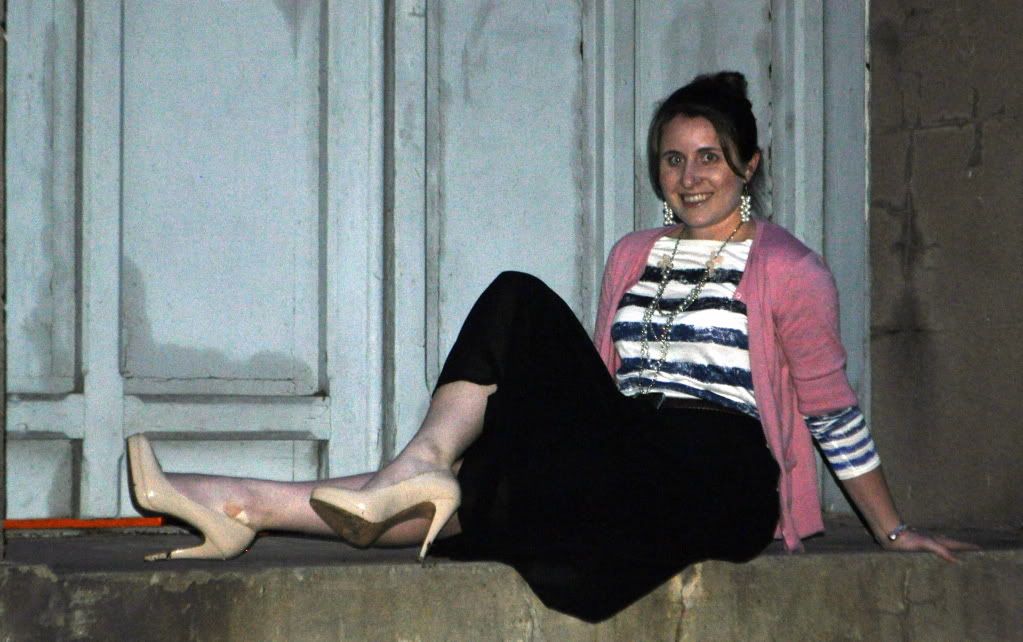 And this is when I get silly :) I think we all know by now it happens every time. I felt like every car driving by watching me do this was probably judging me. I guess that is the life of a fashion blogger who dares to venture outside the comforts of her own home. Oh by the way, what do you think of the ballerina bun? I admit, I didn't spend a lot of time perfecting it, so I'm sure it could be a lot better but I thought it was a nice change from my typical straight and down look, or pushed back by a headband when I am too lazy to dry it, which incidentally is what happened again today that led to the new look.
And just to show you the heights I will go to for you, my loves :)
Ok well I hope you enjoyed seeing outdoor Laura. I sincerely hope you will be making her acquaintance much more often these days, but I also hope you will forgive her if she takes a night off and lets indoor apartment Laura do her thang sometimes, too.
Bisous!