Salut loves! Ok, so you are going to get a bonus awkward story, even though it isn't awkward and awesome Thursday, because this gem is too fantastic to wait allllll the way to next week to share. Reality check: I would forget it by then, which is why I have to share
today
. So, let's set the scene a bit. I have recently moved into Washington, DC from Virginia, therefore I need to update my license. Fridays are the only days that would work for me to go, and since I have been fairly certain that Fridays would be basically the worst day ever to go to the DMV combined with the fact that I just like using my Fridays to do fun things, I have been putting this little task off. But today, I decided it needed to be done. So I rolled out of bed at the crack of noon (I told you, Fridays are my days!), had a lovely bowl of layered cereal (remind me to tell you about the gloriousness of layered cereal another time my friends), futzed around for awhile and then finally ambled on down into town to take care of the license once and for all. Of course, since it is the DMV and we all know that nothing good comes from the DMV, it all went down hill from here. Cue the massive line of impatient people who all think they are their task is so much more important and begin the hour long wait to be helped.Then, I finally hear my number being called and make my way over to the counter, with all the forms filled out, the proper documents needed (and then some) and think I am golden. And that's when my now least-favorite DMV man says "Ok, put your face in that hole for the vision test." Crappers. I probably haven't mentioned this, but my eyesight is not the best! And I do nothing about it. I have tried contacts and they hurt, I have glasses but I hate them. Thus, I walk around semi not seeing all the details. But I didn't think my vision was all that bad. Until I put my face in that awful little hole and realized I couldn't see a
single
line that I was being asked to read. Not a single one. What to do? Obviously, the best solution is to just start making up stuff while DMV man stares at me like I am the biggest idiot he has ever met. Ok, so maybe it wasn't the best idea I've ever had. But the next one I had was: run away before his stare can make me feel any worse than it already was. Long story (sorry about that) short, I still don't have a DC license and am blind as a bat. Awkward. Definitely not awesome.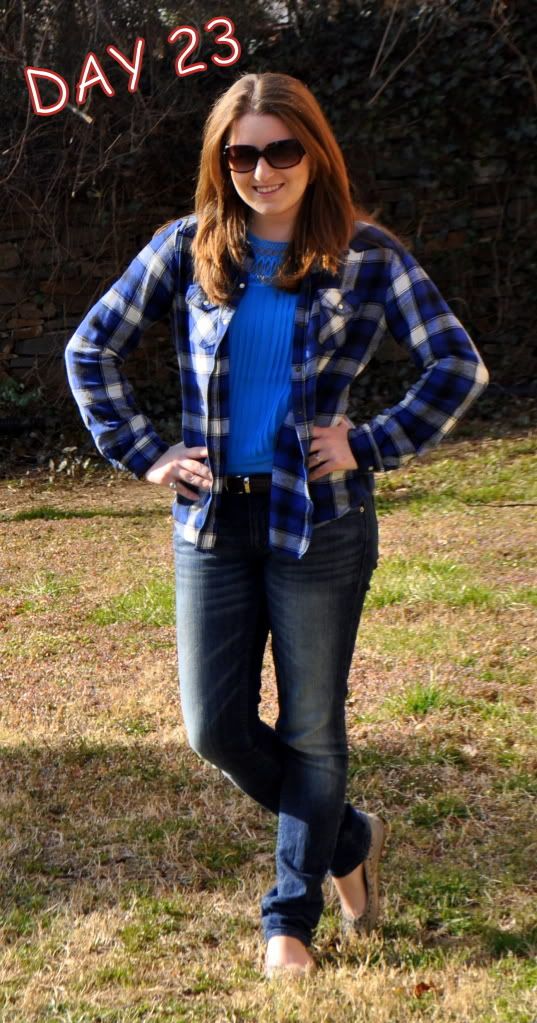 Shirt: Target, Blouse: Banana Republic, Jeans: Levi's, Ballet flats: American Eagle, Sunnies: Marc Jacobs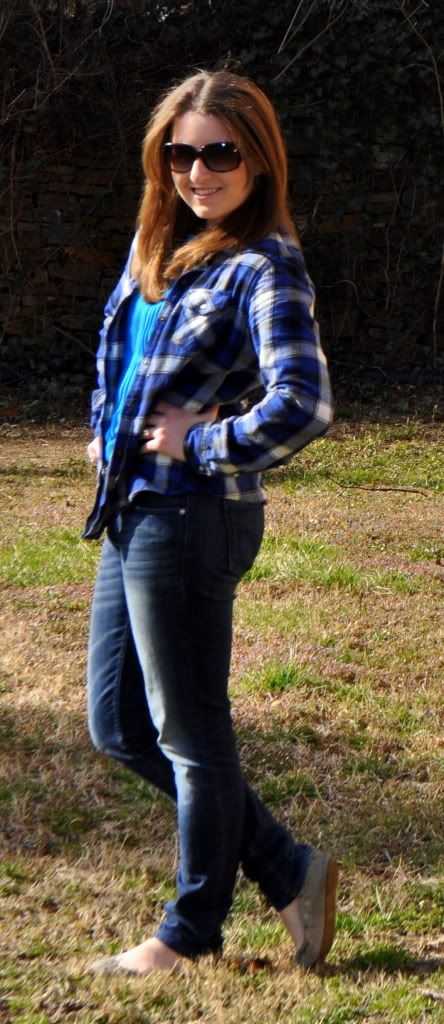 Hi friends! My name is Laura. I thought I might need to introduce myself since you might not recognize me in those shades posing in the light of day. But, yes, it is still me. One of the (many) benefits of not working on Fridays is actually being able to enjoy a little outdoor time. Lately the weather hasn't been all that great, but today was FANTASTIC! Even though I didn't have a photographer today, and I don't own a tripod, I just couldn't pass up a chance to take photos out in this amazing weather. So I got creative and realized that with the help of the hood of my car and this petite field by our parking lot, I could have me some outdoor photos today! Hooray.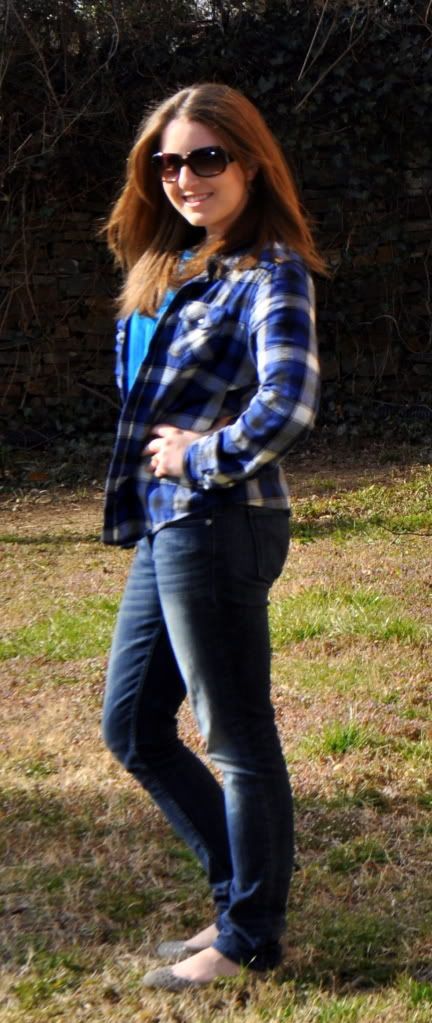 I'm not usually one for monochromatic looks, but am definitely a believer in trying everything once. And I knew I wanted to wear this plaid today, but wanted to pair it with something a little more fun. And this blouse was giving me the evil eye for only letting it out of the closet to play once during the challenge. Next thing I know it has convinced me it needs a little plaid loving in its life and they are cozied up together.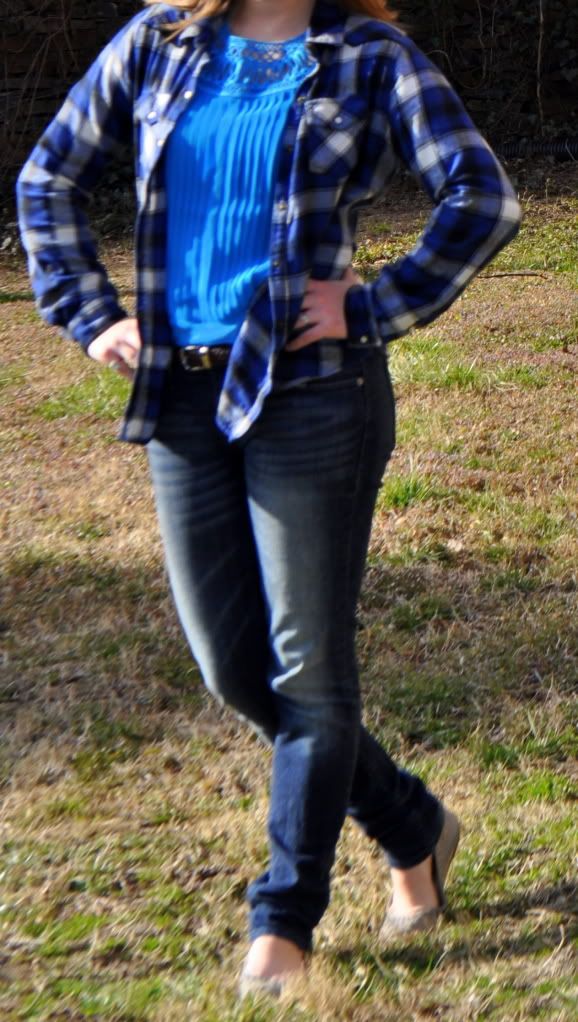 So despite my absolute love of belts, I think this is the first time I have actually worn one on my jeans, where it belongs! Crazy, no? I always end up using them to define my waist a little more. But today this look could use a little something extra, but I didn't want the belt at my waist, so I was stumped. Then I (geniusly ) realized I could try it where normal people wear their belts. And I have to say I liked it.
I have something I need to get off my chest. Ok, two somethings. One, I shopped today. I know, I
know
I am not done with the challenge and still have 7 outfits to go, but
technically
the 30 day period is over and I was sooo good so I just didn't see any reason to walk away from the most beautiful $10 thrifted leather skirt. No, that would just be crazy talk. And since I'm not crazy I didn't walk away, but instead scooped up the little beauty and brought her home where she could mingle with the rest of my closet. I figured they needed a new friend after being so neglected last month. And confession number two: I also cheated on my 30 for 30 closet today. I wore this outfit all day, but then tonight I wore a black flower printed dress and heels to go out and celebrate a friend's birthday. I don't have any justification for this one. It was a dress restaurant and try as I might, I couldn't put together any new outfits with the only dress I included in the 30 for 30 and decided to cheat, just this once. I hope you can forgive me.
Bisous!