Ello sexy thangs! So glad to see I still have readers after admitting to my shameful attempted-brother-killing past! You all are so very forgiving :) I think I should reward you by regaling you with funny stories about the awkward and awesome moments of my week. Maybe someone should turn that into a regular thing! Oh wait... Darn all the good ideas are taken by
geniuses
.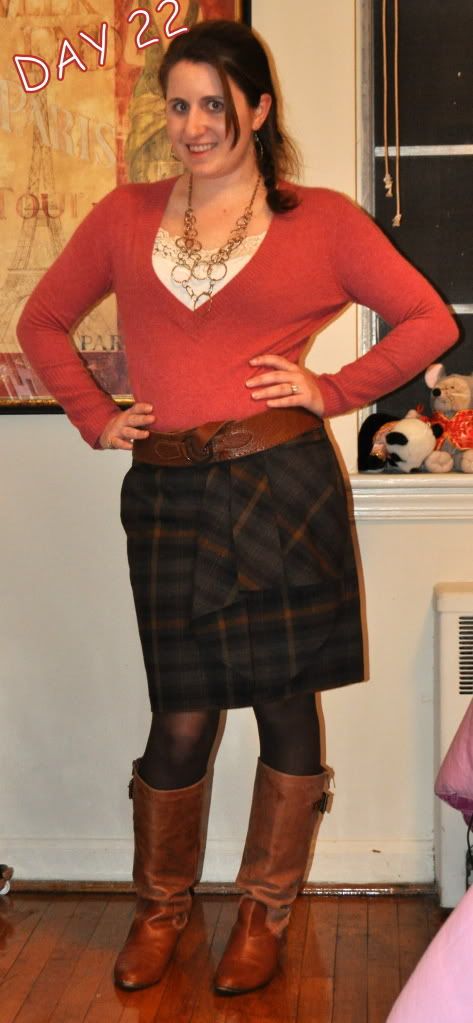 Sweater: Neiman Marcus, Tank: White House Black Market, Skirt: Michael Kors, Belt: Paris, Boots: Steve Madden, Tights: Kohl's, Watch: Michael Kors, Jewelry: Gifted, Headband (in other pics): H&M
Friends, meet a little frenemy (more on that below) I like to call the post braid hair. Post braid hair, meet my friends. Ok, glad that is taken care of.

So I think one of the best things about this 30 for 30 remix is that I challenged myself by including a lot of favorite pieces that hardly ever get worn. Now, not only have I found several different ways to wear them, but my love for them has been renewed and possibly even increased! This skirt had probably only been worn a handful of times before this remix because I thought it could only be paired with neutrals since it had a lot going on. But now, I find myself gravitating towards pairing it with brights: red, pink, purple- you name it!
I actually wore this outfit to work with a different belt (a smaller, darker brown leather) but it made the shirt bunch funny and it kept riding up not wanting to stay firmly in place. Then, like magic, Refinery 29 sent an email with the cover article about different ways to wear belts. As I am clicking through, not even thinking about my own belt situation, I see that they have paired skirts and fitted shirt combos with wide, chunky belts and I am reminded that I have this perfect wide belt (that actually goes so much better with these boots) awaiting me at home in my closet! So I dashed home right in the middle of work to remedy the situation- NOT. No, of course I waited until the end of the day to make the switcharoo and it really made a huge difference. It took an outfit I was on the fence about to a whole new level.
I just remembered (like literally as I was getting ready to type an entirely different caption) I had a funny story to tell you from the hockey game the other night! Roommate and I were standing in line innocently waiting to buy our ridiculously over priced greasy food, when this guy standing a couple people behind us reaches through everyone, around roommate and taps me on the shoulder to loudly say, "Excuse me, but I love those boots!" Now of course, I said thanks and smiled politely, but inside I was thinking why on earth is this middle aged man making all this effort to compliment me on my shoe choice?? And while I always enjoy a good shoe notice, I am wholly unfamiliar with it coming from a man. Roommate and I got a nice laugh out of it for sure.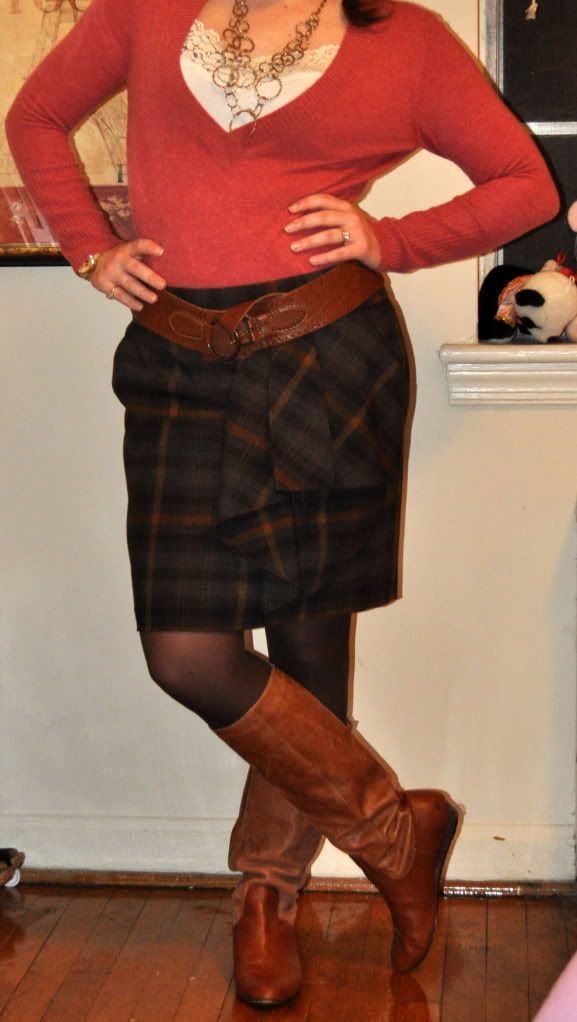 I think I would marry these boots if that was legal. We have the kind of love that you can only dream about. They just fit me oh so well (tee hee boot humor)
Awkward:
- Seeing a totally awesomely perfect picture location but being by yourself, and not owning a tripod yet and honestly contemplating asking a couple different strangers walking by if they would mind taking your photo so that eventually if each person takes one you would have enough pics for a post. Hey, I said
contemplating,
I didn't actually do it!
-Purchasing diapers... for my cat.
-Noticing that brother's facebook status says that he is locked in the library studying all night and about five minutes later getting an email and text saying "Hey I'm playing tap zoo. Come play with me!" Guess that studying was going swell.
-Post braid hair. It's crimpy and not really in a good I-love-the-80s kind of way.
-The fact that I posted pictures with my post-braid hair as if it was something to be proud of. I don't really have an explanation for this, except that I wasn't sure I was liking the braid all that much so I went with both looks.
Awesome:
-Getting tweets from
Sydney
and
Kendi
this week! That is basically like getting tweets from a celebrities in my book :)
-Being
8
outfits away from closet reunion time! And possibly a little shopping :) I can't decide if I should get this
skirt
, this
one
or this lovely
blouse
. Help please!!
-Running. Oh my gosh I think the world might end now that I admitted that! Ok, so I still don't
really
love running or think it is all that awesome, but I do think it is awesome that I am running. I'm taking action towards a goal and that is always good! Plus, my roommate loves running and it is nice to have something we do together.
-My weekend of birthday parties! No, not mine (although it
is
birthday month! Yes, I give it a whole month) but I am going out for a friend's birthday Friday in the area and then road tripping down to good old North Carolina with roommate to celebrate a college friend's 21st birthday. Who doesn't love a weekend of parties and friends?!
-Having a totally awesome giveaway starting on Saturday! Be sure to check it.
-Making a
facebook page
for my blog today and sending it to a select few friends. I am
slowly
getting comfortable sharing my passion with my real life friends and realizing that I can't worry so much about whether others will think I am vain or frivolous when they find out about my blog. I love doing it and that is really all that matters.
-The blogging community. It is so wonderful to have a network of people that I feel SO connected to even though we have never met. And it is a nice/comforting feeling to have incredible women I can turn to for advice about all kinds of topics and know that they will help!
Haven't gotten your fill of awkward (or awesome) yet? Well you lucky duck you, you can go check out all the linked up posts over at
The Daybook
! And you should definitely go check out miss
Collette
as she is a brand new Awkward and Awesome'er! Hmm I wonder if I get awkward points for the awkward phrasing?
Bisous!