Evening loverlies! I hope you all had wonderful weekends and indulged your heart's desires while you were out. My weekend involved time with this cutie, so you can be assured that I was in heaven :)
What do I call snuggling this little princess for awhile? Winning.
As you can tell from her poor red nose, there was absolutely no evidence that spring has arrived, considering I spent the majority of the time wrapped up in blankets, willing my toes to get warm and sipping copious amounts of the chocolatiest hot chocolate ever! Ok, so the last part of that wasn't too hard to take at all. And that little pink bundle of joy on my lap made everything seem sunshiney and warm, so really I guess I can't complain.
If you follow me on
twitter
, you have heard me taking a lot about Vista Print business cards, and I can't seem to stop! I recently ordered blog business cards from them and I had such a good experience (received shipment within 3 days without having to pay for express shipping, and adore the way the cards turned out) that I felt the need to share the wealth with you! If anyone is looking for memorable business cards, I highly recommend Vista Print. And with incredible deals like
these
offered to their twitter followers, you can't go wrong. Oh, and did I mention you should stay tuned for a giveaway coming soon :)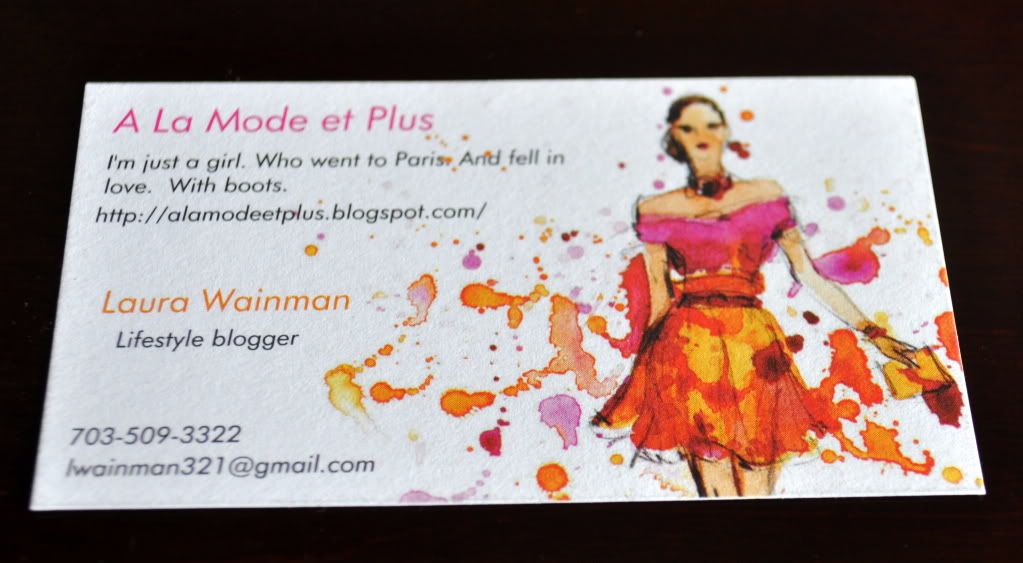 I felt like this design had been made just for me!
I don't know about you gals, but to me animal print is a distinctly fall/winter appropriate pattern. I can't say for sure why I don't care for the print in the warmer months but it just isn't for me. Therefore, I knew this skirt was going to be getting shoved to the back of the closet very soon so I decided to give it one last spin around town before the only light it sees for months is my closet light in the mornings. This skirt was my first (and only) animal print item, and she was very good to me this fall/winter. So here is her farewell party. Wish her well for the next few months and remember to reassure her that you will meet again. She is sensitive.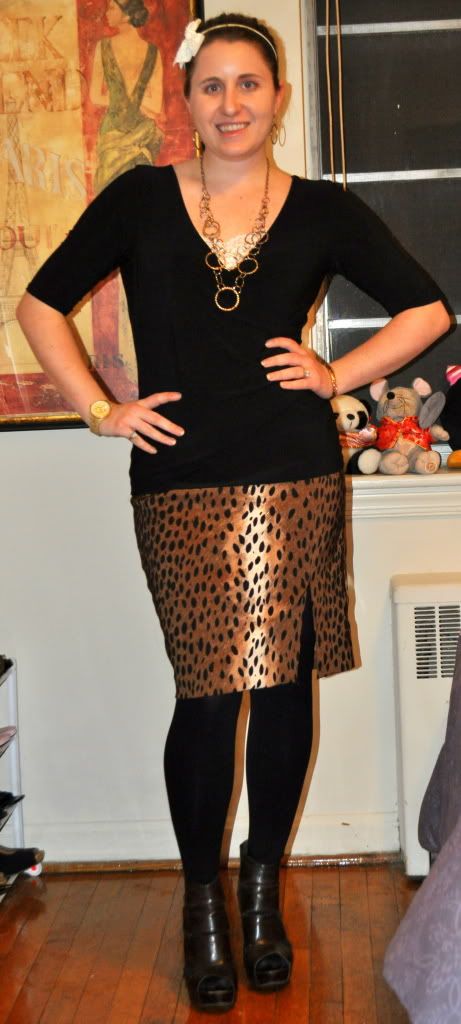 Blouse/tank: White House Black Market, Skirt: Michael Kors via Rue La La, Shoes: Off Fifth Avenue, Necklace/earrings/rings/bracelet: gifted/ borrowed from mom, Watch: Michael Kors, Headband: H&M
I felt like this outfit was just screaming for some color, but I decided that sometimes you need a little black, brown and cream day.

Headless shots are becoming a regular feature over here! I apologize, and will work diligently with my face to help it learn how to stop looking quite so "special" in at least one photo every day. Gosh face, try harder!
Ok, time to tell me about you my dears! What did you do this weekend? Did your weather necessitate bundling or are you going to make me very jealous by telling me you frolicked around in shorts and sandals having a jolly good time? Choose wisely, oh smart ones.
Bisous!