Guten tag! (Roommate that was just for you) I have many happy things to report. 1. Roommate's first day of work was smashingly successful and they loved her. I mean obvi (college roomie that was for
you
). 2. I did not die when I came home and dinner was not on the table. 3. I am fully capable of preparing a dinner- aka reheating our oldest leftovers so they don't go bad. That counts right? 4. Today marks my halfway point for the 30 for 30, so if you are getting bored of seeing me, me, me hang tight for a big longer and the pain will subside soon! In the meantime, check out my
current giveaway
so you can take yourself on a little shopping spree! Vous would like that wouldn't vous?
So I must warn you that if you wish to continue reading this post, what you see may scare you for life. It is most likely unsuitable for children. I'm
pretty sure
it is entertaining. It is definitely not normal. Now you may proceed with caution, and you can't say I didn't give you fair warning!!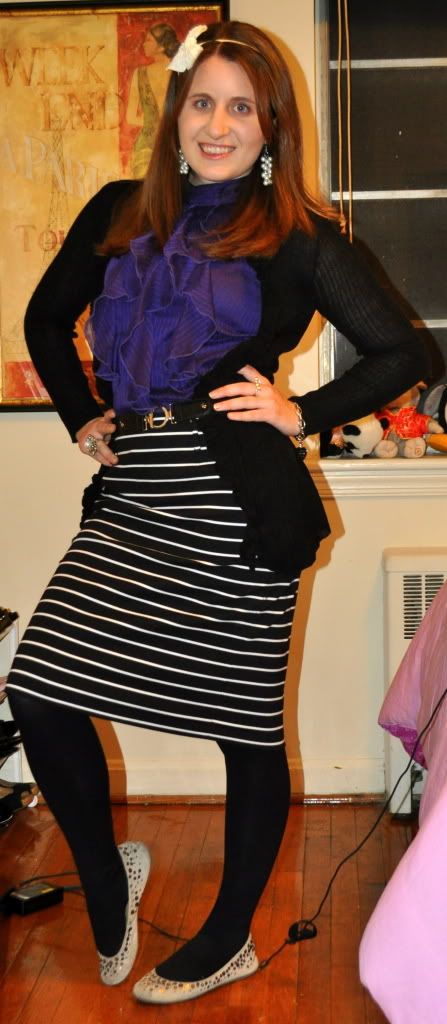 Shoes: AE, Headband: H&M, Earrings: Forever 21
| | |
| --- | --- |
| Blouse: Kohl's Cardigan: Kohl's, Skirt: WHBM | |
Flower ring: Jewelry stand in Fla, Bow ring: c/o Lichen and Lychee, Bracelet: Gift from cuz
Oh you aren't terrified out of your mind yet, as promised? Just wait...
| | | |
| --- | --- | --- |
| Am I really doing this? | Going for a row? | Kung fu fighting? |
Remember how I said I was hitting an
outfit rut
? Well, apparently my solution was to get creative with my photos to inspire overall creativity with the outfits. And the shocking thing is, I kind of think it worked! I have several outfit ideas a brewing that I am kind of thinking, how did I not see these possibilities before?? This is also my way of showing you a little bit of a different side of me than just the posed fashion blogger you see day in and day out. Enjoy!
Belt: Kohl's, Boots: Steve Madden
| | |
| --- | --- |
| Shirt: Target, Dress: XOXO via TJ Maxx | |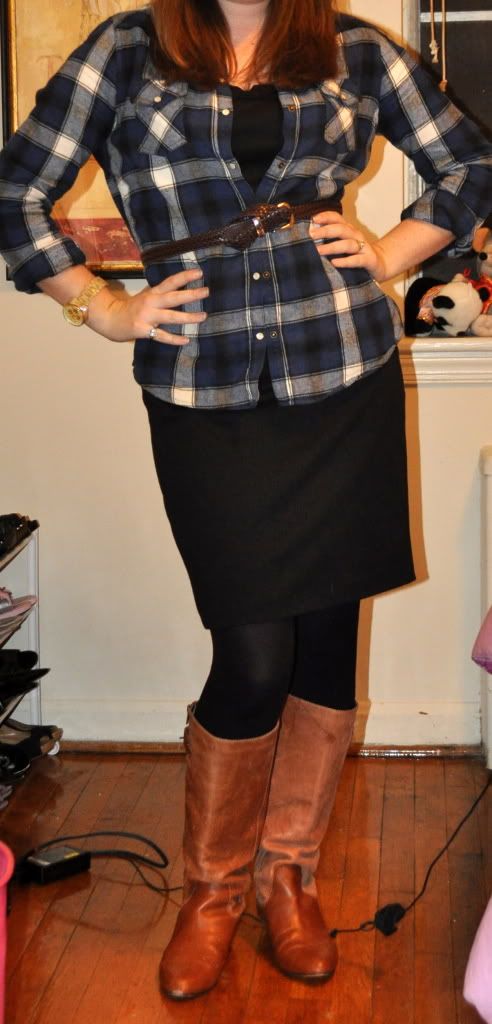 Watch: Michael Kors, Ring: Grandmother's vintage, Ring/earrings: Gift from mom
And now let me introduce you to my alterego: Monkey Laura. Please don't tap on the glass or you might frighten her away...
| | | |
| --- | --- | --- |
| Pull up bar in the kitchen? | Yes, of course! | Gotta get our exercise on! |
Wow, I am tired just looking at all of this! I hope I haven't frightened you away with the picture overload here! Sometimes I have to mix things up to keep you (and myself!) guessing. You just never know you what you might find when you visit A La Mode et Plus!
Bisous!