Happy Valentine's Day luvahs!! I hope you all spent your day of love with the one(s) you love. Or, if like me, you spent your day working, I hope that you at least got to be bitten by the love bug this weekend. This year, I was lucky enough to have 4 Valentines. Sometimes a girl's just gotta spread the love. My darling college roommate had the genius idea of getting a few single ladies who live in the DC/VA/MD area together for a fabulous celebration of singleness and youth on Saturday. And let me tell you, we definitely celebrated ourselves. We gourged on the most delicious pizzas, put ourselves in a sugar-induced coma with the help of red velvet cookies and cupcakes, giggled silly at the epicness that is Britney Spears in the classic 2001 movie Crossroads (why that gem didn't win any awards will forever be a mystery) and toasted to our fantastic lives with many glasses of tasty goodness! It was truly an unforgettable Valentine's Day, and further evidence to prove my belief that my life is blessed. I said that this year I was not going to let this hallmark holiday bring me down, but would instead use it as a reminder of
how many things in my life excite me
, and that is exactly what I did- with 4 wonderful friends to boot. And now for a little (or big!) 30 for 30 catch up session! After this, I am back on track. Woo hoo!
Photo credit to Ashley Barnas. Is she not the cutest hostess/entertainer ever?? Girl went absolutely all out for our celebration! She had the most gorgeous and perfectly decorated table I had ever seen, personalized boxes of homemade chocolates waiting for each of us, heart napkin rings that we got to keep and heart shaped measuring spoons as a gift. Move over Martha Stewart because Ashley freaking Barnas is here to stay!


Day 9: I decided to give my poor heel wearing feetsies a rest on Thursday and finally wear the lone pair of flats in my collection. I used to wear these babies allll the time in college before I numbed my feet to the point of no return with 5 inch spikes. But I decided that they, too, deserved a little loving. So they are getting remixed. Slowly, but surely I am reintroducing myself to my first shoe love: the ballet flat. Remembering an old shoe flame is so much healthier than reminiscing about an old boy flame, don't you think?
Day 10: Oh the la mode tank finally makes an appearance!! I have been itching to wear these as many times as humanly possible ever since I scooped it out of a life of loneliness in an Urban Outfitters sale bin. Yet, I only wore it once on a unnaturally warm fall day for an amusement park outing. And when I was choosing my 30 items, this baby somehow tumbled out of one of the other items I was contemplating (didn't choose) and I decided that was a sign that I needed to remix it and remix it good! So, you better believe you will be seeing it again since I never kid about fate. Oh, and in case you were wondering, these boots really are made for walking. They walked me all they way down to M Street last Friday and right on in to Georgetown Cupcake, otherwise known in these here parts as heaven. Thank you boots. You know me so well.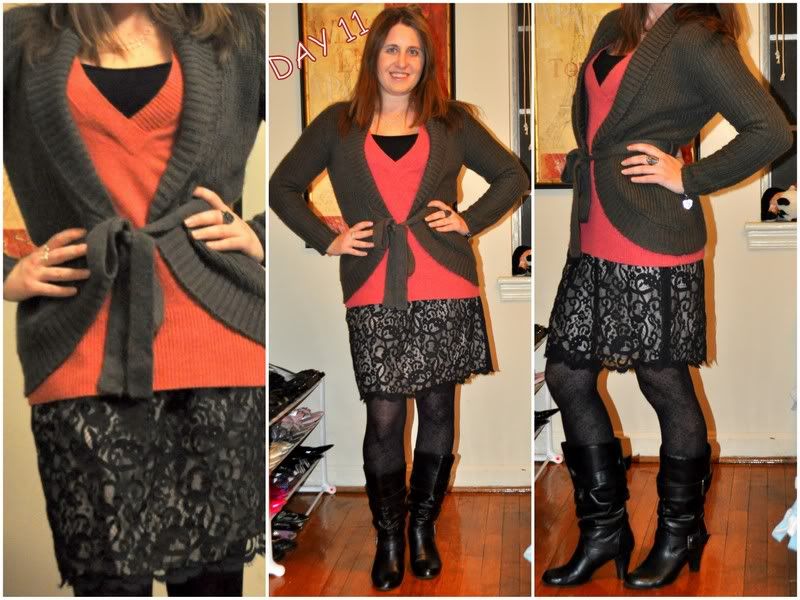 Day 11: Can I make a confession (P.S. I'm starting to think this blog should be renamed the confessions of a guilty blogger, since I seem to confess something every week)? I almost did the unthinkable on Saturday. I almost... cheated... on Kendi and all my fellow remixers... and worst of all you dears! I know, I am so ashamed. Or, I would be if I had actually gone through with my plan of wearing a totally un 30 for 30 outfit. But I didn't! I wish I could say it was because my high standard of morality kicked in, but in actuality I remembered that several of the girls I was seeing this weekend read my blog and I didn't want to be a fake blogger in real life! So I sucked it up and put together something that would satisfy my craving for Valentiney girlyness: pink and lace. Can you ever go wrong with those two? I think not!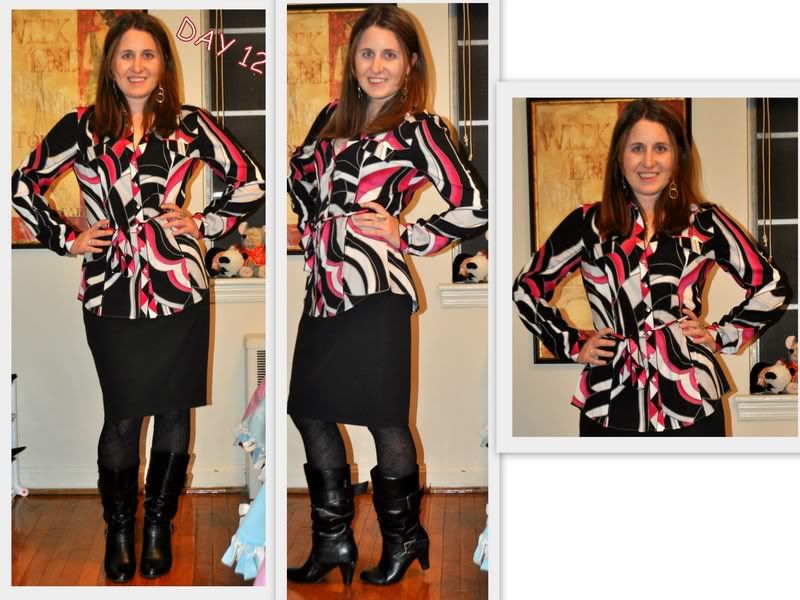 Day 12: There is no outfit to post from Sunday (no worries, I wasn't naked I just was in jeans and a sweatshirt all day so not worth sharing) so we are skipping right on over to Monday aka Valentine's Day! So I have to say when I included this shirt in the 30 for 30 remix I had no idea what I would do with it, but it was just so shiny and new that I couldn't bear to be away from it for 30 days. But, as it turns out, it is kind of a toughy to work in. For now, all I got is this fairly basic work look. But, if any of you smarty pants out there have suggestions I would love to hear them! Shoot any and all remixing ideas my way, but particularly for this blouse!
Bracelet: Juciy Couture (gift from cousin), Necklace: gift from mom, Necklace: Personal accents, Necklace: gift from cousin, Ring: bought from a jewelry stand outside our favorite restaurant in the Keys. My motto for this time of year: You don't need a man to accessorize yourself with some bling!
Ooof I am tired just looking at all these pictures of myself! I don't know about you but I am ready for a little bit of a break from the posing and smiling. And I think it should come in the form of a giveaway, don't you? Of course you do! So check back tomorrow to see what the hullabaloo is all about. Bet you didn't know there was going to be hullabaloo now did you? Now you are intrigued, aren't you? And question game stopping now. I swear :) To bed I said!
Bisous!