Bonsoir beautilicious blogging babes! Wow Nelly was that a lot of Bs or what?? Oh, oh guess what I did today? I feel like I should be jumping up and down right now jabbing my hand in the air hoping someone pays attention to me long enough to share what I did today. Ok, are you listening?
Good. I... joined the Fashion Beauty Friend Friday group over at Modly Chic! I am really, super excited about this. If you didn't already know, this fantastic blogger created FBFF as a community for fashion/beauty bloggers and every week she posts a set of questions on a different topic and the members post their answers every Friday. After seeing some of my favs. (Collette, Katie, Kimberly) really opening up to their readers every Friday, I decided I wanted in on the fun. This week's questions are really fun so I couldn't have joined at a better time! Check back tomorrow to hear me share my admiration of some of my favorite ladies of the blogosphere!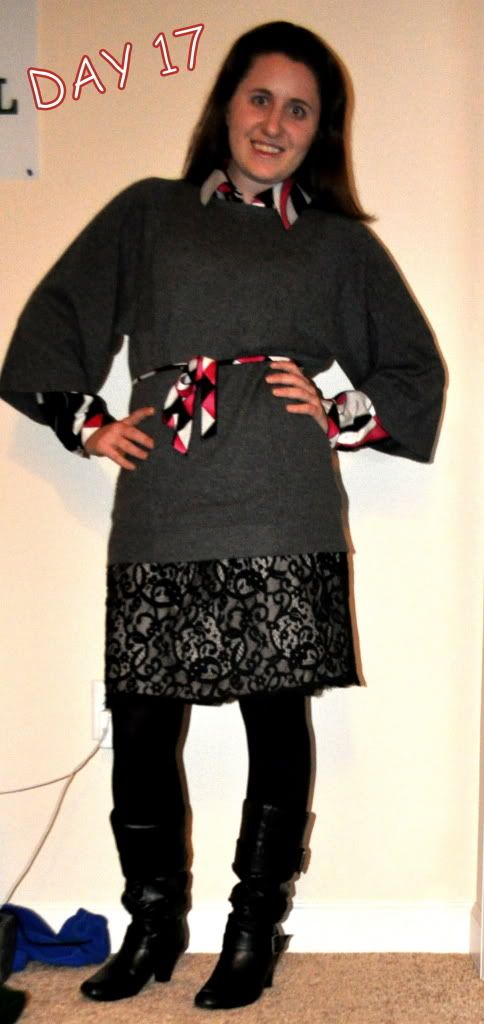 Sweater: Macy's, Blouse: White House Black Market, Skirt: LOFT, Tights: Unknown, Boots: Steve Madden
I think Brother was on the couch laughing at me right now, watching me try multiple different locations in his apartment trying to find one that worked. I like to call this a photo fail day.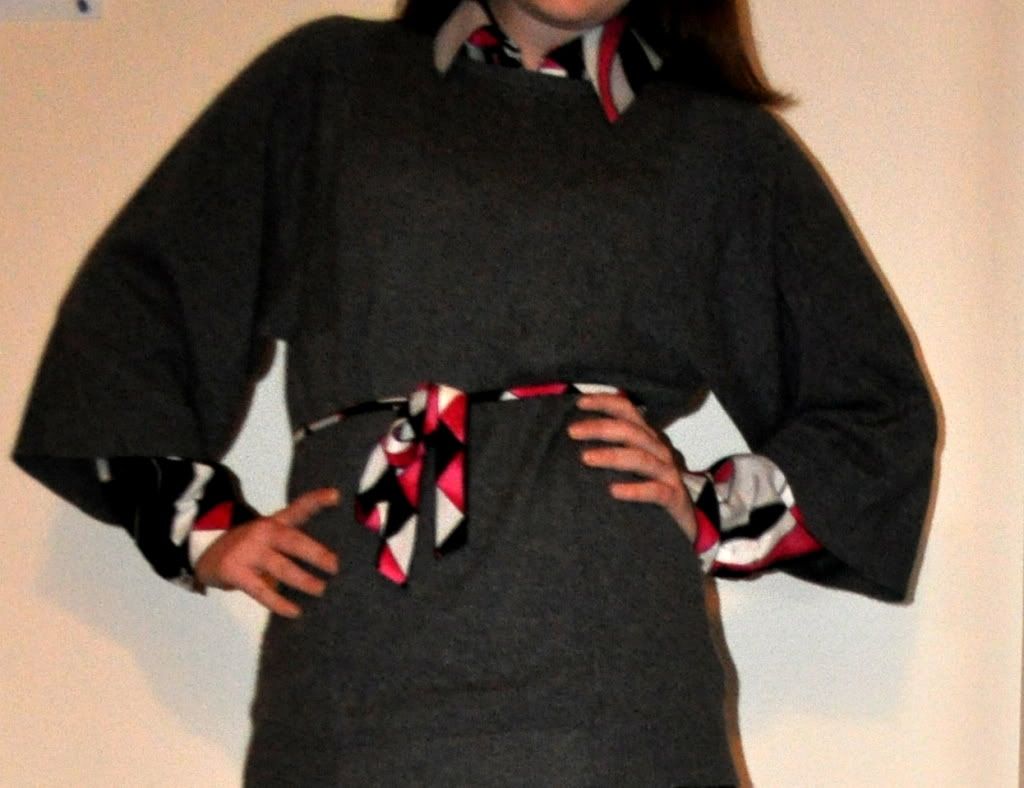 Oh hello there Grandpa sweater! I am just not so sure we can be friends much longer. You are the weakest link in the 30 for 30. I sincerely apologize.
Awkward
-Boss man giving me a thank you card and paying me for a project I helped him with outside of work, and not knowing whether I should respond to his "thank you" card with my own "thank you" card for the money or just simply say thank you and be done. Darn the politics of proper etiquette.
-Waking up late and spending a good 5 minutes trying to decide if I'd rather go to work hungry and decaffeinated or unshowered. Don't worry folks, I showered, but it is still awkward that I had to think about it.
-My hair after wearing a headband all day. Oh yea, you have to love the post-headband hair crease! I hear it is making a comeback. Orrrr maybe that is just me and my crease wishing in vain.
-Brother's text message: "Jersey Shore is on tonight. Get pumped!" I am judging you little brother, I am judging you.
-Attempting to take pictures of myself even though brother is laying right there on the couch because I know how much he hates taking pictures for me, and obviously failing miserably! I wound up with more pictures with my head cut off than a post break-up woman has of her ex! No bueno chicas, no bueno.
-This outfit. There I said the elephant in the room. I feel like I played dress up in my Dad's closet and then tied a bow around myself or something! I love the feel of this sweater, but have no idea how to not make it look so boxy on me. I'm not even sure belting it did anything. I think the sleeves are the downfall. Oh well, I guess not ever 30 for 30 outfit can be a winner!
Awesome
-Roommate learning how many times she was involved in the last Awkward and Awesome post now saying "This can't go on the blog!!" before she tells me stories. Ha! She didn't say I couldn't write about her
saying
that though.
-Late night dating service commercials. Yes, I am weird and think they are hilarious. I mean c'mon who wouldn't buy that people that attractive look forward to Saturday nights so they can call strangers on the phone and "talk for hours". Clearly I have been missing out, people. No wonder I haven't met Mr. Right!
-Knowing that I will get to see my swim loves two weekends in a row! Now that is - say it with me - AWESOME!
-Whose Line is it Anyway! Oh man I'm not sure any show out there makes me laugh out loud as much as this classic! Drew Carey, cynical bald man, way akward gangly tall guy and Wayne Brady. What else could you want!
-Planning a ski trip with roommate and a new way awesome girl friend and informing them that they are going to be forcing their boyfriends to each bring a friend on this trip so I can have someone, too, and them both replying that they will make their boys bring
multiple
friends so I have choices. Wait, maybe that is awkward? I guess we shall see!
-Baseball Season! That is reason enough to celebrate for me.
-Contemplating making a big purchase (after 30x30 of course) and weighing the pros and cons rather than just buying it immediately because I like it and it is a good deal. Woohoo for progress!!
-Spending the weekend with the best little brother in the world, and getting to watch him do what he loves and has an amazing talent for. Can't get much better than that!