Hi lovers! Happy hump day. As far as weekdays go, Wednesdays are definitely my favorite. I try not to make a big deal about it, because I'd hate to give the other week days a "I'm unloved complex", but if truth be told, Monday, Tuesday, Thursday- I just don't like you like that. It's not you, it's me. No, that really isn't true- (isn't that always the case) it's just you.
I am officially more than half way done with the 30 for 30 remix and I wanted to take just a brief moment to be serious. I know, after
yesterday's post
you probably didn't think that was even a word in my vocabulary! Since you have had to put up with day after day of me, me, me in the same old clothes I thought you at least deserved my reasoning behind the madness. Let me be real with you: I took the challenge originally because I was starting to be scared by my shopping habits. Packages were being delivered every week. I was going to the mall sometimes twice a week. Nine times out of 10 when I saw an item I liked on a fashion blogger that was linked, I bought it. Shoes under $100 suddenly had become "a steal." This wasn't who I was before blogging, and I wasn't sure I was comfortable with it having that kind of affect on my life. It wasn't that I was spending more than I afford per say, it was the fact that I was just spending recklessly that bothered me. Shopping had become a race to fulfillment that I was never going to win. I wanted to get back to the point where shopping was a fun activity that I could indulge in every once and a while- I wanted it to be special again. It may seem silly that I needed to participate in a blogosphere event in order to control my own spending, but I needed that accountability. I needed to feel like if I shopped, I'd be disappointing someone. Kendi's hunka hunka
list
of bloggers who were joining in the fun became a pseudo support system. We had all made a commitment together to stand by the principles behind the exercise that
Kendi
so lovingly (and in my opinion geniusly) created, and I wanted to do my part to stand behind those principles. Have I come close to cheating? Absolutely. But when I got that credit card out in my hand, ready to do the damage I would see the list and I knew I wanted to keep going. I am proving to myself that being a fashion blogger does not mean giving in to every clothes craving you have and it doesn't mean always having the latest trends. For me, it is about the confidence that I am building each and every time I write to you all or share a photo with you and it is about the creativity that dressing now unleashes in me every day. It is
fun
and an enjoyable hobby that in six months has garnered me uncountable laughs and smiles and many new friends who are kind enough to share pieces of their world with me. That is what I wanted when I started this blog and the 30 for 30 challenge is helping to return me there.
Whew, thanks for letting me spew all that out here dolls. I hope I didn't get too serious for you and scare you away. On a lighter note, let's turn to the clothes :)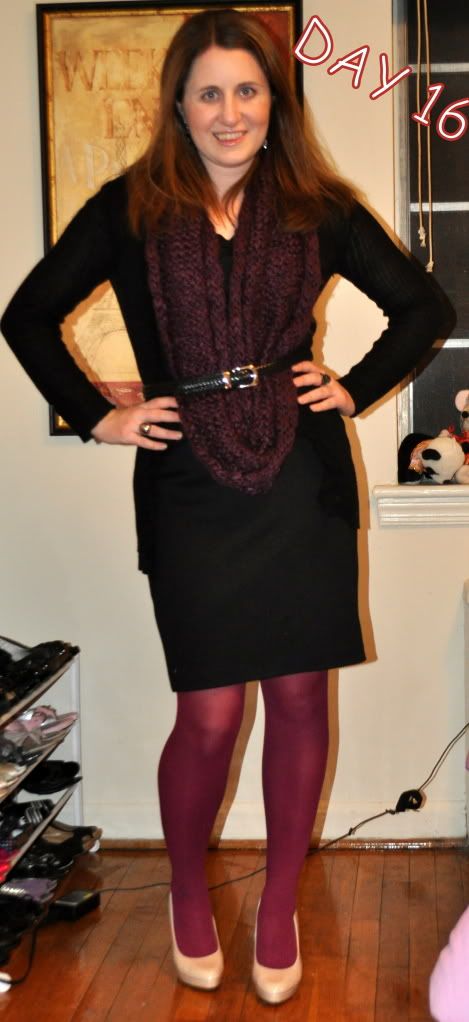 Dress: XOXO via TJ Maxx, Cardigan: Kohl's, Scarf: H&M, Belt: Kohl's, Tights: Kohl's, Shoes: Elle via Kohl's, Earrings/Ring: Personal Accents, Ring: Amrita Singh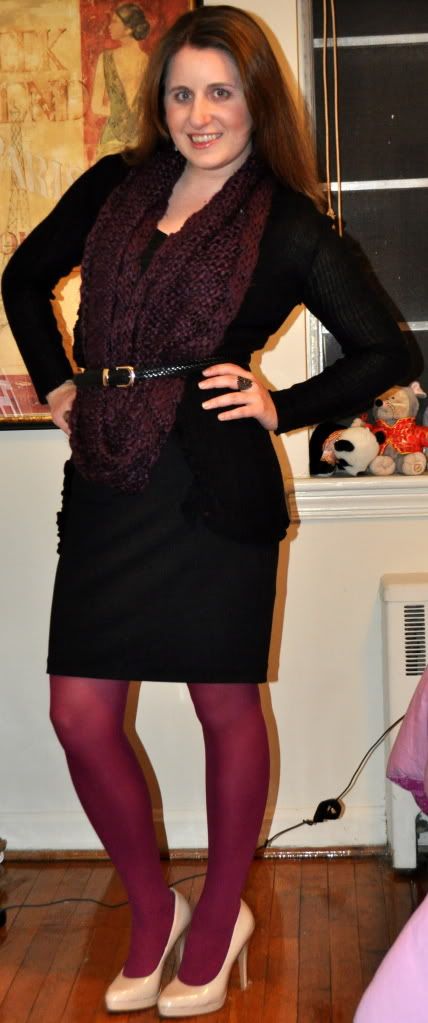 Well hot potatoes I could be a Kohl's advertisement today! All I can say is when a store works, it works. And I had one particular shopping trip where my cart seemed to be overflowing within minutes of walking into the store. Before I knew it, I was standing in front of the smiling cashier forking over my plastic. It couldn't be stopped.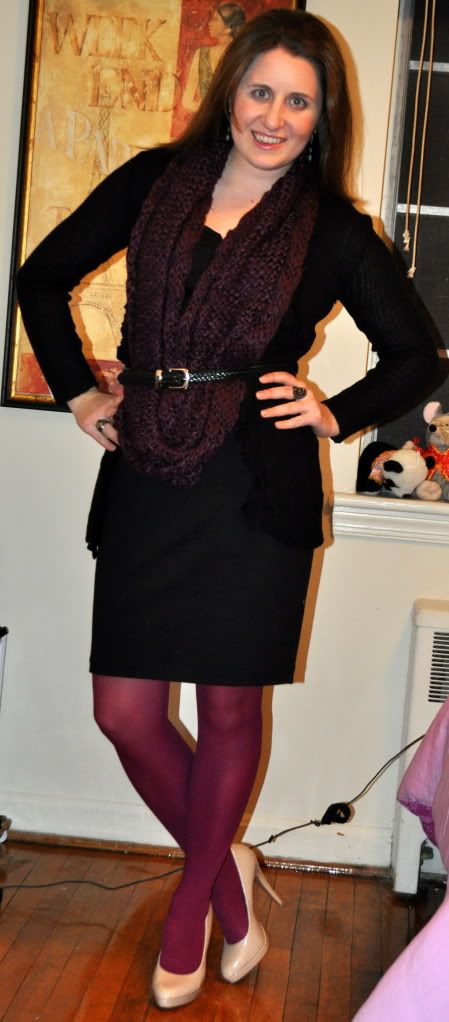 So this might be the most black I have ever worn in an ensemble at once! Well, minus funerals because those are not events to show off your clothes. But anywho, I decided I would try the all black chic look. But I couldn't take it. So I decided to play the ever fun "it's late in the 30x30 and accessories rule!" game by letting my tights and scarf do all the talking.

Loves, I have a conundrum. My left foot is smaller than my right. Yes, I know that is a fairly common issue among females today, but I am talking a significant difference! 7.5 is what I have always bought but lately it is has been too small for my right foot and too large for the left. I think my left foot is really like a 7.25 and my right is a 7.75. Now you tell me where I am going to find those shoes and I will be one happy, sappy shoeaholic! Ok but really, any suggestions?? The problem is always very apparent when I wear these pumps and my left foot slips out all day long. It even caused me to stumble not once, but twice. In front of a cute boy. Unacceptable!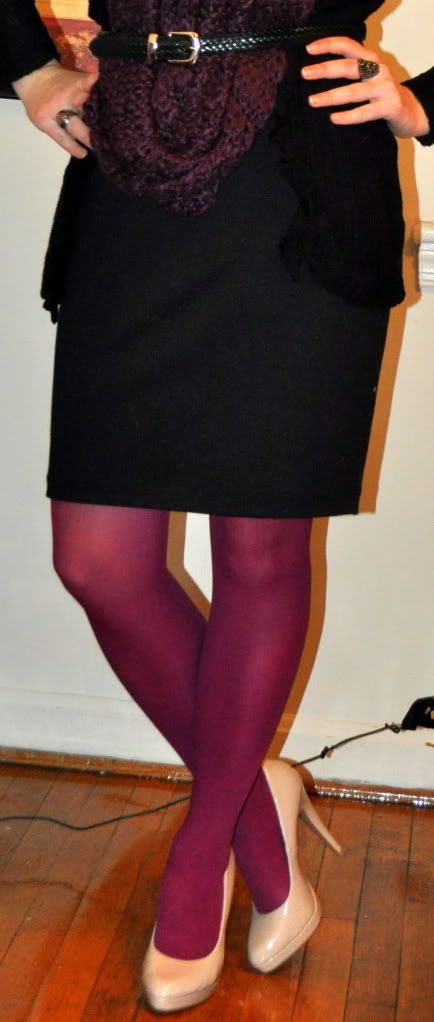 This pair of tights may be the best purchase I've ever made for the simple fact that I smile every time I see them and I think I walk with a little bounce in my step when I wear them! I spent so many years doing anything and everything I could to avoid attention and being noticed. Now look at me: I run a personal style blog and leave the house clad in purple tights! If that doesn't scream "Look at me!!" I don't know what would!
I have been just itching to experiment with the belted scarf look, purely because I think it is so fabulous that you can use an accessory as simple as an infinity scarf to completely change the look, texture and vibe of an outfit! With just the quick loop around the neck and buckle of a belt, my black ensemble went from super serious to hip and fun. And my qualms about looking too bulky were totally soothed during this photo shoot. I don't always say this, but whichever styling genius started this trend, hats off to you and keep em coming babe! I die :)
Bisous!