Aloha friends!! Oh I have missed you and your smiling faces/witty voices! I am back from my whirlwind trip to NYC, and I honestly can't say enough good things about my trip! To be honest, I have never been a fan of the big apple. I know that is basically like saying I'm not a fan of Louboutins or chocolate, but it just never really caught my fancy. But all that changed this past week! I fell a little bit in love with the city that never sleeps (I fit right in on that front!) and was pretty sad to leave. But it was so nice to be reunited with my (newly engaged) roommate and see my cutie patootie puppy's face again. Anywho, I feel like I have SO much to tell you. If you follow me on twitter you probably noticed I was tweeting more this last week than I ever have before, and it was because I kept learning/hearing/seeing so many things I wanted to share with you, my darling readers. So expect quite a few posts from the events of this past week.
First up was the IFB conference! I can't even tell you how excited I was for this one. It was my first big blogger event, and it was jam-packed with golden nuggets of blogger wealth. And no, I am not just talking about the sa-weet goody bags we were all given. But I can tell you that travel size straightener saw a loooot of use last week with the unpredictable weather NYC was having. The conference felt like Blogging college crammed into 1 day, and I walked away feeling more passionate, inspired and equipped for blogging than ever before! And ladies, I think I needed that renewal. We all know I haven't been doing the best on my little blog lately and that is going to change after last week. I am done with my pity party (more on that on another day) and am focusing only on moving myself forward, and the positive steps I can take to make my goals a reality. And with the handy tips from IFB in my back pocket, I am confident I can do just that.
It would be impossible to try and recap absolutely every genius piece of advice that was given out, but i wanted to share a few of my favorite tips that I heard throughout the conference. Each panel was made up of bloggers, editors,models and other industry experts who combined were able to offer us a well-rounded perspective on the fashion and blogging industries.
My favorite advice of the day: No matter the trends, the best thing you can wear is self confidence. Said by Sammydvintage,
Authentic content is critical. If you try to be something you aren't, or stand for something you don't believe in, your readers will be able to tell. They want to hear the real you, so let them.
Find a way to incorporate video into your blog occasionally because it adds another dimension to your blog, and the relationship you have with readers.
Create a value for yourself and don't let anyone diminish your worth, especially not yourself.
Brands want to be working with bloggers who are active in several social media circles. Establish a strong social-media presence and work on developing influence if you want to be seen as attractive by PR companies.
They also want to work with bloggers who are true ambassadors of the brand, so work with companies you are already passionate about. Your readers will know if you are faking enthusiasm.
Develop a media kit. Make sure it will leave a stand-out (positive) impression on viewers. And out aside modesty when creating your kit. Don't underplay your achievements. Check out this example from StyleCaster if you need ideas.
Find a way to separate emotion from your blog and treat it professionally if you want to be viewed professionally.
Harness the power of Stumble Upon and Tumblr. They can generate thousands of page views.
Bloggers are the future. Exact words of Mr. Joe Zee himself!
Bloggers can act as a bridge for their readers by showing how fashion works for the masses.
Our world processes very quickly so be concise, to the point and relevant.
In the end, it really could be boiled down to one overarching message of the day: Be yourself! It is what your readers come to your site for every day. They want you.
Thank you to all those at IFB who helped to make this conference incredible and useful! I feel prepared now to pursue my blogging goals with more dedication than before, and I already can't wait to attend the next one! Oh, and I'm just going to throw this out there: Ari Goldberg as a keynote speaker?? He is as informative and real as he is easy on the eyes. I'm just saying....
I realize this post is already insanely long, so I will leave you with a few photos from the day! I'll be adding more to my NYFW
facebook album
though, so be sure to check it out for more IFB/NYC coverage! And stay tuned for the next NYC post: Fashion's Night Out edition!
First IFB impressions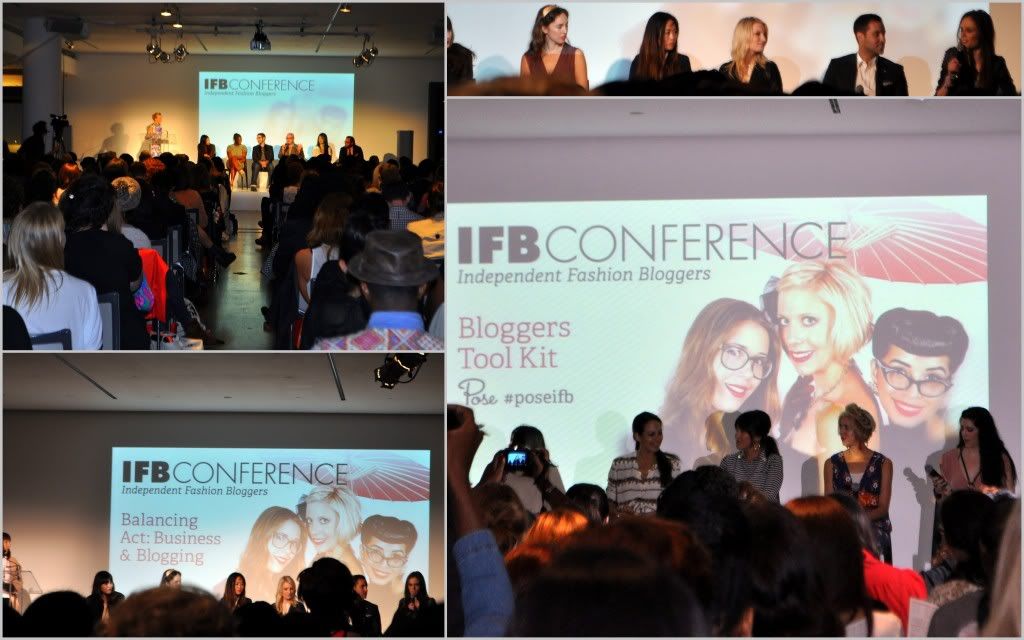 Panelists
What I wore. Urban Outfitters dress, scarf from Paris, Vince Camuto clogs, Michael Kors watch, gifted necklace/earrings/ring. Hair c/o KMS California
Some of my favorites from the conference. Bright colored pants (Aldo rep and City Brewed) an elegant black and white look (Marley Simone) more colored preppy/chic pants with some boho touches (StylegirlJessJames) and of course the IT shoe of the season, the glitter miu miu (the shoe girl)
And the keynote speaker (who knocked it out of the park!!) Mr. Joe Zee himself! I was ecstatic to hear my favorite editor from my favorite magazine speak and he definitely didn't disappoint!
Bisous!