Bonsoir mes amis! I hope you are all enjoying this early fall weather we are experiencing! I certainly am. Well, minus the rain. I could do without the rain. But it sure does feel good to slip into my old faithful skinny jeans and bust out the camel cardi I bought months ago in anticipation of autumn. It truly is my favorite season. Oh and did I mention I have already had like 5 apple ciders? Overkill? Maybe. Delicious? Definitely!
Besides cozying up in oversize cardigans and sipping warm apple ciders, perusing the september issues is one of my favorite things to do at the first sign of chilly weather. With that stack pictured above it is going to take me awhile to get through, but that is what Sundays were made for right? Or bus rides to NYC!! Yes, dolls, I am on my way to the big apple to soak up a bit of fashion, culture and more fashion for the next few days. Tomorrow will be spent at the IFB conference and the strandedblogger meetup hosted by the one and only
Modly Chic
. Thursday is of course the ever luxurious Fashion's Night Out. I was in NYC last year for the event, but didn't really participate, so I am super excited this year to check out several events. And Friday I will relax during the day by meeting up with the fabulous
Mademoiselle Hannah
and explore her new college area! Lastly is the first ever Blogger's Night Out. hosted by an awesome panel of bloggers. I really am not sure what to expect that night but it seems like a fun party, so I am in! I'll take lots of photos along the way to share with you, bien sur!
Image from Lucky Magazine
One of my absolute favorite trends for this fall is the mixing of neutrals and brights! Neutrals are always in for fall, and I always end up missing my brightly colored spring/summer pieces. This year, I won't have to! My favorite pairing so far is this mix of camel and pink. Can't wait to rock it!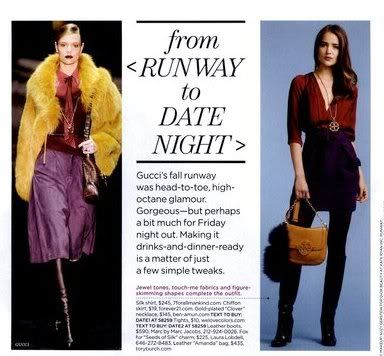 Image from Lucky Magazine
And on the topic of color mixing and brights, I am ecstatic to see combined jewel tones making their way down the runways. I never would have thought to put that date night outfit together but it is stunning!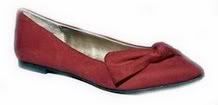 Image from express
Flats are a staple to any fall wardrobe, but the reoccurrence of this adorable pointy-toed flats have me giddy with excitement! I might have maybe purchased the above in red and leopard...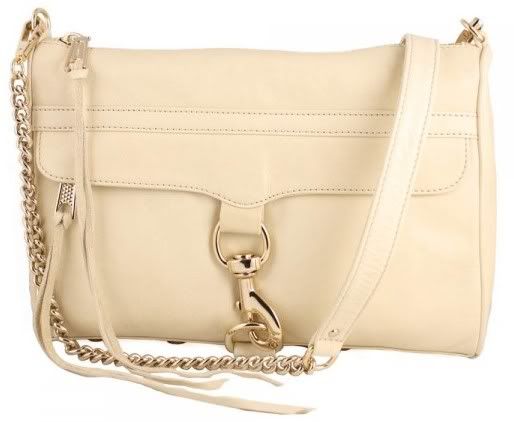 Image from Rebecca Minkoff
Every season there is an "it bag" type and this fall it is definitely the oversized clutch. And who makes them better than Rebecca Minkoff?? I scored this beauty during the endless summer sale, and was SO lucky that it arrived in the mail today literally minutes before I was racing off to NYC. I think it was destiny. I can't wait to pair this beauty with my new
Alice and Olivia dress
from shopbop for FNO!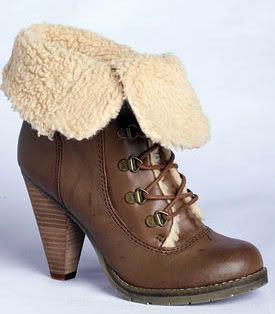 Image from DSW
This beautiful creation combines three of fall's hottest shoe trends: booties, lace up and shearling! I want, I need, I covet!!
What are you looking forward to wearing this season? Anything new you will be trying out?
Bisous!