Evening loverlies! I hope I am finding you happy, relaxed and stylish (well, duh) on this fine Wednesday. I also hope you are feeling adventurous and ready for excitement. If you are indeed, say "ay" and follow me on une petite journey into new, unfamiliar territory. Ok, have I built up your suspense enough? Am I cementing myself as the foremost contender for most dramatic blogger in the blogosphere? Golly gee, I hope so. Otherwise my out there, over the top ramblings are all for nothing. Zut. I cannot let that be, therefore the only option I see is to continue being wildly dramatic and pray that you my darlings enjoy the theater :)
Now before I lose you, I should let you know that I was being serious about the excitement and new territory part. New things are coming to A La Mode et Plus over the next few weeks, and I am super excited to start tonight by introducing you to my new feature: 5 ways Wednesday. Each Wednesday I will show you five different ways to style one item. I would love it if the item was suggested by you guys, but that is all dependent on if you feel like participating :) I will start tonight by showing you five different outfits for various occasions that are all molded around a staple in many of our wardrobes: the chambray shirt. It really is the perfect remixing item, because it can dress up or down many a outfit. It is suitable for work or play and everything in between. It keeps you comfortable, casual and feeling oh so chic. And it's remixability will allow you to extend your wardrobe without spending a dime. Now that we have editorialized on the worth of the chambray, let's continue on to the proof.
Hanging out with the girls:
Chambray/Pants: Madewell, Tank: Limited, Boots: Steve Madden, Belt: Kohl's, Earrings: Gifted, Braceler: Juicy Couture (gifted), Ring: Charlotte Russe
A chambray shirt is a terrific layering piece and can be used similar to a lighter version of a jean jacker. Wear it over your favorite flirty summer tank to transition into fall.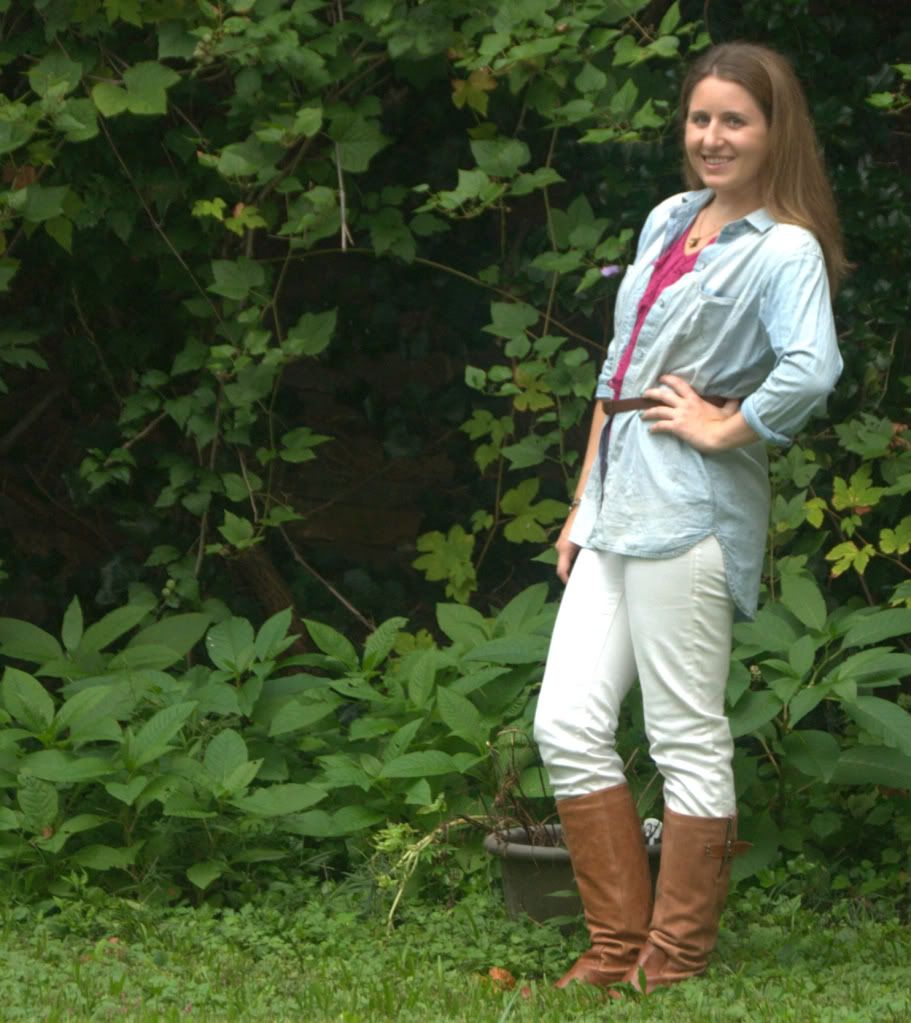 Running errands:
Chambray: Madewell, Jeans: White House Black Market, Clogs: Vince Camuto, Belt: Kohl's, Earrings: Forever 21, Watch: Michael Kors, Ring: Grandmother's, Headband: Target
Everyone and their mother has been rocking the denim on denim trend. Nothing ground breaking here. This ensemble is a perfect casual, but put together look for bumming around town. My personal preference would be to wear this with a pair of wider leg leans. I think it elongates the legs more. But this pair was the closest I had so I made do. Also, avoid your jeans matching the color of your chambray so you don't look like denim roadkill.
Traveling: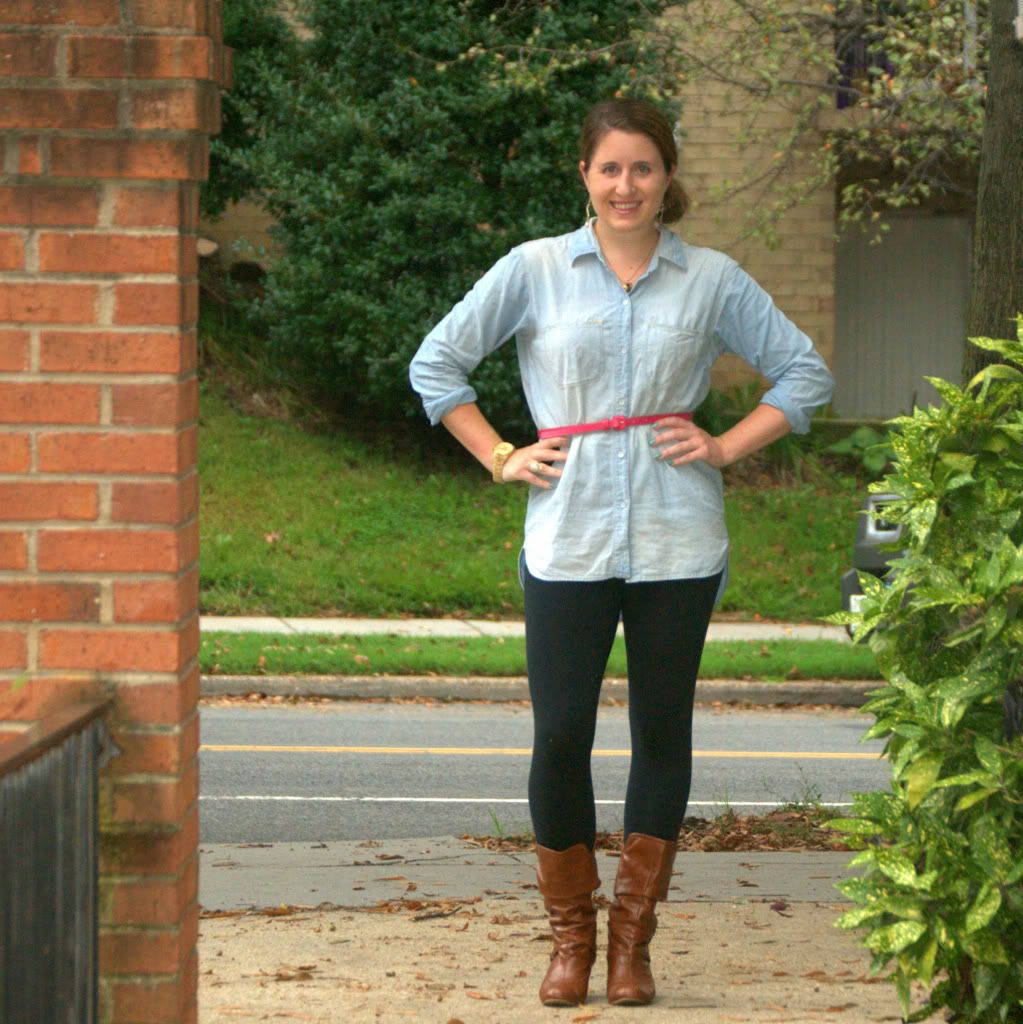 Chambray: Madewell, Leggings: too old to remember, Boots/Belt: Kohl's, Jewelry: same as last images
Ok, so I have never in my life advocated the leggings as pants look. But in RARE cases it can work. This look is borderline in my opinion. My rule of thumb has always been that the tunic/shirt you pair with leggings must be long enough to cover your tooshie, and your front side equivalent. I don't want to see and up close and personal view of either. I would prefer this shirt to be slightly longer, but it does technically fulfill my rules. Used in this case, the chambray is a perfect travel garment. Incredible comfortable, not easily wrinkled and in style.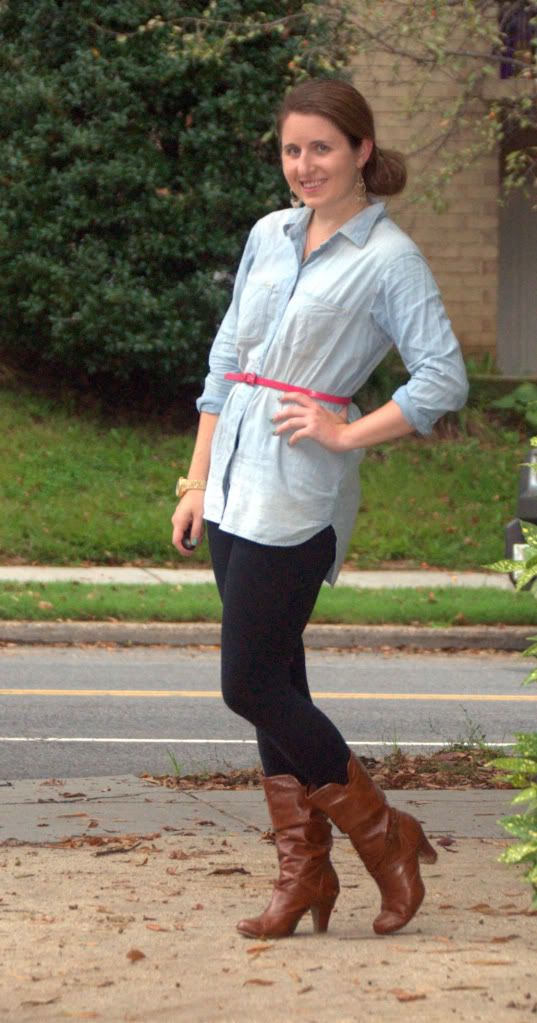 Work: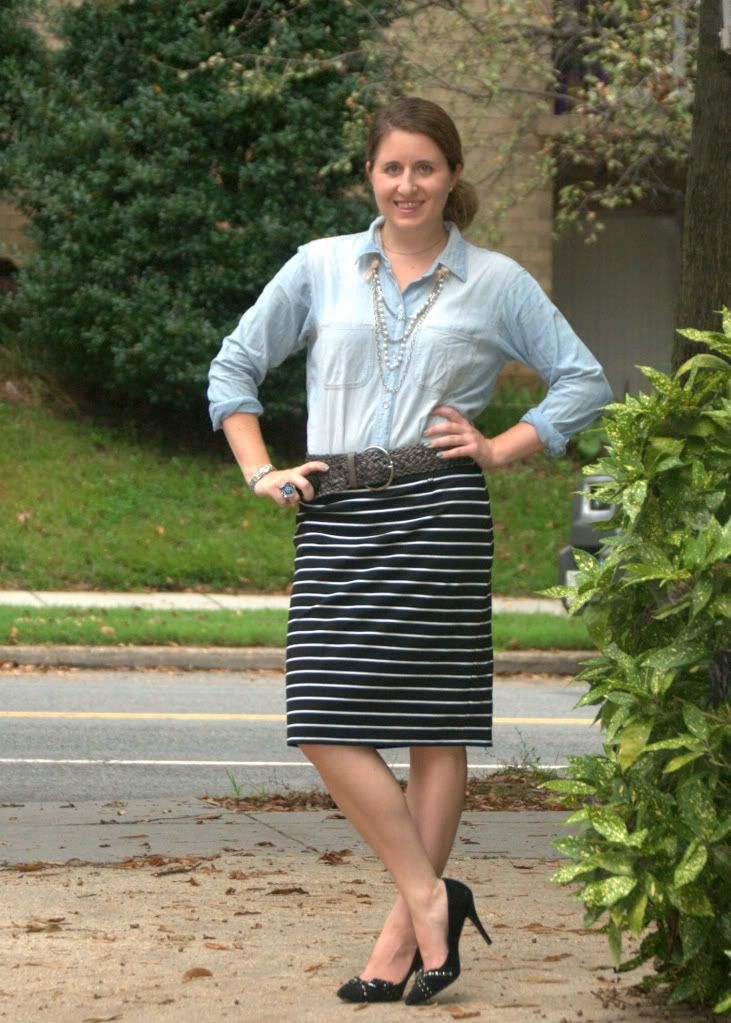 Chambray: Madewell, Skirt: White House Black Market, Shoes: BCBG, Belt: LOFT, Necklace/ring: Charlotte Russe, Watch: Gifted, Earrings (that aren't even visible); Gifted
Tucked into a pencil skirt and belted, the chambray becomes instant work apparel. It is the trendy equivalent of the white button down.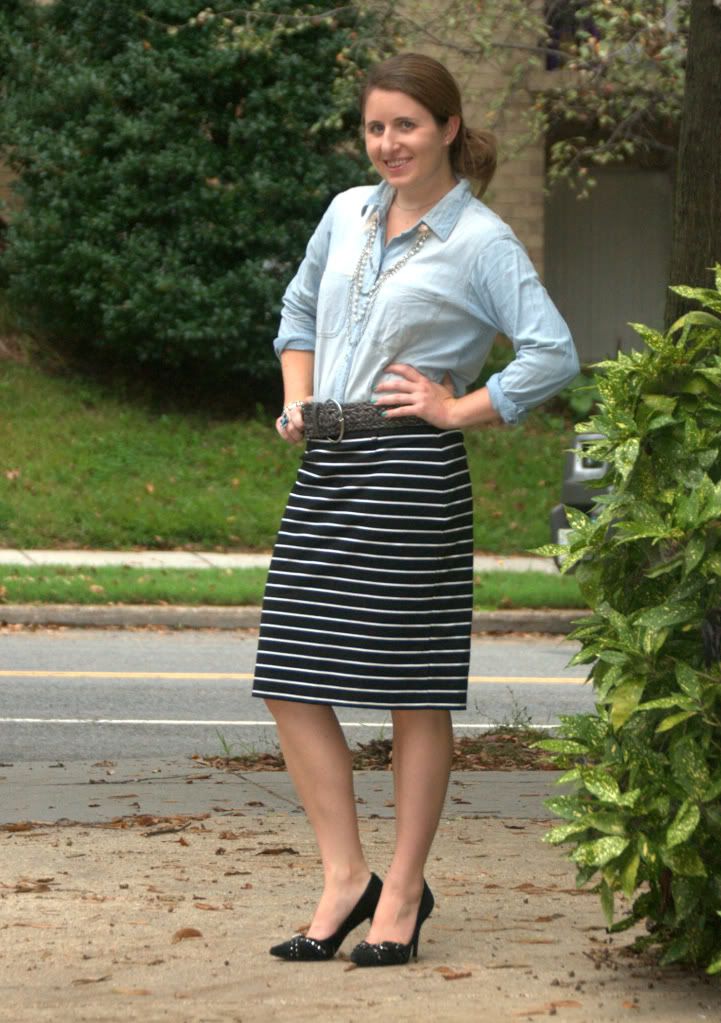 Date Night:
Chambray: Madewell (tired of hearing that by now?? I am), Dress: Urban Outfitters , Shoes: DSW, Earrings: Gifted, Ring: Amrita Singh
Throw on your go to girly dress, layer your chambray on top, knot it up and presto chango you are date ready! Bright lights, date city as the ever wise Ms. Bradshaw would say :) I personally love chambray paired with lace, because it is a soft balance of femininity and menswear. You could also leave the chambray unbuttoned and belt it over the dress if you wish to show off more of the dress.
UPDATE: Click
here
to see how beautiful Lydia styled her chambray over a striped maxi!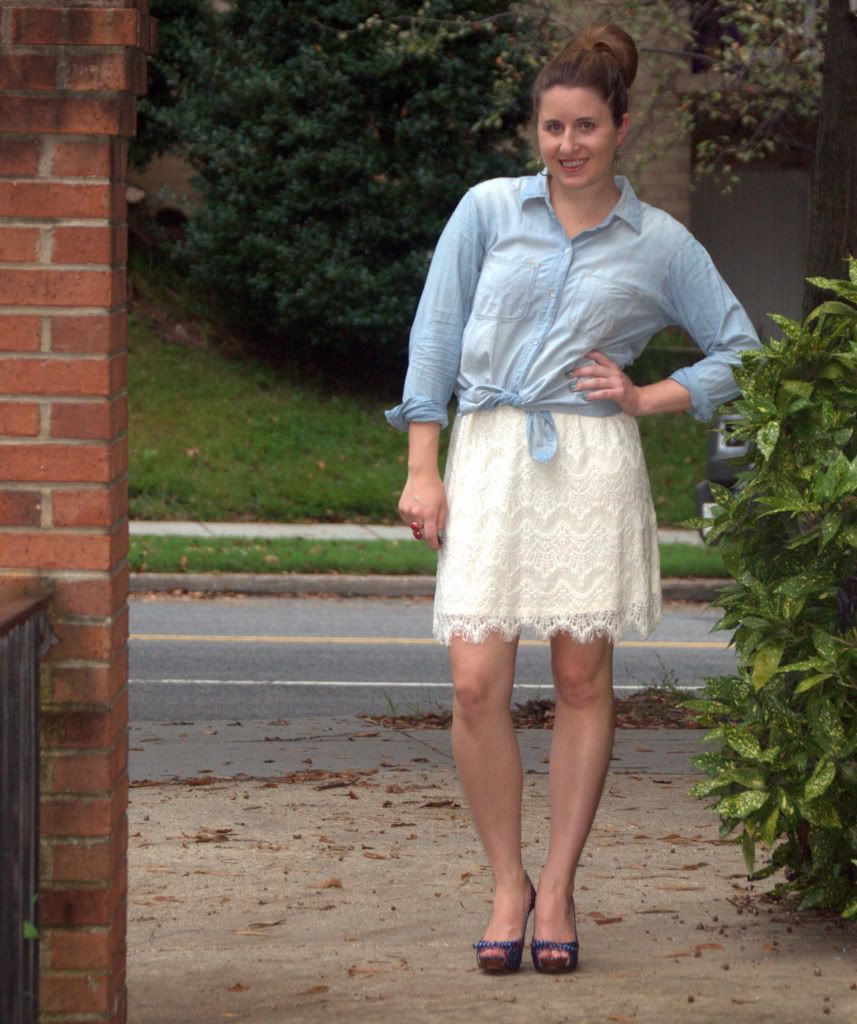 And just for fun let's count how many "fashion rules" I broke during this little styling experiment:
-rocking white after labor day (hey if it looked good may-august, why doesn't it look good in september?? answer: it does. suck it.)
-mixing black and brown (I personally think this combo is beautiful and makes both colors pop even more. owned)
-wearing leggings as pants (Ok this one, I try to live by)
-denim on denim (Oh we all know you aren't a "real fashion blogger" until you have broken this rule!)
Take that Ms Manners!
So bellas, which looks do you like? Which would you modify? Do you approve of my rule breaking :) And most importantly, what item would you like to see styled next?? Leave a comment, send me a
tweet
, write on my
facebook
, leave me a note on
formspring
, channel me telepathically (ok, if you know how to do this let me know!) basically get in touch with me any way you want and let me know what you want to see from this feature. I want to hear from YOU and have YOUR input dolls!!

Bisous!