Merry belated Christmas loves!! I hope Santa was good to you all, and that you unwrapped goodies to your hearts' content this weekend! I know our family sure did, as Santa most definitely spoiled us this year. I was surprised I was able to fit all my loot (plus stacks of laundry!) in my car to come home tonight. I always try not to pick favorites with my gifts, as I sincerely appreciate every blessing my parents choose to give to me on Christmas, but this year I don't think I could have picked a favorite if I tried! Between the iPod for running (my first iPod ever!!), THEIT bossi bag for my DSLR and the Keurig coffee maker to start my mornings off right, I was definitely spoiled!
I don't know what traditions you all have for the holidays, but one of my favorite things we have started doing is going to a Christmas Eve party at a family friend's house! The hostess is one of my mom's closest friends, and a complete doll! She is one of those people that just makes everyone feel so special and welcome in her house. We started going last year, and had such a wonderful time that it was quickly decided it would be a tradition to kick-off the holidays by attending her fabulous soiree! My brother and I are also friends with her sons, so it is fun to hang out with them as well! I admit, part of the reason I love going is I get to dress up in a fancy dress for a night! While last year I went with a black sequin number, this year I wanted color. And this little diddy from the little known boutique called "my roommate's closet" was just the number! Everything about it made it the perfect holiday ensemble, from the deep burgundy hue, to the adorable satin accent bow strategically place on the hip. I topped it off with my new favorite necklace (Christmas present from the bestie!!) and my favorite holiday glitter heels to create what I thought was a really fun holiday look! It was just the look I needed to get me in high holiday spirits. And with the fabulous date I had to accompany me (coughcoughmom) how could I not have an amazing evening??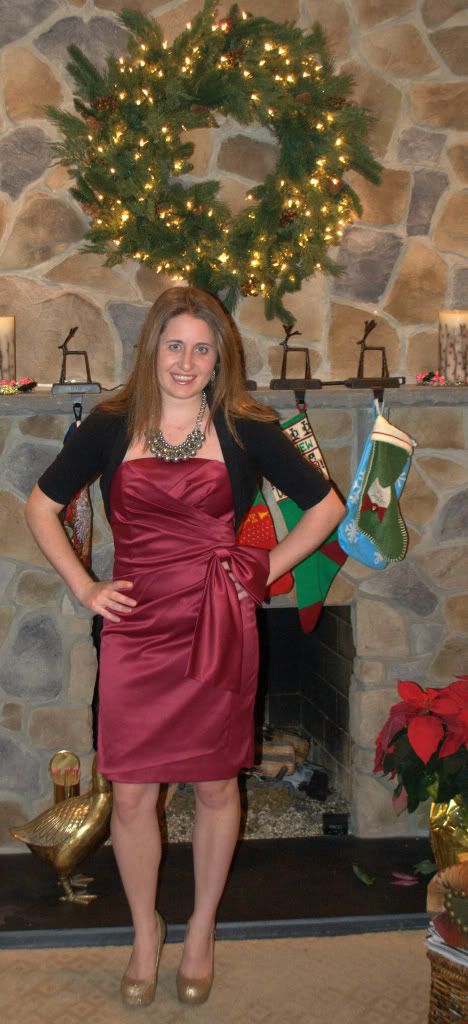 Dress: White House Black Market (borrowed from roommate) Cardi: WHBM, Shoes: Steve Madden, Necklace: gifted from bestie (thanks babe!!) Earrings: borrowed from mom
One of the best parts of having a way cool roommate (besides the obvious fact that your lucky enough to have a way cool roommate) is when she is way cool enough to let you borrow her gorgeous cocktail dresses for special events. so you can feel like you have a new dress without buying a new dress! Definitely a perk I'll miss when way cool roommate up and leaves me to move in with that new hubby of hers.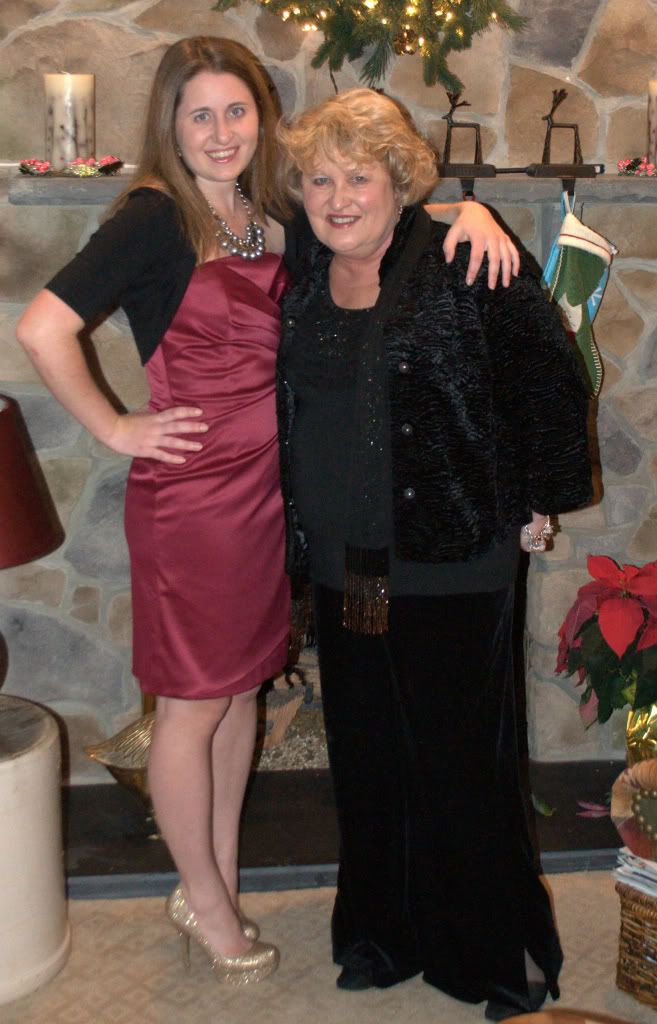 My stunning mumsicle and moi! She was rocking the glitter and velvet that night!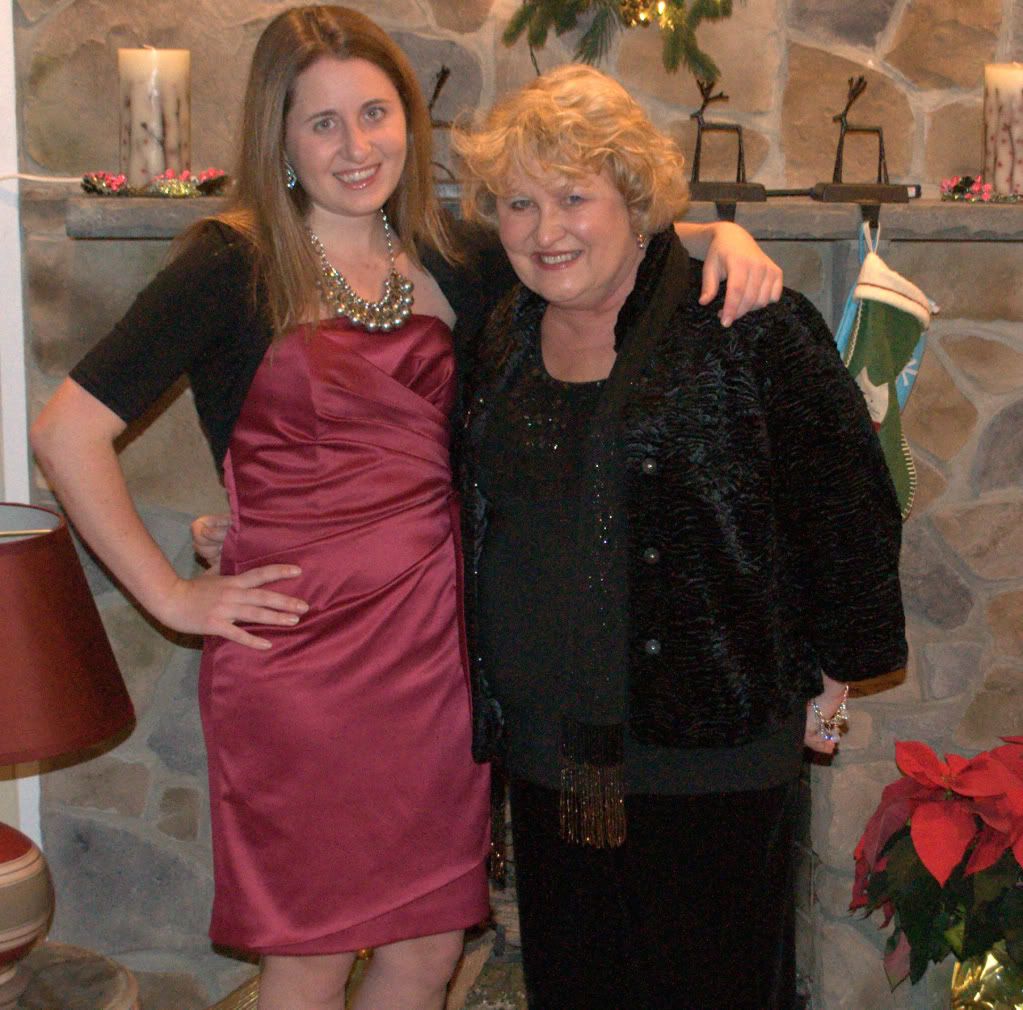 P.S. The only reason I appear taller than mumsicle is the 5 inch heels. I am most certainly the shorty in my family.
Sorry for the blur, I just wanted to show you the shoes a little better! They are definitely one of my favorites all the time, but especially for holiday events!



So loverlies, how did you spend your holidays? Was it a dress up affair, or did casual PJ attire suffice? Our house spent all of Christmas day rocking the PJs and comfy slippers, so I guess we enjoyed a little indulgence of both sides of the dressing spectrum. Aren't those really the best kinds of weekends? Cocktail dress and stiletto nights followed by PJ lounge worthy days?
Bisous!