Bonsoir bellas! I hope you all had wonderful turkey days, and enjoyed every last delicious morsel awaiting you at the dinner table! So first things first, it is big news time! Ok, well it is really only big news for me but you all are such dolls and have been so patient with me that I just have to share! In the week since you heard from me I... had an interview.... and... GOT A JOB!!!! Well, I should be clear and say I got an internship that lasts until May. But it is with a company that would basically be my dream job to work for full-time one day, so I am over the moon excited! And you know that means outfit posts will be much more regular now that my outfits won't consist of PJs day in and day out. Ya, it wasn't a fashionable three months. But the days of PJ wearing are behind me, and now I am happily back in the land of pencil skirts and sensible blouses. Don't worry, I'll dish more later, but tonight is not the time, for we haver serious matters to attend to! (P.S. I can't wait to tell you about how awesome the fashion is in my office!!)
Tonight we must focus on others. More specifically, what we will be giving to others this holiday season! Back by popular demand (coughtherewasnodemandbesidesmecough), I am bringing you another rousing round of fashionable giving for all the loverlies in your life. Or at least quite a few of the loverlies in your life. Every few days (I swear I really will try to be consistent with these posts!) I will be bringing you a gift guide geared toward a common type of person that most of us will have on our gift lists this year. Remember, if you don't see a category you want covered, just shoot me a quick email/tweet/comment/facebook message and I'll be happy to oblige!
Let's begin our magical gift giving bonanza with the ever popular travel enthusiast! You know exactly the kind of person I am referring to, don't you my little geniuses?! The friend whose facebook "current location" is ever changing; the quirky uncle who can't seem to stay put; or even the coworker who uses every last vacation day soaking up culture in mysterious lands. These wanderlusting guy and gal pals are possibly some of the easiest
amis
to shop for because there needs change so frequently. Plus, who doesn't love browsing through the travel section of any store and daydreaming of your own foreign escapes. Heck, I'd even take just a quick beach jaunt just to escape the impending doom that is winter! Any way you slice it, these gifts (from several price points) will be sure to make your favorite voyager giddy with happiness this holiday season!
Under $25
Any frequent flyer knows the real stress begins at baggage claim when your run of the mill black suitcase looks exactly like every other suitcase going around in circles. Give your favorite traveler the gift of ease with these handy (and entertaining) luggage tags sure to make any suitcase stand out in the sea of endless luggage. Price: $10. Buy here.
Your globe trotter is not likely to ever forget that memorable summer spent backpacking through Europe, but with this adorable travel stub diary, they can relieve every exhilarating moment! The diary makes it easy to keep all trip mementos in one organized place, and makes storytelling years down the road that much easier. Price: $14.95. Buy here.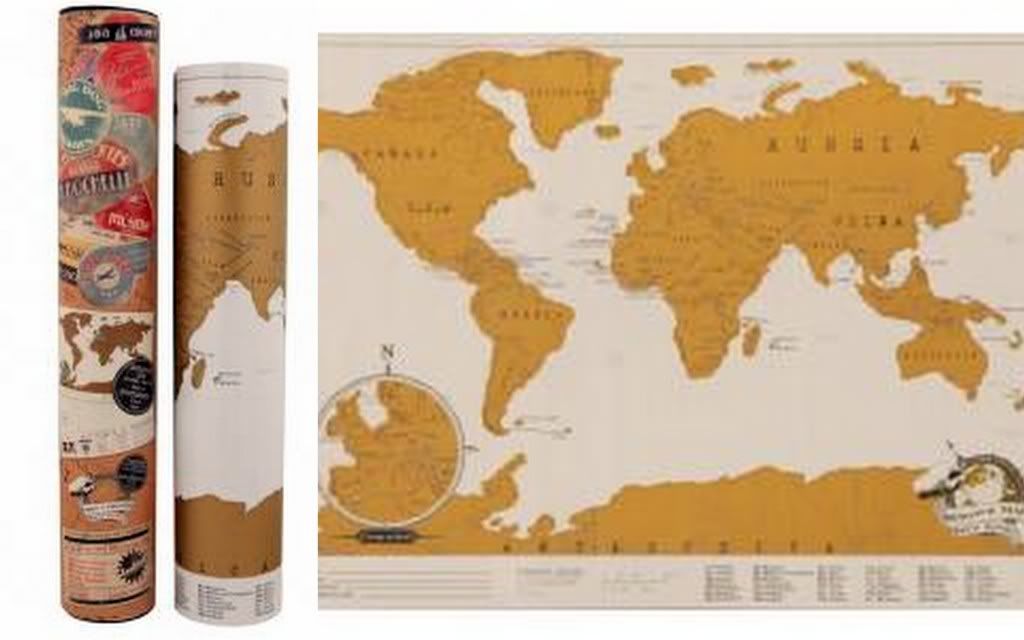 Any gypsy worth their salt keeps track of their jaunts, but why not give them a classy decoration that allows them to show off just how well traveled they are! Simply scratch the locales you have frequented and they turn blue, for all to see. Price: $20. Buy here.
Under $50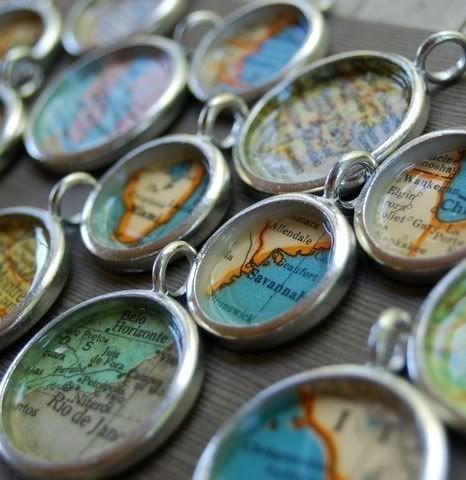 I have editorialized about my love of this etsy shop many times before, but I just can't get over these uniquely awesome vintage map necklaces! They truly would make the absolute perfect memento for someone whose heart will forever belong in (enter city/state/country of your choice here)! And the best part is that Kristy (the wonderful shop owner) will customize your pendant! Price: $28. Buy here.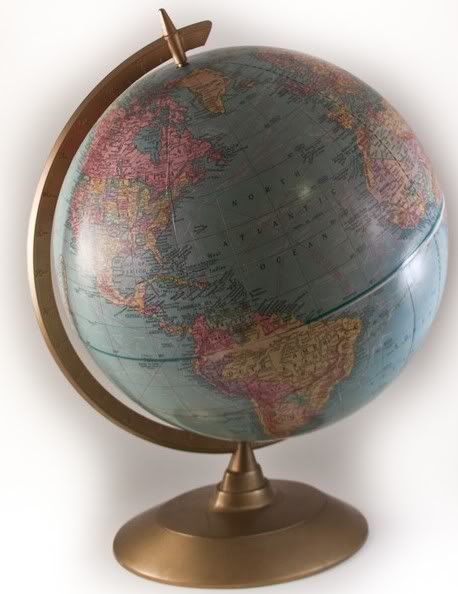 No travel aficionado's abode is complete without a vintage globe strewn about. Price: $40. Buy here.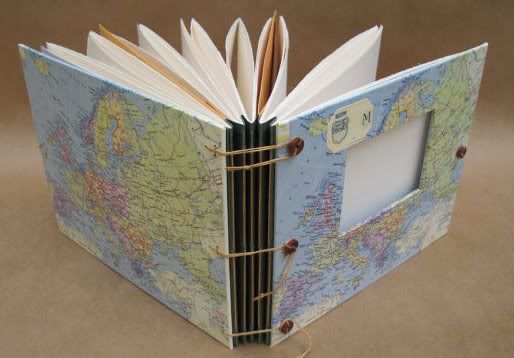 Similar to the travel stub diary, this expandable travel journal/ scrapbook allows you to create beautiful photo collages of your trip, as well as storing keepsakes in manila folders throughout the diary. Give the gift of not having to decide between journaling, scrapbooking and memory box keeping this year, with this three in one travel diary! Price: $45. Buy here.
Under $100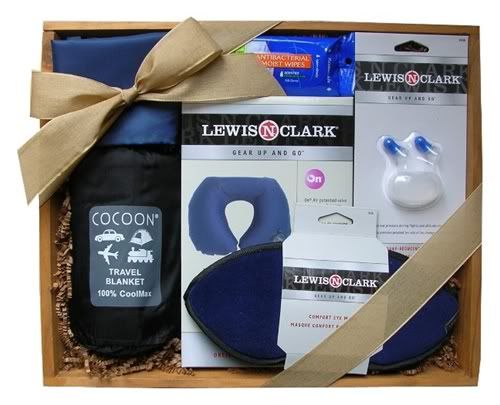 What better way to tell your favorite frequent flyer how much you care about their comfort than with this airplane comfort survival kit?! They will have the flight of their dreams thanks to your gift, and when they arrive calm and refreshed, they will be thinking of you, you little gift-giving goddess, you! Price: $64.95. Buy here.
As fashionistas ourselves, no one understands better the importance of appearing fashionable and coiffed at all times, so why not give your stylish gal the passport cover of her dreams! You can't ever go wrong with Ms. Spade. (Also comes in fuchsia) Price: $65. Buy here.
Help your little wanderer drift off to la la land with as visions of European adventures and African Safaris dance through their head. Price: $95. Buy here.
Over $100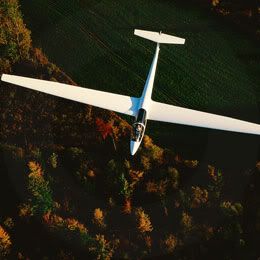 If you can't quite swing the cost of a full on trip for your jet setter, give them the next best thing: the gift of experience! Available in most major cities and at a variety of price ranges, there are activities for the thrill seekers and culinary masters alike. Even better? Go along for the adventure, and give the gift of friendship as well! Price: Varies (glider ride shown, $120). Buy here.
What traveler doesn't enjoy a little R&R during the to and from portion of the trip? Whether traveling by land, air or sea, this portable DVD player will be sure to keep your favorite travel monkey out of trouble, and relaxed. Price: $122.09. Buy here.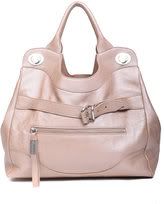 And finally we have an absolute travel necessity (and a work of art, IMHO): the ultimate carry-on bag. Finding a roomy, but compact enough to fit under the seat, travel bag can be an absolute nightmare. So why not go with the aptly-named Jet Set tote from Foley and Corinna. This bag is absolute perfection in my mind, and has been at the top of my own wih list for quite some time now (so much so that I have entered EVERY giveaway I find for this gem), so I have no doubt that if you shower your jet-setter with this parfait Jet Set tote, you will go straight to the top of her favorites list! Price: $346.50 (it is on SALE!!). Buy here.
Ok, loves, are you feeling inspired yet? Do you have any travel enthusiasts on your shopping list this year? I'd love to hear from you if you choose to give any of these gifts this year! And don't forget that in just a few short days (coughcough, most likely sunday) another gift guide will arrive! Next up, we will be covering gifts for the hostess with the mostess in your life!
Bisous!
*Note: I realize this list is a little Etsy heavy, but this post was not sponsored by any of the above mentioned shops (or Uncommon Goods). I am just a huge supporter of small business, like the ones found on etsy, and think the products highlighted are great gifts for travelers. All opinions are my own*