Salut mes amis! Is it just me or does that post title sound like a redneck version of duck duck goose? Just me? Gdangit. I guess that is what happens when you decide to write a blog post at 5:56 am because you can't go back to sleep after your puppy wakes you up. All I can say is he is lucky he's cute.

I'm not sure if it's the Elle September issue sitting on my bed next to me, the disgusting humidity that we have dealt with nonstop for the last 5 weeks or the beautiful blush blazer hanging (unworn) in my closet but all my thoughts seemed to have turned to fall! Or more accurately, how I can't wait for it to be fall. All I keep thinking about is enjoying those perfect autumn afternoons of horseback riding and apple picking while wrapped in light but cozy sweaters. Can it please be late September/early October already?!
Since I've heard many (incorrect) guesses as to what the heck Truckeroo is all about here is a very brief synopsis: Once a month in the summer a bunch of food trucks park in this parking lot. They all cook different foods. They sell said foods. I buy their delicious food. End of story.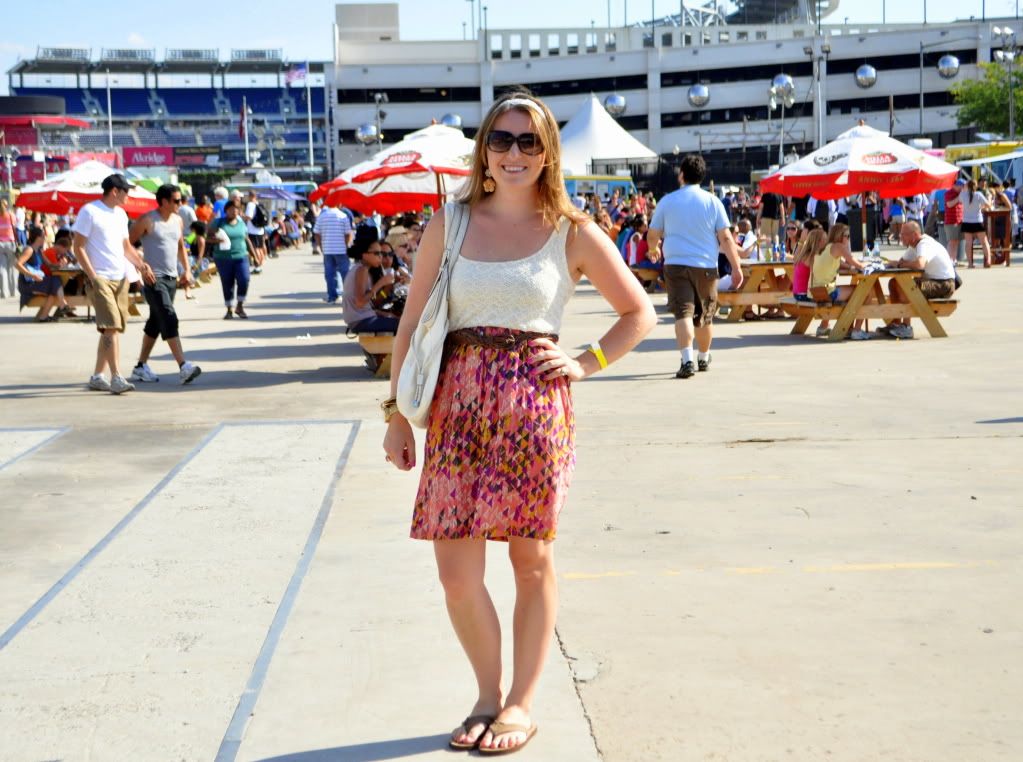 Dress/Belt: Urban Outfitters, Sandals: Rainbows (via Roommate), Headband: Target, Earrings: Forever 21, Sunnies: Marc by Marc Jacobs, Orange ring: Amrita Singh, Other ring: Grandmother's vintage, Watch: Michael Kors, Leather bracelet: Eastern Market vendor, Gold bangles: Amrita singh, Bag: Kohl's
I think this was my nervous "people are looking" laugh.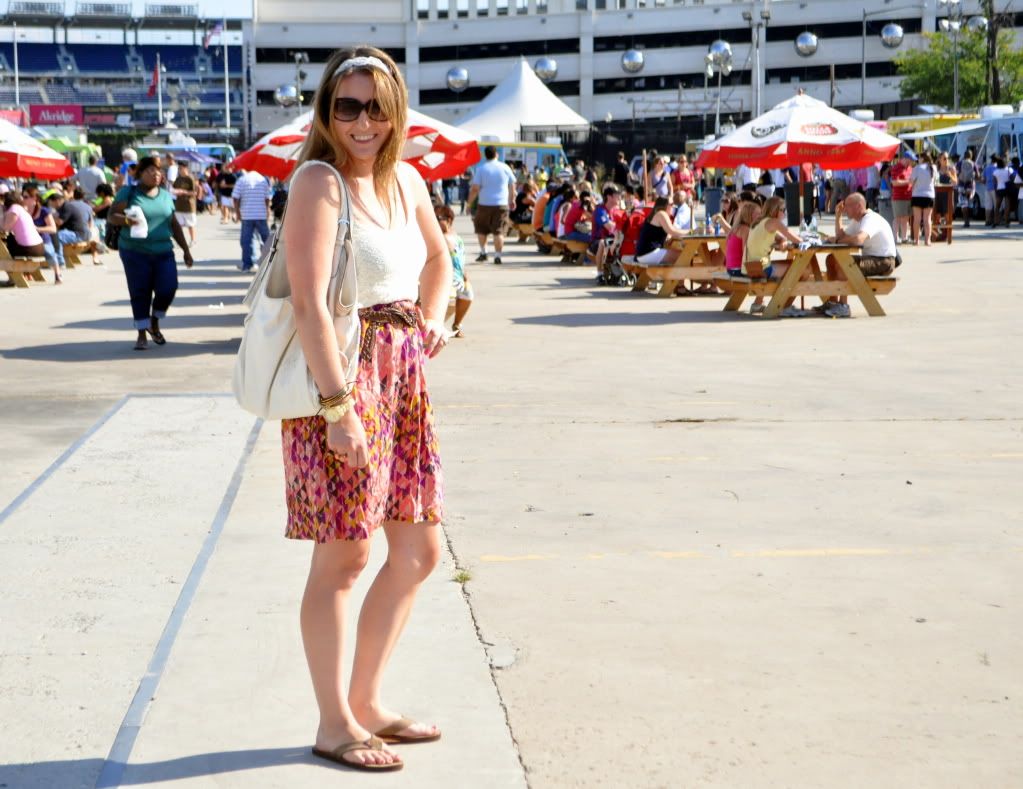 This headband didn't really leave my head all weekend, starting with the Wicked performance on Thursday and ending with holding my hair out of my face during my run on Sunday.
I have been intrigued by the tribal print trend this summer, but weary of trying it for myself until I happened upon this dress on the sale rack last week at Urban Outfitters. The cream lace-like top helped tone down the sometimes overwhelming tribal print, the airy fabric made it ideal for the disgustingly hot temperatures we are contending with and the $20 price tag sent it soaring home with me!
I think I can count on one hand the number of times you all have seen me wear flip flops on this blog, but I have learned my lesson the hard way this summer that when I am going to be walking around DC, there is just really no heeled shoe that will do. And believe me- I've tested them all. Wedges, espadrilles, chunky heels, low heels- they all failed me. So hopefully you can accept these flip flops for the sake of my poor feet.
I have been so into the arm full of bangles look, paired with my MK watch, but I hardly wore it when I was working all week, because the bangle jangle isn't very practical in a cubicle environment. But it is not even remotely noticeable when walking around Truckeroo. Solution? I should work at Truckeroo! Able to rock the bangles, AND I fix my unemployment situation. See what I did there? :)
Apparently this is my "sexy face" since roommate said be sexy, and I did this. I think it needs work...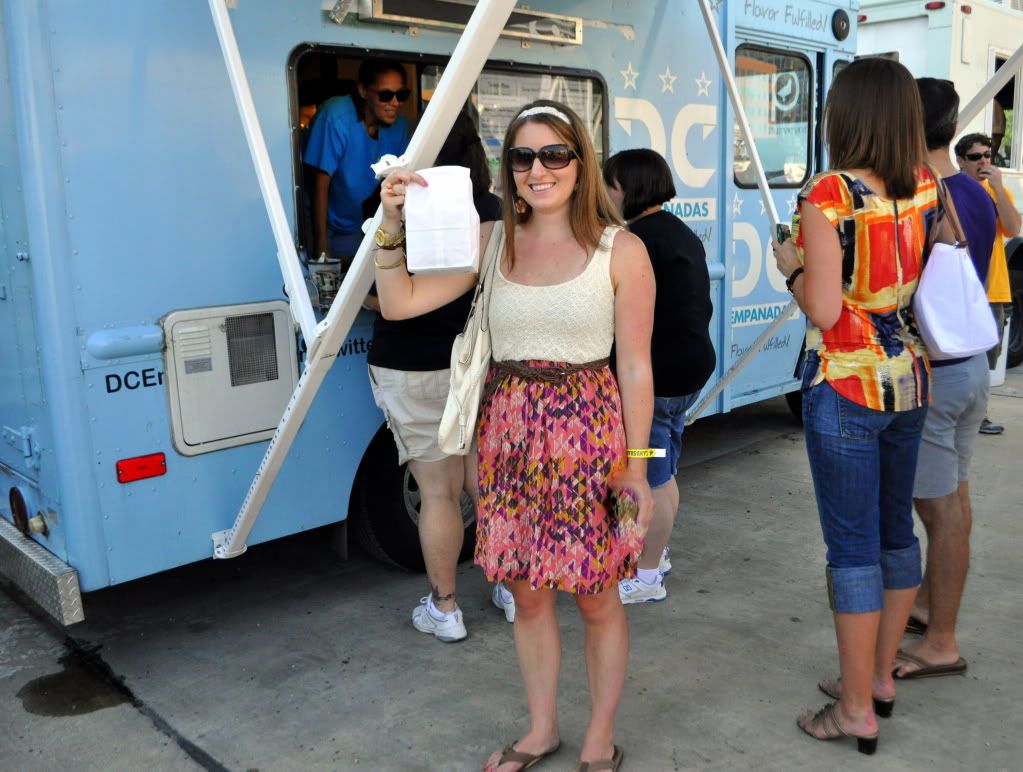 Proudly showing off my first food truck purchase! Pleased to say that DC Empanadas is DELICIOUS! I will definitely be a repeat customer.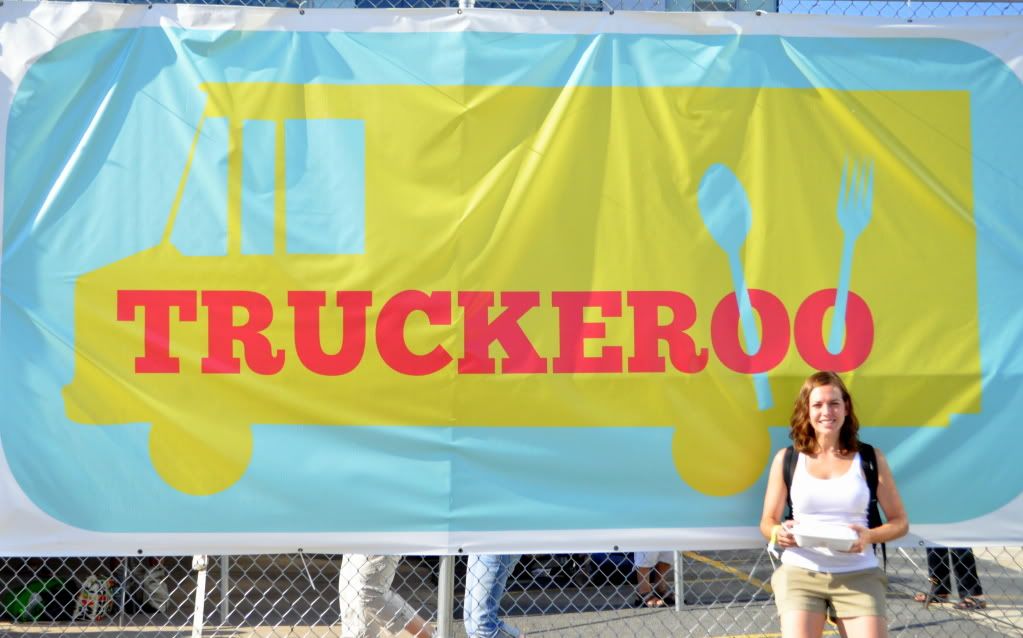 Just to prove that I'm not making that name up!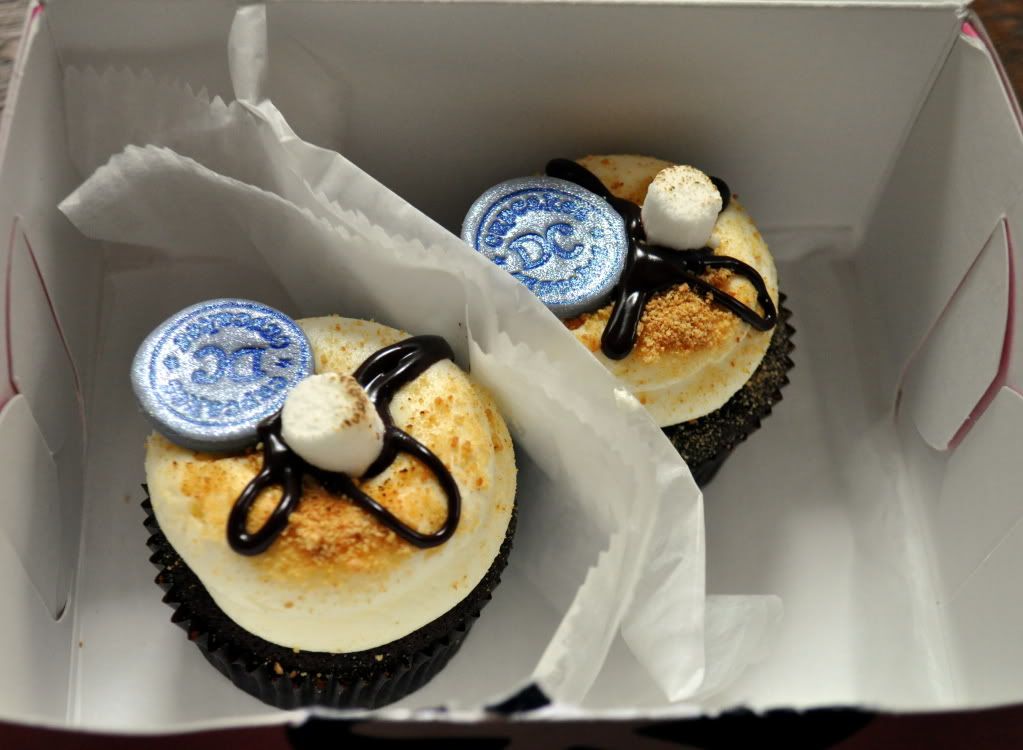 And to show you that not all my food comes from trucks, I present you with the campfires cupcake from Georgetown Cupcake that college roomie and I got for *free* on Saturday! No, I did not five finger discount it, people. If you follow this delectable store on twitter you know that each day they have 100 secret flavor cupcakes available for free, but only if you ask for the secret cupcake by name. Oh the joy that Gtown cupcake brings to my life!
Bisous!