Greetings friends! You may or may not remember me, but I am the girl who used to blog here on a regular basis. No? Not ringing any bells? Well it is understandable since I have been in and out, in and out about a hundred times lately and keep promising that the absences will stop. And before you know it I am gone for another week. I really thought I would have more time to spend with you all while I'm not working. But turns out that finding a job really is a full-time job! And it isn't one that pays very well, so really it is the pits.

So I think I can safely say we all have those days where we just aren't liking any clothing combination we try, right? Well, lately that has been every day for me, thus why you haven't been hearing from me as often. I think I really like my fall/winter wardrobe so much better because I do better layering than I do in summertime, when I want to be wearing as little as possible. Today was particularly bad though, because this was the first thing I tried on, and I initially was happy with it. Then I made the mistake of trying a skirt with the tank, instead of shorts, which is when all h-e-double hockey sticks broke loose. I proceeded to try on practically every garment in my closet, and get more and more disgusted with each wardrobe change. It was a nightmare. Approximately one hour later (no exaggeration friends) I was standing before the mirror wearing this same outfit that I had started in. Roommate couldn't help but laugh. What makes it even worse is I had worn the outfit last night when I met up with friends for drinks, and had received many compliments on it, so I really should have felt very confident about it. But I wasn't. I'm still not so sure after seeing pictures. But I think I will use my energy on more productive matters than worrying about an outfit that has already been worn-- twice. Like maybe picking up my disastrous room that is now littered with every item in my closet. Woopsies...
Tank: Banana Republic, Shorts: Charlotte Russe, Shoes: Betsey Johnson, Clutch: Banana Republic, Ring: grandmother's vintage, Earrings: Forever 21
I cannot believe I did not get one single photo while I had my spray tan. I swear to you, though, that for a good 8 days or so I had actual color on my body! It was amazing. But now we have resumed our regularly scheduled pasty legs programming. Enjoy.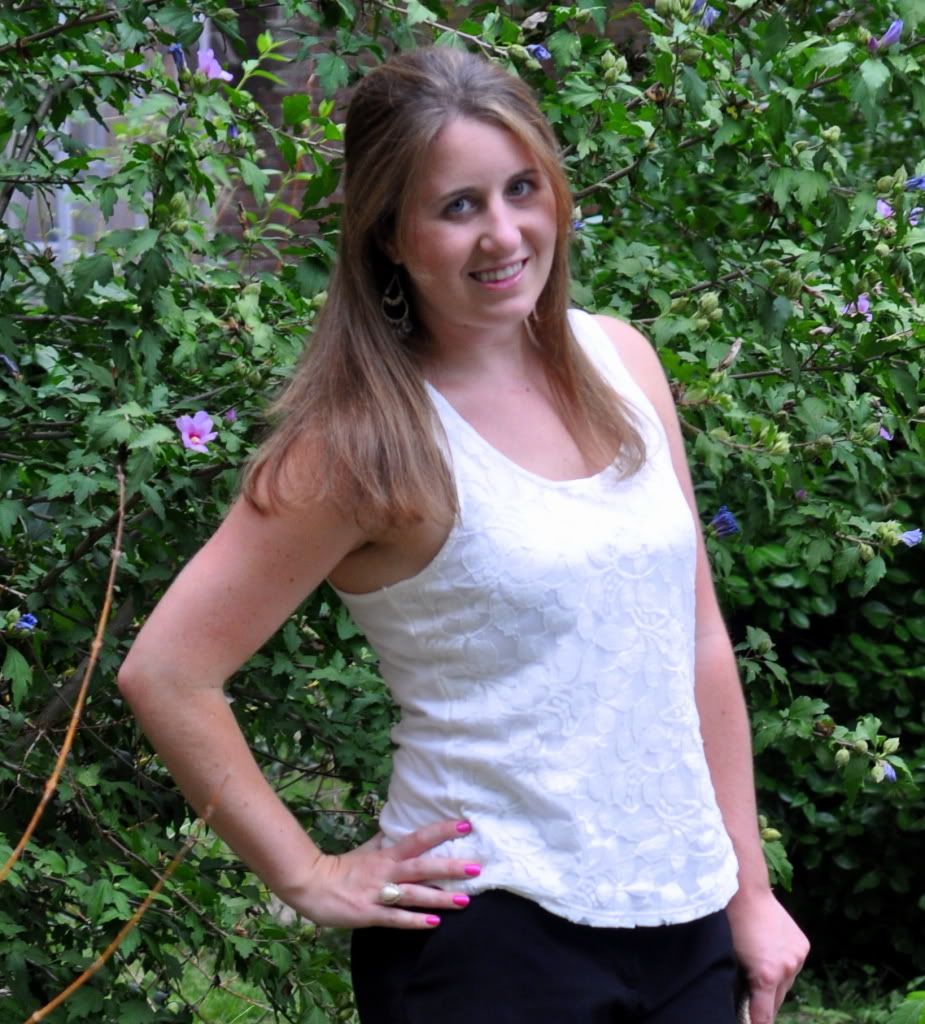 For once, I can take credit for my hairstyle! Yes folks, I actually did this one all on my own without roommate. I know, it sure does take a lot of styling genius to pull a few pieces of hair back and bobby pin them in place. Think I should go pro?

I have been rocking this clutch more than I care to admit! But I can't help it. The clutch is perfectly sized for nights out. I can even fit my ridiculously large brush inside if I really want to. I don't have to skimp when I bring this baby out. Plus, it just adds a fun, edgy element to any outfit- even over the top girly outfits with lace and hot pink shoes.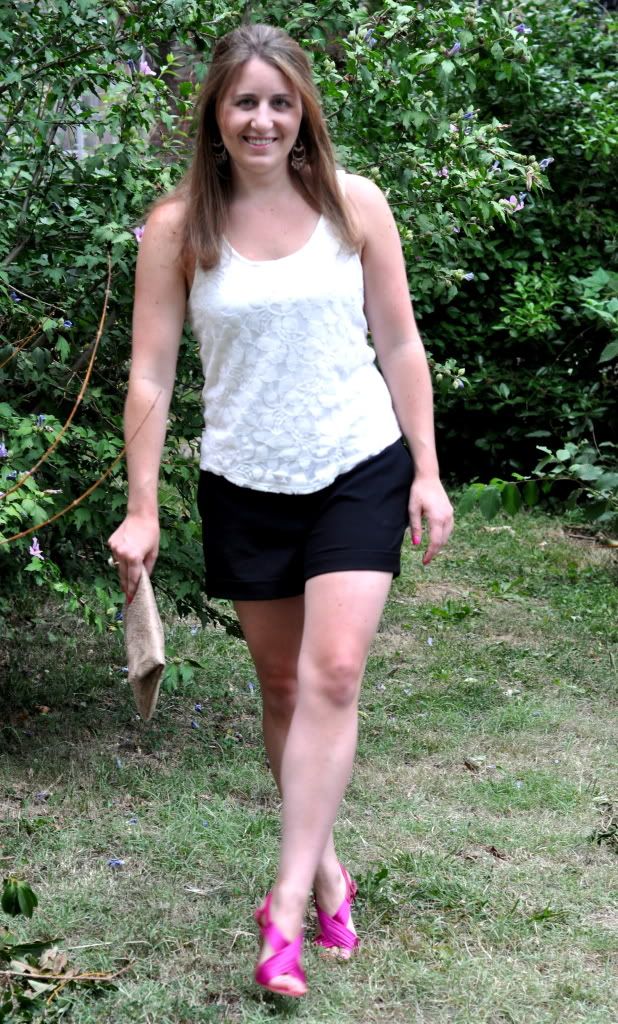 Roommate loves to capture me in motion.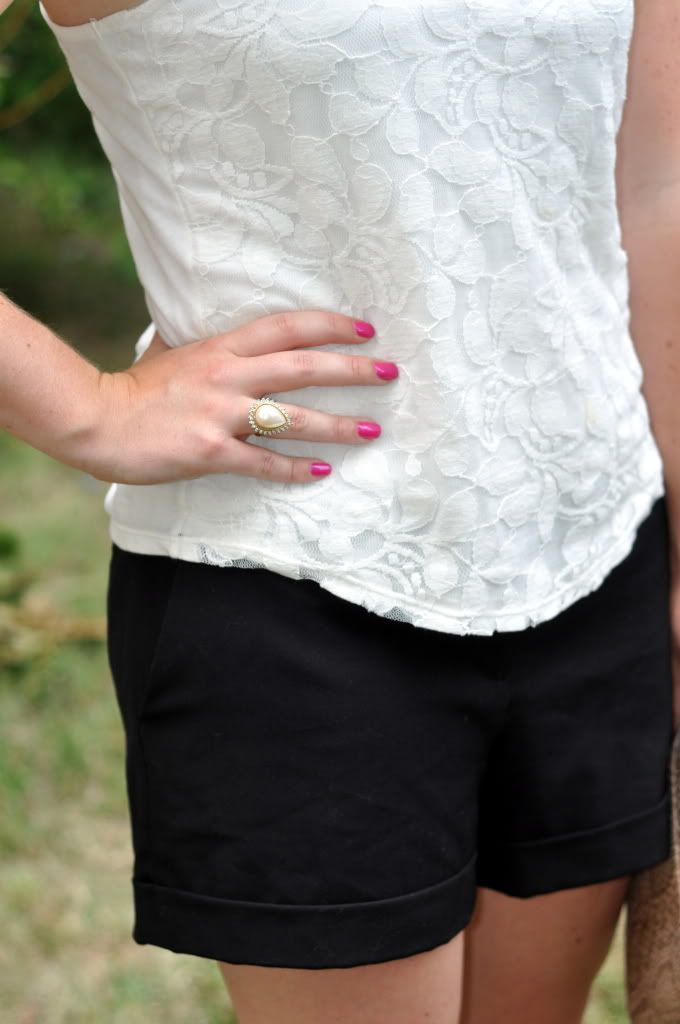 If you follow me on twitter you heard me talking already about how much I LOVE my gel manicure, but in case you missed it... I LOVE my gel manicure! It is the first time I have ever done it, but I can't get over how good my nails look days later. No chips and they are still super shiny. Again, I LOVE it!
I affectionately call these my barbie shoes! They are almost "too pink"- even for me. Hey, I said almost. Note the cute designs on my toes, though! Mumsicle treated me to an out of this world pedicure with her on Sunday and boy of boy was it heaven. Lots of massaging and foot rubbing and general goodness! Not to mention cute little drawings on my toes that I could never imagine doing on my own.
What do you all do when you have "I hate my entire closet" days? Do you have some routine to overcome the mental aversion to your wardrobe, or do you just supplement it with new and exciting items? I am really hoping it isn't the second one, because then my unemployed self will be very jealous of all you lucky shopping ladies. So bring me some good news, dolls...

Bisous!