Bonsoir bellas! I hope you are all soaking up the last minutes of weekend awesomeness! Isn't that what Sundays were made for? To sit around and reflect about the epic occurrences of the last two days. Gosh I hope so, otherwise I am a very bad Sunday-er.
I know they say perfection doesn't exist- and I agree. But I would nominate this weekend for the "close as you can come to perfection" award any day! Delicious food, fun atmospheres and the best friends a girl could even dream of. What more could I want? Well, maybe one more day to bask in the glory. Hope that isn't too tall of an order... The weekend kicked off on a high note Thursday when my best friend from college arrived (after a loooong day of bus/train rides) in DC to spend the weekend with me! Love the chica so much, and as always we had a blast catching up. We kept it chill on Thursday and relaxed with a pizza made by roommate and champagne. Perfect ladies night. We continued our excellent eating Friday with Ben and Jerry's for lunch and shopping as our cardio. Friday night was a night of mayhem when 11 of us got to together for a dinner at one of my all time favorite restaurants- Cactus Cantina. Shout-out to my cousins for introducing me to the amazeballs that is Cactus! I think we all rolled out of there after consuming copious amounts of homemade chips and salsa... plus our dinners. Saturday we continued the tour of Georgetown dining and finally got to check out a restaurant we had been dying to try: Mie N Yu. We went for brunch and basically had the whole place to ourselves, which was fine because we thoroughly enjoyed wandering around to check out the differently decorated rooms and tables. Ours was an elevated turkish tent complete with throw pillows. Finally, Saturday night was spent in the excellent company of my brother and some of his/my friends. Let's just say we all stayed up talking until 6 am... and I had to be awake at 8 am. Not my smartest move ever, but I don't regret it one bit :) And I really meant to veg out all day today and recover from our exhausting weekend, but my dad had other plans. So we went for a long bike ride along the waterways of Georgetown instead. At least I felt slightly better about the heinous amounts of bad (but oh so yummy) food I ate this weekend!
What made the weekend so terrific...
Getting dressed up for a fun dinner out with these lovely ladies... and Stephen.
Eating an incredible brunch at this ADORABLE restaurant called Mie N Yu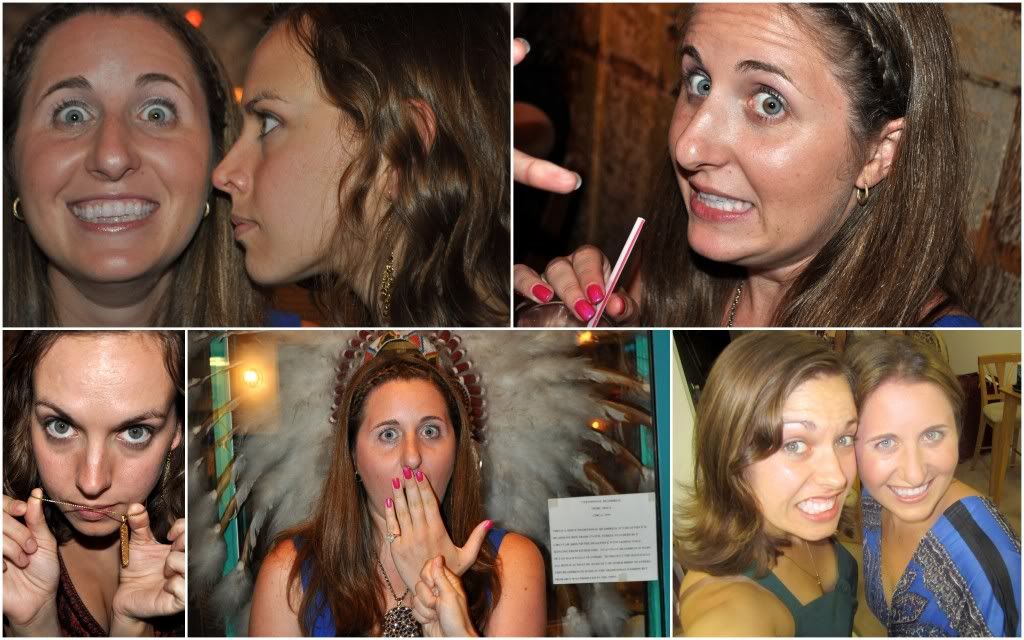 Being totally goofy and making faces likes these
Spending time with the most wonderful people!
I would say that this weekend would be impossible to top, but college roomie is coming to visit next weekend, along with two college friends of current roommate! So in reality anything could happen :)

Bisous!