Aloha chicas! I hope you have all had a superb week and are preparing for a totally rad weekend. And yes, I am most definitely bringing back words like superb and rad. Next on my list of "over the top but awesome nonetheless" words to bring back to life is tubular. Who is with me?

I don't know about you, but I think it is high time that Awkward and Awesome Thursday made a resurgence on here! And wouldn't you know it- today is Thursday! It couldn't have been more perfect if I had planned it. Oh but wait... I did.

Awkward:
-Inviting brand new friends over to my apartment last night and having the whole place smell wretched because my "special cat" had many accidents while we were gone. It was the absolute worst our place has ever smelled. Yea, we'll be lucky if they ever come over again.
-People who talk in public restrooms from the stalls. Seriously. Just do your business in silence and finish your conversations later people.
-Totally forgetting that your maintenance man told you he was going to be in the apartment when you got back from walking the dog and the conversation occurred less than 20 minutes ago, yet when you get back in the house and you see a large man in the apartment you instinctively let out a loud gasp which makes him feel very guilty and you feel dumb. Takes the awkward cake for the week I think. Or maybe poopey apartment does...
-How terribly unfunny I am in this segment of Awk and Awes. I think I am off my game. Will be ready next week to knock it out of the park!
Seeing my favorite musical with my favorite people. Doesn't get any better than that!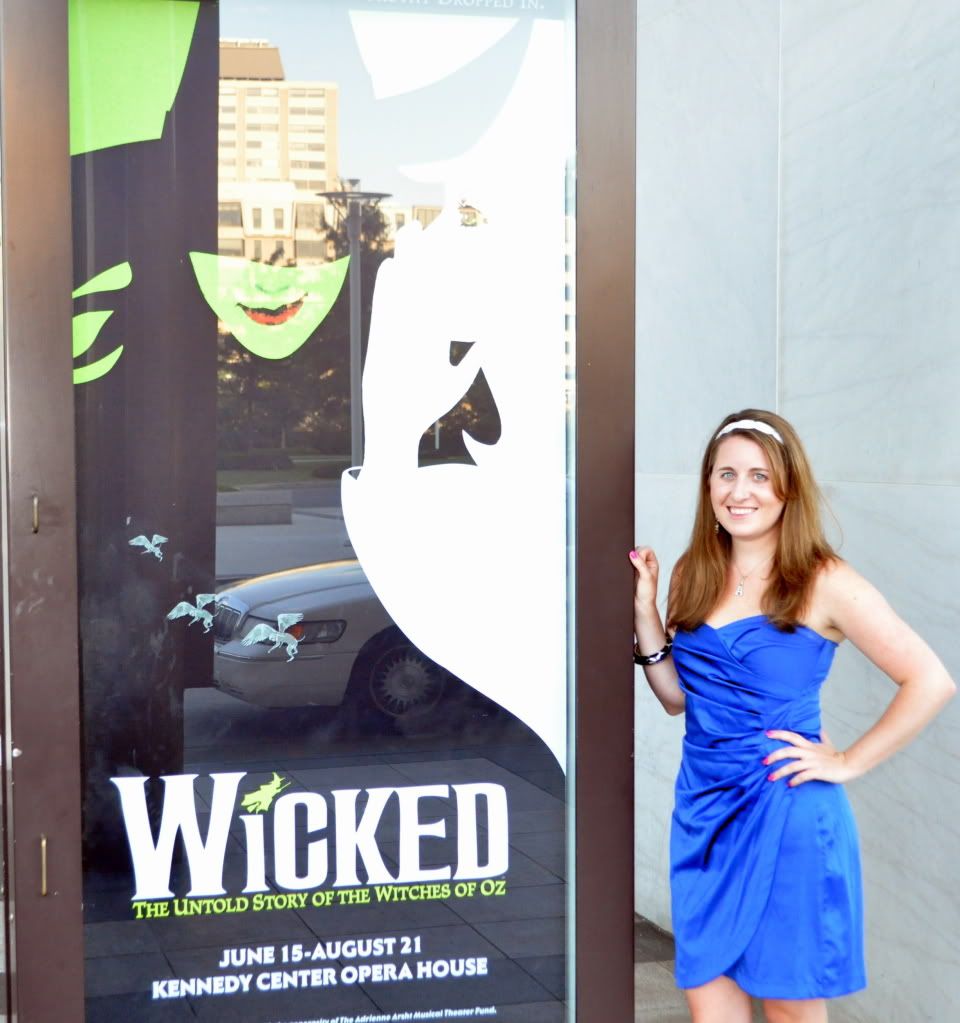 Fabulous night at the Kennedy Center! I love excuses to get all dressed up :)
Dress: Belk or Dillards (can't remember) Bought for senior dance in college, Shoes: White House Black Market, Necklace/Earrings: Gifted, Bracelet/Ring: Personal Accents, Headband: Target, Purse: Kohl's
I love them more than I can even express.
Awesome:
-If you haven't figured it out from the photos in this post by now, I got to see my favorite musical tonight with my two favorite people: WICKED!! It was just as amazing as the first time, and possibly a little bit better because I knew all the music this time around! Although, I wasn't in London and I wasn't with college roomie, so maybe they cancel each other out. Either way, the play and the company were fantastic and I want to go back!
-The mouthwateringly good three course dinner we had tonight before the show. French food is parfait because they give you just the right amount! Tonight we dined like kings and queens and I thoroughly enjoyed my rare seared tuna, salmon and chocolate souffle!
-Wednesday nights. Yep, they rock now that roommate and I have taken up playing kickball on the mall! Our team rocks, on and off the field and I am having such a blast making new friends. Especially the ones that put up with our "poopey smelling" apartment, thanks to tippy cat.
-College roomie coming for a visit on Saturday!!!
-Sitting in my room singing wicked songs in the middle of the night but trying not to wake up my roommate.
-Truckeroo and Jazz in the Garden tomorrow! Basically just excuses to eat a lot of bad for me food and call it a day.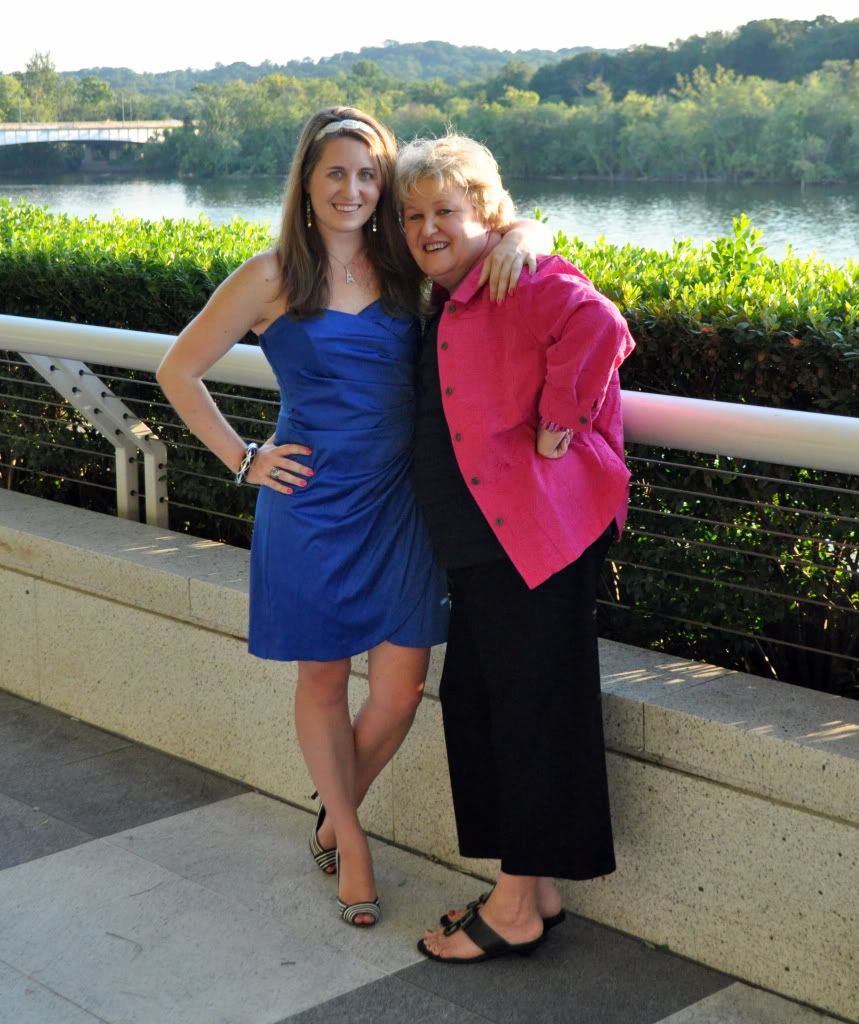 I sure do have one gorgeous mumsicle!
I am so incredibly blessed to have this kid not only as my brother, but as my best friend. Even in heels he towers over me.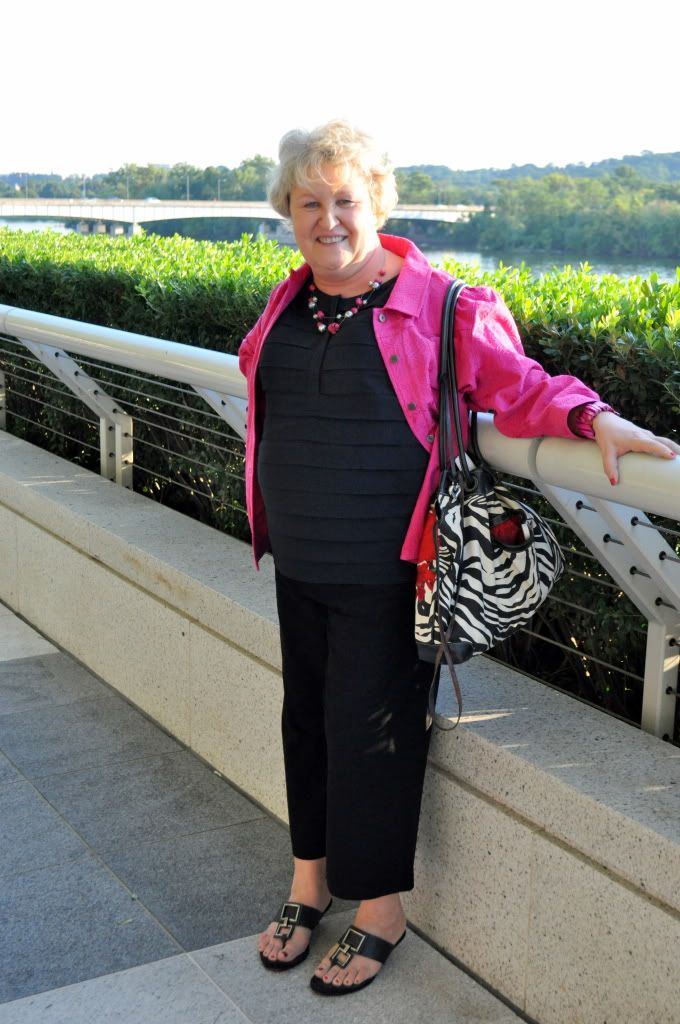 Overlooking the Potomac River. My apartment is off to the right somewhere.
When did my brother get so handsome and grown up?? P.S. ladies... this guy is available and he is quite the catch. I'm not biased at all! :)
Bonne nuit, mes amis!
Bisous!