Hello lovers! Happy Friday! I hope your weekend is off to a great start, and that your schedule is filled with fabulousness for tomorrow :) I am super excited to finally share with you about a way cool blogger project I was a part of!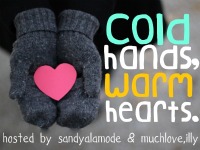 The amazing duo of
Sandy
and
Ilene
paired us each with a new blogger friend that we could get to know and then we exchanged goodies! The only rule was that our packages had to include a pair of gloves/mittens. I have to tell you that I felt like a little kid on Christmas when I saw my package had arrived from my sweet swap partner, Olivia from
For Me
! She really is an inspirational blogger and I promise you will always leave her blog feeling uplifted and positive. Check her out!
Being the doll that she is, she sent me the most perfect goodies ever! Everything right down to the pink tissue paper she wrapped everything in just screamed "Lauuuuura!"
I loooved the cute bow she tied around the box. I fully intend to use it for something, quite possibly a belt.
She even included a hand-written note! I think that encapsulates what a sweetie she is and how much attention she pays to details!
Aren't the gloves so me?? I think so and I can't wait to wear them all winter.
Olivia sent some gorgeous magnets from her etsy shop as well. She has some beautiful wreaths as well that would make lovely Christmas gifts.
I have literally used my cute mug every night since I received it.
Thank you so much Olivia for the incredible package and I am loving getting to know you through your blog! And a huge thank you to Sandy and Ilene for all your hard work putting together this very fun event! Make sure you check out all of the other CHWH participants
here.
Enjoy the weekend dolls and don't forget to check out
part 1
and
part 2
of Fashionable Giving before you set out on your Christmas shopping adventures this weekend and check back on Sunday for a fabulous GIVEAWAY!
Bisous!