Aloha lovahs and happy Thursday! It's a delightfully muggy one over here in isn't-it-october-sville.Seriously, the weather needs to quit playing games with my heart (ah, the classically subtle Backstreet Boys reference) because I don't know how much more I can take. Perfect 65 degree days with a breeze one day, humid rain the next and then somehow we make our way to 80+ like today.
What??
It's
October
weather maker! Bring me my sweater and boots weather pronto!
It seems the evidence (aka my Pinterest obsessions) indicates that I am having a major love affair with pants this Fall. Whether they be of the skinny or boyfriend, denim or colored varieties, I like them all, which is actually a bit surprising. Now don't get me wrong, I have always loved me some jeans. But I tend to gravitate towards overly feminine options, like skirts and tights and dresses. And I obviously haven't left behind that feminine style (see pins 3 and 6, por favor) but it is clear that I am expanding my definition of softly feminine to include items with leg holes. Of course it helps that these lovely pants are paired with girly colors (pink plaid anyone), statement baubles, killer heels, French-inspired sweaters and sequins and sparkle. So here I have just a few of the images that are making my morning dressing decisions that much easier. Honestly, what did we ever do without Pinterest, or
GASP,
the Internet??
We all know how much I love my military vest (in fact this outfit was inspired by this photo) so naturally I'm a fan of this plaid/ military/ripped jeans totaling a mountain girl wears pearls look!
Give me a pair of good boyfriend jeans and sky-heel heels any day. Add in an adorable French-inspired sweater and a coffee and I'm set.
Leather. Leopard. Camel. Need I say any more?
I'll get to the killer bag in a second, but are you seeing how phenomenal this pairing of sequins and leather is?? It is almost unbelievably awesome. Plus, there's Prada.
We have been having a lot of nasty rainy weather up here in the District, so adorable outfits like these are needed. I'm not saying I dress as chic as this cool lady, but I sure as heck wish I did! I mean c'mon- sparkly stripes, military trench, mint jeans and hot pink Hunters? Is there a better photo to sum up perfection in an outfit? I think not.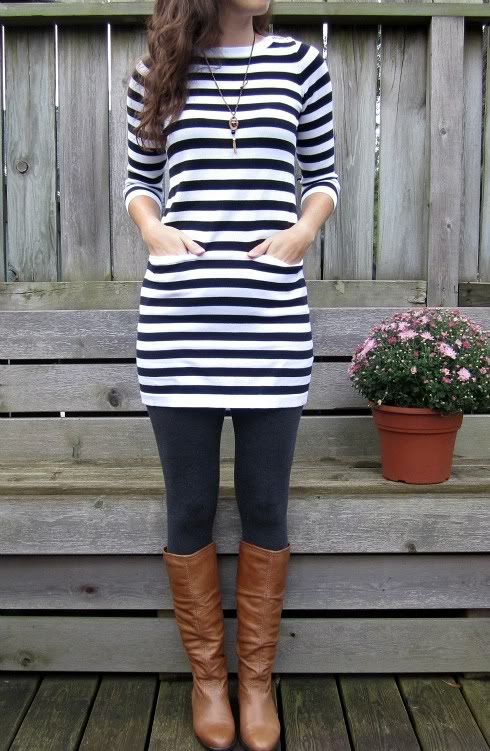 What's not to love about this photo? Stripes- good. Sweater dress- good. Gray tights- good. Boots- good. Navy with gray and cognac- EXCELLENT!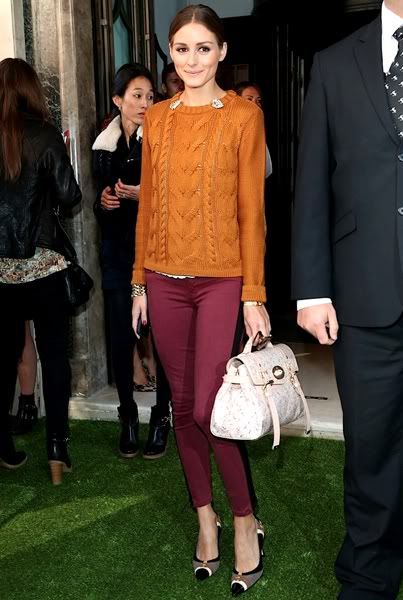 Ok, this was just too good to be true, considering those are perfect Virginia Tech colors. Go Hokies!
So ladies, what is inspiring you this unusually warm Fall and do you have a go to Fall outfit? You can catch all my Pinspirations over
here
if you are so inclined.
Bisous!