...otherwise known as the day after my 24th birthday. Evening gals and happy first few days of spring to you! My week has been packed with goodness after goodness, so I think spring is off to a fantastic start. I think spring may be my favorite season (except I say that about every season, so take it with a grain of salt)The cherry blossoms are in full, beautiful bloom, it is light outside when I leave work (even when I pull later nights like tonight), I don't need to worry about a jacket and my birthday happens to be the first day of spring (some say March 20th, but I say March 21st!) And when you factor in that I got to attend my first Embassy event this week, and that it was a St Patty's Day celebration, we can basically suffice it to say, I'm a happy camper! Oh and did I mention what I came home to tonight after a really long day??


Yea, that would be my room completely streamer-ified in birthday pink-ness thanks to my AMAZING, wonderful roommate! I don't know what I'm going to do without that girl when she leaves me to go get married and stuff. But not thinking about that! Combined with my family birthday dinner last night at a chocolate boutique (think chocolate in everything: chocolate steak sauce, chocolate mojitos and chocolate banana foster), it was quite he 24th birthday! Annnnnd I got a pair of hot pink jeans! So exciting!
Speaking of colored jeans, I broke a fashion rule today and busted out my white denim today! Heck, the weather feels like post-memorial day already so I'll wear white after labor day if I wanna (kinda like its my party and I'll cry if I wanna). You'll have to excuse the terrible photos- it isn't the photog's fault. It's just what happens when I don't get home until after dark, love my outfit and think there is still time to photograph. Oh well, some days you just have to make a blog post out of crummy photos (again, kinda like making lemonade out of lemons- I'm just reinventing cliches all over the place today)!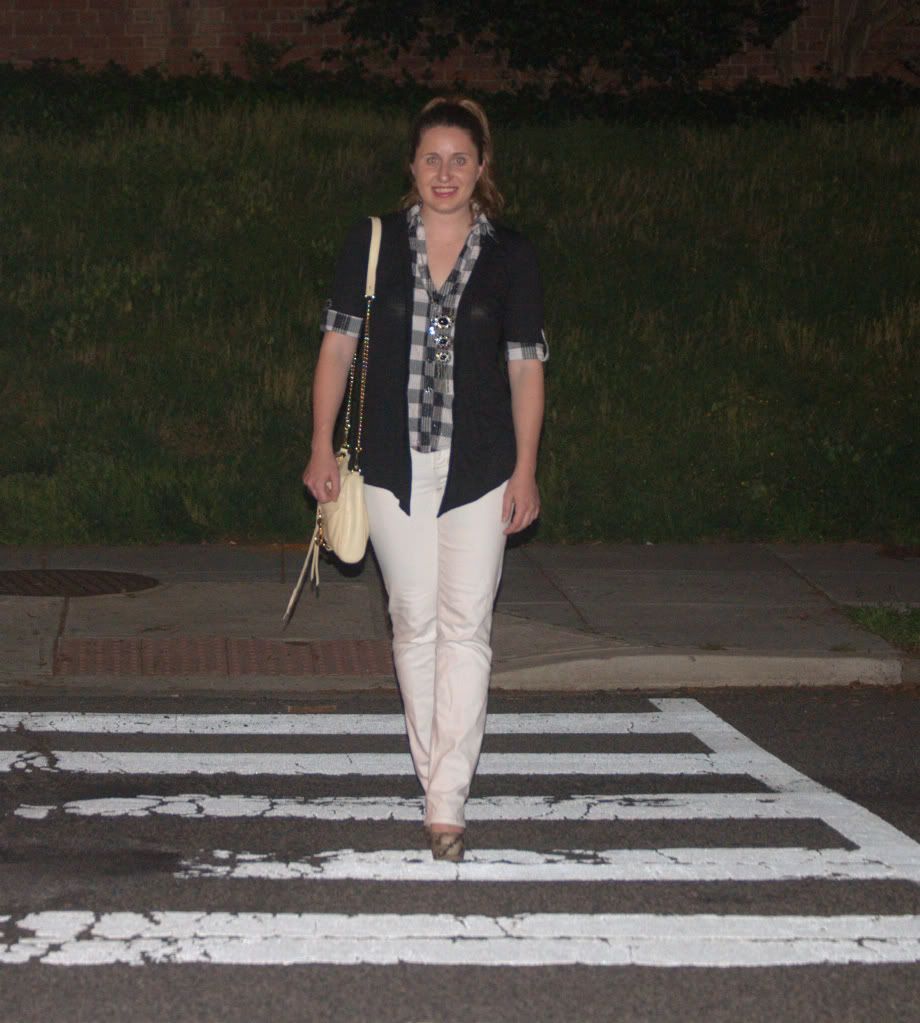 Shirt: Kohl's (?), Jeans: Madewell, Shoes: Aldo, Necklace: Forever 21, Bag: Rebecca Minkoff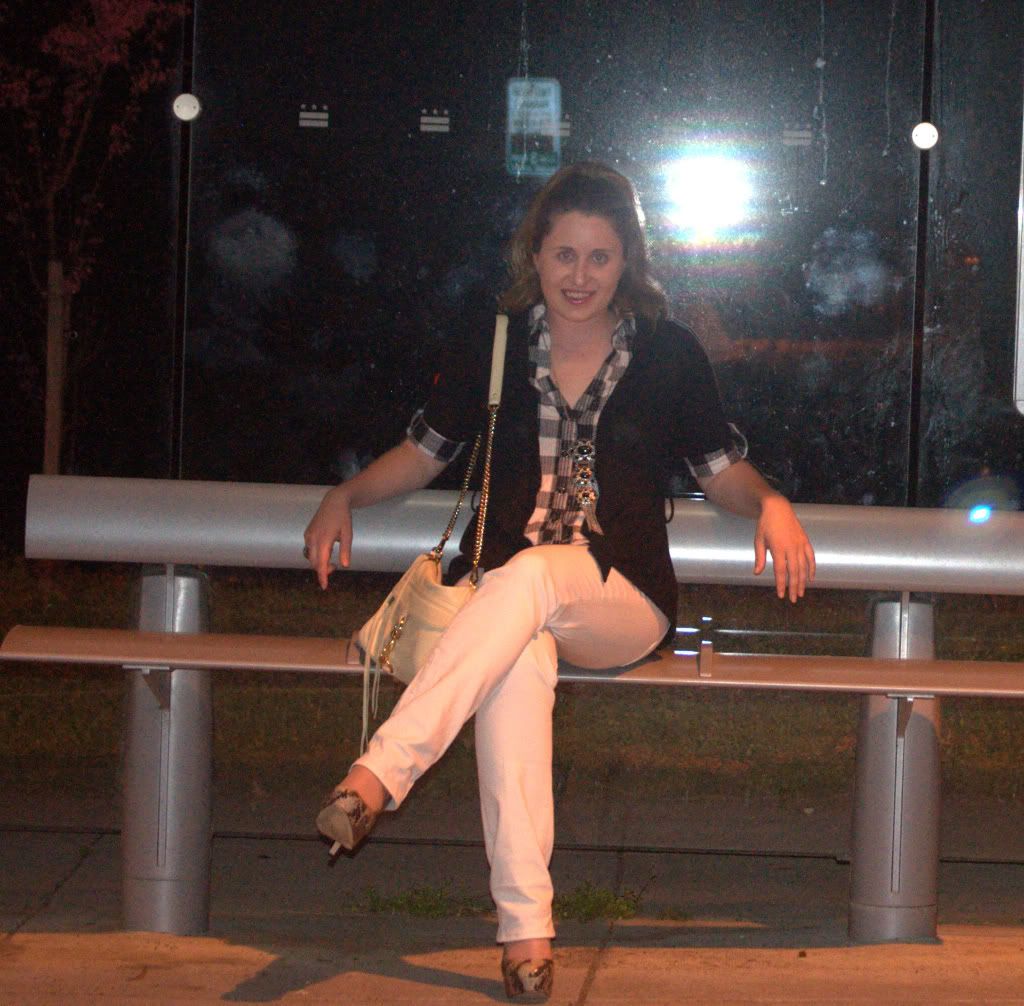 It takes talent to look this down-town chic, baby doll. Actually, all it takes is a little pattern mixing, rule breaking and lounging, but don't say you heard it from me.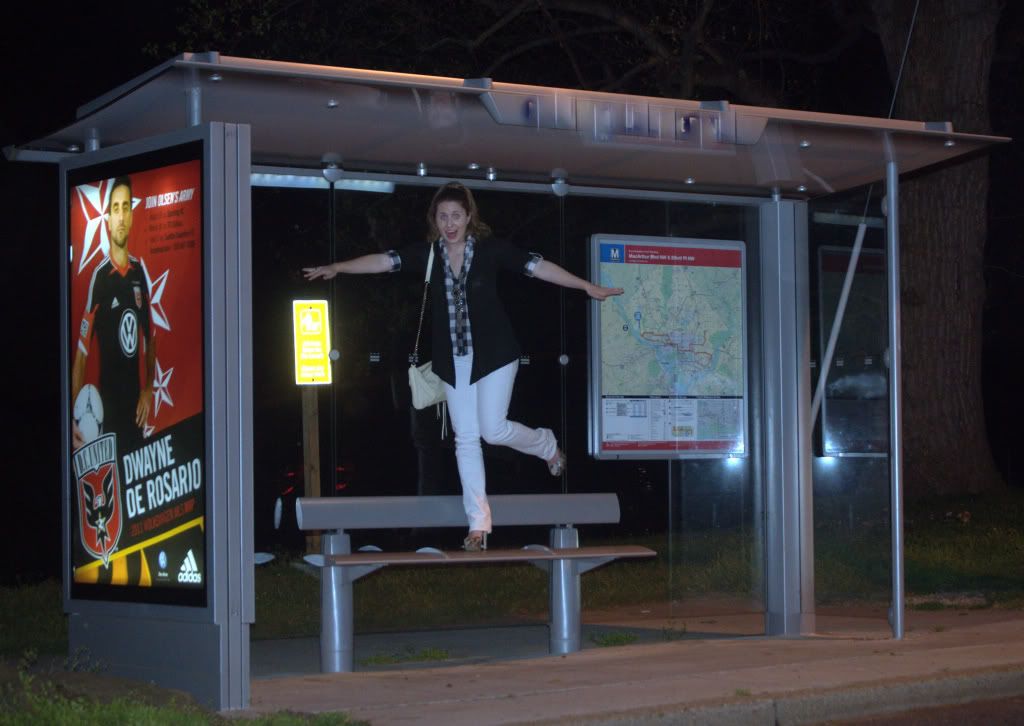 I'm caaaaaarazy!
Try not to be distracted large-headed and very sad looking thermometer-wielding man in the backfground. Clearly we are taking about more important things here, people! Duh, clothes!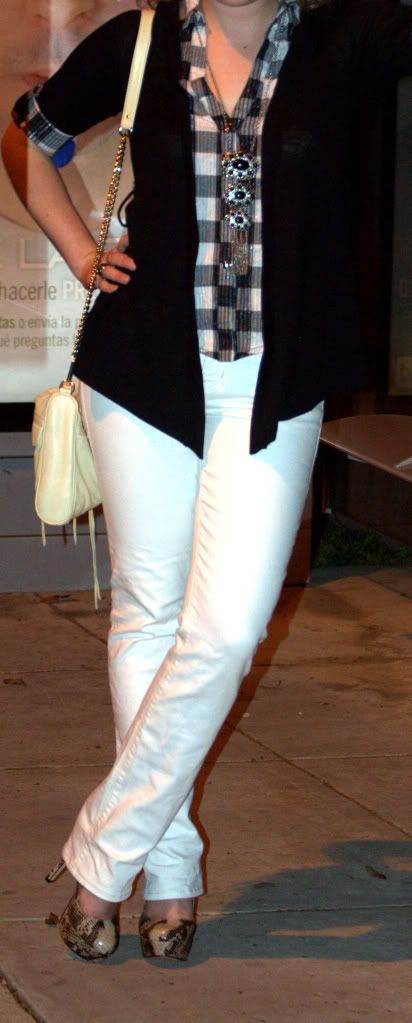 Ugh, so I had a long explanation for this pic, that got deleted, about how I spent money I shouldn't have on necklaces from Forever 21 but they make my old outfits feel new so really it was a good investment blah blah blah. Ok, now you are caught up! See I can summarize... sometimes.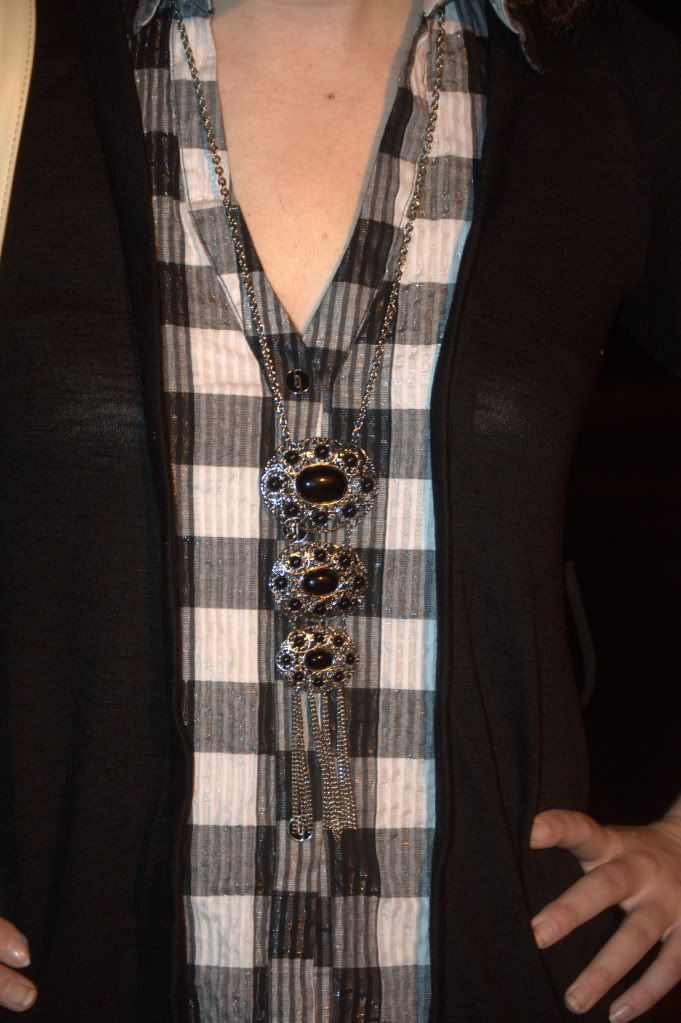 The accessories were my favorite part of today's ensemble. Although the necklace stood out more in real life than it is in these photos. My bad. But the shoes are my latest love of life. They were a gift from the mumsicle and I am kind of obsessed. I can't wait to pair them with my new hot pink Rag & Bone jeans!!! Seriously, it is kind of sad how excited clothes can make me :) I realized how much of an effect the way I dress has on my overall confidence for the day though in the last few months. But that is for another post! Until later (god knows when it will be with my unreliable-ness these days), my loves!