Greetings chicas! I hope you are all staying warm and cuddled up as we have officially entered the season of unpredictable, ever-changing temperatures. We went from 68 last Friday, to having SNOW and sleeting rain on Saturday. Craziness! Never thought we would say a white Halloween...
So I am not even going to bother with my usual "I'm back!" and "I'm here to stay" and "I'm so sorry I left, but I'll never do it again" speech because I fear I have lost all credibility on that front due to my frequent and repeated absences. :( I do sincerely apologize, and hope to be back to normal one day soon. I never would have guessed that unemployment could keep me so busy! Between freelancing as much as I can (need to make that moolah somehow!) and job searching/writing cover letters 24-7, while still trying to be a good puppy mom/roommate/daughter/friend, I have been utterly overwhelmed, and if we are being perfectly honest,
stressed!
I have always tried to keep this blog an upbeat place free of complaints, and I intend to keep it that way, but just bear with me as I work through a fairly un-fun time of my life.
Moving on, I have taken several sets of outfit photos that I have been meaning to share! Today's is rather late, considering baseball season has come and gone, but humor me and pretend that talking about what to wear to a baseball game is still relevant, won't you? You dolls really are the bestest. Oh, and the funny faces are my way of saying "Thanks for sticking around, and reading my crazy ramblings :)"
Shirt: Dick's sporting goods, Jeans: Levi's via Kohl's, Boots: Steven Madden, Watch: Michael Kors, Ring: Amrita Singh, Earrings: Gifted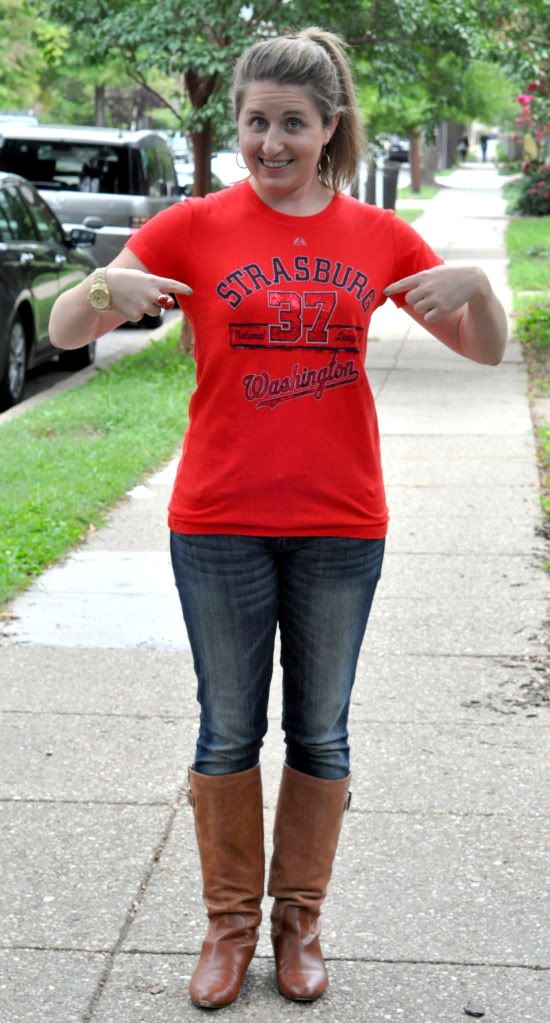 No, I am not asking you to eye my chest. I was trying to call attention to the fact that my FAVORITE mlb pitcher was back!! Strasburg looked great that night, too.
And here's where I get goofy... pretending to pitch.
Winding up... I hear it is all in the legs.
And release!

My baby brother is a college baseball pitcher, so everything I know I learned from him. And I am totally aware that I have impeccable pitching form. I'm thinking of taking my skills professional.
Jumping for joy that I get to watch Strasburg pitch. Or maybe it was jumping for joy for $1 hotdog night?? Either way, I jumped!
September evenings in DC call for more than a tshirt. Enter my favorite leather jacket.
I believe this was supposed to be my "Ya I'm cool" shot....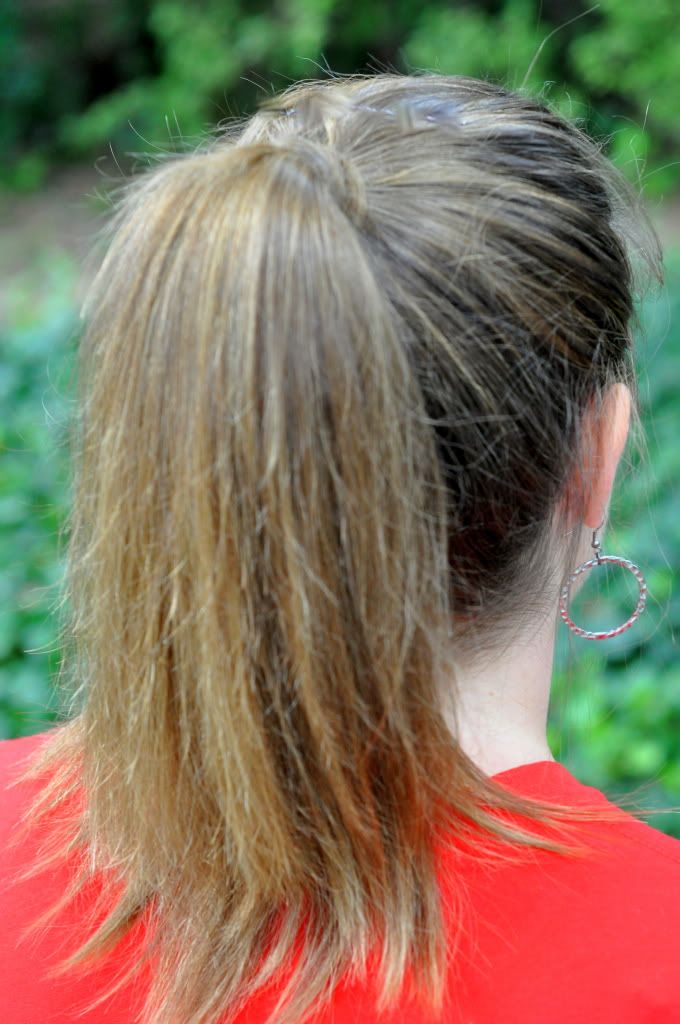 So you can't really tell but roommate did the ponytail with hair wrapped around the hair-tie look for me. All I see is hair that was desperately in ned of a good cut!
I wish you all an excellent weekend, and hope that you will hear from me again before December. But looking at my track record as of late, I make no promises.

Bisous!